I could live on pasta, from spaghetti and meatballs to manicotti and lasagna! Just close your eyes and imagine that first bite of your favorite Italian dish. Now imagine that you made that with fresh organic vegetables and herbs right from your own garden. Can you taste the freshness? Delicious, right? For all the pasta lovers out there, here's How To Plant An Italian Garden.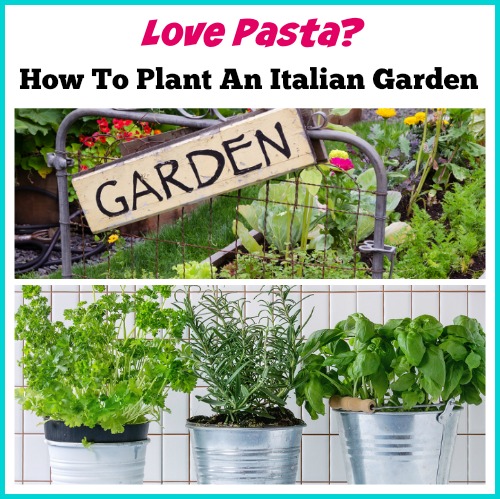 How To Plant an Italian Garden
Disclosure: This post may contain affiliate links to Amazon and/or Etsy, which means that I may earn a small commission from some of the links in this post. Please see our Disclosure Page for more information.
I'm a big fan of heirloom tomatoes as they come in every shape and size and each one has a unique taste. No two will ever be alike and that is part of their awesomeness. They are easily available in most big box stores now as transplants. They add that touch of richness and homemade taste to sauces that you just can't get from store bought pasta sauce. In addition to heirlooms, grow 1 or 2 Roma tomatoes as they do wonderfully stewing all day with their rich flavor. These are the tomatoes you want to grow to make your own tomato paste, too. Tomatoes can be grown in containers or traditional garden beds.
After the tomatoes, come the herbs that make tomato sauce into Italian pasta sauce! Growing from transplants makes it super easy to get your own Italian herb garden quickly. Commercially made Italian seasoning mix is generally made with dried oregano, basil, thyme, and marjoram. Here's my Homemade Italian Seasoning Blend which has a few more additions.
When you go to plant an Italian garden, you would want to plant basil, oregano, Italian parsley, thyme, and marjoram. Depending on the space in your garden, you can have an entire raised bed filled with these herbs or a large container. Here's how I planted my Container Herb Garden. The thyme will cascade down over the edge of the container while the rest of the herbs will grow up and spread out. The more room you give them to grow, the more culinary leaves they will give you. To keep your basil bushy, use it often – the more you use the more you'll have. Better Homes & Gardens has a free Italian Herb Garden Plan that you can download if you plan on using raised beds.
You now have the basic ingredients to a world-class red sauce. You may also want to plant red or green bell peppers. Bell peppers like warm weather and will produce all summer long when planted after all signs of frost are gone. Here's more info on How To Grow Bell Peppers. For the more experienced gardener, plant onions and garlic. Rodale's Organic Gardening has a great article on How To Plant Onions and How To Grow Garlic.
Plant your tomatoes and peppers first. You can then tuck your herbs around them if you are going to plant an Italian garden in a raised bed. These plants all grow well together and beneficial insects like bees and butterflies will be attracted to them, which helps to pollinate the tomatoes. It's a win-win in your Italian garden!
Feed Them Well
It takes work to create those luscious tomatoes and for herbs to put out all of those leaves that you love to eat. So start with good organic soil (potting soil if growing in containers) for your Italian garden. Once a month, feed them with an organic fertilizer. You especially need to do this if you're growing in containers, as frequent watering washes away nutrients in the soil. Tomatoes can be fed every two weeks or so as they are heavy eaters.
Growing an Italian garden is easy, fun, and has delicious results!
More Resources For You:
Edible Italian Garden by Rosalind Creasy
Italian Kitchen Garden by Sarah Fraser
Organic Gourmet Herb Collection
Homegrown Herbs: A Complete Guide to Growing, Using, and Enjoying More than 100 Herbs
Are you already growing some of these plants?
This post contains affiliate links to Amazon. Please see our Disclosure Page for more information, and thanks for supporting this site!
You May Also Be Interested In: 11 Creative Plant Marker Ideas