Hi everyone! I've been looking for a mirror that I can turn into a tray to use on top of the storage chest that I use as a coffee table in my living room for sometime now and finally found one that fits the top exactly!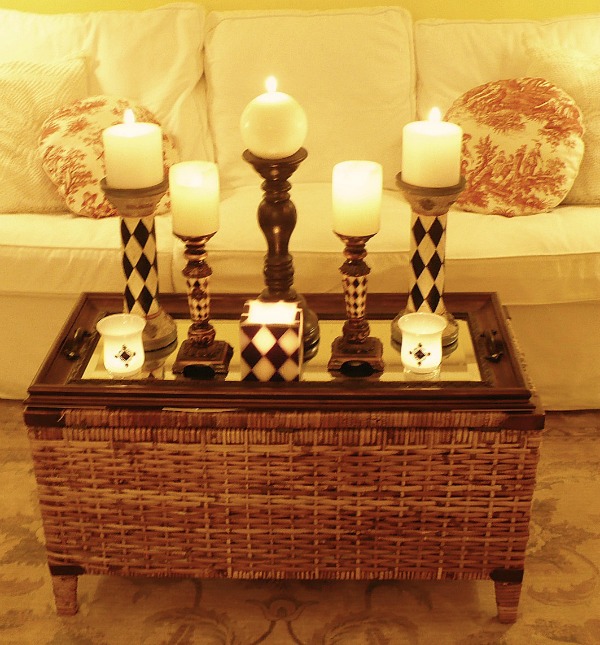 I've been looking for almost 6 months! I usually keep things in a some sort of tray so that it's easy to remove.
Disclosure: This post may contain affiliate links to Amazon and/or Etsy, which means that I may earn a small commission from some of the links in this post. Please see our Disclosure Page for more information.
I had my husband pre-drill the holes for the handles. Be sure you choose handles that have the screws that go on from the top. So many handles now screw on from behind. I love how the mirror reflects whatever is on it and I think it works especially well with candles! You could do this with a picture frame also.
Some of you may remember when I found that huge harlequin candle at Goodwill this summer. Well Aniko bought the same candlestick I believe the same week and didn't really have any use for it and then sent it to me! Now I have two! Thank you so much! Look how perfect it looks! You can click to enlarge to get a better look.
I didn't pay full price for any of those candlesticks or candles. The square harlequin candle I got at Hobby Lobby this spring when they were having that crazy clearance sale. $2.30 for that cute candle!
The two smaller harlequin candles I got from another blogger last year, the large black one in the middle I got at Hobby Lobby at half price as well as those two cute votives. Items with harlequins are things I'm always on the lookout for and black is such a basic thing in my home that when I find something on clearance I buy it because I know it will work.

When I think about it, this whole arrangement has been in the making for at least a year! Patience is truly a virtue and helps with the budget!
I also want to thank Matty from Lazy Bee Farm for this cute acorn that she knitted!

She showed them on her blog and I commented that I wish I could knit so that I could make cute things like this and she sent me one! Thank you so much! It's just adorable! I truly do wish I could knit, but for some reason I just can't get the hang of it. Last year I taught myself to crochet and that comes much easier to me!
Thanks for stopping by!