How to Clean Your Gas or Charcoal Grill Easily.
Schools are starting to go back now, which means the end of summer is on it's way. Which means it's time to start planning to clean your grill and set it aside until next year. Whether your grill is looking a little the worse for wear after all the grilling you've done this season, or you neglected to scrub it down at the end of last summer and have a lot of burned on gunk, we have all the tips, tricks, and hacks you need to get your grill sparkling again! Here is How to Clean Your Grill: Grill Cleaning 101!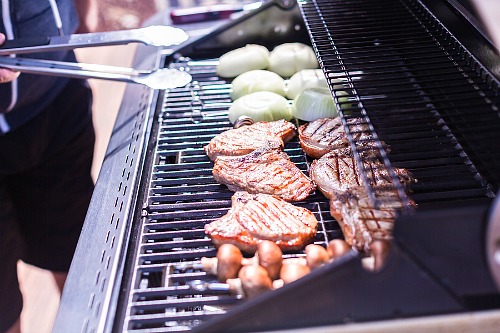 Disclosure: This post may contain affiliate links to Amazon and/or Etsy, which means that I may earn a small commission from some of the links in this post. Please see our Disclosure Page for more information.
It doesn't matter whether you have a gas or charcoal grill, we have all the grill cleaning tips and tricks you need to clean your grill without too much time or effort. Because grill cleaning can actually be pretty easy, if you know the right ways to go about it!
How to Clean Your Grill: Grill Cleaning 101
Did you know that the leftover charred bits on your grill (carbon deposits) don't just look nasty, they actually can be holding grease and bacteria? Plus, they can mess with how your grill heats up, giving you uneven heating or interfering with your grill reaching the right temperatures. So it goes without saying that it's important to keep your grill clean. And with these grill cleaning tips, that won't be a chore you dread any longer! Here are all of the best ways to clean your grill!
Use a Homemade Grill Cleaner on a Gas Grill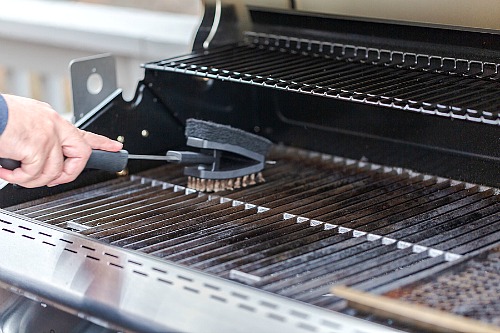 This method is best for gas grills that just need regular cleaning. If your grill is heavily soiled, check out the other tips down below. Here's how to make a homemade grill cleaner for a normal level of dirtiness.
1. Combine 3 cups of water with 1 cup of vinegar and 10 drops of Dawn dish soap. You want the mixture to be sudsy, but not all bubbles, so if you add more Dawn, do so a little bit at a time.
2. Turn your gas grill on to its full temperature. Let it heat up for 15 minutes with the grill lid closed.
3. Turn the grill off, dip your wire grill brush in the sudsy vinegar water, then scrub the hot grill racks.
4. Let the grill cool all the way down. Once it's cool, dip a sponge in the vinegar mixture and wipe down the inside and outside of the grill. Don't use anything too coarse on the outside of your grill (like steel wool), to keep from scratching it.
5. Rinse your grill down with clean water, then wipe it dry. A microfiber cloth would be perfect for drying your grill and really making it shine.
Use a Homemade Grill Cleaner on a Charcoal Grill
Again, this homemade cleaner is best for regular cleaning maintenance. For a grill that hasn't been cleaned in ages, check out the other tips below.
1. Make the same mixture as you would for a gas grill- 3 cups of water + 1 cup of vinegar + 10 drops of Dawn.
2. Using your wire grill brush, scrub the grates clean.
3. Remove the ashes by using a hand trowel and putting them in a plastic garbage bag. If your grill has an ash catcher, empty that too.
4. Use the soapy water mixture to clean the inside of the grill as well as the outside. Don't use anything overly coarse (like steel wool), or you might scratch your grill's finish. A regular sponge will do.
5. Rinse the inside and outside of the grill with clean water. Wipe dry with a microfiber cloth.
Soak
If your grill (gas or charcoal) has very heavily soiled grates/racks, the method above might not be enough. In that case, soaking can help! Soaking makes it easy to clean your grill's racks as it loosens everything up. To do it, take your grill's cool grates and put them in a large bucket of water with Dawn soap added to it. A large plastic storage container could also work. The point is that you want the grates to be able to soak fully. Let them soak in the soapy water for at least 20 minutes, but you can also soak them overnight. Then remove the grates and scrub them with the homemade grill cleaner from above. Rinse the racks with clean water and wipe dry.
Some people also claim that soaking your racks in coffee works, because the acidity of the coffee loosens up stuck on residue.
Use Baking Soda to Clean Your Grill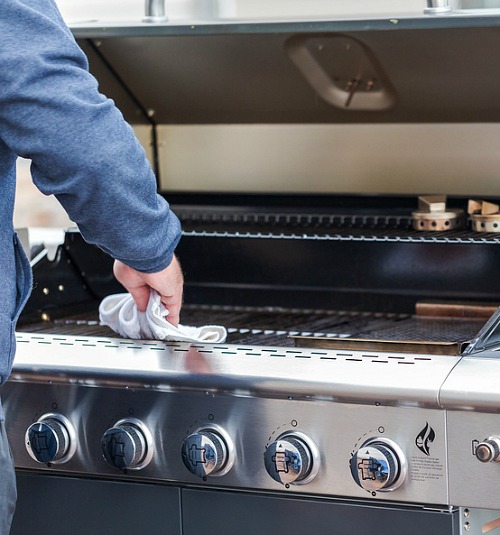 For some extra scrubbing power, try cleaning the worse off parts of your grill with a paste made of baking soda and water. Don't make your paste out of vinegar and baking soda. People think that because that bubbles it's doing something, but it's really just the two cancelling each other out. You can either just go right away to scrubbing your grill grates with that mixture, or let the paste sit on them for 20 minutes first. Either way, the baking soda will add a helpful bit of extra scrubbing power. When you're finished scrubbing, just rinse your grill and wipe it dry.
Use Vinegar to Clean Your Grill
Don't have any Dawn on hand? You can also clean your grill with just vinegar (remember, adding baking soda makes the mixture less potent, not stronger). Vinegar naturally has some degreasing properties, so while it's not as strong as Dawn, it can still do a good job. If you're using regular distilled cleaning vinegar that you'd get at most stores, there's no need to further dilute it before cleaning your grill.
Vacuum
Don't want to stick your hand inside your grill to try to get every last bit clean? A clever way to speed up the grill cleaning process is by using a hand vacuum to suck up all the gunk you've scraped off with the wire brush. You'll want to use a hand vacuum with a flexible hose. Even a cordless shop vacuum would work well, as long as it has a flexible hose.
Use Aluminum Foil
Did you know that you can use foil to clean your gas grill? Here's how to do it- Tear off a big piece of foil. It needs to be large enough to cover the gas grill's grates. Lay it over the grates, turn your grill on high, then close its lid and let it heat up for 5 minutes. Then turn the grill off, open the lid, and with oven mitts, remove the hot foil (be careful, foil heats up fast). Then bunch the foil up into a ball, and scrape the grates with it. Pre-heating the grill will have loosened up some of the gunk, and the foil will act like a wire grill brush and will scrape all the gunk away.
Use a Commercial Cleaner
Sometimes you just want to be able to spray on a commercial cleaner to clean your grill. That's totally fine, and you can still avoid the worst chemicals when you do this if you buy a naturally-derived grill cleaner like this one. Just follow the instructions on the bottle to use the cleaner and scrub your grill clean.
Use a Pressure Washer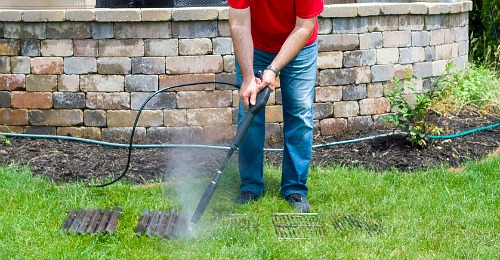 A pressure washer can also be used to really speed up the time it takes to clean your grill. You can learn more about this grill cleaning method here.
Use Wood
You can also clean your grill using wood! My husband loves to use this to clean our grill, and I like that's it's all natural. Plus, unlike a wire bristle cleaner, you don't have to worry about any metal pieces getting left behind and winding up in your food. There are some pretty scary stories of that happening to people. But you can't just grab a random piece of wood and start scrubbing- you'll want to use this wooden cleaning tool that's made from red oak. It's easy to use and lasts a good amount of time!
Use a Cleaning Block
Another way to avoid the bristles of a wire brush is to get this grill cleaning block made from pumice stone. It's all natural like the wood tool, and has some great scrubbing power!
Use a Magic Eraser
A Magic Eraser (AKA melamine cleaning sponge) can also be used to easily clean your grill, especially the outsides! Just wet the eraser, then rub the Magic Eraser over the area you want to clean. Then rinse the area with water, and wipe dry. I'd recommend using the extra durable version of the Magic Eraser for this. The regular version, or off-brand versions, may crumble too easily.
Use a Cordless Drill Attachment
This is such a clever grill cleaning invention! This grill cleaning brush drill attachment fits your cordless grill and creates a kind of power scrubber. This is great if you don't want to tire your hands out scrubbing your grill, or physically cannot do the scrubbing required. And the bristles are not made out of metal!
Use a Steam Cleaner
You can even use a steam cleaner to clean your grill! With your handheld steam cleaner in one hand and your wire grill brush in the other you can quickly loosen and scrub away stuck on food. Some steam cleaners even come with a grill brush attachment. Or you can get a steam cleaner that is made specifically for grills, like this vertical narrow one, or this horizontally aligned, flatter one. You can read more about this method here.
With all these ways to clean your grill, you're sure to be able to get even the dirtiest grill clean again with ease!
Do you have any grill cleaning hacks?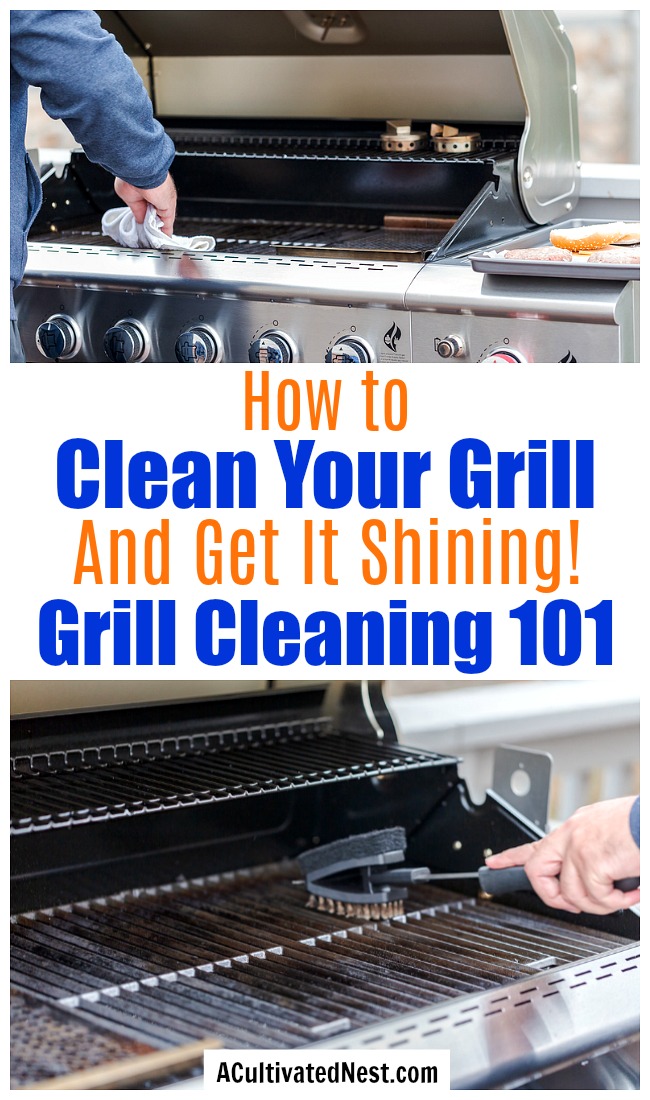 You might also be interested in: The Biggest Guide to Cleaning Your Oven Easily