Here's another great DIY recipe in the Nesting Skills Series – homemade Italian Seasoning! It may be easier to just buy this stuff, but if you're ever in a bind and need to whip up your own this is a great recipe. This seasoning mix is delicious added to olive oil for dipping crusty bread or just used as you would store bought Gourmet Italian Seasoning Blend.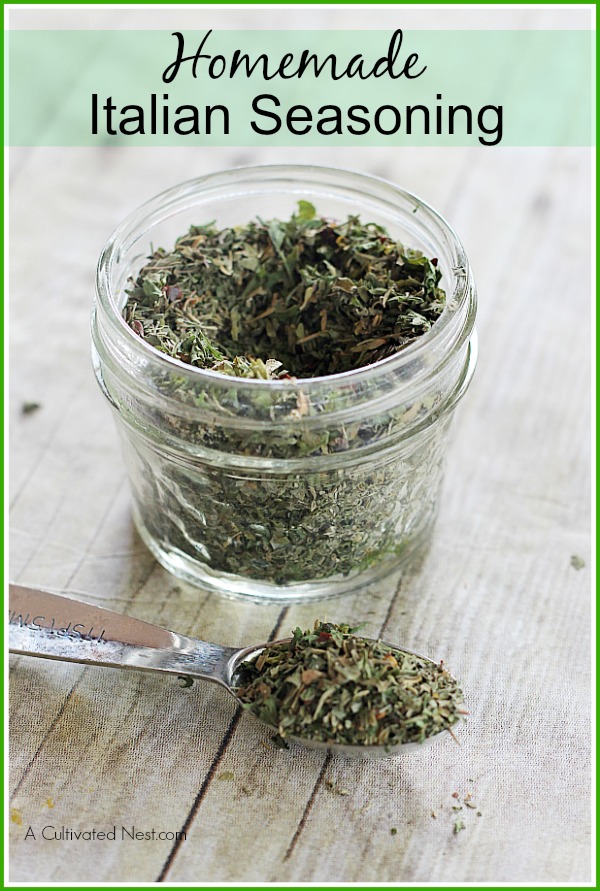 One of the great things about making your own homemade Italian seasoning blend is that you can adjust the amounts of the spices to suit your taste.  You could add more basil if that's what you like or no red pepper flakes if  that's what you prefer. Play around with this recipe and customize it to your tastes! You probably already have everything you need to make it right in your spice cupboard or pantry.
Homemade Italian Seasoning
Ingredients:
3 Tbsp. dried Parsley
3 Tbsp. dried Basil
2 Tbsp. Oregano
1 Tbsp. Garlic Powder (you may want to leave this out if you already cook with a lot of garlic)
1 tsp. Rosemary
1 tsp. Thyme
1 tsp. Onion powder
½ tsp. Red Pepper flakes
¼ tsp. Black Pepper
Directions:
1. Combine all ingredients.
2. Store in an airtight container – as always mason jars are perfect for storage.
***Pulse in a food processor for 1 minute if you like your Italian Seasoning powdery instead of flaky
Italian Seasoning is used in all sorts of recipes. Here are some suggested uses for this Italian Seasoning Mix:
Season tomato sauce
Sprinkle on pizza.
Mix with butter to make a herbed butter
Sprinkle on chicken
Sprinkle on vegetables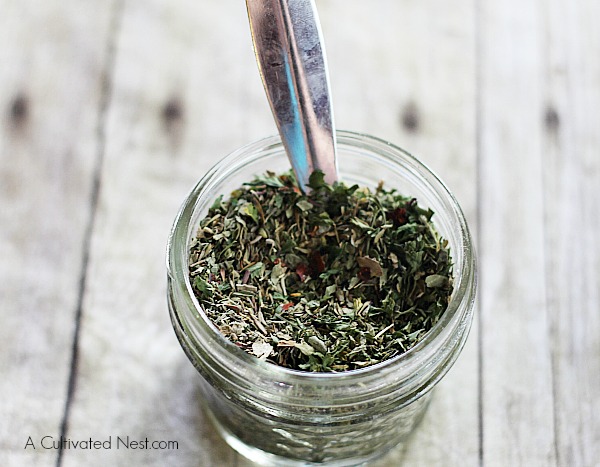 The Nesting Skills Series is all about making your own home-made versions for various store-bought products. You can see all the posts in the Nesting Skills Archive here.
This post contains affiliate links to Amazon, which means that I may earn a small commission from some of the links in this post. Please see our Disclosure Page for more information.
You may also like:
  About Jody: I am a Florida girl through and through living the semi-country, small town life.  I am making my way through it with my amazing hubby, 2 beautiful kids, 2 of the best Dachshunds to ever walk the face of the earth, massive amounts of coffee and a whole lot of Jesus.  I homeschool, craft, cook, scrapbook, garden, raid the thrift shops, snap 1,000's of photos, and read when I can grab a spare minute (which is rare). You can find me blogging at Simply Southern Sunshine.