If you like Cheeze-Its (or any type of cheese crackers) you will love this recipe! Not only are these Homemade Cheese Crackers easy to make, but you also don't have to worry about preservatives, extra sodium and artificial color/flavorings that are in store bought crackers.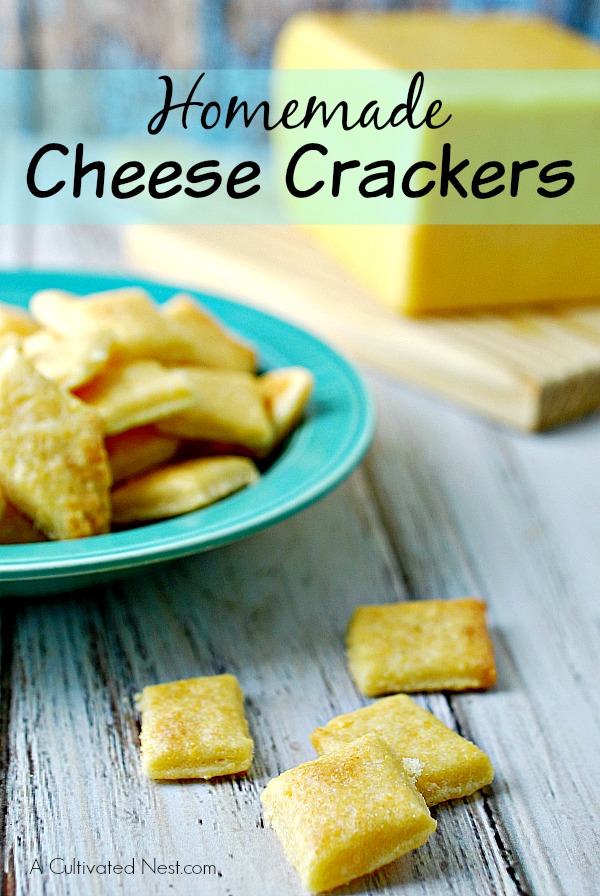 Disclosure: This post may contain affiliate links to Amazon and/or Etsy, which means that I may earn a small commission from some of the links in this post. Please see our Disclosure Page for more information.
You don't have to make these crackers square or round. You could use all sorts of fun cookie cutters to make them different shapes!
Homemade Cheese Crackers
Ingredients:
2 cups Sharp Cheddar Cheese, grated (or even Extra Sharp if you like a more cheesy flavor)
¼ cup unsalted Butter, softened
1 cup All Purpose Flour
½ teaspoon Salt
3 Tablespoons Milk
Directions:
1. Place the butter, cheese, flour, and salt into a food processor. Pulse for a few seconds at a time until the dough becomes crumbles. (I've also made these in my stand mixer before- add the flour after the butter, cheese & salt)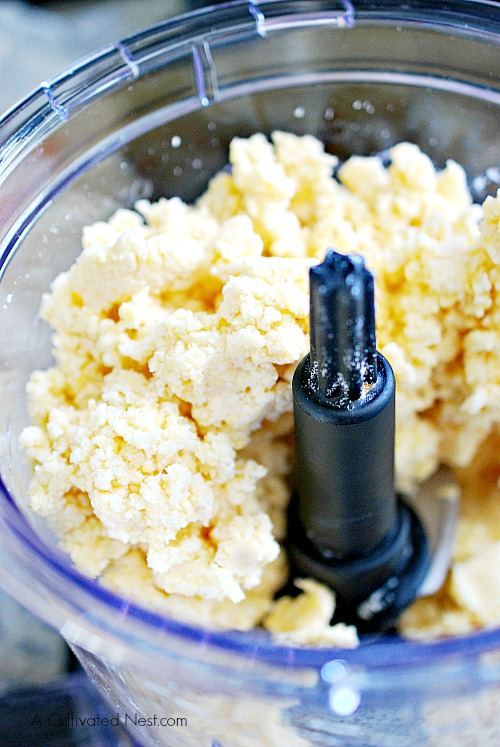 2. Add in the milk one tablespoon at a time until a dough forms and becomes a large ball. Place the dough into plastic wrap and refrigerate for about 20 minutes until the dough becomes firm enough to handle.
3. Flour a clean counter top and roll out the dough with a rolling pin until it is roughly 1/8 to ¼ inch thick. Thinner is better since they do puff up a bit when baking. Score the dough with a knife or pizza cutter.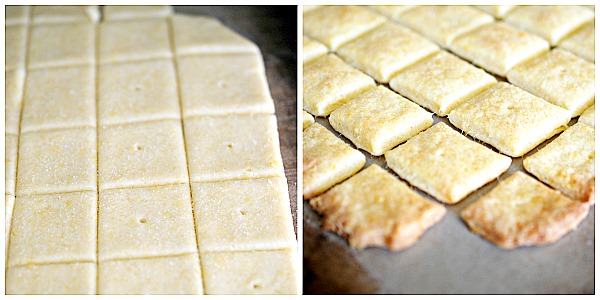 4. Use a toothpick to poke a hole in the center on each cracker to keep it from puffing up in the oven.
5. Place the crackers on a lightly greased baking sheet (or one lined with a silicone mat) and bake at 375 degrees for about 14-17 minutes or until the edges of the crackers begin to become slightly brown. Let the crackers cool before enjoying.
Store in airtight container for up to 2-3 days (be sure they have completely cooled)…..we just always eat them the same day!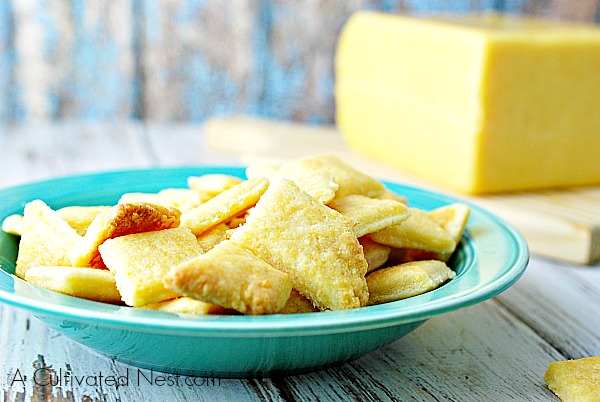 These Homemade Cheese Crackers would be great to serve at a party, in a school lunch or just to snack on any time!
You May Also Like This Post: Homemade All Purpose Muffin Mix
Print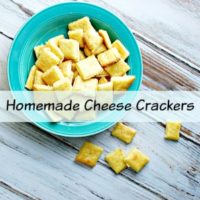 Homemade Cheese Crackers
Author:

Category:

Crackers
---
2 cups

Sharp Cheddar Cheese, grated (or even Extra Sharp if you like a more cheesy flavor)

¼ cup

unsalted Butter, softened

1 cup

All Purpose Flour

½ teaspoon

Salt

3 Tablespoons

Milk
---
Instructions
Place the butter, cheese, flour, and salt into a food processor. Pulse for a few seconds at a time until the dough becomes crumbles. (I've also made these in my stand mixer before- add the flour after the butter, cheese & salt)
Add in the milk one tablespoon at a time until a dough forms and becomes a large ball. Place the dough into plastic wrap and refrigerate for about 20 minutes until the dough becomes firm enough to handle.
Flour a clean counter top and roll out the dough with a rolling pin until it is roughly 1/8 to ¼ inch thick. Thinner is better since they do puff up a bit when baking. Score the dough with a knife or pizza cutter.
Use a toothpick to poke a hole in the center on each cracker to keep it from puffing up in the oven.
Place the crackers on a lightly greased baking sheet (or one lined with a silicone mat) and bake at 375 degrees for about 14-17 minutes or until the edges of the crackers begin to become slightly brown. Let the crackers cool before enjoying.
Store in airtight container for up to 2-3 days
---