Hi everyone! I had to sell my dining room table from my other house ( it was too big for this small breakfast room). So we have been eating on TV trays since we moved! Not very comfortable – especially for my 6'2″ husband. But we finally got a round white pedestal dining room table at Ikea.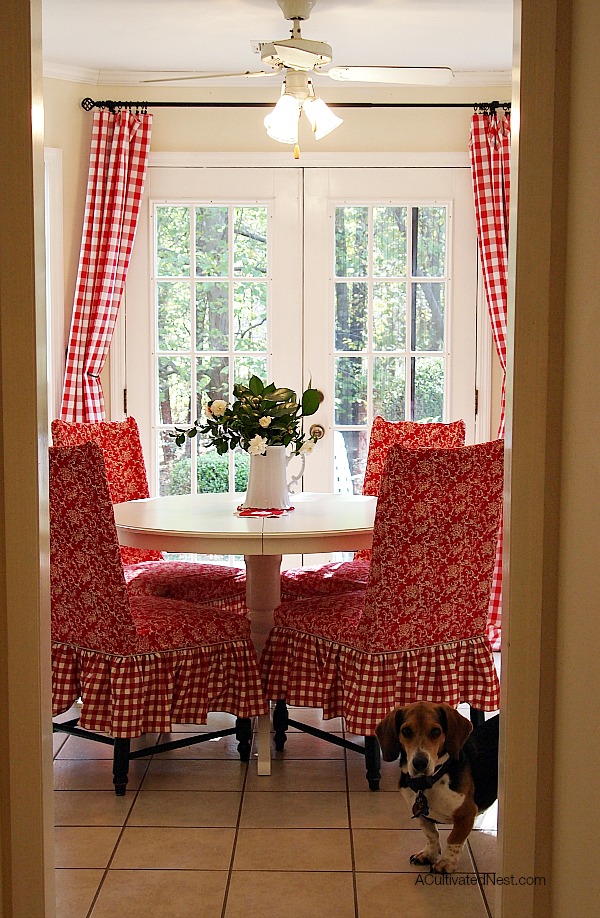 Disclosure: This post may contain affiliate links to Amazon and/or Etsy, which means that I may earn a small commission from some of the links in this post. Please see our Disclosure Page for more information.
So this is the confusing part – it's either the Liatorp or the Ingatorp table. My Ikea is kinda of a mess (don't get me started on the disgusting breakfasts they have). The display said it was Ingatorp (in black or white) $349. But when we went to pick it up, the aisle and bin number info said Liatorp and it was $249. Which you can't find  on their website anymore. So I don't know if they're discontinuing the Liatorp and renaming it Ingatorp or what? Maybe your Ikea is better organized than mine (Atlanta). That's Corey by the way.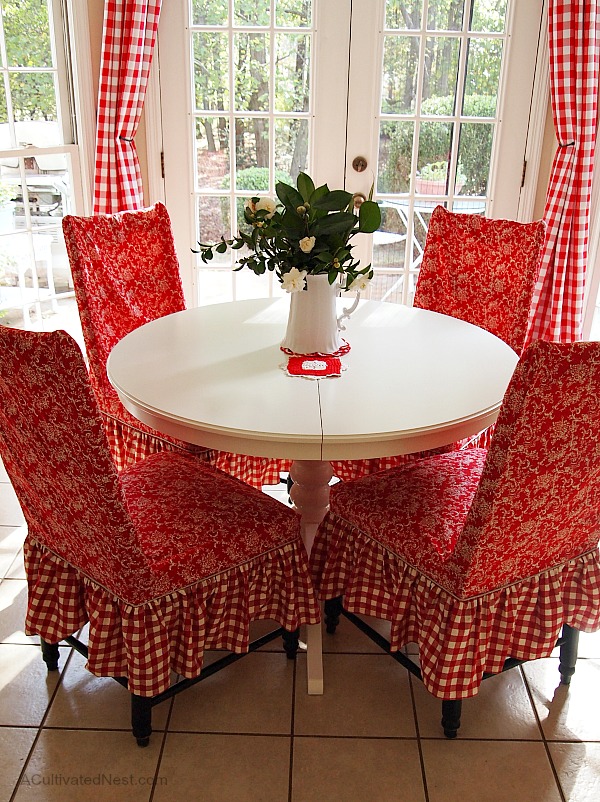 Anyway, it's round but it self stores leaves so you can make it into a bigger oval dining table. Which is what we'll need for Thanksgiving (I'll just place it on a diagonal).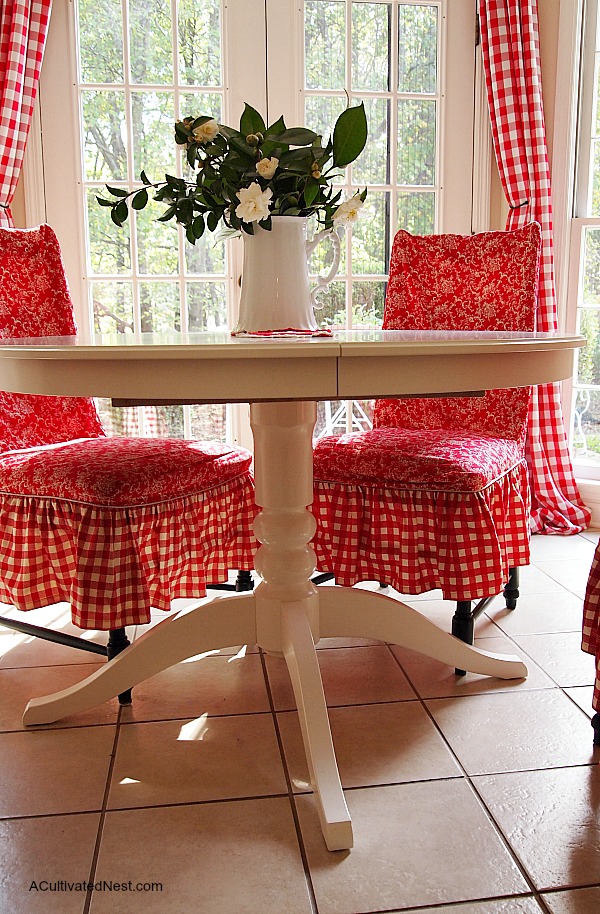 I've got to find some round tablecloths. All mine are oval!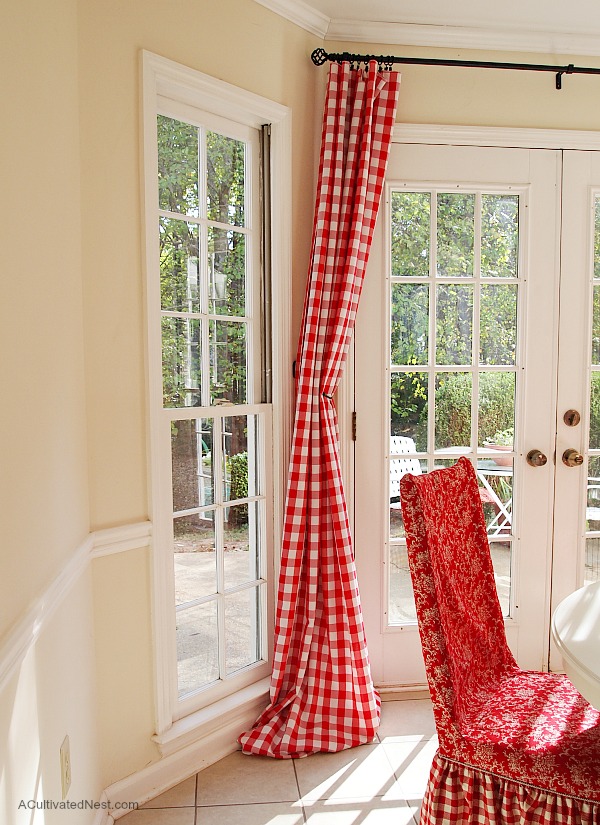 I also got a curtain rod put up with my "curtains". They are actually tablecloths and used to hang in the living room of my other house. They are hung by clips that you can find at Target, Home Depot, etc. I'm not sure I'm going to keep them here but I thought they'd be cute for Christmas at least.
I'm also not sure if I'm going to keep the sidelights as is or put blinds on them or do some other bay window type curtain treatment. The back part of the yard is woodsy and it kind of freaks me out to look out at night 🙂 !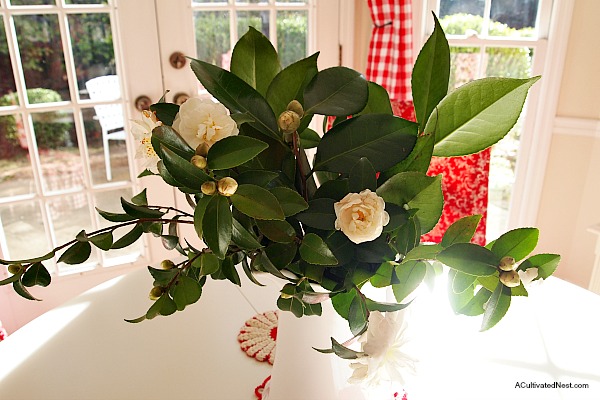 I have lots of Camellias of all varieties on both sides of the house so I snipped a few to enjoy inside. The leaves are so dark green and glossy. I find them pretty even if they don't have flowers.
So we decided to use the formal dining room (below) as our TV room/husband's office and use the smaller breakfast room as the dining room.  It may change down the road but that's what works for us right now.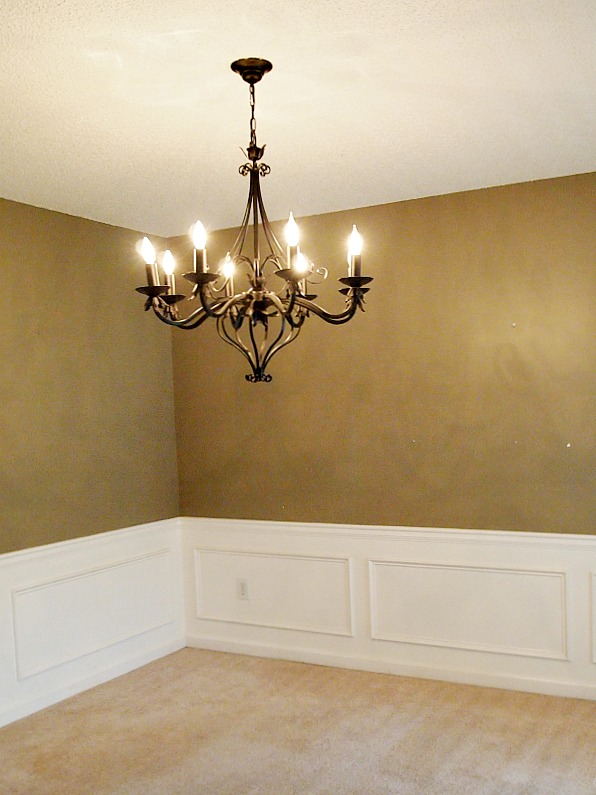 We'll be moving this dining room chandelier into the breakfast room and the breakfast room light/ceiling fan into the TV Room.  Then we'll just switch them back when we move (this is a rental).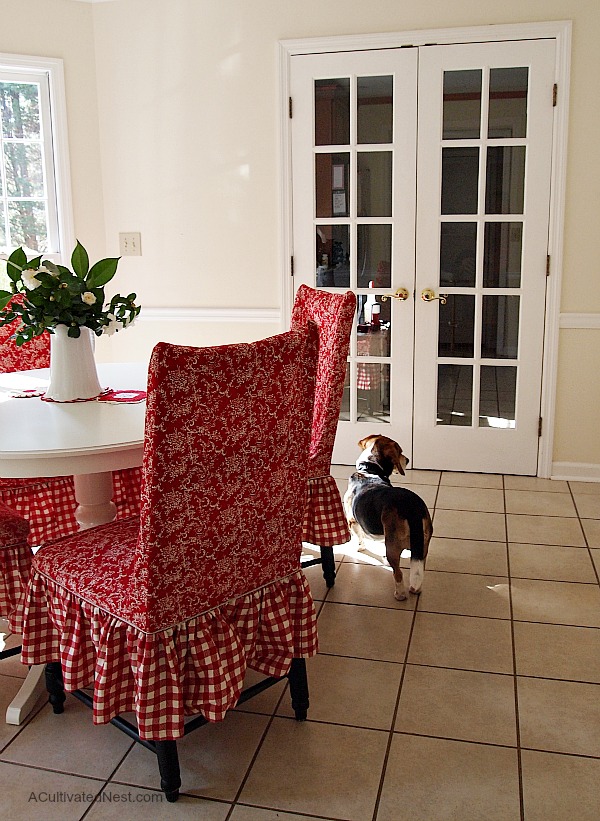 Those french doors lead into the kitchen and the tile goes from the foyer into this room into the kitchen. The tile is ice cold in the morning! I'm going to have to find some sort of round rug to put under the table! Otherwise, I love this room! It's so bright and sunny and has a great view of the backyard.
As you can see, I don't have anything on the walls (we're slow unpackers) but I'm happy to be able to sit at a real table finally!