Hi everyone! In keeping with my tree theme for Christmas, I'd like to show you a felt rosette tree that I made using a Styrofoam cone and red and white  felt.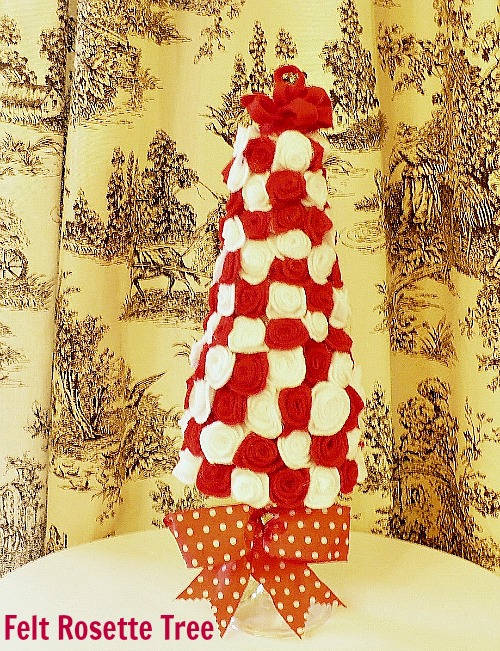 How to make rosettes:
I made little rosettes out of the felt and hot glued them to the cone. Here's how:
Disclosure: This post may contain affiliate links to Amazon and/or Etsy, which means that I may earn a small commission from some of the links in this post. Please see our Disclosure Page for more information.
1. I cut circles out of the felt squares I got at Michaels (they're 4/$1 and I got 4 red and 4 white squares and had just enough to do this size cone).
2. Then I cut the circle into a corkscrew (just keep turning the felt circle in your hand and it will naturally do it).
3. It should look like this when you're done.
4. Next you start rolling it, starting with the end where you made your first cut. As you roll it you'll see that it starts to resemble a rose! You can make it tight or loose – play with it until you're happy with your rosette.
5. When you have a bunch made you can start attaching them to the cone. I used hot glue on the low setting.
This is a really easy project but it does take some time. I cut out circles while watching a movie. I made the rosettes and glued them on as I had time. I worked on this tree for about 4 days – a little bit here and there. This is a good family project too. Kids can cut the circles – they don't have to be perfect!
I sat it on a glass candlestick and attached a bow (everything always looks better to me with a bow)!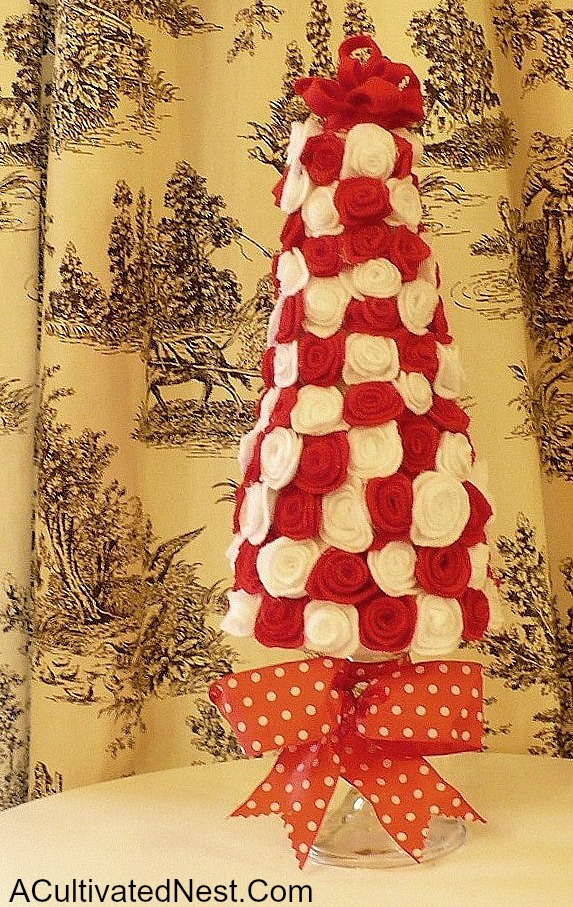 Here are two other trees I made a few years ago. This first one is just one of those $1.99 beaded garlands wrapped around a cone (I used hot glue).
The next one I made out of vintage buttons – some that still have the string in them!
You can find the Styrofoam cones in any craft store and the dollar stores usually carry them too. Although my Dollar Tree was all out the day I checked (of course). Next week I'll have a few more trees to share!
Have a great week everyone and thanks for stopping by! **Judi emailed me to say that she found the package of 21 bottle brush trees at Home Depot for $5.97 which is way cheaper than at Michael's – so check there if you're looking for some to dye.