I generally eat pretty healthy. There are a few things that  I won't can't give up…like boxed cake mix recipes and things made with Pillsbury® Crescents. I (we) love Pillsbury® Crescents (this is not a sponsored post btw).  I make something at least once a week with them! So I thought I'd share their very easy Pillsbury Pumpkin-Pecan Braid that I made recently. It takes about 20-30 minutes to bake and about 10 minutes to put together. So it's quick, easy and delish!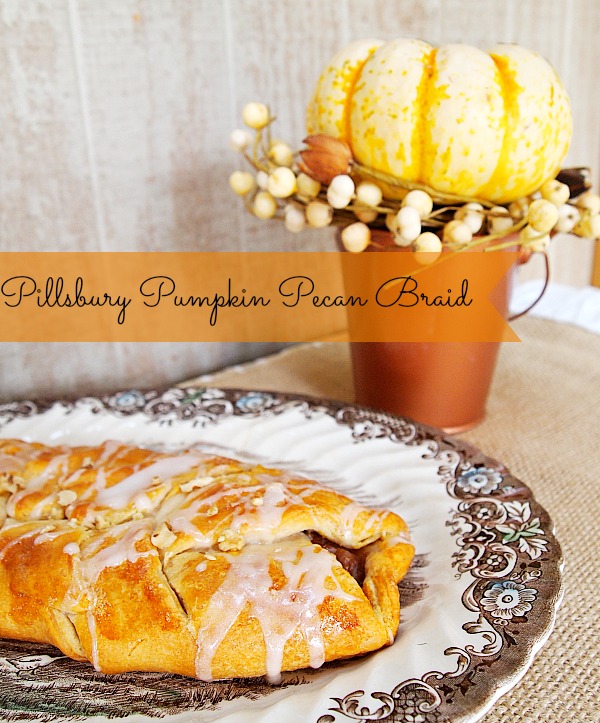 I made it without the pecans since I didn't have any so that's why they aren't pictured.  I also used Just Like Sugar Brown Sugar substitute but it's normally made with regular brown sugar.
Disclosure: This post may contain affiliate links to Amazon and/or Etsy, which means that I may earn a small commission from some of the links in this post. Please see our Disclosure Page for more information.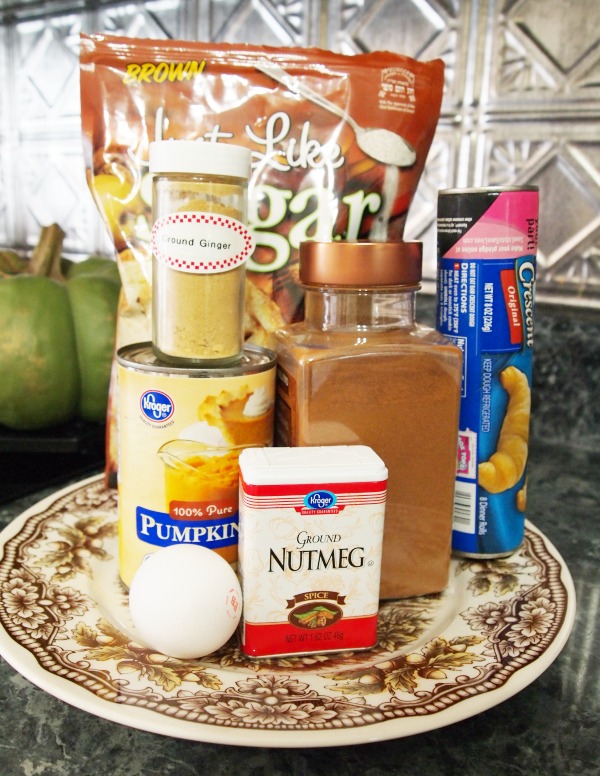 Ingredients
Filling
3/4 cup canned pumpkin (not pumpkin pie mix)
1/3 cup packed brown sugar
1 teaspoon ground cinnamon
1/8 teaspoon ground ginger
1/8 teaspoon ground nutmeg
1 egg, separated
1/2 cup chopped pecans
1 can (8 oz) Pillsbury® refrigerated crescent dinner rolls or 1 can (8 oz) Pillsbury® Crescent Recipe Creations® refrigerated seamless dough sheet
Glaze
1/2 cup powdered sugar
2 to 3 teaspoons milk
1 tablespoon chopped pecans (optional)
1. Heat oven to 350°F. Spray cookie sheet with cooking spray. In medium bowl, mix pumpkin, brown sugar, cinnamon, ginger, nutmeg and egg yolk. Stir in 1/2 cup pecans.
2. If you are using crescent rolls: Unroll the dough onto cookie sheet; firmly press edges and perforations to seal. Press to form 13×7-inch rectangle.
If using dough sheet: Unroll dough onto cookie sheet. Press to form 13×7-inch rectangle. Spread filling in 3 1/2-inch-wide strip lengthwise down center of dough rectangle to within 1 inch of ends.
3. With a sharp knife,  make cuts 1 inch apart on long sides of dough rectangle just to edge of filling. Fold strips at an angle across filling, overlapping ends and alternating from side to side. Beat egg white in small bowl until foamy; brush over dough.
4. Bake 20 to 30 minutes or until deep golden brown. Immediately remove from cookie sheet; place on serving platter.
5. In small bowl, mix powdered sugar and enough milk for desired drizzling consistency. Drizzle over warm coffee cake. Sprinkle with 1 tablespoon pecans (optional)  or dust with some confectioners sugar.
 Enjoy!