Valentine's Day is only a month away! That means it's time to start working on any DIY Valentine's home decor you'd like to put up. I love to make wreaths for most seasons and holidays, and Valentine's Day is no exception! I wanted to do something different for my wreath this year, so I decided to make it out of clothespins! If you want to make a pretty wreath for Valentine's this year, you've got to make this DIY Valentine's Day Clothespin Wreath!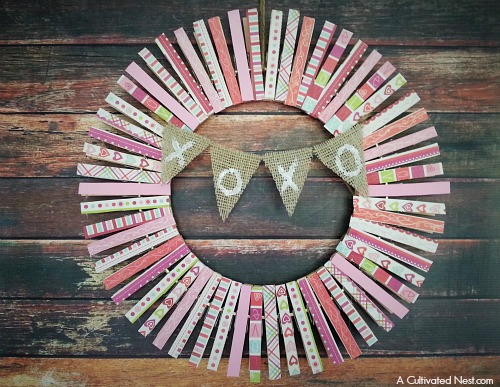 This cute Valentine wreath was so fun to make! It would make a great craft to do with the kids or grandkids. And it's a great way to use up any scraps of scrapbook paper you may have laying around!
DIY Valentine's Day Clothespin Wreath
Materials: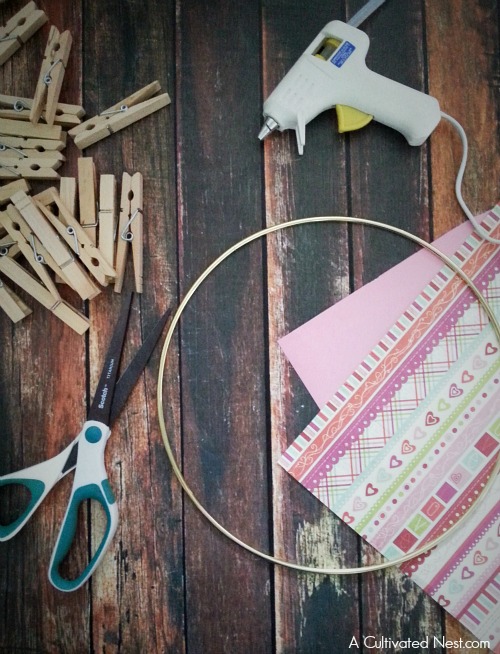 10 inch single circle wire wreath form
58 clothespins
Hot glue gun + glue
Valentine's/love themed card stock or scrapbook paper of your choice (it's fun to alternate different patterns)
Scissors
Ribbon/string/twine to hang
Directions:
1. Start by cutting out strips of your card stock or scrapbook paper so that the strips are the size of your clothespins.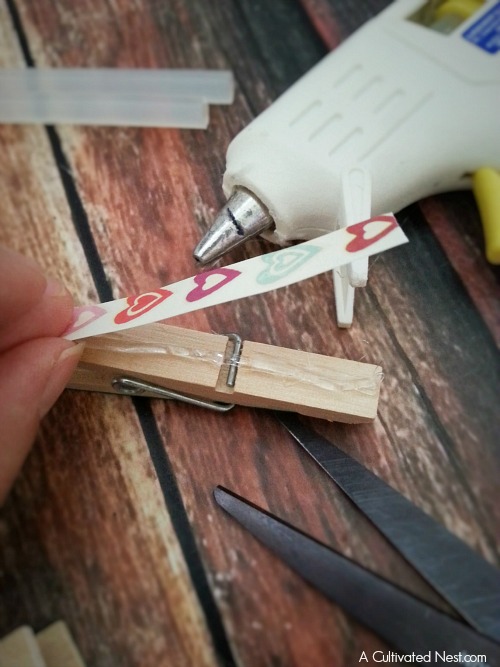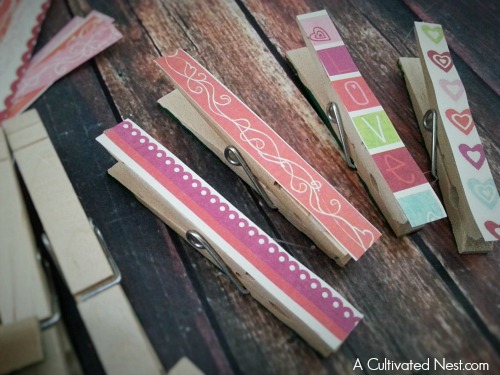 2. Once you have your 58 pieces cut out, take your hot glue gun and run a bead of glue on a clothespin and stick a paper strip to it, making sure it adheres well. Do this until all of your clothespins are covered.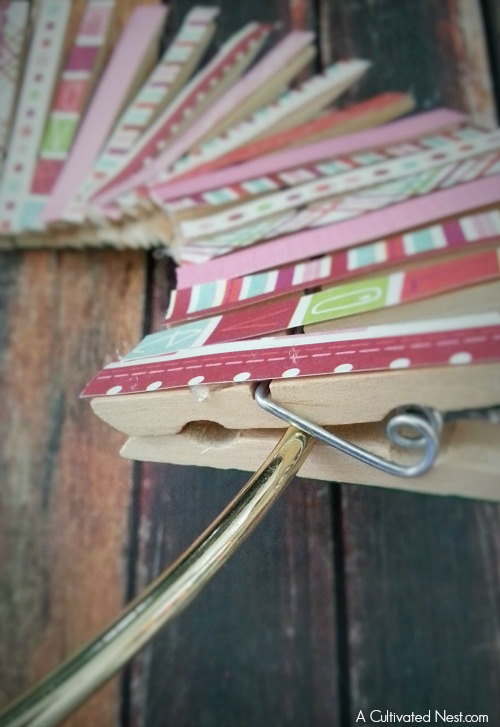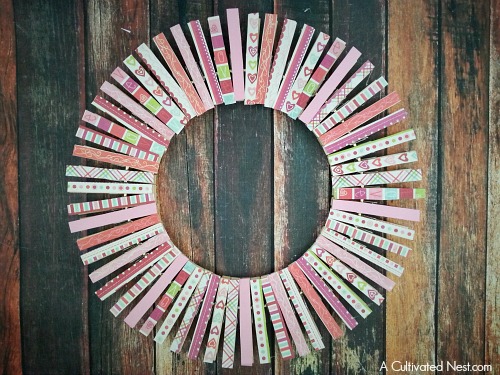 3. Take your clothespins and clip them to the wreath. Make sure that each pin's hinge is touching the wire form, as this gives it a more secure form in the end (otherwise they will be twisting and turning and you would need a lot more clothespins to fill it up).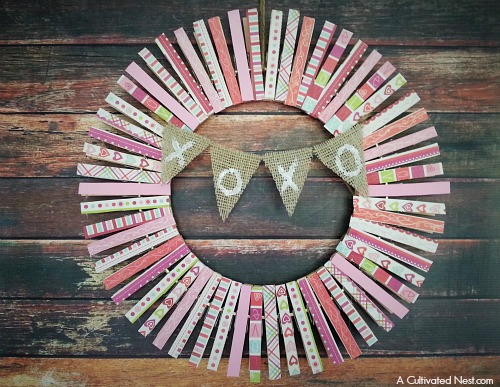 4. Jazz up  your DIY Valentine's wreath with a cute banner or bow and attach twine to the wire form to hang!
Then put your Valentine's Day clothespin wreath up somewhere your whole family can enjoy it! You can hang it on a door, in front of a mirror, or prop it up in the middle of a Valentine's display on a table or mantel. Wherever you choose to put it, it's sure to look great!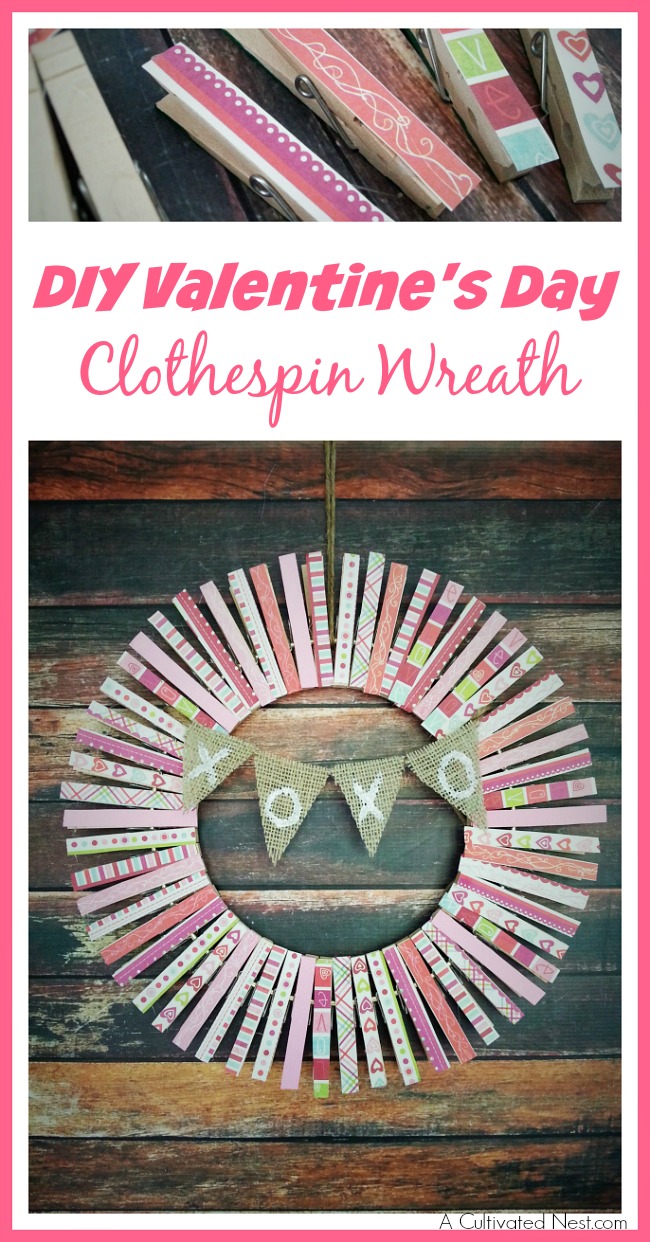 This post contains affiliate links to Amazon, which means that I may earn a small commission from some of the links in this post. Please see our Disclosure Page for more information.
You may also be interested in: 14 Free Valentine's Day Printables