I hope you are all keeping warm ! It's been below 20 degrees in Atlanta for a while now, so I think winter is here! To bring a wintery yet cozy feel to my living room I've upcycled a couple of white sweaters from the thrift store into various home decor items (here's my sweater covered flower pot) and I wanted to share with you one of my other repurpose projects. A DIY sweater covered lampshade. I think it really warms up my cozy reading corner!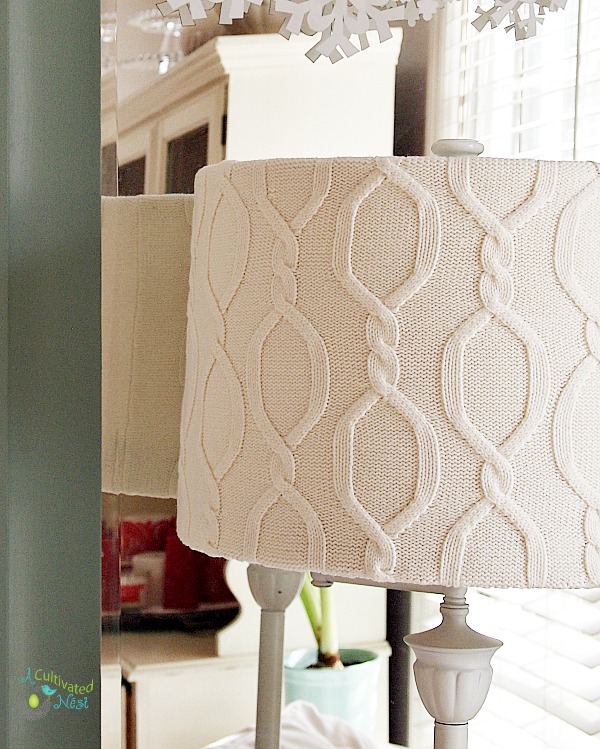 Disclosure: This post may contain affiliate links to Amazon and/or Etsy, which means that I may earn a small commission from some of the links in this post. Please see our Disclosure Page for more information.
This lampshade had a small hole and a bit of dirt from the move (next time we move I'll box up all my lampshades) so it was a good candidate for this lampshade makeover. I first saw this idea at Beth @ Unskinny Boppy's blog a year ago and fell in love with hers. I always had it in the back of my mind to try this project and I'm so glad I did since it was easy and I really love the results!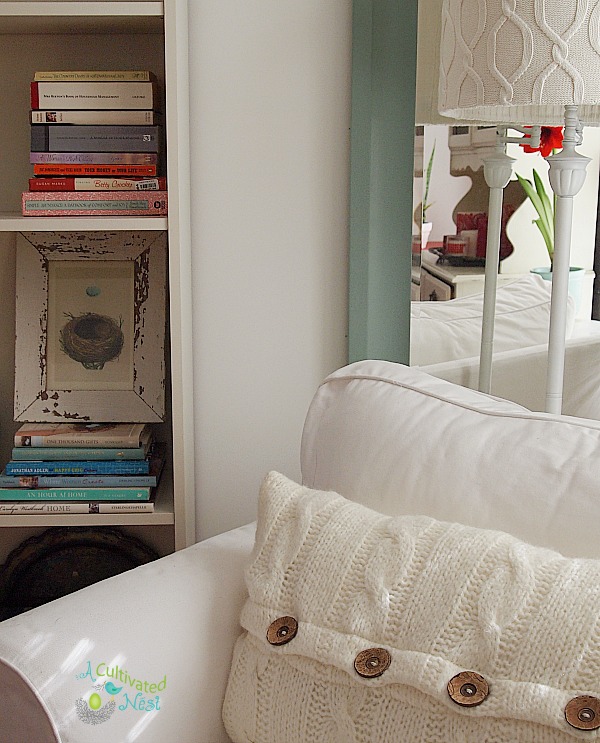 Here's how I made mine:
DIY Sweater Covered Lampshade
lampshade
sweater (mine was size medium but a small would probably work well too as long as you can stretch it over the lampshade)
scissors
glue gun
Directions: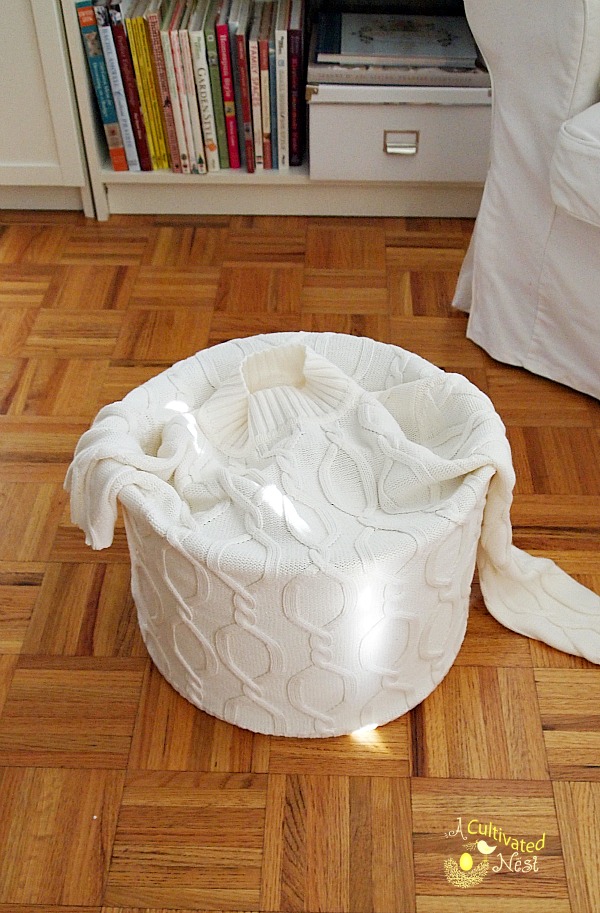 1. Pull the sweater over the lampshade
2. Cut off the sleeves which you can use  for other projects
3. Decide where you want the bottom of the sweater to fall. If your sweater is tight and you like the bottom of the sweater you can just line up the bottom of the sweater with the bottom of shade and call it a day. I didn't like the way mine looked so I tucked the bottom of the sweater under the bottom of the lampshade.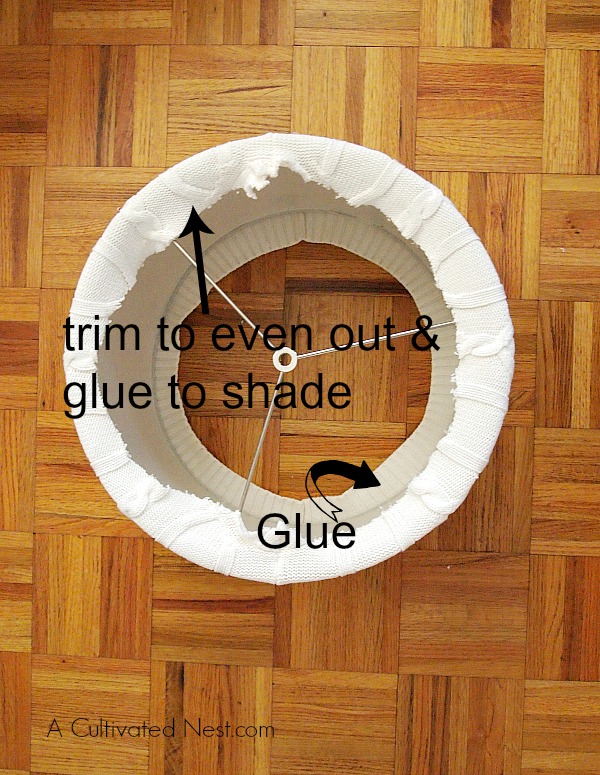 4. Trim off the excess material leave about 1/2 -1 inch of material because this will fold over the top rim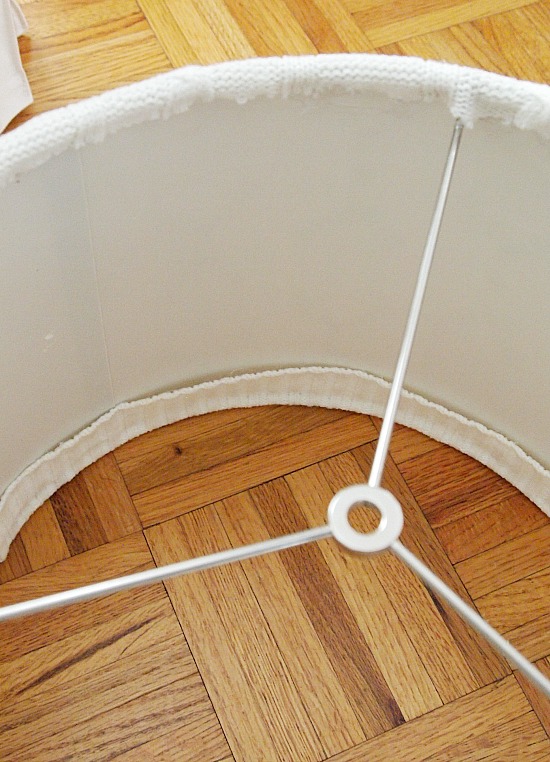 5. Run some hot glue around the inside top edge of the shade and glue down your material and also along the inside bottom edge if  needed (which I did)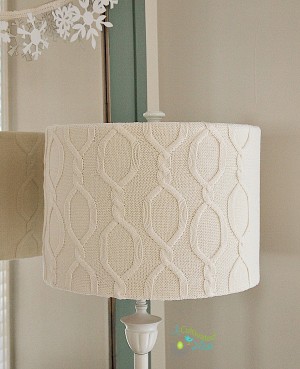 You can use any color sweater – it doesn't have to be white. But white does make the lamp  more usable.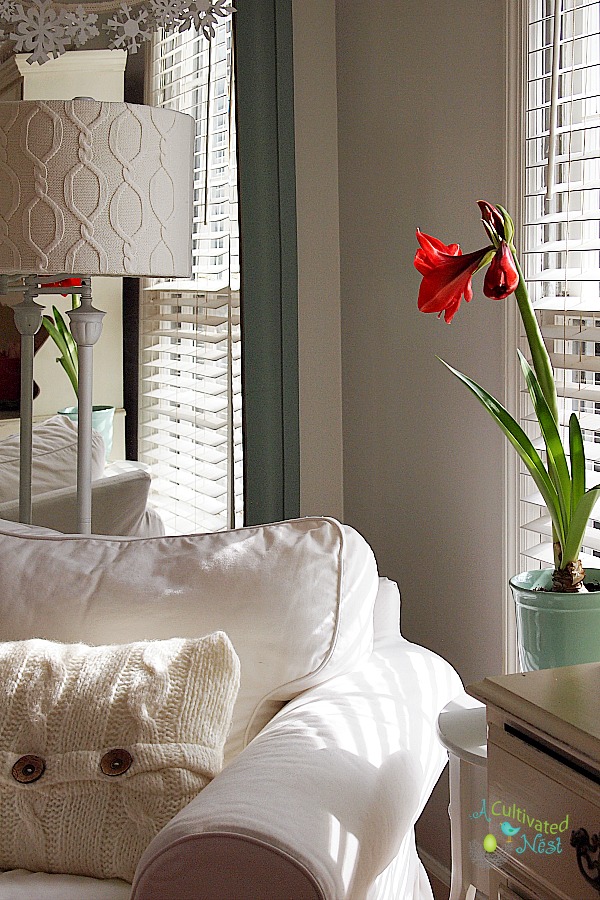 I paired the sweater covered lampshade with a cozy sweater pillow that I picked up at Ikea.
I think the success of this project lies in finding a sweater with some interesting texture and design. I had another sweater that I tried first but the design was a bit flat so it didn't look as cute as this one.
Like I said,  this is so easy it truly belongs in my Sweet & Simple Projects Series and I think it looks adorable for winter!
Have you ever upcycled an old sweater?
Don't miss a post! Get this blog delivered by email every time I post.  Subscribe via email here
You may also like: Easy DIY Winter Scarf Wreath