Sugar scrubs are expensive to buy but oh so easy to make! They make great gifts or keep them to pamper yourself. One of my favorite homemade gifts to give are body scrubs because you can add in any essential oil you want to give it that personal touch. This year quite a few of my friends  are getting a Lavender body scrub and I must say it's definitely my favorite one so far. With a gorgeous  color and filled in a half pint mason jar it's definitely a cute  gift to give!  Did I mention this DIY Lavender body scrub only requires 5 ingredients and is very budget friendly to make.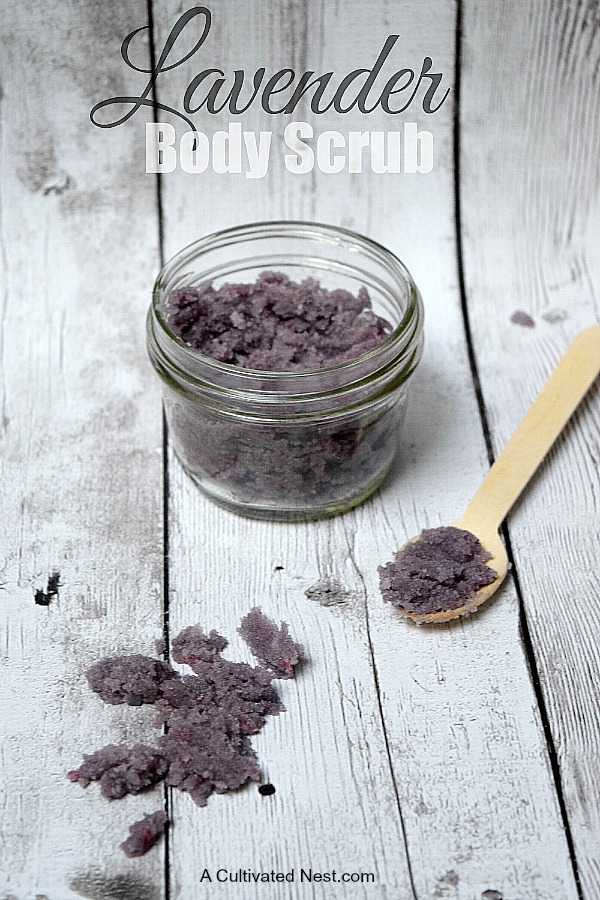 Disclosure: This post may contain affiliate links to Amazon and/or Etsy, which means that I may earn a small commission from some of the links in this post. Please see our Disclosure Page for more information.
Lavender is a calming oil and smells great!
Ready to get started on making your own batch of exfoliating body scrub?  Here's how (it super simple).
DIY Lavender Body Scrub
Ingredients:
½ Cup White Sugar
¼ Cup  Extra Virgin-Organic Coconut Oil
2 drops lavender essential oil
1 drop red food coloring (optional)
1 drop blue food coloring (optional)
or purple food coloring
air tight container
Directions:
1. Grab a medium size mixing bowl and a spoon and set aside.
2. Place ½ cup of sugar into your medium size mixing bowl and pop ¼ cup of coconut oil into the microwave for 20 seconds to just liquefy it (not hot because you don't want it to melt the sugar). Once the coconut oil is liquid you can pour it directly on top of your sugar and stir it up quickly.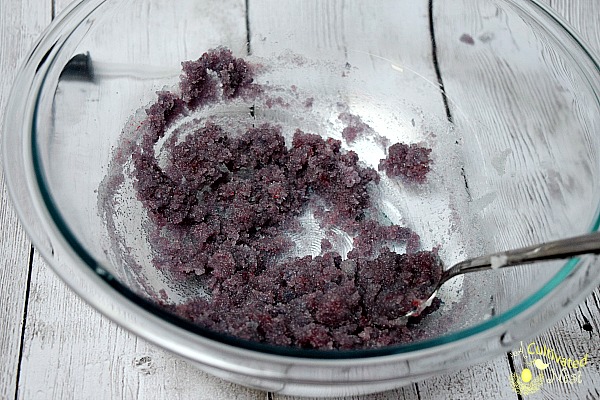 3. Once you are happy with the consistency (it shouldn't be runny – just soft and saturated with the oil) add in 1 drop of red food coloring and 1 drop of blue food coloring  (or a drop of purple food coloring) and mix it up evenly to get your gorgeous pop of lavender coloring.
(Skip this step if you prefer to keep it a natural color – a small amount of food coloring is safe to use in a body scrub.  The food coloring will not stain your skin or your clothes and  such a small amount is used  it won't effect anything.)
4. Once that is complete add in 2 drops of your Lavender essential oil, give it a quick stir and place it in an airtight container.
How to use:
For use on hands, feet, and body, or (gently) on the face. Scoop out a small amount of scrub and massage gently in circular motions until most of sugar dissolves. Wash off with warm water.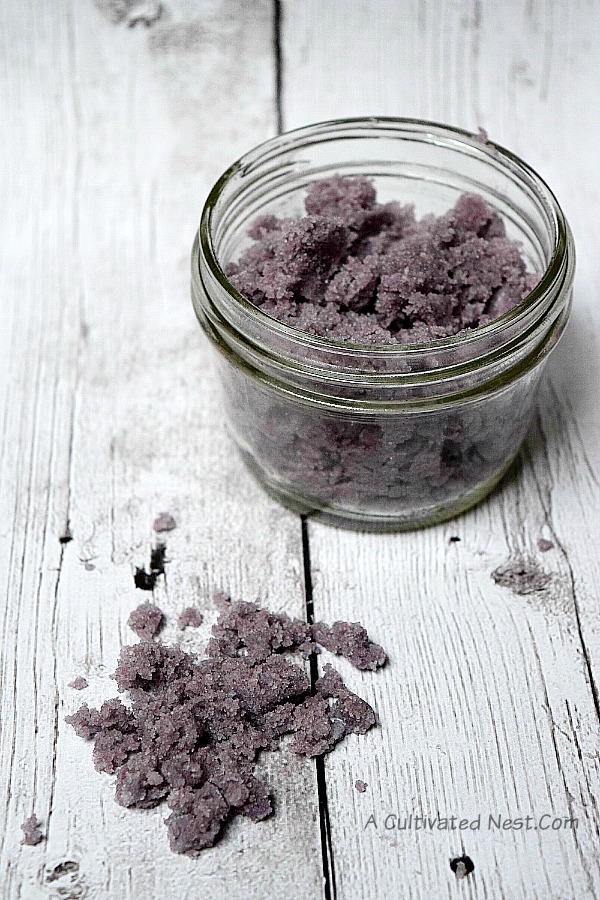 This can be stored for 2 months or more (out of direct sunlight). Mine never last that long since I love using them and make small batches! I store all of my body scrubs in half pint mason jars because they're the perfect size, airtight and are great size for gift giving. If you want to dress the container up just wrap a few strands of bakers twine in the color of your choice.  Enjoy!
Want more DIY sugar scrubs?
Check out our DIY Sugar Scrubs eBook! It contains 18 budget-friendly and all-natural sugar scrub recipes that will revitalize your skin (and that make great gifts)!
This post contains affiliate links to Amazon, which means that I may earn a small commission from some of the links in this post. Please see our Disclosure Page for more information.
You might also be interested in: