I love succulents because not only are they beautiful and unique plants but they hold up well under neglect – sometimes I forget to water as often as I should…Succulents do very well as indoor plants but I have found them to thrive even in the heat of Florida in the shade. They do love sun but mine grow beautifully in filtered sun as well. They also like very well drained soil so plant accordingly. Sometimes I pot them and scatter them on tables on the porch and other times they go right into the ground but this time I wanted to do something a little different. So I made a bird bath succulent garden!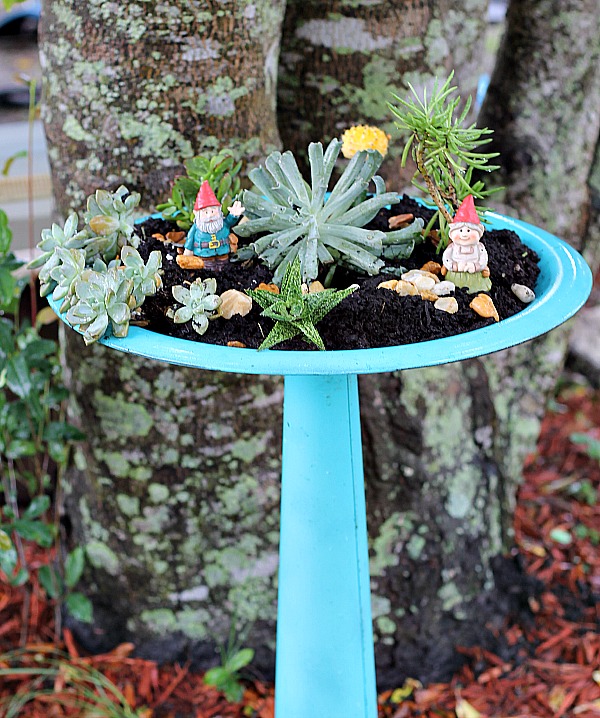 Disclosure: This post may contain affiliate links to Amazon and/or Etsy, which means that I may earn a small commission from some of the links in this post. Please see our Disclosure Page for more information.
This is a metal birdbath from a project I did last year.   I decided to repurpose this one as a planter, since I already have other bird baths around my garden. With it's wide, shallow bowl it's ideal for planting succulents! I painted the whole thing a pretty, bright Caribbean blue with some spray paint.
How To Make A Bird Bath Succulent Garden
Materials:
a variety of succulent plants
bird bath
good well draining potting soil (or Cactus Palm & Citrus Soil if you wish)
rocks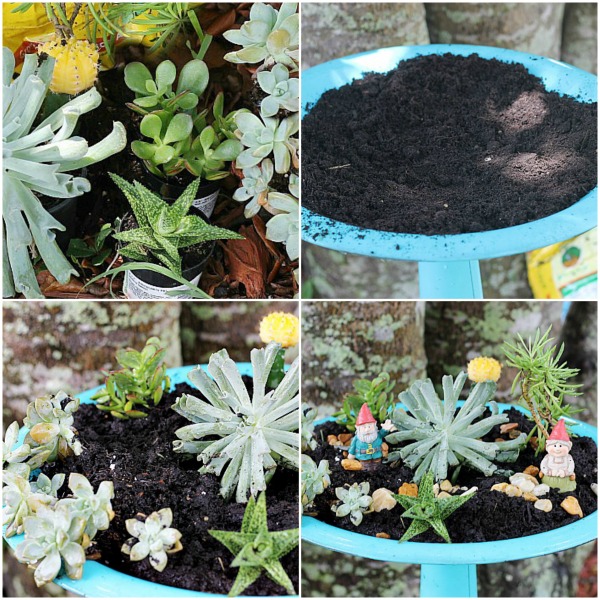 Directions:
**Mine will be on a covered porch so I did not drill drainage holes since I can control the water it gets. But if you wish to place yours in the yard where rain may over water the succulents, please be sure to either drill several holes so the water can drain (and be sure to use a concrete drill bit if your bird bath is concrete) or fill the bottom with small rocks and then the dirt. This project would be good for a bird bath that has a crack!
Fill bird bath ½ way with a good, quality potting soil or Cactus Palm & Citrus Soil.
Arrange your plants, leaving space for growth, but enough to make it feel lush, and full. This is just by eye, whatever looks good to you. Plant a taller plant in the middle for some height, trailing plants on the edges so they can spill over.
Add more soil around plants almost up to lip, pat in place.
You can totally cover the top with rocks or add just a little, we made our little succulent garden whimsical by adding a couple of mini gnomes to tend to it.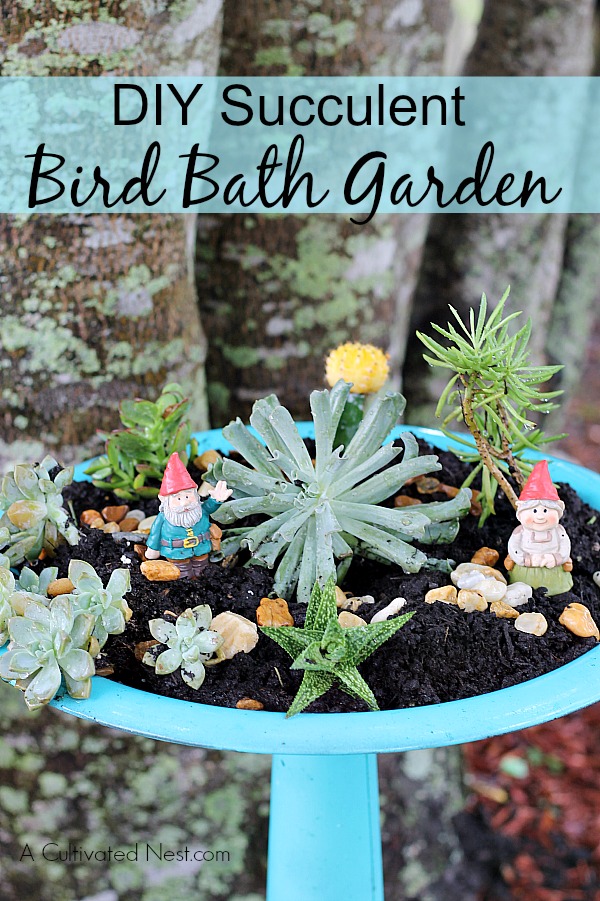 This is a simple project that would look stunning in any garden!
You May Also Be Interested In:
How To Make An Indoor Succulent Dish Garden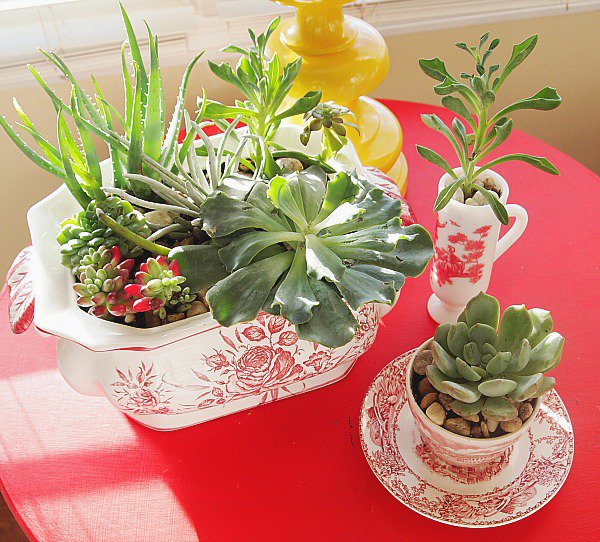 About Jody: I am a Florida girl through and through living the semi-country, small town life.  I am making my way through it with my amazing hubby, 2 beautiful kids, 2 of the best Dachshunds to ever walk the face of the earth, massive amounts of coffee and a whole lot of Jesus.  I homeschool, craft, cook, scrapbook, garden, raid the thrift shops, snap 1,000's of photos, and read when I can grab a spare minute (which is rare). You can find me blogging at Simply Southern Sunshine.