Today I'm starting a new series of Debt Success Stories. I hope this will be motivating to those that are on the journey to becoming debt free!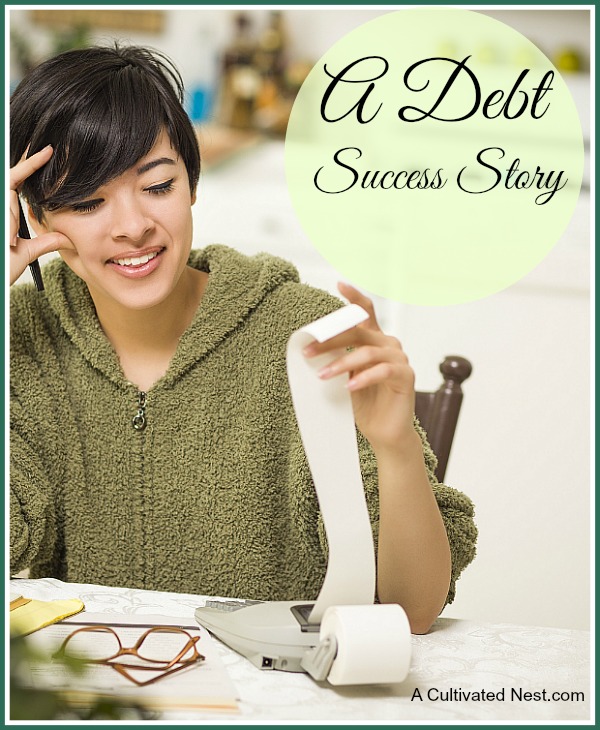 Jess' Debt Success Story
Disclosure: This post may contain affiliate links to Amazon and/or Etsy, which means that I may earn a small commission from some of the links in this post. Please see our Disclosure Page for more information.
My husband and I met ten years ago at the college we both attended. We were both still young, naïve, and didn't understand the world around us completely. When we met, the only debt we were obtaining at the time were student loans. Only, we had no idea what we were doing and how those students loans would impact our future.
Getting Married
When you're young and in love, you really just want to get married, nothing else matters. So at the ripe young age of 18 and 20, my soon to be husband and I were engaged. Everyone wondered why we were in such a hurry. We "paid" for our wedding by putting things on a credit card and some of it was paid for in cash. We were going to start our new life with debt.
Buying a House
Back when we were buying a house, we thought we were making a wise investment by purchasing a double wide. A double wide is also known as a modular home. While we thought were making a great investment, come to find out, we had just bought a house with a 12.5% interest rate. Not only did we have that high of an interest rate, but we didn't really pay attention until we started following Dave Ramsey and looking at our debt closely.
Student Loans
Like I said before, student loans would be our biggest fall back later in life and it still is. My husband and I both took out around $100,000 each to pay for our private Christian education. Since we were married, had a house, cars, and I was pregnant, I took out "extra" student loans to live on while I went to school. I'll be the first one to admit that was a stupid decision, even what my husband said "don't do it."
Where are we now?
In June of 2013, our youngest son was 3 months old. At that point we started looking at the Dave Ramsey method. We knew this would be a lifelong process, but we had to start somewhere.
Our first major financial success was selling our modular home. We sold our home back to our neighborhood for $21,000 and we still owed $31,000. So we would be taking a loss of $10,000.
After we sold the house, we moved into a second floor apartment with our 3 kids and 1,000 square feet. The next 8 months we spent "hustling" to get rid of as much debt as possible.
We paid off the $10,000 we owed on the house plus a $6,000 credit card. As time went on we were also able to pay off a brand new washer and dryer and several more credit cards.
To date we've paid off around $20,000 in debt. That's a lot of debt on a small income, in under two years, but we did it!
Here are some ways we paid off the debt:
1. We stopped using credit cards. If you keep using credit cards, your debt will never get paid off.
2. We both worked really hard! We paid off our debt with cold hard cash, not with a tax return or someone giving us money.
3. We had an emergency fund in place of a thousand bucks and have a zero based budget. We plan for every dime we spend. (Yes, we still budget for fun things).
4. We don't have it all. We drive old cars and rent a house. We are still working on paying off one more credit card and the rest of our van. The process of paying off debt is a little slower these days, but we're still chucking away!
My point of sharing my story is that you don't have to live in debt forever. Society makes debt seem like a good thing and it's not. There is necessary debt (mortgage and medical bills) but you don't have to be a slave to that debt forever.
Start making small changes now, so your future will look brighter and you'll be a lot richer not owing everyone money that you do not have.
Would you like to share your real life debt success story? You don't have to have a blog or use your full name. Just use this Contact Me form  & I'll get in touch with you.
You may also be interested in: How To Use The Snowball Method To Get Out Of Debt