What are Dave Ramsey's 7 Baby Steps.
Have you ever heard of Dave Ramsey? If so, you'll know that his programs, Total Money Makeover and Financial Peace University are all based around 7 baby steps that he advises you take for your financial future. If you're new to his programs though, the baby steps can be confusing to figure out. Let's take a look at Dave Ramsey's Seven Baby Steps Explained so that you'll be able to make your start toward a debt free life!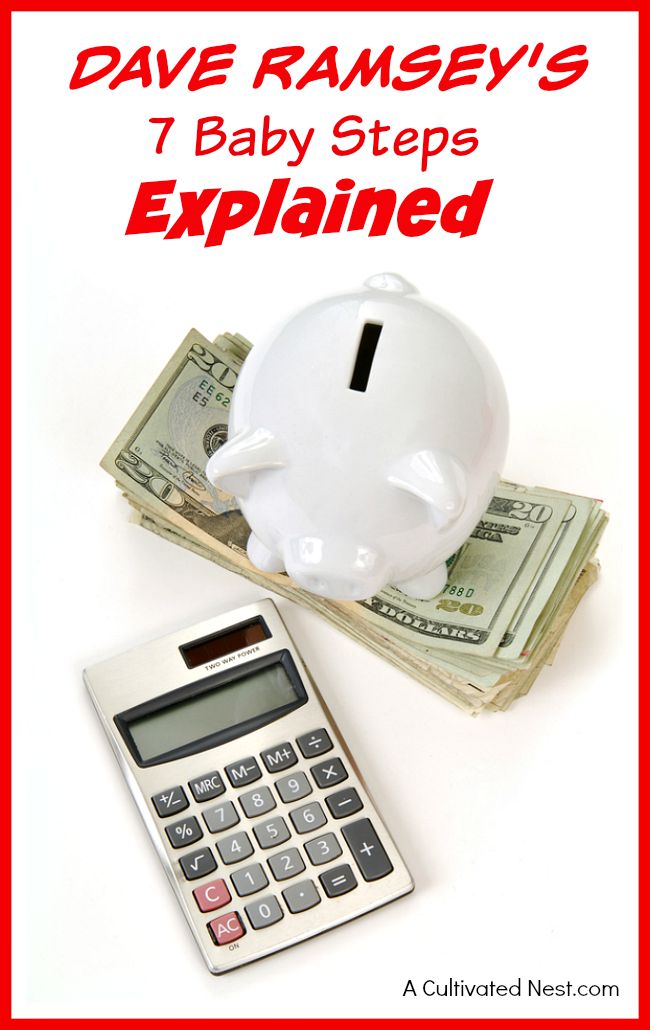 Dave Ramsey's Seven Baby Steps Explained
Disclosure: This post may contain affiliate links to Amazon and/or Etsy, which means that I may earn a small commission from some of the links in this post. Please see our Disclosure Page for more information.
For the most part, the seven baby steps are not meant to be done at the same time. You'll start with step 1 and finish it before you move onto step 2. Once you're done with step 2, you'll move on and so on. Each step is designed to give you the best chance at not only preparing for emergencies, but also becoming debt free and building wealth as well. However, some steps (such as steps 5 and 7) will be ongoing steps that are done with other steps.
Baby Step 1
Baby step 1 is to have a $1,000 baby emergency fund set aside. This fund will cover any major financial emergencies, such as a car breaking down that you may have. This isn't your full emergency fund, but it is enough to cover most emergencies.
Baby Step 2
Baby step 2 is one of the longest for most people and will see you paying off all of your debt. Yes, this can be a hectic, stressful time, but by throwing every bit of extra money you may have at your debt, you'll get there before you know it. The average time for this baby step seems to be around 2 years, but of course, how long it takes you will depend on how hard you work at it.
Baby Step 3
Baby step 3 is where you will build your full emergency fund. In order to really be prepared for any emergency that may come, you'll want to have 3-6 months expenses saved and set aside. Think of baby step 3 as an extension of step 1 and you'll be fine.
Baby Step 4
Baby step 4 is where the fun really begins. You'll be investing 15% of your income into retirement. Dave recommends Roth IRA's, but you can use any form of investing that you choose to.
Baby Step 5
Once you have baby step 4 done, you can start working on baby step 5 – college savings for your kids. One good recommendation is to start a 529 plan for them. If your kids are already grown and college isn't a concern, you can feel free to totally skip this step, or use it for grandkids!
Baby Step 6
Own your own home? If so, baby step 6 is for you! Here you will pay off your home if you didn't do it in step 2! Toss any extra money that you have at your mortgage (which should be considerable since you have no other debt by now) and watch the principal balance drop!
Baby Step 7
Baby Step 7 and you're home free! Ready to know what this step's task is? Build wealth and give. By the time you reach step 7, you should be totally debt free, have college money saved (or are in the process of saving it), have your retirement money saved and should be sitting pretty with your finances. Now is the time to continue to build your wealth and to use some of those funds you have freed up to help those less fortunate.
Do you follow Dave Ramsey's seven baby steps? If so, what step are you on?

This post contains affiliate links to Amazon, which means that I may earn a small commission from some of the links in this post. Please see our Disclosure Page for more information.
You may also be interested in: 9 Tips For Sticking To Your Budget