It is no secret that having a savings account is important. However, actually finding the money to put in the savings account can be a challenge for many people! Here are several creative ways to add to your savings account.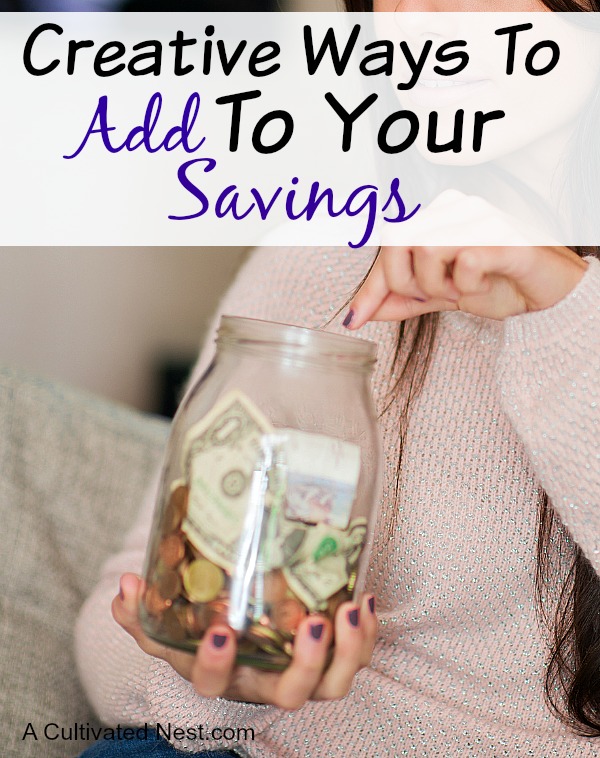 Creative Ways to Add To Your Savings Account
Disclosure: This post may contain affiliate links to Amazon and/or Etsy, which means that I may earn a small commission from some of the links in this post. Please see our Disclosure Page for more information.
1. Use your computer to generate some extra income.
My daughter did jobs on Amazon's Mechanical Turk while she was in school.  You do various tasks for money. It doesn't pay a lot but it's something you can do from home when you have time. Your payments go into your Amazon Payments Account and you can either link that account to a checking account to transfer your money or use your money on Amazon purchases.
Also, everyone in my family does Swagbucks (referral link). You can cash out for PayPal or for all kinds of  gift cards (I usually cash out for Home Depot and Dominos).  There are lots of ways to earn points with Swagbucks  on their site. They have a Daily Poll, print & use coupons for groceries, videos to watch for points, surveys for points and Shop Earn just to name a few ways to earn with Swagbucks. The easiest way to earn though is to use their app on your Kindle or Smartphone and watch the movie trailers since they can run while you do something else.
Bing (referral link) also has a rewards program. You get points for searching on your computer or phone and cash out for gift cards
Use the cash you free up by using these programs and add to your savings account!
2. Round up your purchases.
Anytime you buy something, round up the purchase and put the difference into your savings. You can do this on your own, or see if your bank offers such a program when you use your debit card. You will be amazed at how fast the rounding up can add up.
3. Stash away your change.
This is an old tip but a tried and true one. At the end of the day, empty your pocket and purse of all change. At the end of the month, take the change to the bank and cash it in or use a Coin Star machine in the grocery store. Then, simply take the money and place it in your savings.
4. "Cash" in your coupons.
When you use coupons on your groceries, make note of how much money you saved. Then, take that amount in cash and put it in savings. For example if you redeem $10 in coupons, place $10 in cash in your savings.
5. Sell your clutter.
Comb through the clutter in your home and see what can be sold. List your kid's clothing, movies, electronics, books, and other odds and ends on your local Facebook garage sale page, eBay or Craigslist for cash. Then, stash away your earnings.
6. Stash away windfalls.
When you get a cash gift, tax return, a rebate or a refund,  of any kind, don't consider it a windfall that needs to be spent. Instead, take it directly to your savings account. There is no point in letting it burn a hole in your pocket when you can instead save it for a rainy day.
7. Challenge your family.
Invite your family to join in on the savings fun. Challenge them to try and save a specified amount each week, then put this amount in savings. Having everyone on board is a great way to find success.
8. Go on a spending freeze.
Go on a spending freeze for a weekend, a week, or a month (start with the weekend if you're not used to doing this and work your way up). That means unless it is a necessity, it doesn't get purchased. Necessities would include food, gas, housing, and utilities. See how much you can save by not spending for one week. You can then take the cash you freed up and put it into saving.
Building your savings doesn't have to be a challenge. Hopefully a few of these ideas will work for you and you'll have a healthier looking savings account in no time!
How do you come up with money to put in savings?
This post contains affiliate links, which means that I may earn a small commission from some of the links in this post. Please see our Disclosure Page for more information.
You might also be interested in: How to Include Savings in Your Budget Without Breaking the Bank