I'll admit, I try to eat healthy, but I love candy! Chocolate, gummies, hard candy, lollipops, you name it. I'm a sucker for anything with some sugar in it! So it's probably not a surprise that I love chocolate mints, especially Andes mints. Technically they're supposed to be after-dinner mints, but I always say, why wait until after dinner! And with this homemade beauty product DIY, you don't have to wait to smell the scent of those yummy chocolate mints! If you also love Andes mints (or just are a fan of chocolate and mint flavors) then you'll love this Andes Chocolate Mint Lip Scrub!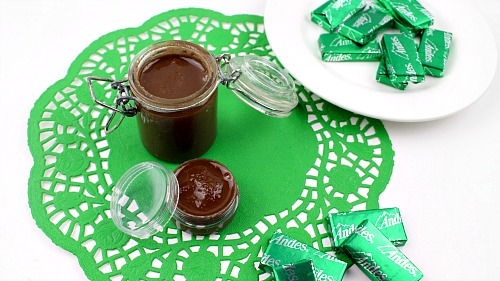 Disclosure: This post may contain affiliate links to Amazon and/or Etsy, which means that I may earn a small commission from some of the links in this post. Please see our Disclosure Page for more information.
Andes mints actually come in more flavors than just chocolate and mint (the Crème De Menthe flavor). There are actually 6 flavors in total, but I haven't gotten a chance to try them yet. If you're a fan of one of the other flavors, there's no reason why you couldn't use those to make a lip scrub! You might just change out the essential oil to one that better matches whatever mint you choose to substitute. Though the peppermint essential oil would probably still be fine with the Mint Parfait and Peppermint Crunch flavors!
Andes Chocolate Mint Lip Scrub
Materials
1/4 cup (4 Tablespoons) coconut oil
5 Andes Crème De Menthe mint candies– broken into pieces
1/3 cup granulated sugar
5-6 drops peppermint essential oil
3-4 drops Vitamin E oil
4 lip balm containers
Directions
1. In a small microwave-safe bowl, add the coconut oil. Microwave for 15 seconds and stir. Stir in the Andes chocolate mint pieces. Microwave for an additional 15 seconds. Stir until melted and smooth.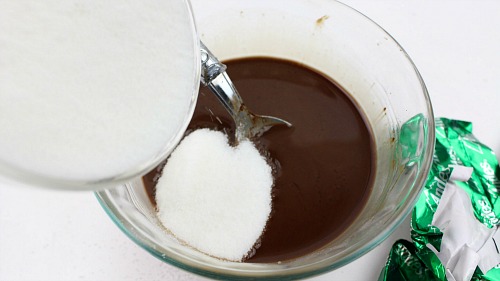 2. Add the sugar and stir until well mixed.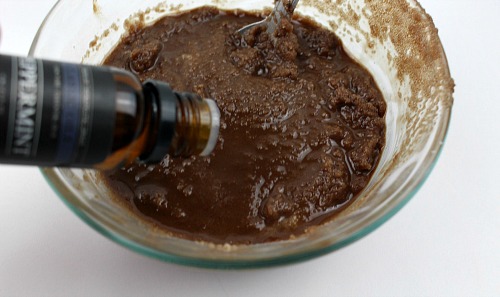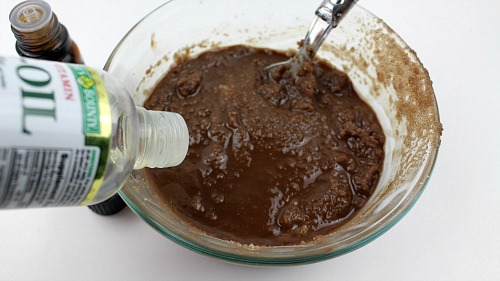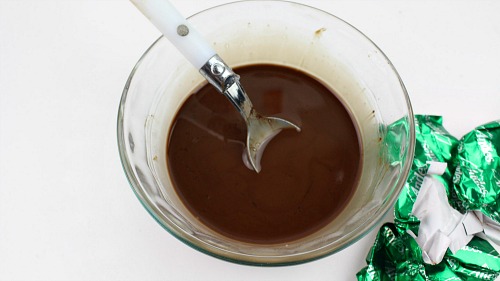 3. Add the peppermint essential oil and vitamin E oil and stir until well incorporated.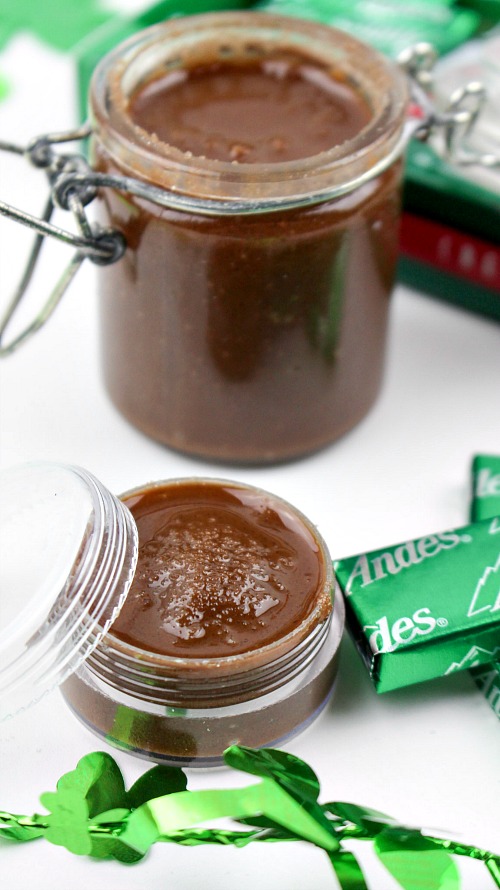 4. Transfer to your Andes chocolate mint lip scrub to the airtight containers and store up to 3 months.
How to Use
1. Wet your lips and apply the Andes chocolate mint lip scrub generously to your lips.
2. Gently scrub in a circular motion. The sugar will help exfoliate and the coconut oil will moisturize.
3. Rinse with warm water.
4. Pat dry with soft towel.
5. Apply your favorite lip balm- I used my pretty homemade mica lip balm!
Have you ever made your own DIY lip scrub?
This post contains affiliate links to Amazon. Please see our Disclosure Page for more information.
You might also be interested in: