Fall is a great time to plant just about everything! The cooler temperatures and added chance of good rain help the roots to become well-established. Plus, planting in the fall gives plants a head start compared to spring planting. Also, most of the Big Box stores start to clearance their garden section in fall in preparation for Christmas trees (at least around here). So that's another reason why I try to do most of my landscape planting  in fall.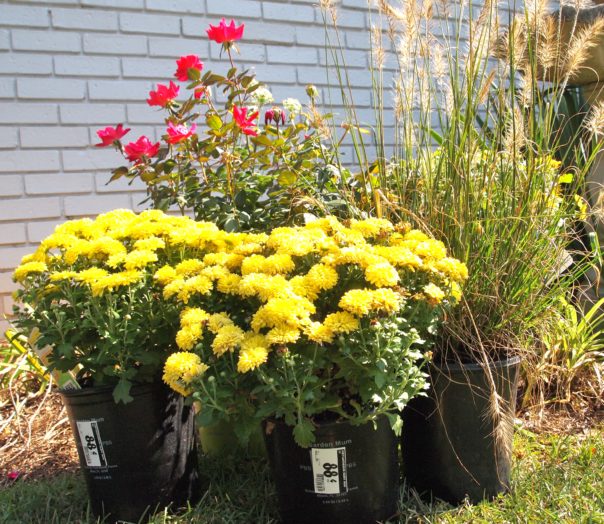 Disclosure: This post may contain affiliate links to Amazon and/or Etsy, which means that I may earn a small commission from some of the links in this post. Please see our Disclosure Page for more information.
That's how I was able makeover my side  garden on a budget.  First I got new plants on clearance at Lowe's & Home Depot.  I got some mums for .88,  ornamental grasses in 3 gallon containers for $7.50 each (which are going in the backyard), 1 Dwarf Fountain grass in 1 gallon container for $2.50 and  Double Knockout Roses for $6.50 (some are going in the backyard).
#2. I moved existing plants that I already  had such as cannas and daylillies.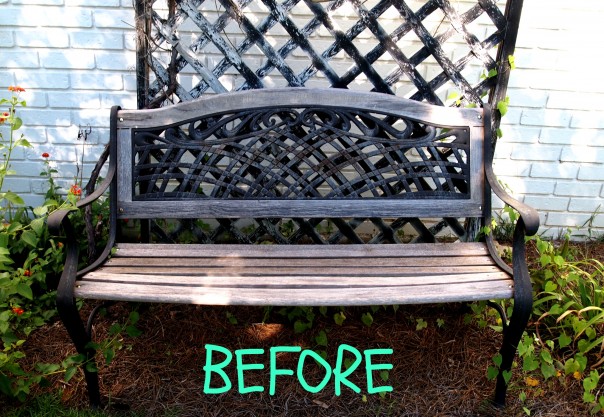 I also spruced up my tired old bench by painting it with some red enamel paint that I already had.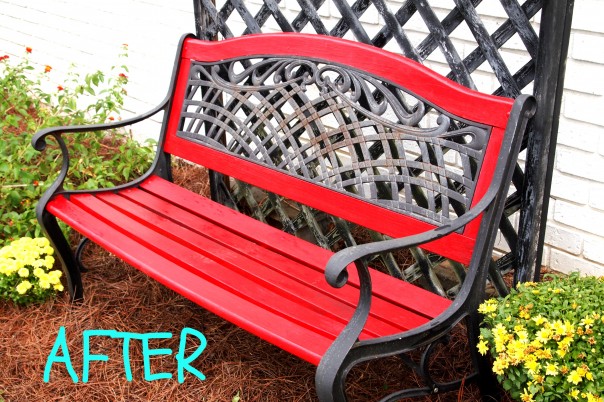 Hopefully since it's enamel it'll weather alright – but if not I have more paint to do touch ups. Isn't it amazing what a little paint can do! It looks like a new bench.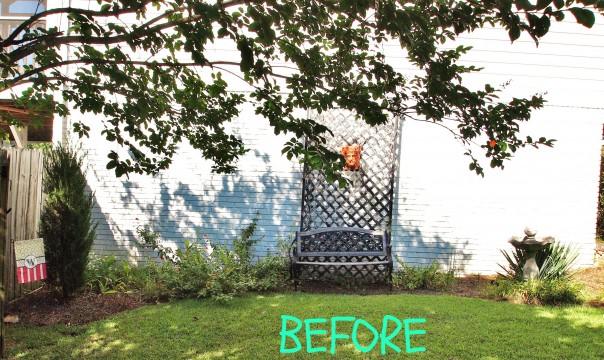 I did buy two bales of pinestraw and 2 bags of the cheap topsoil ($1.14 each). I  could have used a jack hammer in that area. There really was some "red earth of Tara" there.  Good brick making soil!  I had to use a pick ax to make holes for the new plants! 
Sometimes just cleaning up an area -pulling weeds, trimming bushes and plants,  creating fresh edging and adding some mulch is all you need for a nicer look without investing a lot of money.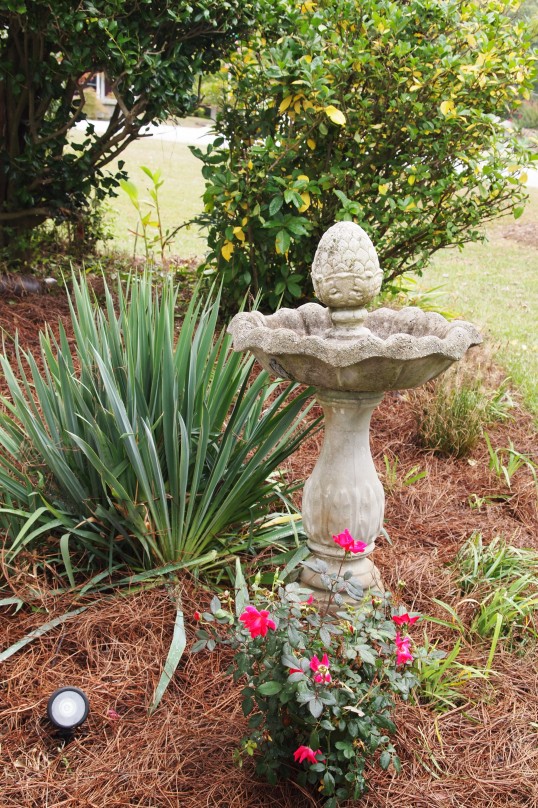 Basically I dug up some plants that never did well in this area & moved them into the backyard, I re-shaped the bed and dug a new crisp edge, weeded, trimmed back the crazy Lantana that comes back every year,  planted my clearance plants and topped it with some pine straw for a finished look.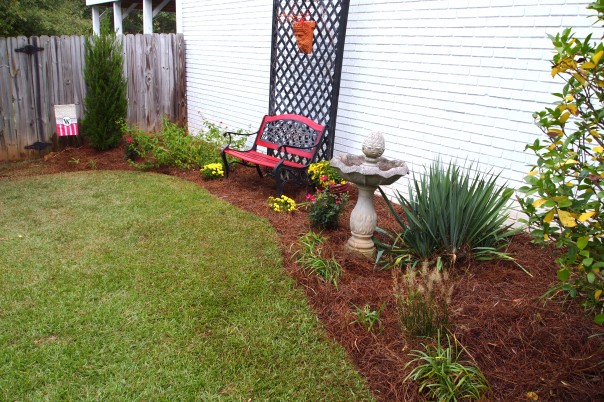 It took me about 1 1/2  weeks to makeover this side area.  It gets full sun around 1pm and it was just too hot to be pick axing in the blazing sun! So I was only able to work on it for a bit the mornings.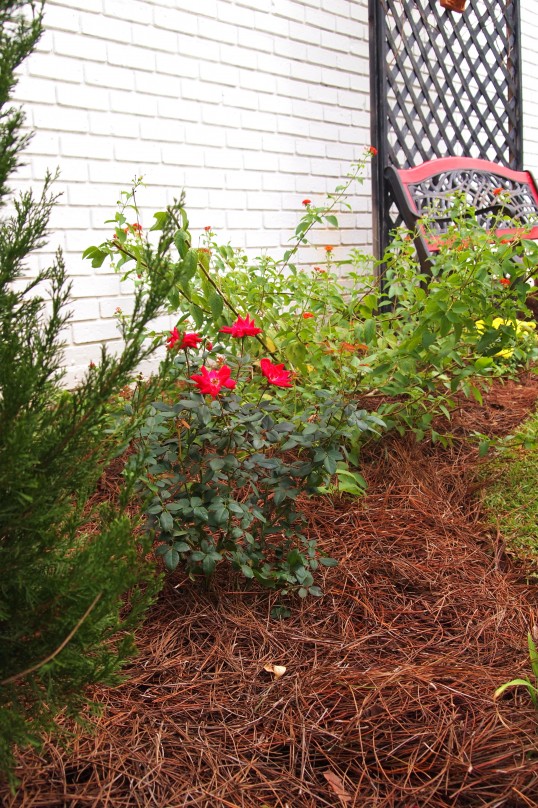 I think it looks so much better and I can't wait for next year when the roses get a little bit bigger. I think the red bench with the red roses is going to look really nice.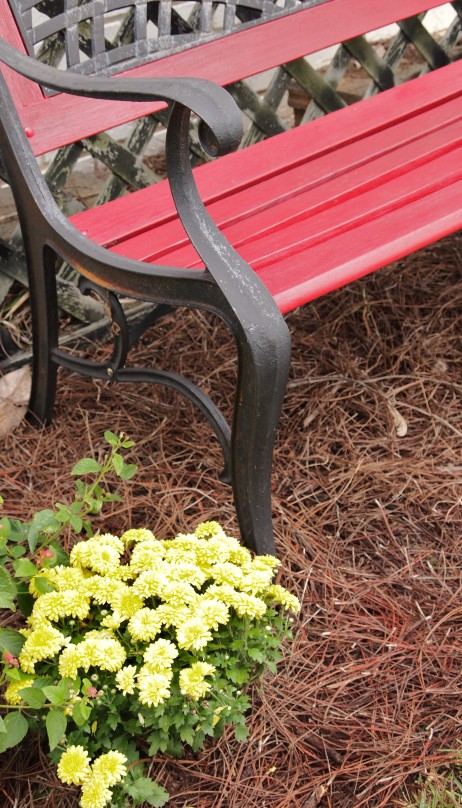 I guess you can tell that I take my inside color palate and use it outside as well 🙂