Beautiful Homemade Wind Chime Projects.
There's nothing like listening to the soft tinkle of wind chimes on a breezy day! You can buy all kinds of wind chimes, but it's fun to make your own. Especially if you can upcycle or repurpose material you already have to make one. I found 12 DIY Wind Chimes that I think are very creative to share with you!
Disclosure: This post may contain affiliate links to Amazon and/or Etsy, which means that I may earn a small commission from some of the links in this post. Please see our Disclosure Page for more information.
Making wind chimes is easy, and a lot of fun! I hope this post inspires you to create some fun wind chimes for your yard!
12 Great DIY Wind Chime Ideas
Want to make your own DIY wind chimes? Here are some tips:
Go Shopping! If you don't have old kitchen gadgets or extra silverware, go shopping at thrift stores, secondhand shops, and garage sales. You will be able to find things cheap and they don't have to be in perfect shape.
Spray paint it. Don't like the colors, maybe they don't match, or want to keep rust at bay? Spray paint the items to bring new life to your wind chime.
Hang it somewhere sturdy. When a storm comes through, make sure to have your wind chime hung somewhere sturdy or be ready to take it down.
1. Flowerpot Wind Chime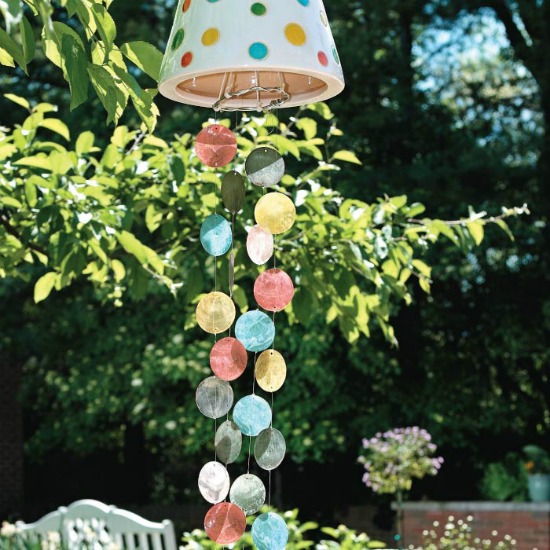 I love this colorful flowerpot wind chime. You could use any cute pot that you have! Check out the tutorial at My Home My Style
2. Drift Wood Wind Chime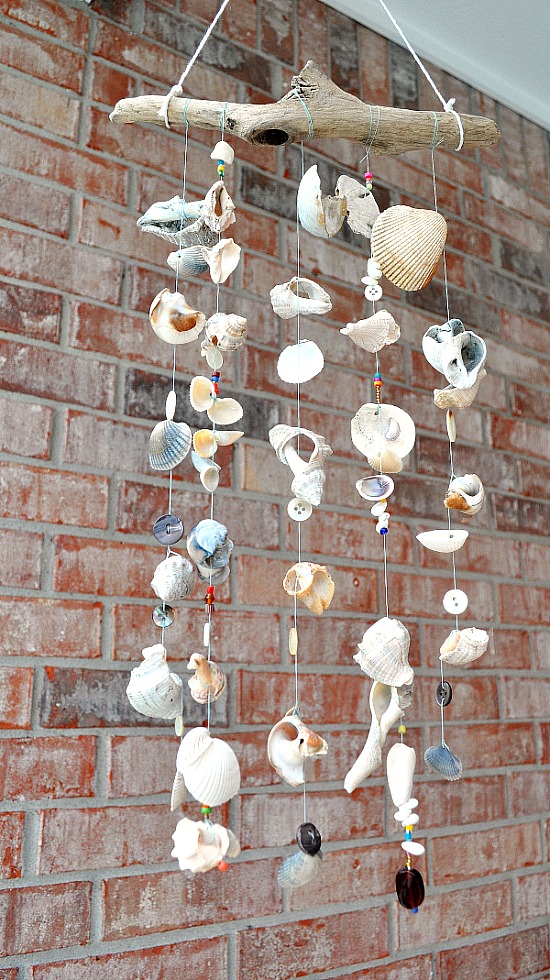 These DIY seashore wind chimes from Home Sweet Homemade would be a great way to use shells you find on vacation.
3. DIY Key Chime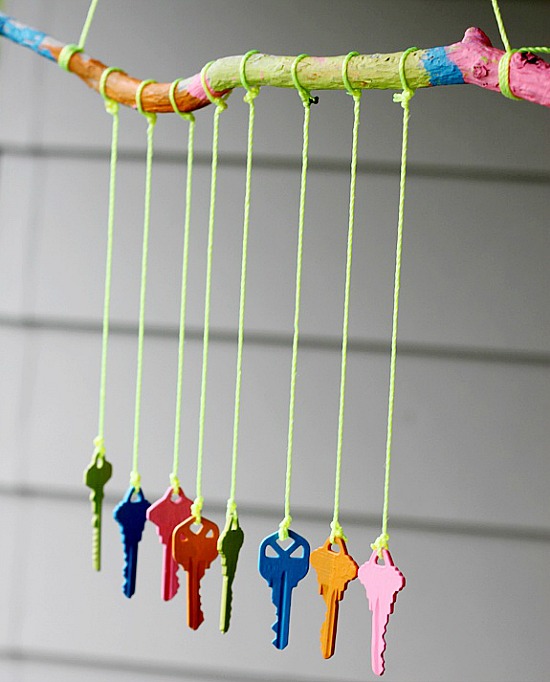 This wind chime is a cute and easy one even kids can make. I love all the different colors for the keys! Check out Inner Child Fun for the tutorial on how to make this upcycled key wind chime.
4. Lampshade Wind Chime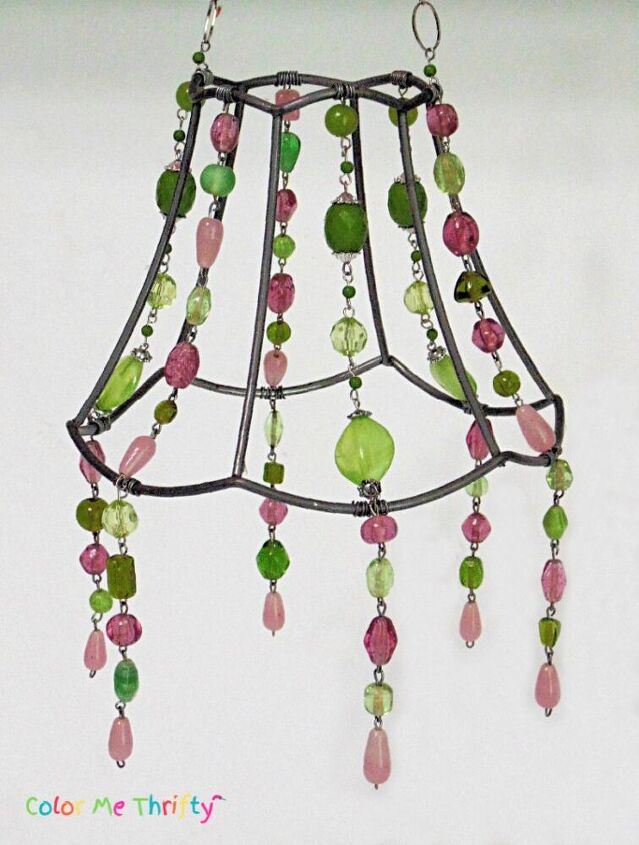 Reuse a lampshade and some old necklaces to make a colorful and magical wind chime. See how at Home Talk.
5. Recycled Junk Wind Chime
Make your own wind chime out of recycled junk that you have around the house. See how at Craft Bits.
6. Can and Egg Shell Wind Chime
Make a wind chime out of a can and decorate it with egg shells! This is the perfect project for a child during the summer months. See how at Craft Bits.
7. Mom Wind Chime
Make a family wind chime for Mom or Grandma! You put one pot for each member of the family. See how at Craft Bits.
8. Cutlery Wind Chime
Red Ted Art has a cute cutlery wind chime that is simple to make and can be made with kids.
9. Owl Kitchen Gadget Wind Chime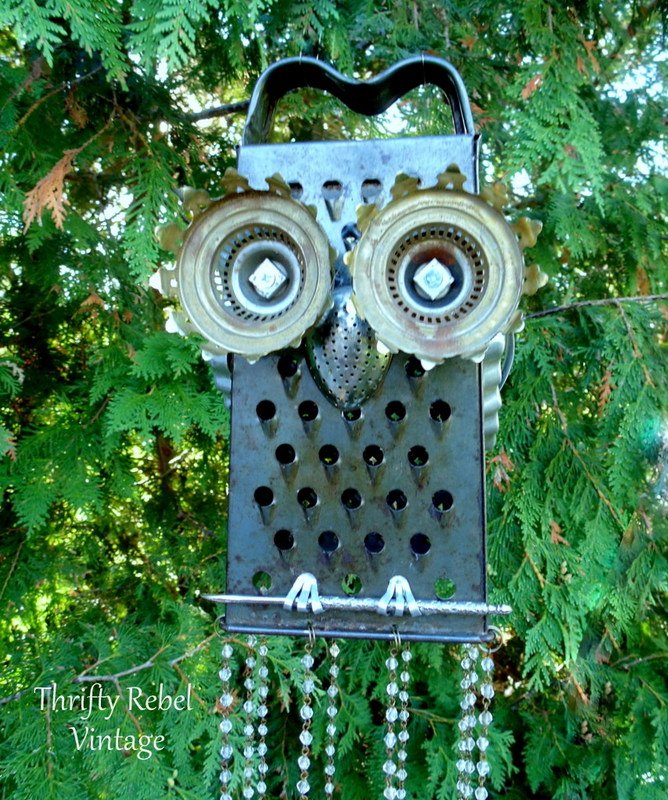 Make an adorable owl wind chime with old kitchen gadgets. Don't have your own? Shop garage sales and thrift shops to get all the items you will need. See the tutorial from Home Talk.
10. Rolling Pin Wind Chime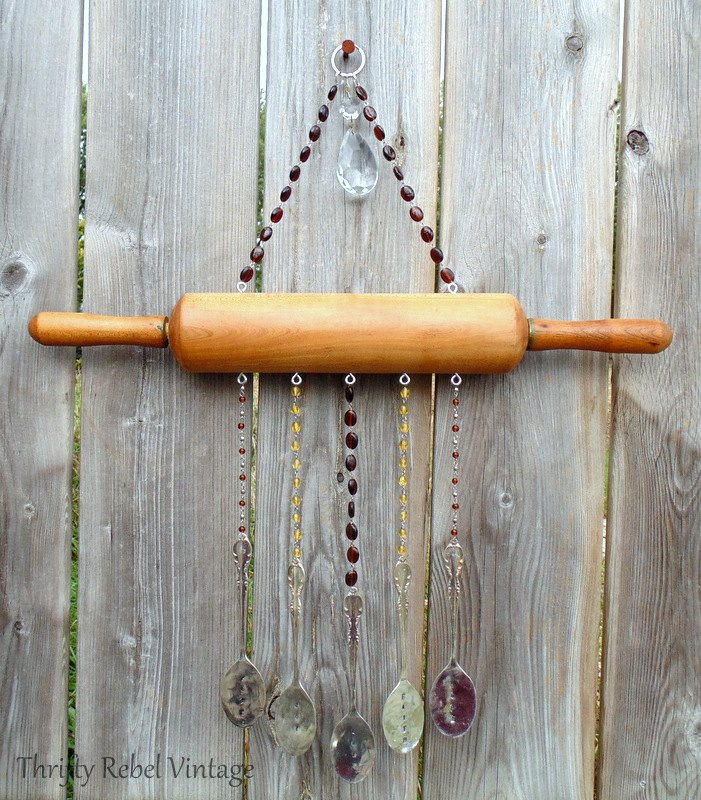 I love this baking inspired rolling pin wind chime from Home Talk.
11. Strainer Pot Wind Chime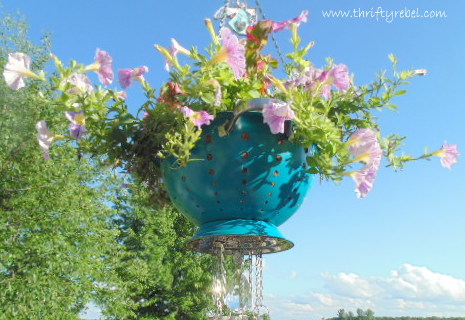 Make a strainer wind chime and you have the perfect place to plant a flower too! See how at Home Talk.
12. Pressed Penny Wind Chime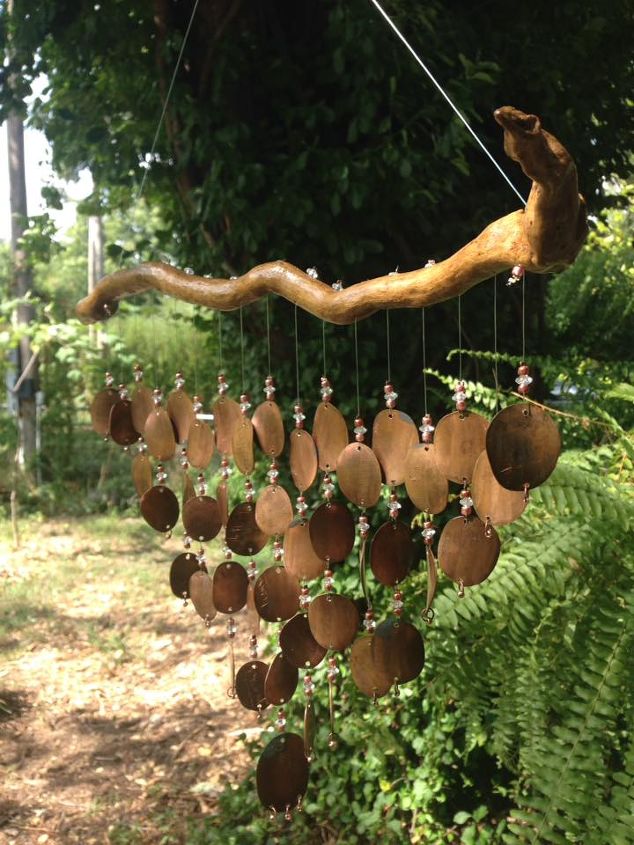 This pressed penny wind chime is gorgeous and won't cost you much! See how to make is at Home Talk.
I hope these ideas get your creative juices flowing and inspire you to use what you may already have to make your own wind chime!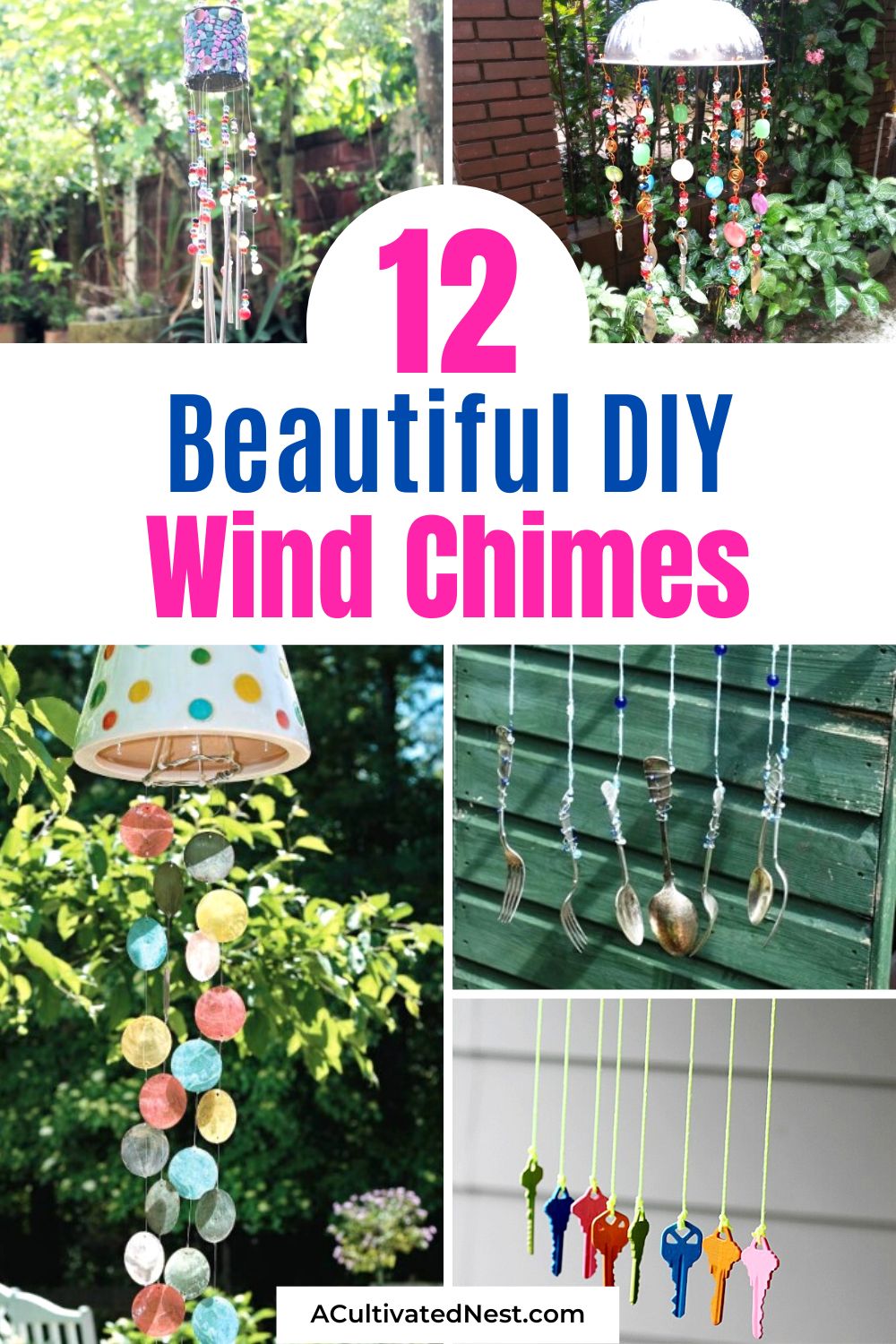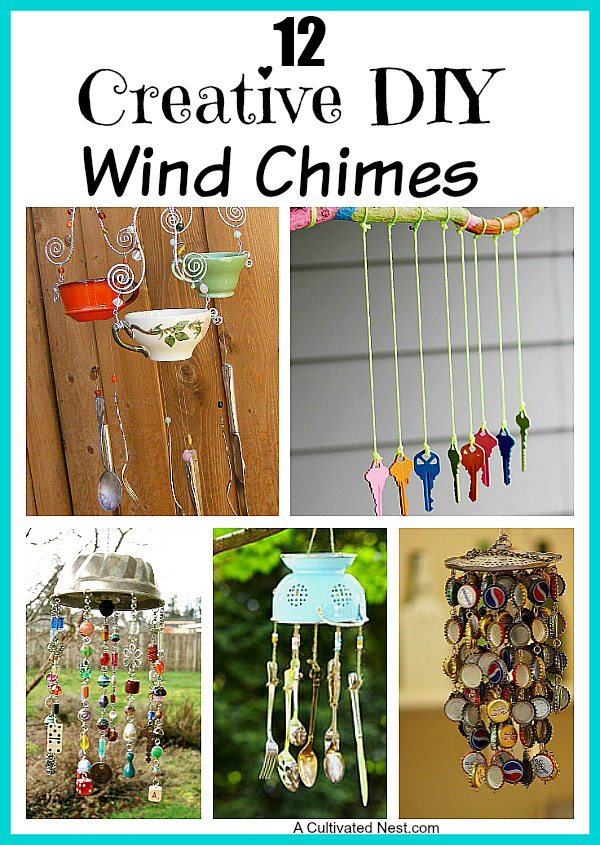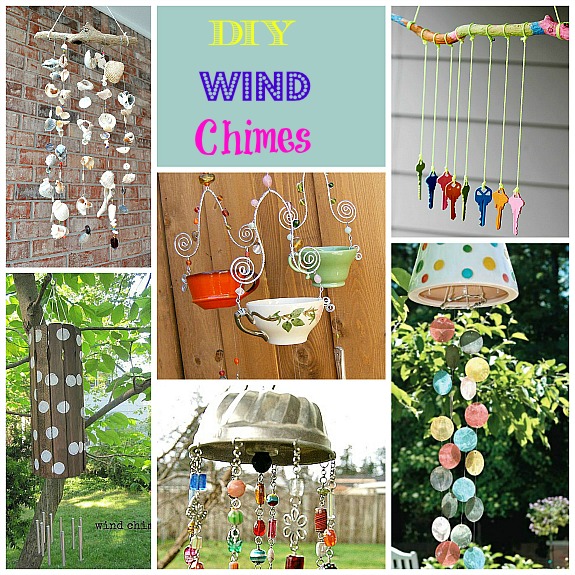 You might also be interested in: 10 Beautiful DIY Garden Globes