A kitchen that operates with frugality in mind is a great way to keep your household expenses down while creating some fantastic meals. To run a frugal kitchen, there are a few items you want to keep on hand. By keeping these 7 things every frugal kitchen should have in stock, you'll be more successful at keeping your meal costs down on a regular basis. Here is what you need to know to get started.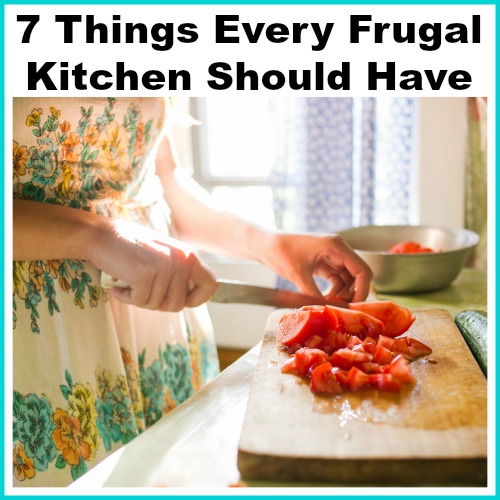 7 Things Every Frugal Kitchen Should Have
Disclosure: This post may contain affiliate links to Amazon and/or Etsy, which means that I may earn a small commission from some of the links in this post. Please see our Disclosure Page for more information.
1. A basic crockpot.
My #1 thing that every frugal kitchen should have is a crockpot slow cooker! One of the easiest ways to blow a budget is to order carry out or dine out. A crockpot can have dinner ready to go as soon as you walk in from work. Not only that, but you can turn the most ordinary and inexpensive cuts of meat into amazing meals with the help of a few canned goods. A basic crockpot is a must have for amazing, budget friendly meals. I have 2! I have one that's programmable and one that is manual.
2. Quality storage containers.
This might seem like an odd requirement for a frugal kitchen, but quality storage containers can help you save serious cash. You will be more likely to cook in bulk which no doubt saves you money, and you are more likely to save those leftovers and reuse them in creative ways. Having proper storage at your fingertips makes all the difference. I've moved to mostly glass storage containers but I do have these Rubbermaid BPA free containers on hand for when I freeze leftovers.
3. A Good Knife.
You need at least one really good chef's knife. Running a frugal home will require you to cut up different types of meat (like making pork chops out of a pork loin), and you'll also need to be able to easily cut potatoes to make fries, for instance. You'll be cutting and peeling lots of fruits and vegetables in a frugal kitchen. Having a good sharp knife is essential to being able to slice and dice easily while preparing food.
4. A wide assortment of dried spices and seasonings.
Ordinary cuts of meat and produce can be made tasty with a variety of seasonings. Having a selection of dried seasonings on hand can help you make the most of your plain ingredients. Even if you are eating chicken two nights in a row, different seasoning can make it taste like a different meal. Head to the dollar store if you have to, where a huge variety of basic seasonings are waiting for you.
RELATED: How to Grocery Shop at the Dollar Tree
5. A stockpile of non perishables and dried goods.
Your pantry should have a stockpile of non perishables and dried goods you purchased on sale. This includes canned soups, sauces, vegetables, rice, beans, flour, sugar, and pasta. All these are inexpensive items that make a variety of meals and can be stored for months. So stock up and have these basics when you need them.
6. Cloth towels.
There is no reason to blow through roll after roll of paper towels or packages of napkins. Instead, invest in cloth. This way you can easily wash and reuse your kitchen linens and don't find yourself needing to replace them (which will save you money in the long run).
RELATED:  Replace Disposable Products With Reusable Ones
7. A Blender.
A good quality blender is a great investment. You can grind up spices, coffee, seeds, make drinks and smoothies. You can make pesto, salad dressings, pancake batter, dips and so much more. A good blender can really make your job in the kitchen much easier!
Does your kitchen have these items? If not, why not consider adding one or two? You'll find that these 7 things every frugal kitchen should have will no doubt come in handy and help you keep your weekly meal costs down (and that helps the overall budget)!
Do you have anything you'd like to add to the list? Tell me in the comments below!
This post contains affiliate links to Amazon, which means that I may earn a small commission from some of the links in this post. Thanks for supporting this site! Please see our Disclosure Page for more information.