Do you feel like your home doesn't have enough space? Maybe you organize and reorganize all the time, but you still can't find a spot for everything. Well, you might have plenty of space that you've forgotten about- the space on the inside of your doors! The inside of doors, whether full house doors or small cabinet doors are great places to store and organize. You can hang things, place things, pin things, whatever you like, given that you've got the right organizer. For inspiration, check out these 10 Clever Inner Door Organization Solutions!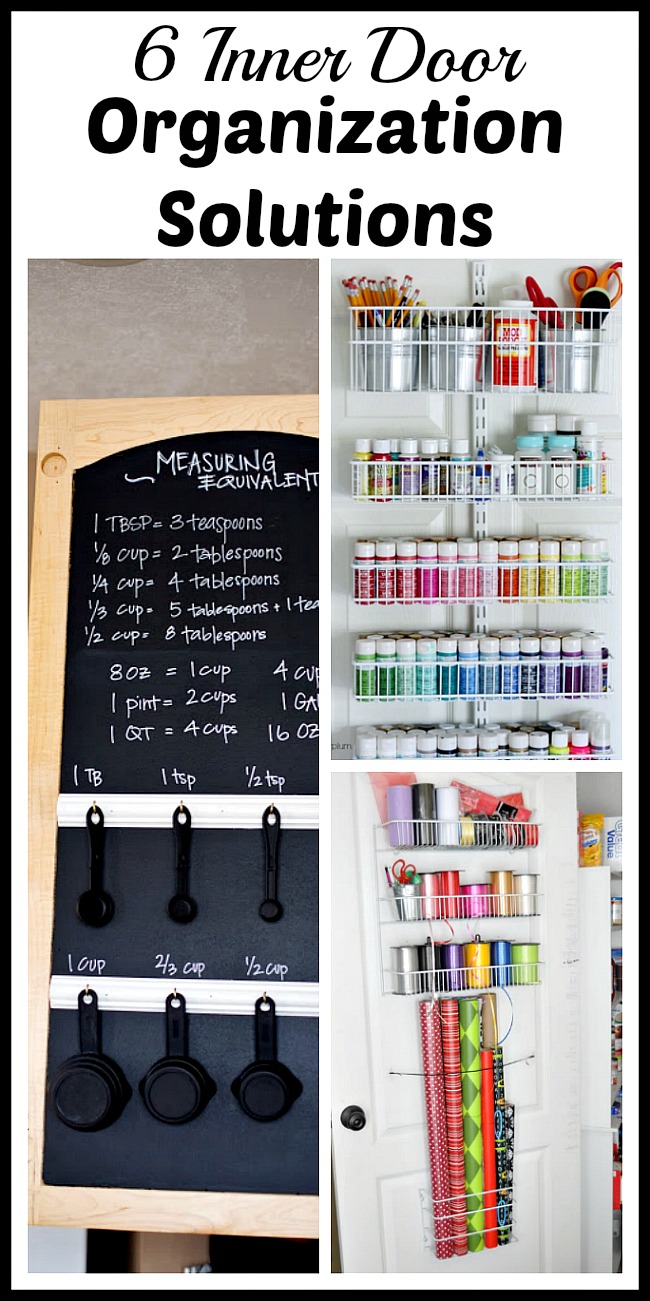 Disclosure: This post may contain affiliate links to Amazon and/or Etsy, which means that I may earn a small commission from some of the links in this post. Please see our Disclosure Page for more information.
Some solutions you can make yourself, and others you can buy. But you don't have to spend a fortune to organize the inside of your doors! A lot of over-the-door storage racks and over-the-door storage pockets are very inexpensive! And they're fast to put up, too!
10 Clever Inner Door Organization Solutions
Think small. I like to organize things that are small on the back of doors. This means the shelving can be narrow and hopefully doesn't add too much weight to the shelving.
Easier to access! I like door organization because everything is in an easy-to-reach shelving option, as opposed to being shoved in cabinets and arms-length behind everything!
Optimal view! Door organizers make everything easier to see. You know exactly what you have and what you don't! Save time looking for things!
1. Craft Room Door Organizer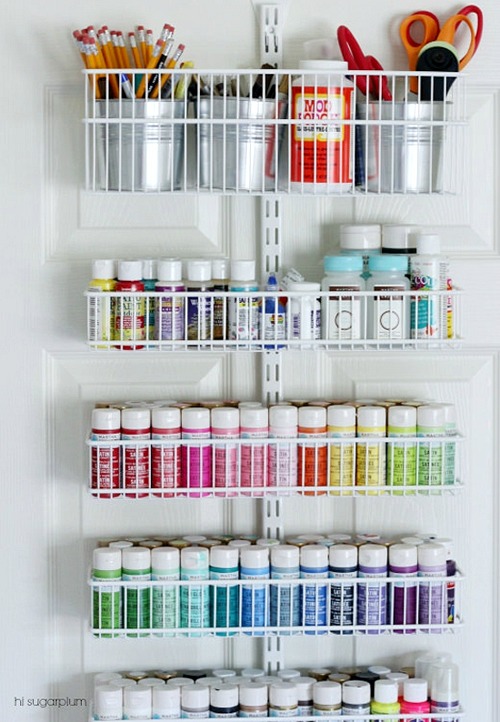 Wouldn't you like to have this in your craft room? It's such a nice way to organize your crafting supplies! And you can hide them all away by simply shutting the door! Take a look at how I Heart Organizing put together this handy craft room door organizer!
2. Laundry Room Inner Door Organizer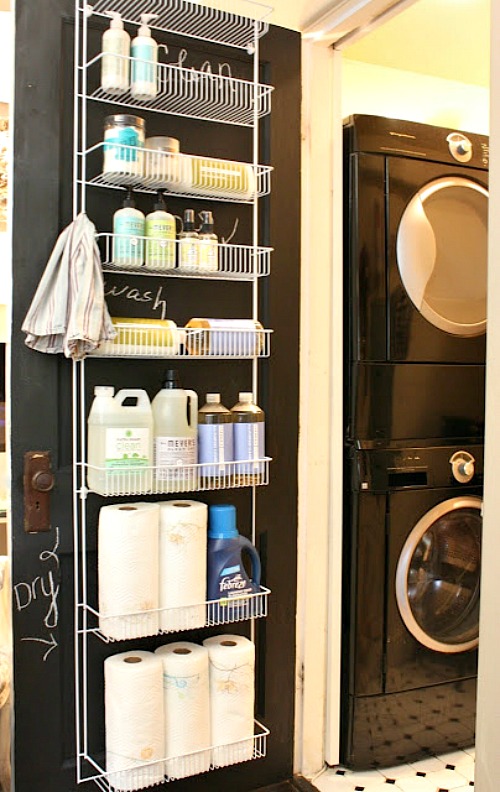 Isn't this clever? Whether you don't have space for shelves in your laundry room, or just want to take advantage of door space, this could be the perfect organizer for you! I love the idea of making the door a chalkboard surface, too! Check out My Sweet Savannah's laundry room inner door organization solution!
3. Inner Door Spice Organizer
A lot of people don't have space for a dedicated spice cupboard in their kitchen. If you don't have spice space, but also don't want to stack them all on your countertops, then you might like this inner door spice organizer that Door Sixteen put together!
4. Inner Kitchen Cabinet Cork Board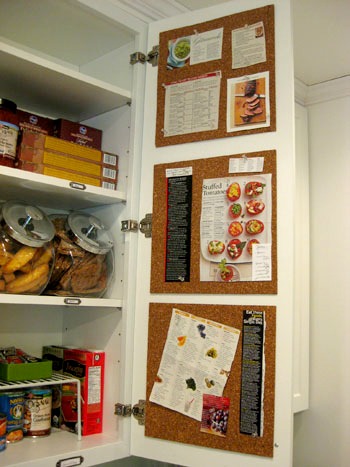 What a clever idea! If you like to keep cut out recipes, baking info, and cooking tips, but don't want to clutter up your kitchen countertops, you need something like this! Check out Young House Love's handy inner kitchen cabinet cork board!
5. Inner Door Gift Wrap Organizer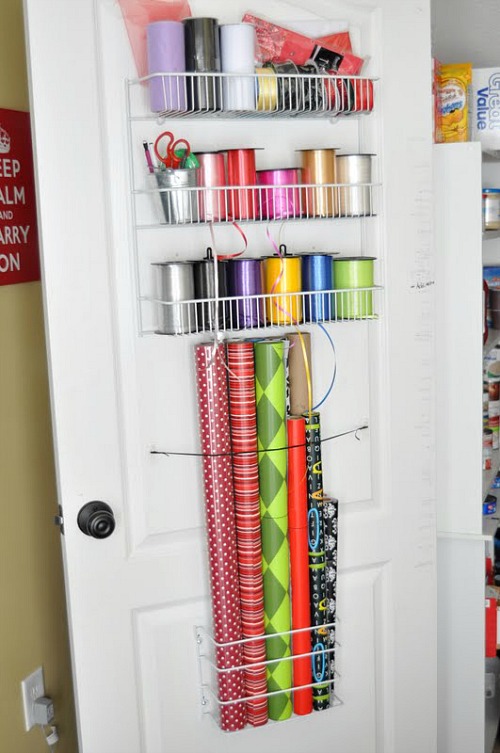 This is such a great storage solution! If you're like most people, you probably have a lot gift wrapping supplies. Easily corral them with an inner door gift wrap organizer, like this one by She's Crafty!
6. Kitchen Cabinet Measuring Cup Organizer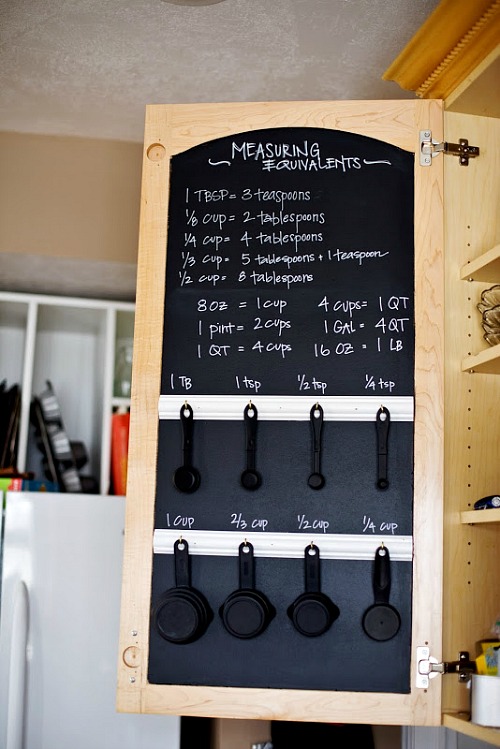 Not only does this have a handy list of measuring equivalents, but it also has a great place for you to organize your measuring cups! No more digging through drawers trying to find them, or flipping through them all on a ring! If you want a nice kitchen cabinet measuring cup organizer, check out how Tidbits from the Tremaynes made theirs!
7. Over the Door Mail Organizing System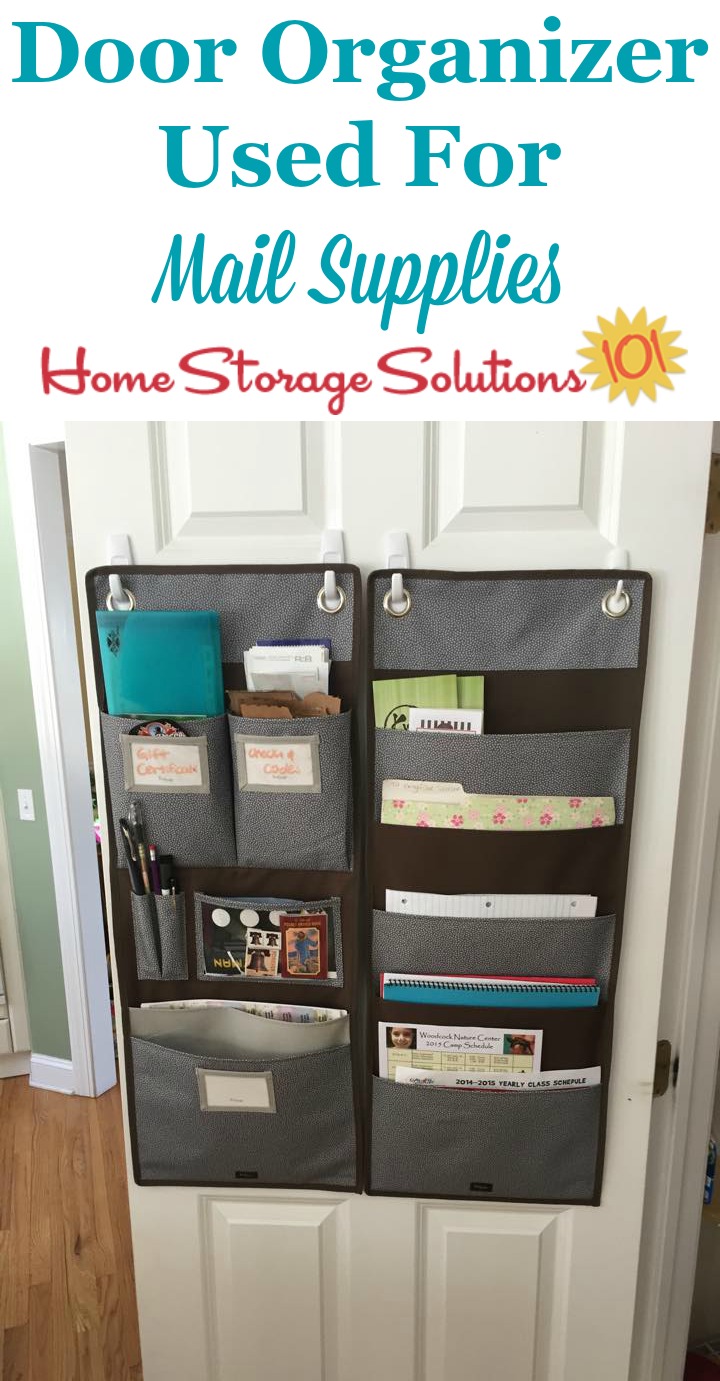 Mail always clutters my countertop but where do you put those important letters that you need to come back to but don't have right then? I like the idea of using a hanging organizer to keep everything straight and handy. Check out Home Storage Solutions 101 idea for mail storage.
8. Medicine Door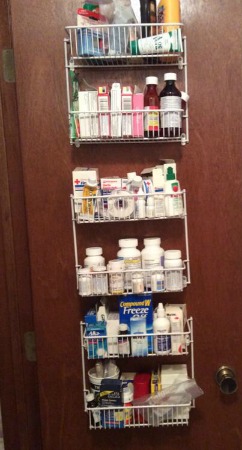 Clear out a cabinet by creating a medicine door! I love this idea for easy access and being able to see exactly what you have and what you don't! Home Storage Solutions 101 has this idea for a medicine door.
9. Purse Organizer
Use a standard over-the-door organizer to store all your purses to clear out some room in your closet! This doesn't mean you get to buy more or maybe it does… Wellesley and King show you how to make this system work for you.
10. Book Shelf
Craving Some Creativity has step-by-step directions to make this on-the-door bookshelf.  I love the idea of storing books here to free up space in the bedroom or living room!
Do you use the inside of your doors to organize?
This post contains affiliate links to Amazon. Please see our Disclosure Page for more information.
You may also be interested in: