Free Printables to Organize Your Life + Decorate Your Home.
I love free printables! Not just because they're free (which by itself is great), but also because there are so many different kinds! You can use free decor printables to decorate your home year-round, or can get free budgeting printables to help you keep your finances in order! There are also free organization printables, to help you organize your home and life! Free printables are helpful in so many different ways! If you're looking for a free printable, check out these 50+ Free Printables For Your Life and Home!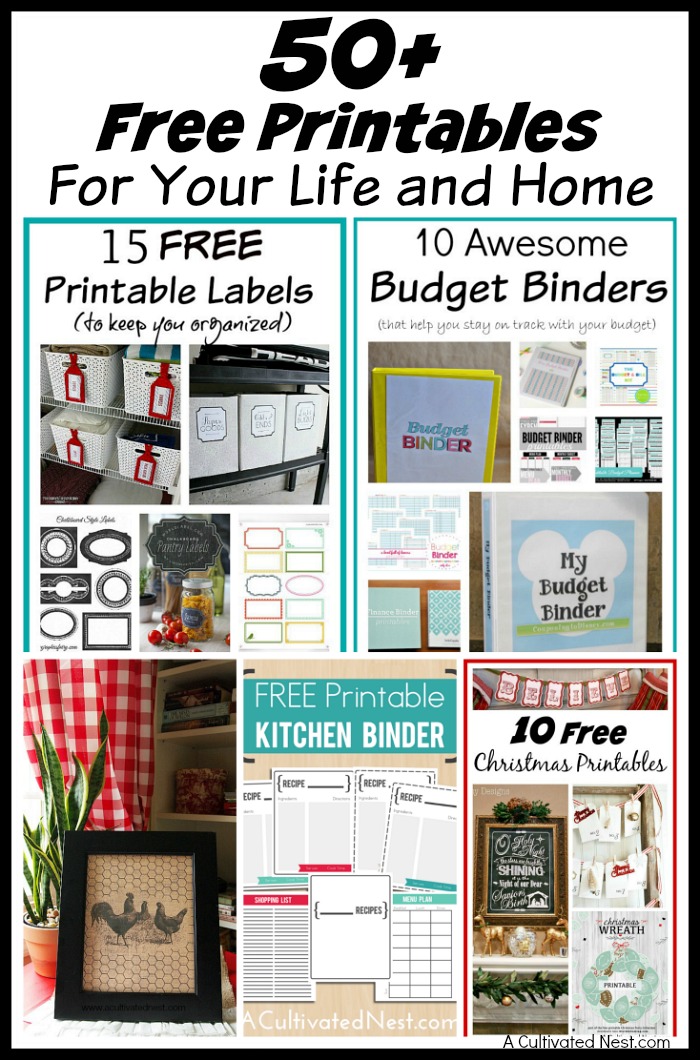 Disclosure: This post may contain affiliate links to Amazon and/or Etsy, which means that I may earn a small commission from some of the links in this post. Please see our Disclosure Page for more information.
We're adding new free printables to the site all the time! You can always find them by searching for the "Printables" tag. Also, our newsletter subscribers get access to our exclusive resource library as an added benefit. The library is full of printables, both functional and decorative. You can subscribe to our newsletter here.
50+ Free Printables For Your Life and Home
Decor Printables
Decorate your home for free with these free decor printables! Whether you're decorating for a holiday or just for fun, there's sure to be something here that you like!
Chickens, Burlap and Chicken Wire Free Art Printable
Free Printable Super Bowl Decorations
14 Free Valentine's Day Printables
Sweet Summer Watermelon Art Printable
Free Welcome Summer Starfish Art Printable
Cute Candy Corn Art Printables
Budget Printables
Keep track of your finances and save money with these free budget printables!
The Simple Budget Free Printable
Budget Binder Cover and Pages Free Printables
Budget Binder Pages Free Printables
Free Printable Monthly Budget Worksheet
10 Free Money Saving Printables
Organization Printables
There are a lot of things you have to keep track of to have an organized home and life. Let these free organization printables help you out!
Kitchen Binder Free Printable Pages
Freezer Inventory Free Printable
Free Printable Menu Planning Worksheet
Free Printable Holiday To Do List
Free Printable Labels for Organization
Thanksgiving Leftovers Free Printable Tags
You may also be interested in: How to Make Money from Your Old Electronics