15 Fun Halloween Décor Crafts.
Isn't Halloween the best? The fun costumes, the delicious treats, and the fabulous decorations make Halloween pretty much the best occasion all year round. Plus, you can make it what you want. You can focus on the ghoulish and the creepy, or keep it more fun and whimsical. You can plot to scare the neighbors well into the next moon, or you can aim to be that neighbor who gives out the BEST CANDY. It's up to you really, but whatever your plan or purpose, you'll want to decorate, at least a little. For ideas, check out these 15 Frightfully Fun DIY Halloween Decorations!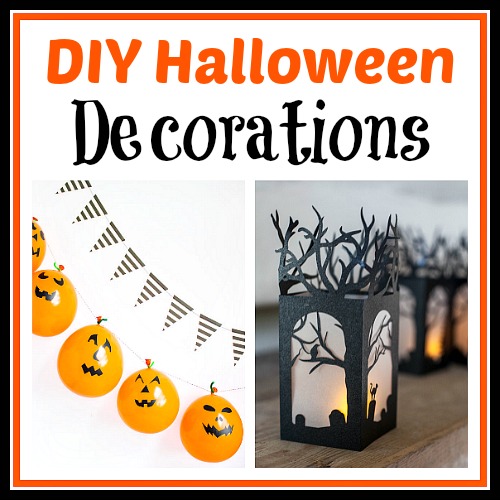 Disclosure: This post may contain affiliate links to Amazon and/or Etsy, which means that I may earn a small commission from some of the links in this post. Please see our Disclosure Page for more information.
These homemade Halloween decorations are light on the fright, and heavy on the fun. Also, easy on the budget!
15 Frightfully Fun DIY Halloween Decorations
So, from creepy crystal ball candlesticks to fun candy corn bunting we are sure to have found something to suit your tastes, and to help you get your Halloween on! And just because you feel like crafting doesn't mean you have to head to the craft store and break the bank! (of course, I won't tell anyone if you do) 🙂 Anyway, you most likely have several items around your house or that you could pick up for cheap at yard sales, consignment shops, or get for free from people who are giving things away online. Let's take a look:
Candy Corn:  You can make all sorts of things with some candy corn. Buy it on sale or after the season is over for next year's crafts.
Balloons: Be sure to hunt down some orange, black, and even white balloons for your next big party. You never know when they may come in handy!
Bottles: Don't toss those old wine bottles! You can transform them into lovely Halloween decorations.
Jars: Just like bottles, old jars don't need to go in the garbage. They just need a facelift and will be spooky home décor.
I recommend keeping various colors of paint, paintbrushes, buttons, bows, ribbons, strings, and other basic craft supplies around. They can save you a headache later and you might even be able to save a trip to the store.
1. Bats Flying Across Pumpkin
The Bats Flying Across a Pumpkin by It Started With Paint is an easy way to add a little flare to your décor, and is quite stylish.
2. Candy Corn Bottles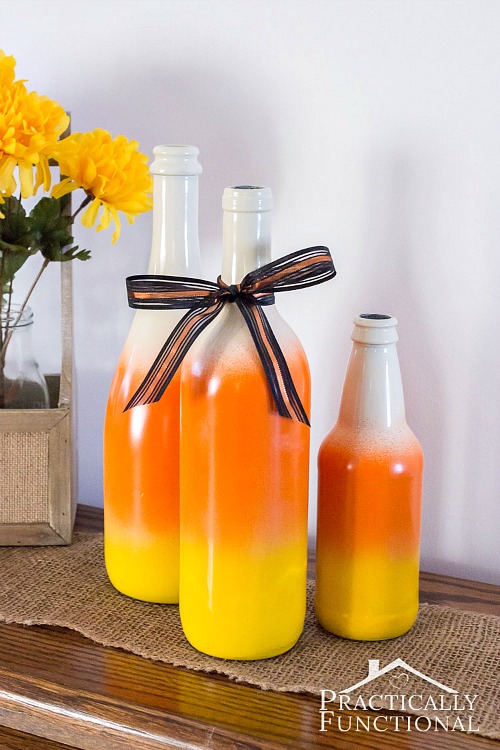 I think I actually need to have some of these Candy Corn Bottles by Practically Functional, and really I don't even care what I use them for. I just need them.
3. Colorful Skull Luminaries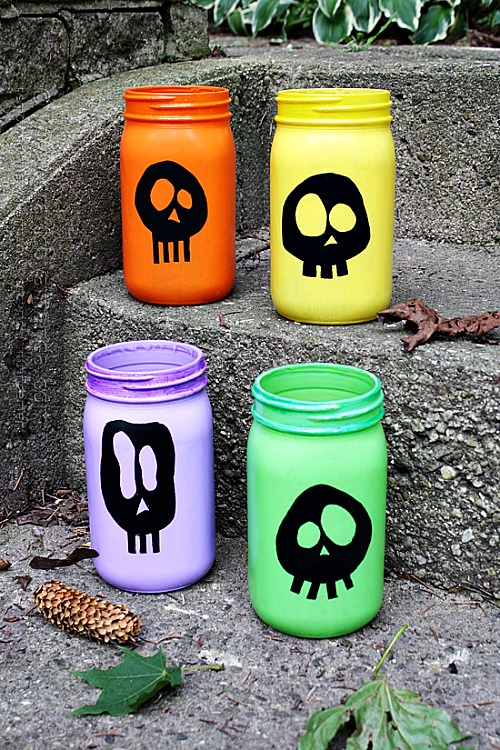 Also, these Colorful Skull Luminaries by Crafts by Amanda are so fun they can't be creepy, even though they are skulls.
4. Crystal Ball Candlesticks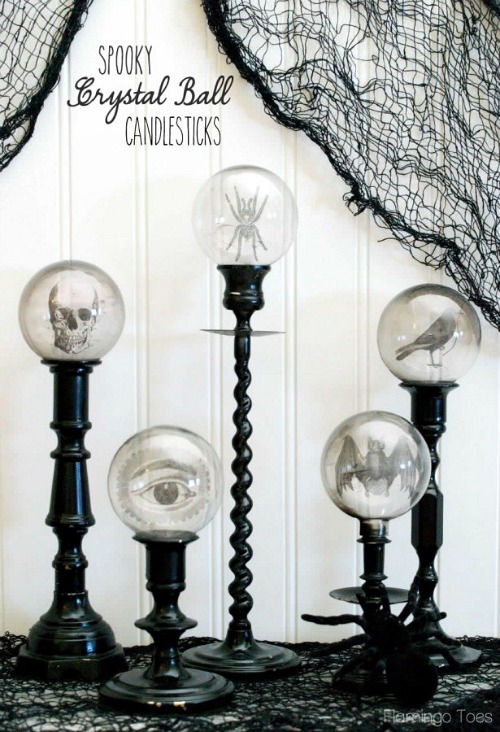 This is about as creepy as I can get with these Crystal Ball Candlesticks by Flamingo Toes. Although they are actually quite lovely!
5. DIY Marquee Sign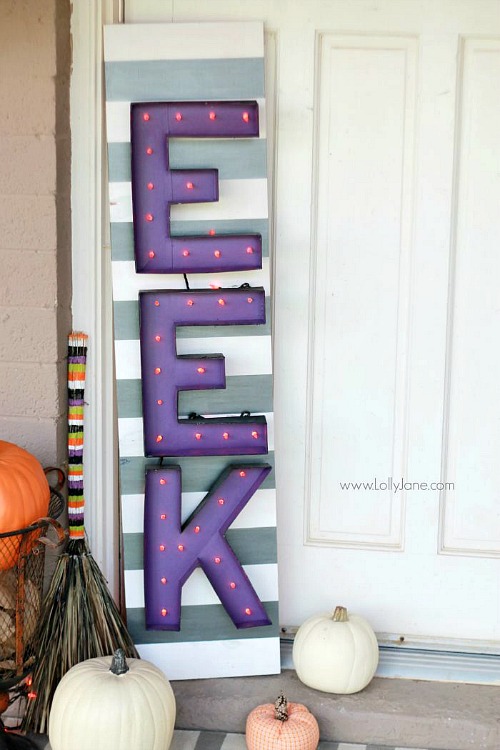 This DIY Marquee Sign by Lolly Jane is just so fun! Can't you picture it on your front doorstep?
6. Paper Lanterns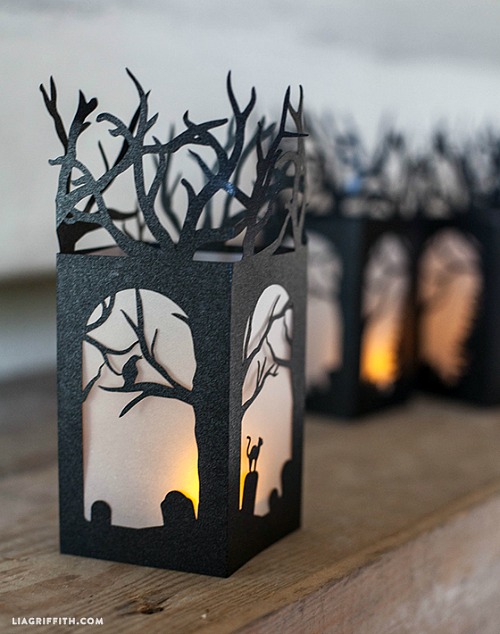 And oh my! These Paper Lanterns by Lia Griffith are gorgeous! Nothing gory here, and who else wants to see these all year long?
7. Floating Witch Hat Luminaries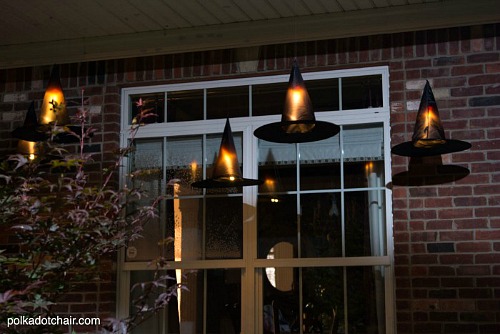 These Floating Witch Hat Luminaries by Polka Dot Chair are quite charming, and I wish I had of thought of it myself!
8. Boo Banner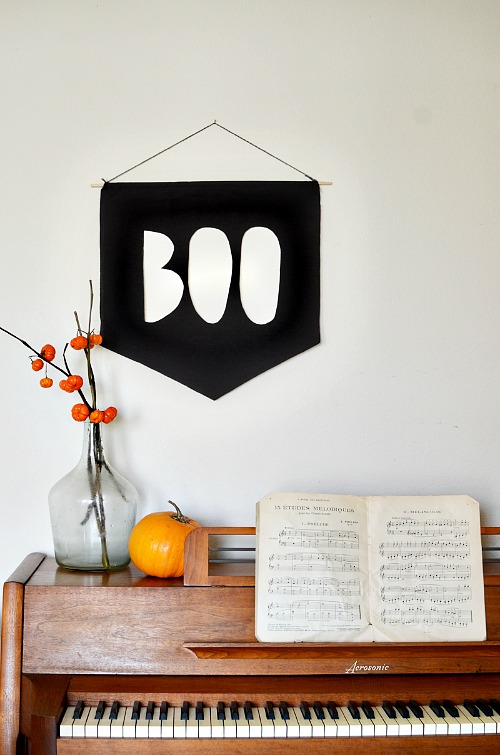 A very simple Boo Banner by a Beautiful Mess will add a speck of Halloween fun to your space, and this is the perfect decoration to whip up if you're tight on time.
9. Candy Corn Wreath
You know me, I love a good wreath, and this Candy Corn Wreath by Artsy Fartsy Mama is definitely no exception! I don't think I could make it without eating all of the candy – but maybe the trick is to eat tons of it first? Buy double I say.
10. Candy Corn Bunting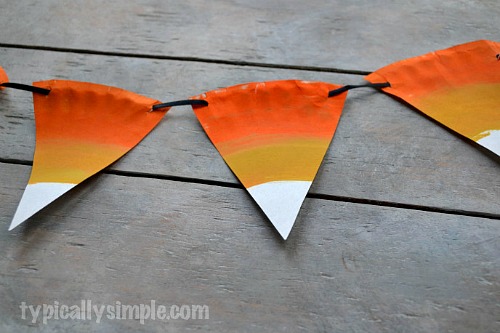 This is a great decoration to make with the kids! This Candy Corn Bunting by Typically Simple would be a fun group activity to be hung at a kids' Halloween party.
11. Jack-O-Lantern Balloons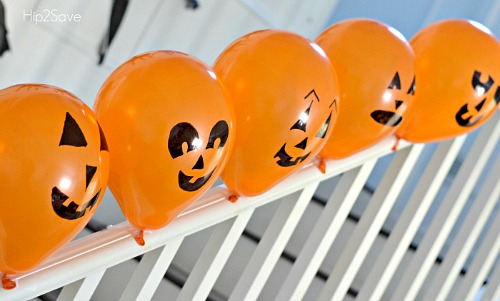 I love these Jack O Lantern Balloons by Hip2Save, as it is a great way to fill up an entire room with Halloween, which is both easy on time and on money!
12. Paper Roll Candles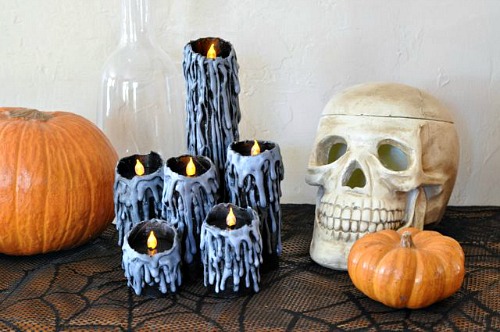 Generally I'm not a huge fan of paper roll crafts, but these Paper Roll Candles by Make It Lovely turned out shockingly well. I was surprised to see that they were made of paper rolls, and I love how the paint turned out.
13. DIY Black and Gold Balloons
So simple, so frugal and yet what a big impact! These DIY Black and Gold Balloons by the Sweetest Occasion are simply something that  should be on your to-do list for Halloween.
14. Jack-O-Lantern Garland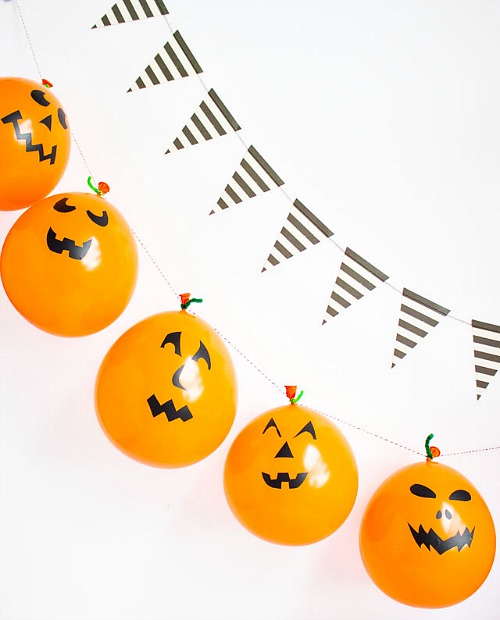 Same with this Jack-O-Lantern Balloon Garland by Design Improvised. What a great way to add a ton of festive with just a few supplies.
15. Halloween Ribbon Wreath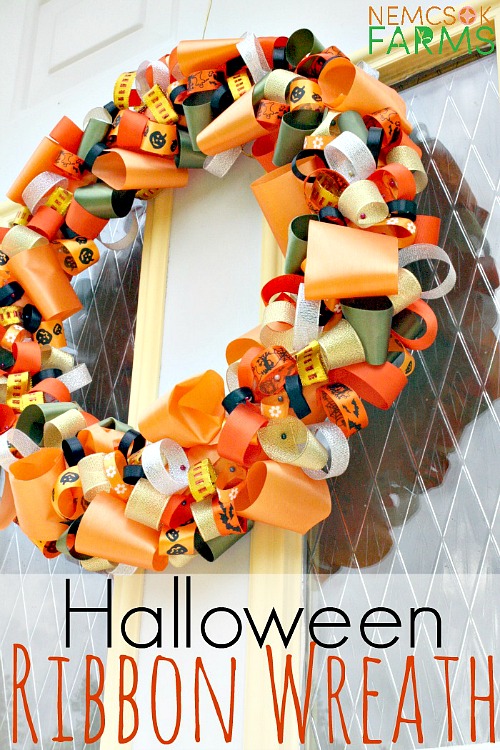 And finally I would be remiss if I didn't include this Halloween Ribbon Wreath by Nemcsok Farms. It uses a simple technique and with materials that are widely available at the dollar store.
How to Have a Frugal (and Fun!) DIY Halloween
Now is the time to stock up on all things orange at the dollar stores and craft stores to prepare for making your DIY Halloween decorations. And everything you get doesn't have to be Halloween themed. Keep an open mind when cruising the sales for things that can be made Halloween-ey like ribbon, balloons, and tape!  Keep an eye out in the kitchen wares and home departments for things that can be turned into fancy candlesticks, and ornate pieces.  Most fall décor items you come across can be made into something Halloween themed with just a little bit of tweaking.
Big old plates can be turned into jack o'lanterns, signs, and wreaths! Your mailbox can become a perch for a crow or owl, and that old chair you've got on your front doorstep can easily become a resting place for a cackling witch, or a silly scarecrow. Be creative, and have fun creating your own DIY Halloween decorations.
Happy Decorating!


How do you usually decorate your home for Halloween?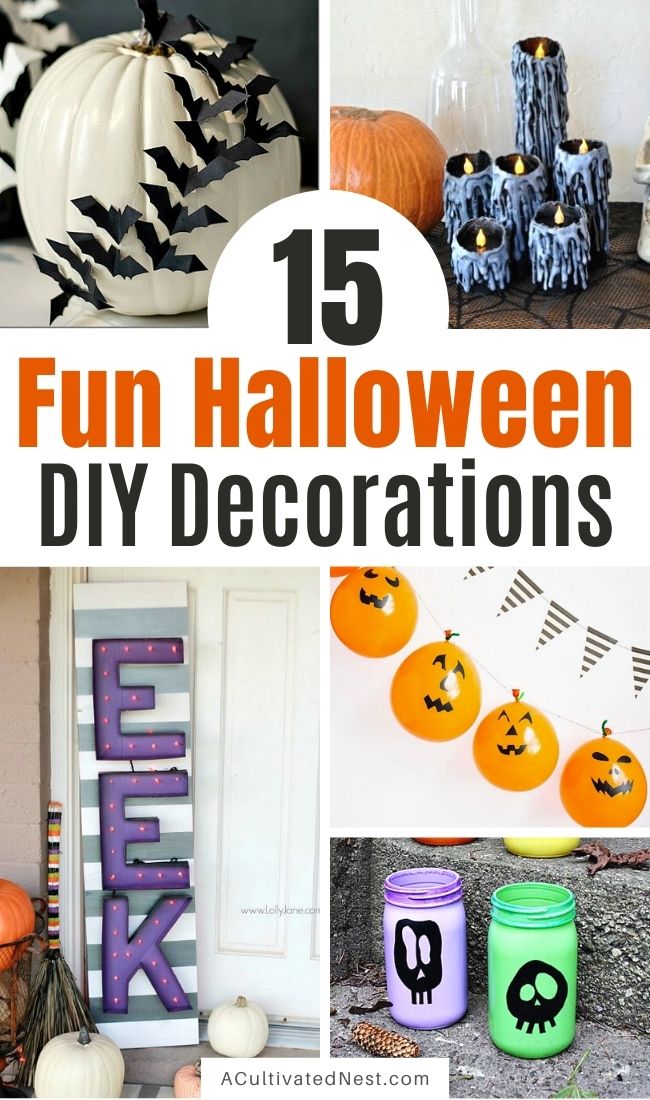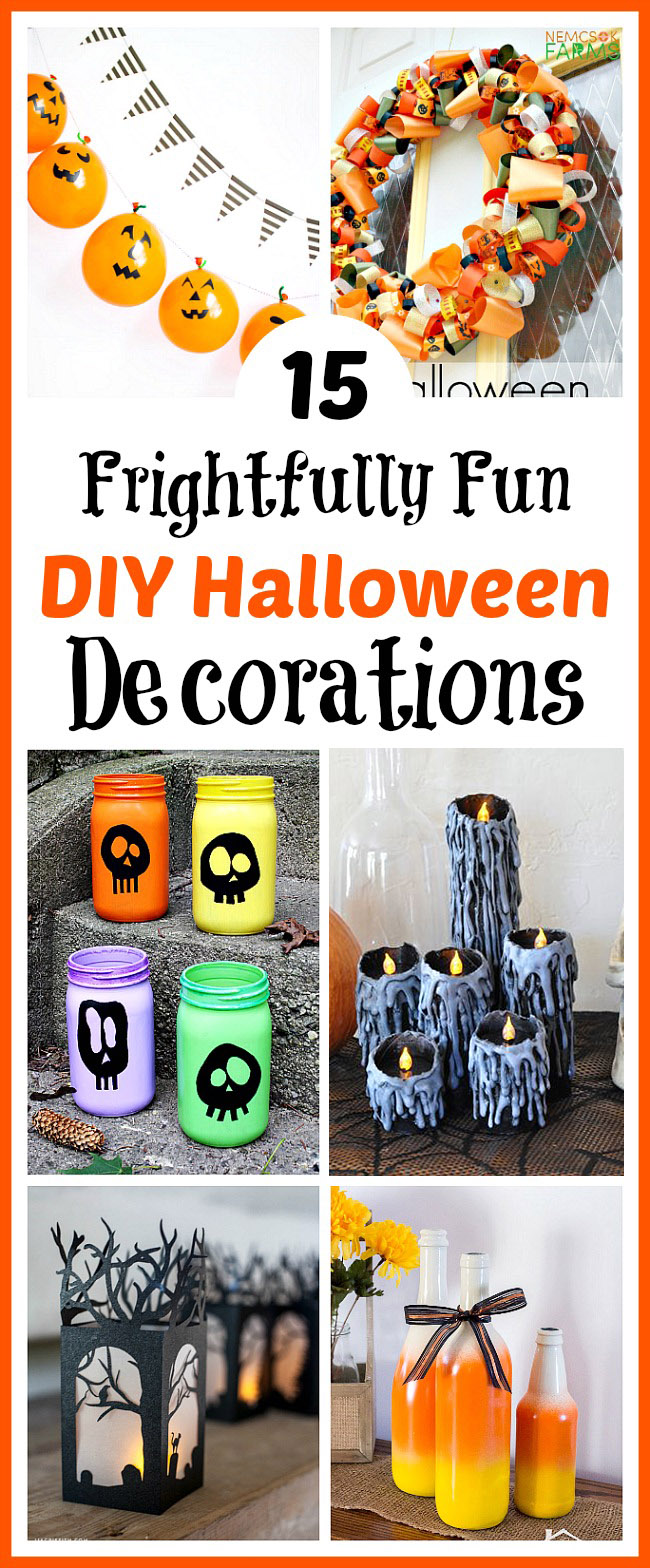 Written by ACN Team Member Evelyne N. : Evelyne is the fearless, axe wielding, quirky, hardworking and incredibly funny creative genius behind Nemcsok Farms and Knits' End. Who also has a weird fascination with soil, and wreaths.
You might also be interested in: 15 DIY Fall Dollar Store Home Decor Projects