It is now officially fall! Which means it's time to start adding some delicious fall meals to your weekly menu! And what's a better fall meal than soup? They're such a nice, warm, comforting food to enjoy as the weather turns cooler. And the great thing about them is that they can be made in your slow cooker for a easy, no-stress lunch or dinner during the busy fall months! If you're looking for some delicious fall soups to try, you have to make one of these 15 Cozy and Comforting Slow Cooker Soups for Fall!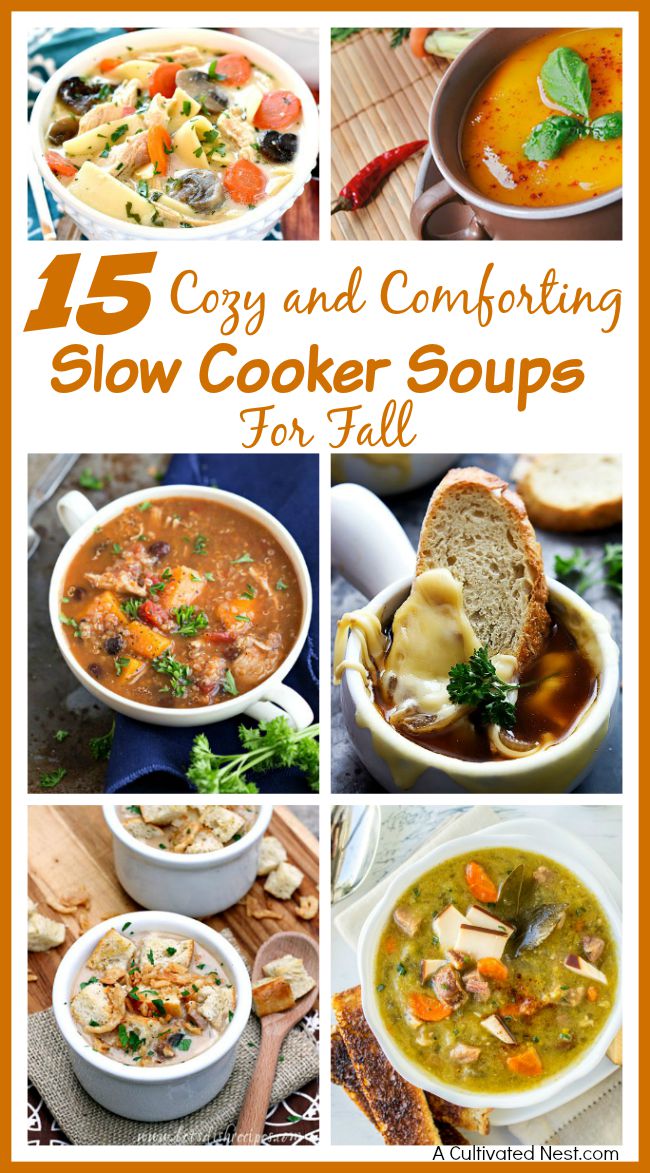 Disclosure: This post may contain affiliate links to Amazon and/or Etsy, which means that I may earn a small commission from some of the links in this post. Please see our Disclosure Page for more information.
Depending on what size slow cooker you own, you may want to try doubling your soup recipe and freezing the rest for later. Then when you want some soup, you can just defrost the frozen soup and heat it up on the stovetop for a quick and delicious homemade meal!
15 Cozy and Comforting Slow Cooker Soups for Fall
1. Slow Cooker Loaded Potato Soup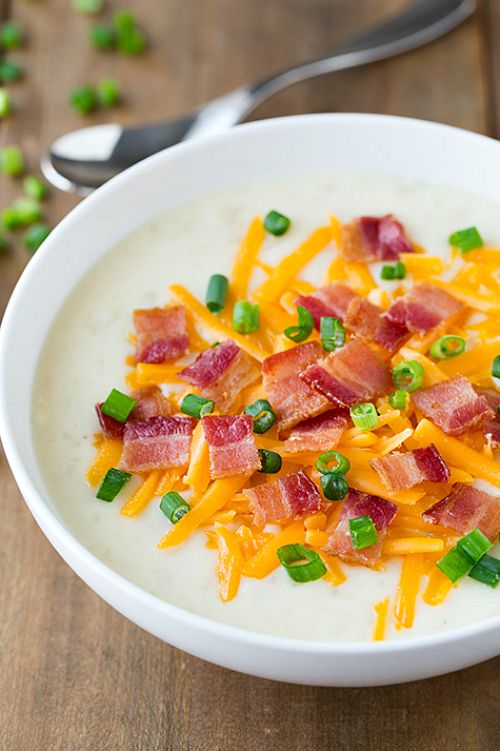 My family loves potato soup, and it's even better when it's loaded with extra yummy ingredients! Warm up on a cool night with Cooking Classy's slow cooker loaded potato soup recipe!
2. Slow Cooker Pumpkin Soup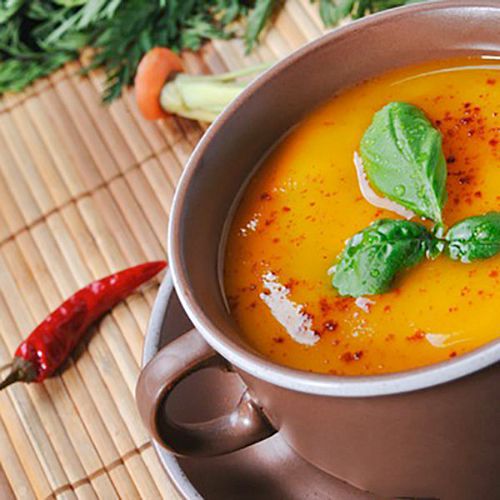 Nothing says "fall" better than pumpkin! Why not finish off a day of drinking pumpkin coffee and eating pumpkin desserts by making this delicious slow cooker pumpkin soup from Skinny Ms.!
3. Slow Cooker Tomato, Basil, and Parmesan Soup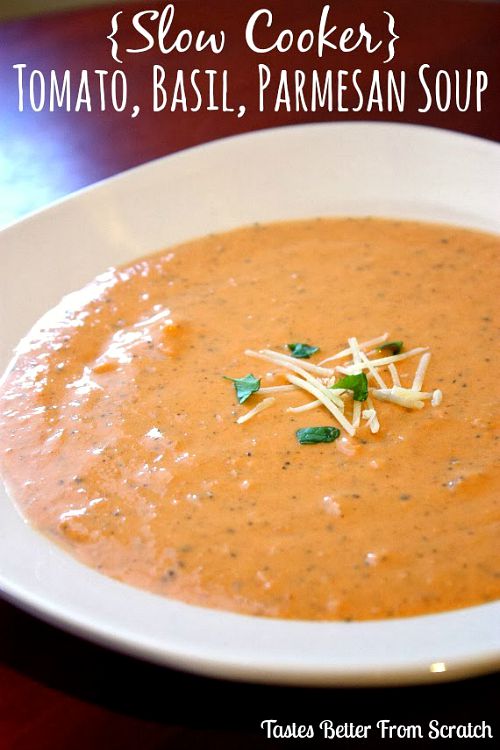 If you're already a fan of tomato sauce, you're likely to love tomato soup! And this recipe is even better than a typical tomato soup recipe because it contains basil and parmesan for extra flavor! Follow Tastes Better From Scratch's slow cooker tomato, basil, and Parmesan soup recipe and make something really delicious!
4. Slow Cooker Split Pea Soup with Smoked Gouda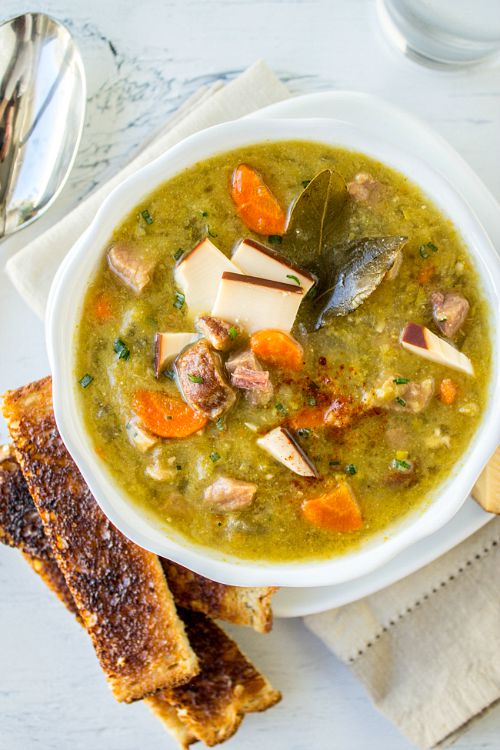 Doesn't this look absolutely delicious? The smoked Gouda is a nice addition to the classic split pea soup recipe. Give it a try by following The Food Charlatan's slow cooker split pea soup with smoked Gouda recipe!
5. Slow Cooker Red Lentil, Chickpea, and Squash Soup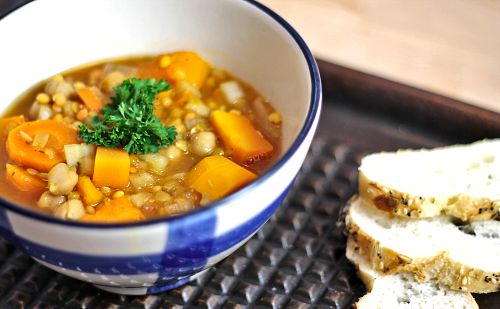 If you're looking for a fall soup that's both delicious and healthy, then you have to try this vegetarian soup recipe! Rice and Bread explains how to make a yummy red lentil, chickpea, and squash slow cooker soup!
6. Slow Cooker Thai Curried Butternut Squash Soup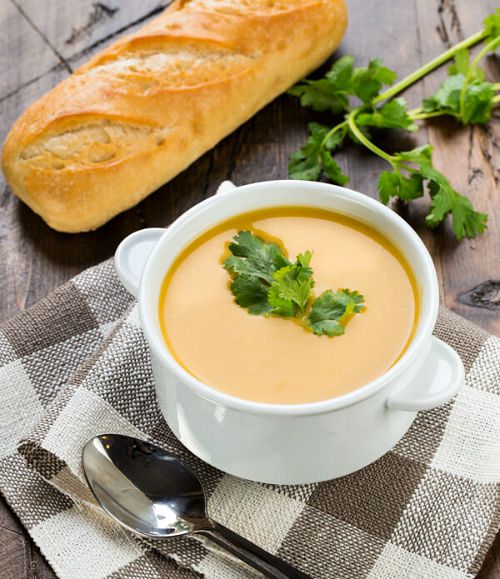 How about a squash soup minus all the extras? This recipe is mainly butternut squash, but the other flavorings help create a delicious taste! Try Garnish with Lemon's slow cooker Thai curried butternut squash soup for a delicious, yet simple, soup!
7. Slow Cooker Sweet Potato, Chicken, and Quinoa Soup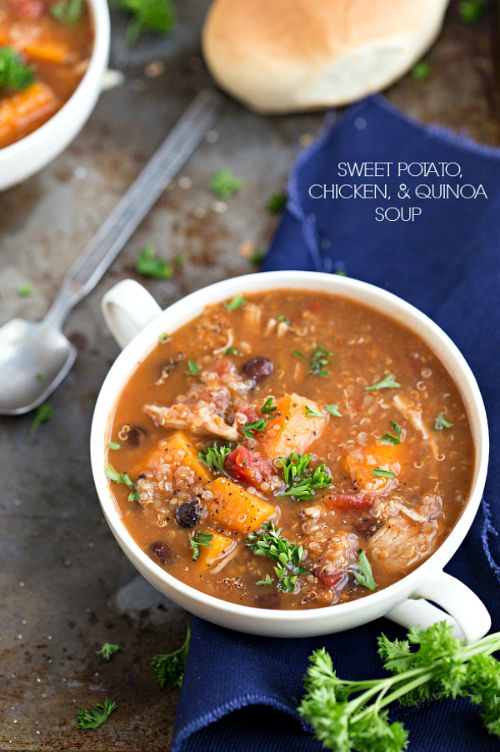 If you want to make a chicken based soup, why not try something other than chicken noodle this time? Consider making Chelsea's Messy Apron's slow cooker sweet potato, chicken, and quinoa soup!
8. Slow Cooker Taco Soup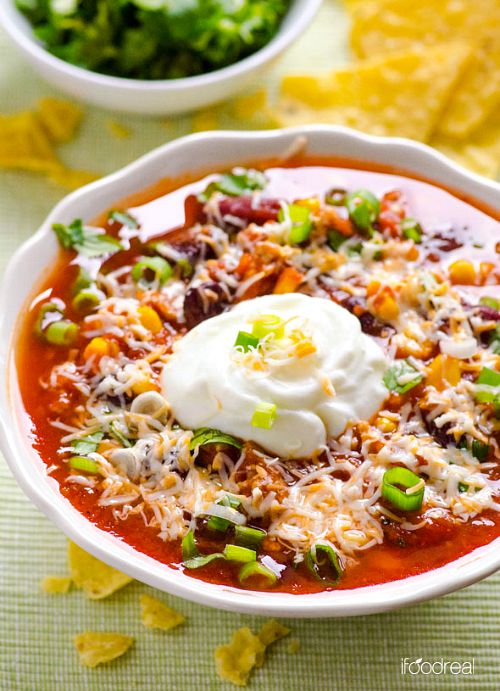 Taco soup is one of my family's favorites! It's easy to make, is really hearty, and the leftovers actually taste even better the next day as the flavors mingle in the refrigerator! Make some for your family by following iFoodReal's easy slow cooker taco soup recipe!
9. Slow Cooker Thai Chicken Soup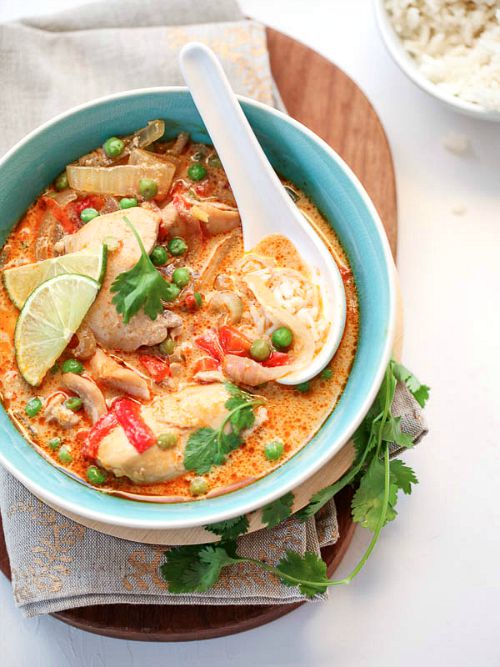 Here's another great chicken soup that doesn't use noodles! Try something different and make Foodie Crush's yummy slow cooker Thai chicken soup!
10. Slow Cooker French Onion Soup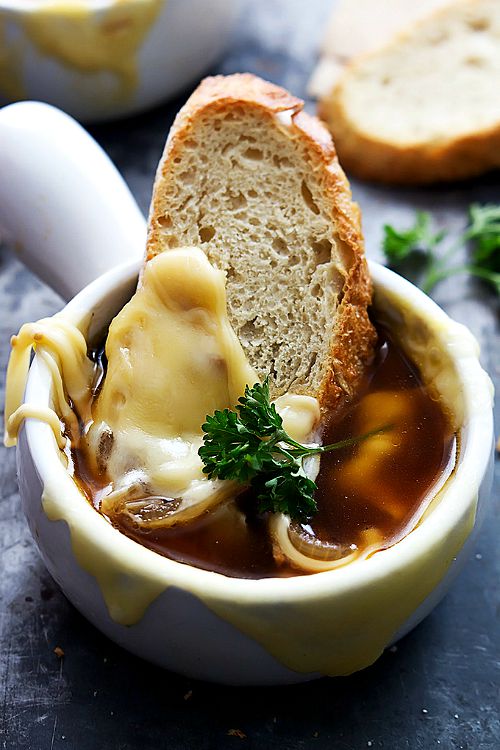 French onion soup is one of my favorites! I often order it when I'm out, but I know it'd taste even better homemade! Make your own delicious slow cooker French onion soup by following Creme de la Crumb's recipe!
11. Slow Cooker Chicken Noodle Soup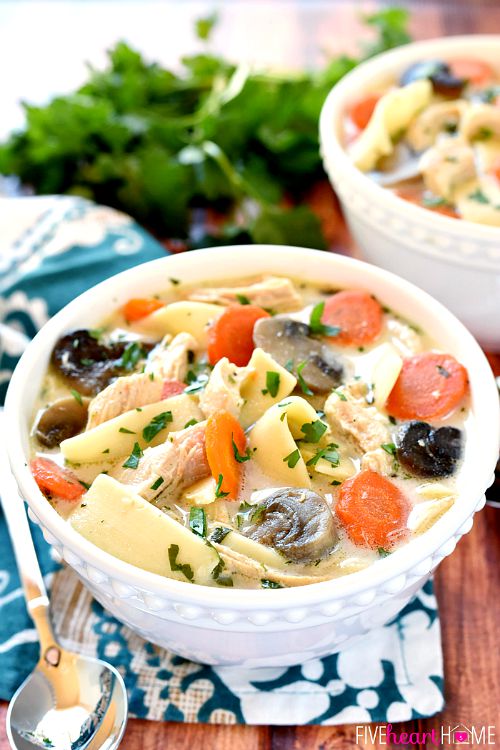 If you're looking for a classic fall comfort food, then you can't go wrong with chicken noodle soup! Make one easily with this slow cooker chicken noodle soup recipe from Five Heart Home.
12. Slow Cooker Turkey and Stuffing Dumpling Soup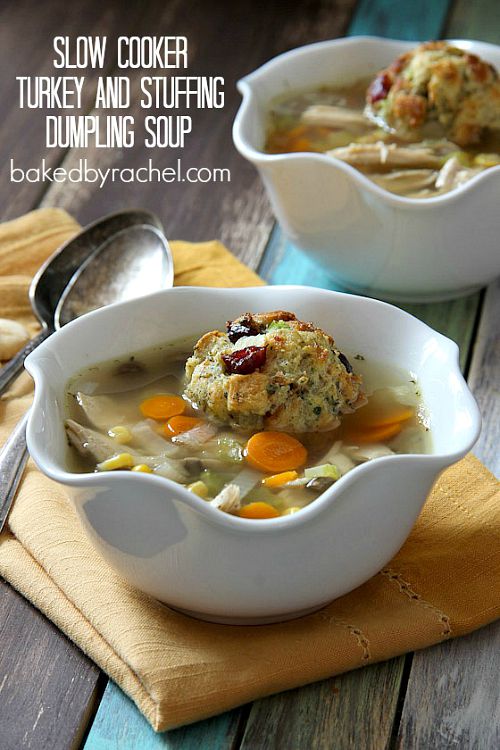 You could make this with Thanksgiving leftovers, but I say why wait! There are no rules against enjoying a delicious, cozy, turkey and dumpling soup right now! If you agree, you have to try Baked By Rachel's slow cooker turkey and stuffing dumpling soup recipe!
13. Slow Cooker Chard, Lentil, and Potato Soup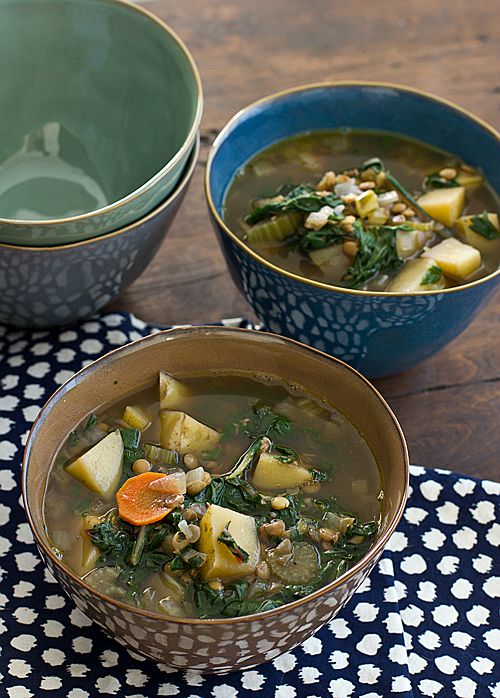 This is another yummy vegetarian soup recipe! My family loves Swiss chard, and I often like to use it instead of noodles for an healthier alternative, so I know they'd love this soup, too! See what your family thinks by making this yummy Swiss chard, lentil, and potato slow cooker soup from Oh My Veggies!
14. Slow Cooker Vegetable Soup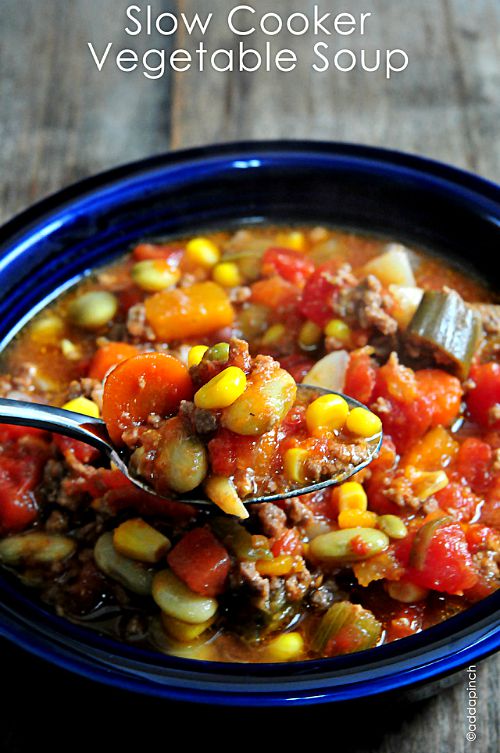 Maybe you want a soup with a lot of vegetables, but you don't necessarily want it to be vegetarian? Then you have to try Add a Pinch's hearty slow cooker vegetable soup!
15. Slow Cooker Philly Cheese Steak Soup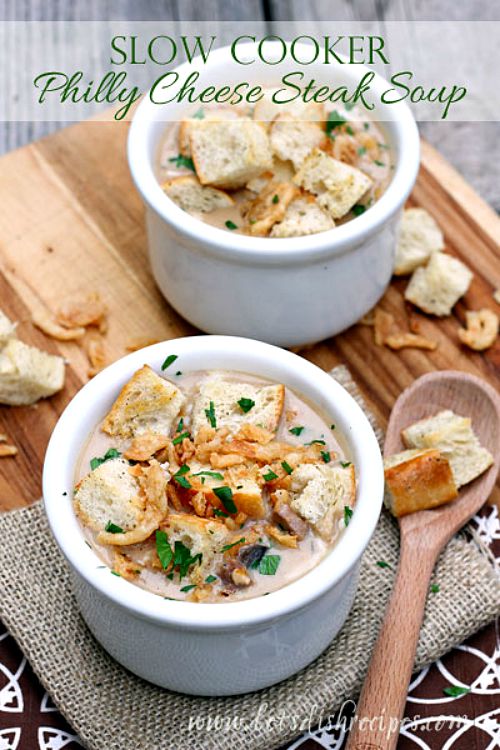 This steak soup is a hearty, cozy meal that your family is sure to love during the fall! Follow Let's Dish's recipe to make a yummy Philly cheese steak slow cooker soup!
What's your favorite fall soup?
You may also be interested in: