Clever Ways to Decorate Easter Eggs.
Easter is right around the corner! Still just dipping your eggs in some dye? Try something a  little different this year with your Easter egg decorating. I've rounded up 14 Creative Easter Egg Decorating Ideas for you to try.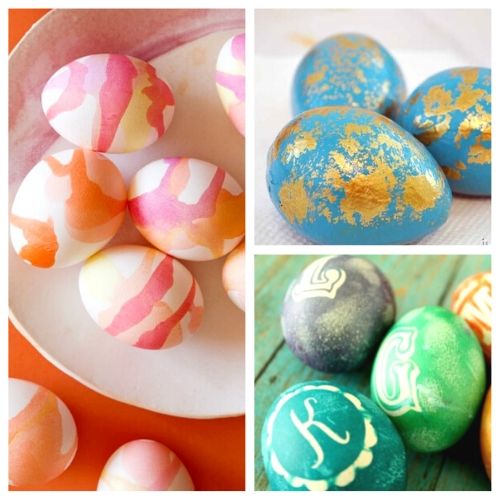 Disclosure: This post may contain affiliate links to Amazon and/or Etsy, which means that I may earn a small commission from some of the links in this post. Please see our Disclosure Page for more information.
There are so many fun and different ways to decorate Easter eggs! Rather than doing the same old dye kit, this year try one of the creative DIY Easter egg decorating ideas below!
14 Creative Easter Egg Decorating Ideas
Here are some Easter egg decorating tips:
Add vinegar to your dye. The vinegar lowers the Ph level of the liquid and helps the food coloring bind to the egg better. This will give you more vibrant colors and better-staying power.
Refrigerate after 2 hours. Eggs should not be out of the fridge for more than 2 hours (unless you aren't going to eat them).
Don't be afraid to dye brown eggs. Dying brown eggs makes the colors different but they are still beautiful! I like to display both and have more color options!
1. Dip Dyed Eggs
These Dip Dyed eggs by Oh Joy are so bright and retro-looking! They brighten up your decor with a fun Easter remix!
2. Monogrammed Eggs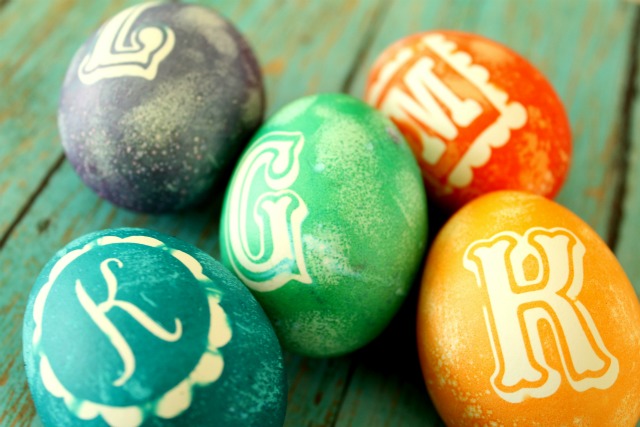 Monogrammed Easter eggs from Lil' Luna are so cute and add a personal touch to your Easter decor. She uses vinyl stickers to make the monograms for an easy project.
3. Stamped Eggs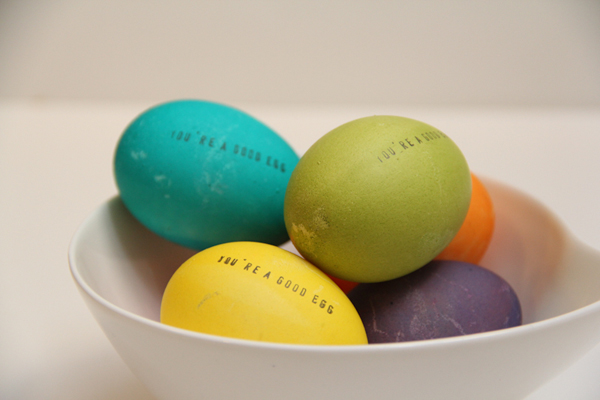 Stamped & dyed eggs from Lovely Indeed are a fun way to add some words to your eggs. Put a special note to someone or add a bit of humor to your eggs.
4. Gilded Easter Eggs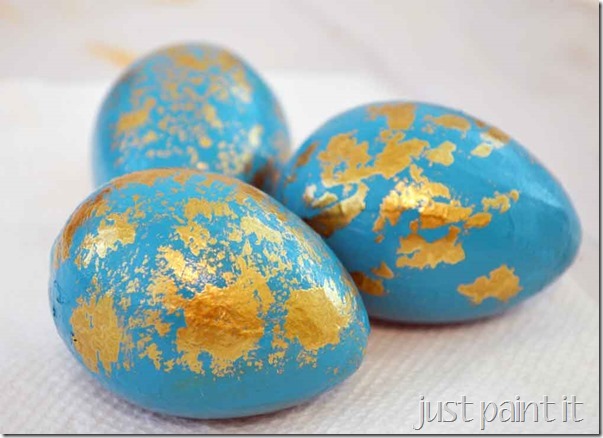 Faux gilded Easter eggs from Just Paint It are so regal! They will add a bit of class to your decor and are easy to make!
5. Watercolor Eggs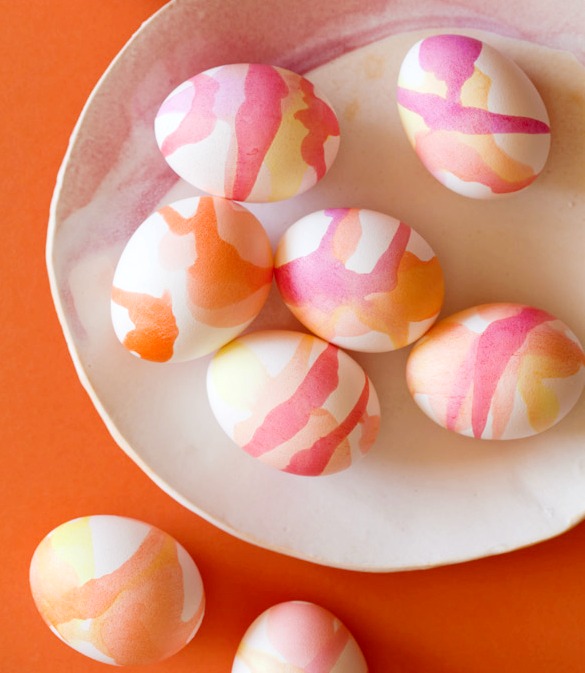 Watercolor eggs from Spoon Fork Bacon are a fun way to add some color to your eggs. I like that each one is different but still in the same color family!
6. Subway Art Easter Eggs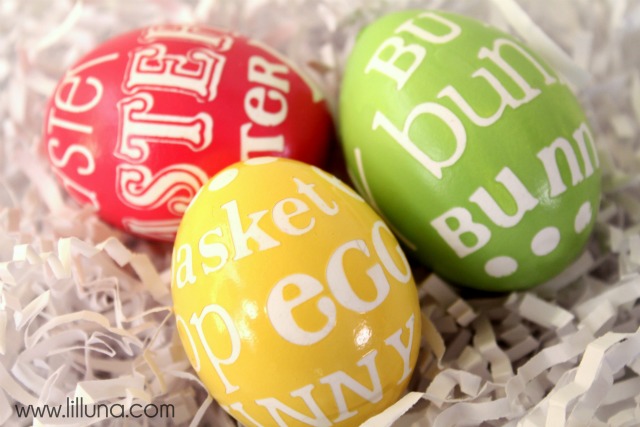 Subway art Easter eggs from Lil' Luna are a fun way to bring some city vibes into your home with Easter.
7. Whimsical Eggs
Aren't these just amazing!  Whimsical Easter eggs using permanent pens and acrylic paint from Alisa Burke. Create your own story with the pictures or have your kids draw all sorts of magical things!
8. Icon Eggs
Make these cute little icon eggs to add some fun to your eggs. Check out how to make these from Lovely Indeed.
9. Masking Fluid Easter Eggs
I think these masking fluid eggs are so pretty! They remind me of printed fabric and I love their bright blue color! Find out how to make these at Alisa Burke.
10. Altered Plastic Eggs
Alisa Burke is at it again with another creative idea for decorating eggs. This time she uses plastic eggs and makes them so unique!
11. Tattoo Eggs
Tattoo your eggs for a fun project! Sarah Hearts shows you how to make your tattoos stick to the eggs and add some fun to your traditional Easter decor.
12. Monstera Leaf Eggs
Add some nature to your eggs with this tutorial on how to create Monstera leaf eggs from Sarah Hearts.
13. Glow-in-the-Dark Eggs
I love these glow-in-the-dark eggs made by A Pumpkin and a Princess. She shows you 3 methods to make glow-in-the-dark eggs. How fun would an egg hunt at night be?!
14. Flower Glitter Eggs
A Pumpkin and a Princess created these gorgeous flower glitter eggs. I know my little ones will love to help me make these!
Which idea is your favorite? I like the simplicity of the dip dyed eggs but wish I had the talent (and time) to draw on eggs like those from Alisa Burke.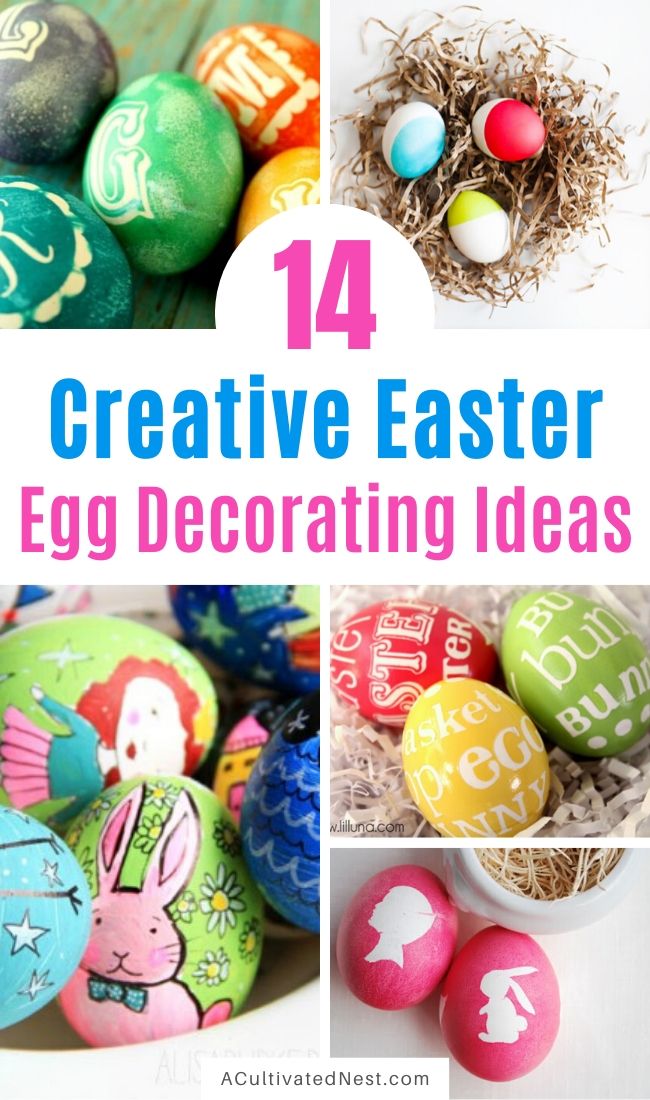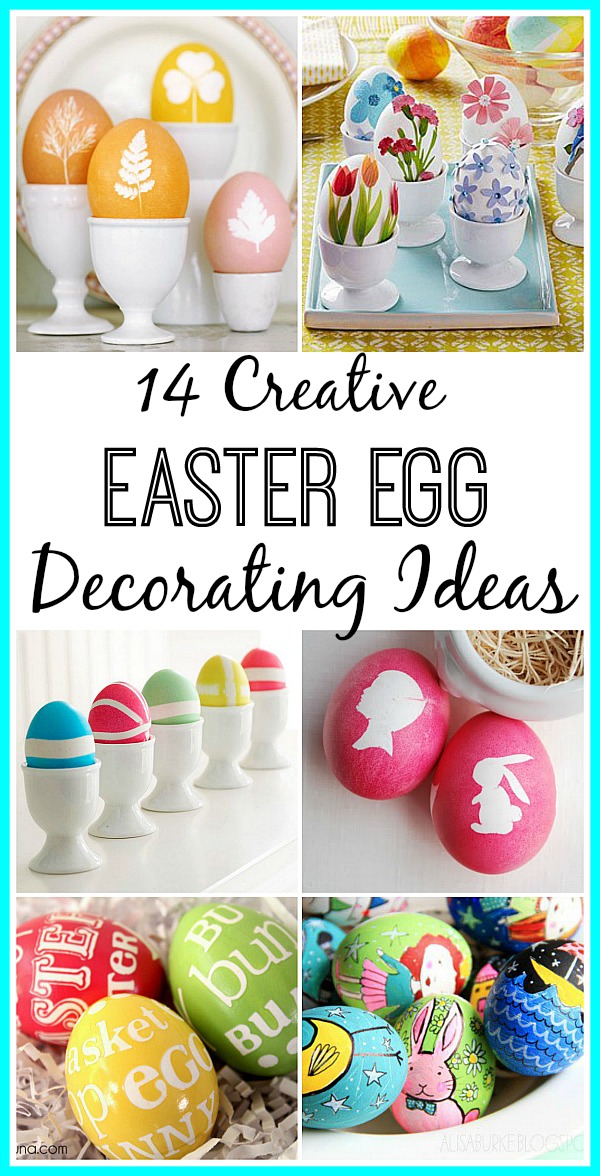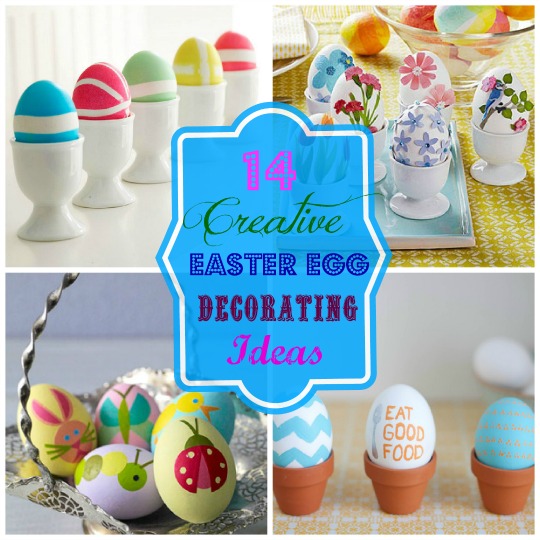 You might also like: 12 Recipe Ideas for Leftover Easter Eggs