We love peanut butter and jelly in our house! It's a delicious and quick lunch that's good for any time of year! But if you think that peanut butter and jelly can only be a sandwich, you've got it wrong! There are so many tasty ways to treat yourself to PB&J without ever taking out the sandwich bread! You'll never get bored of PB&J with these 10 Delicious Twists on Peanut Butter and Jelly!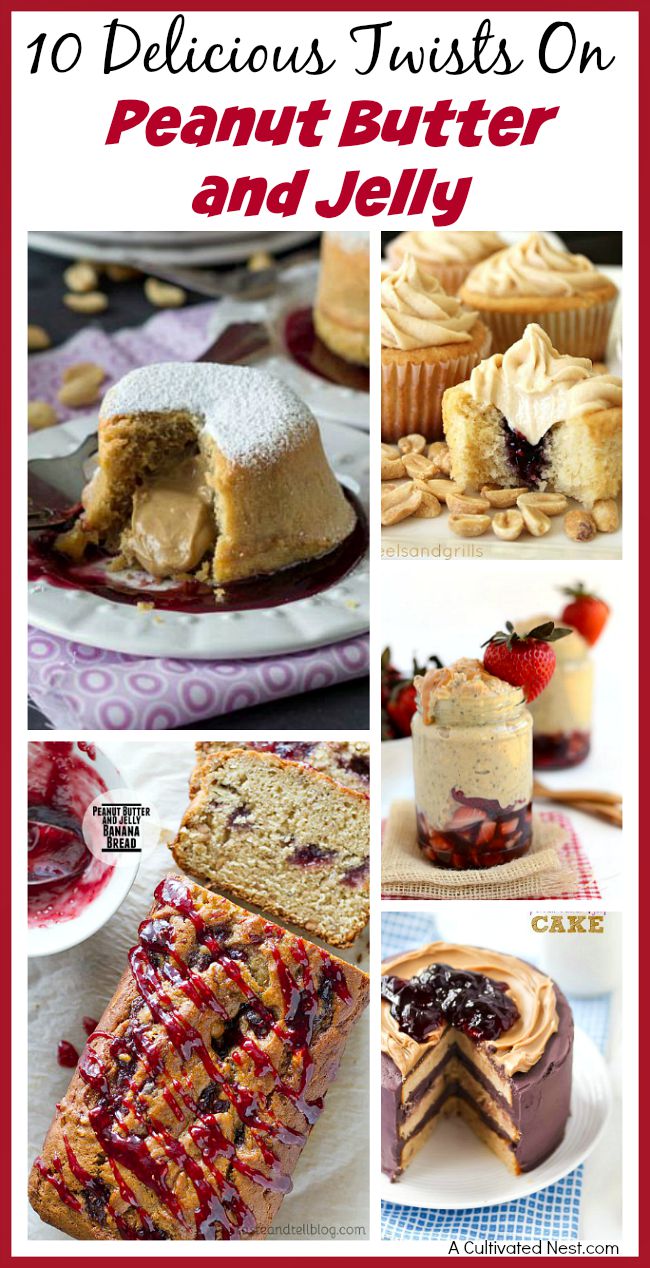 Disclosure: This post may contain affiliate links to Amazon and/or Etsy, which means that I may earn a small commission from some of the links in this post. Please see our Disclosure Page for more information.
For a healthier take on these recipes, try using almond butter instead of peanut butter. That's what we use, and it's so delicious!
10 Delicious Twists on Peanut Butter and Jelly
1. Peanut Butter and Jelly Lava Cakes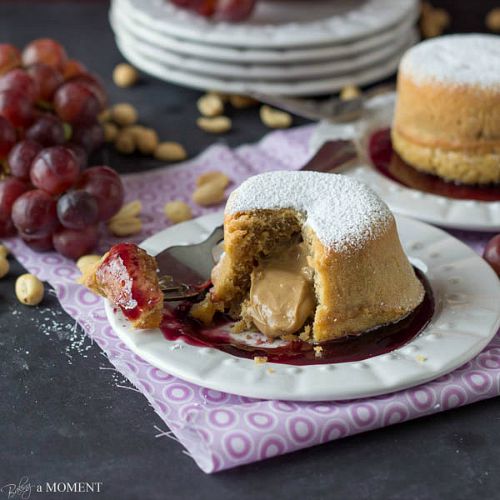 Lava cake is one of my favorite desserts! It's like a gooey explosion of decadent flavor! If you feel the same way, then you have to try Baking a Moment's peanut butter and jelly lava cakes!
 2. Peanut Butter and Jelly Muffins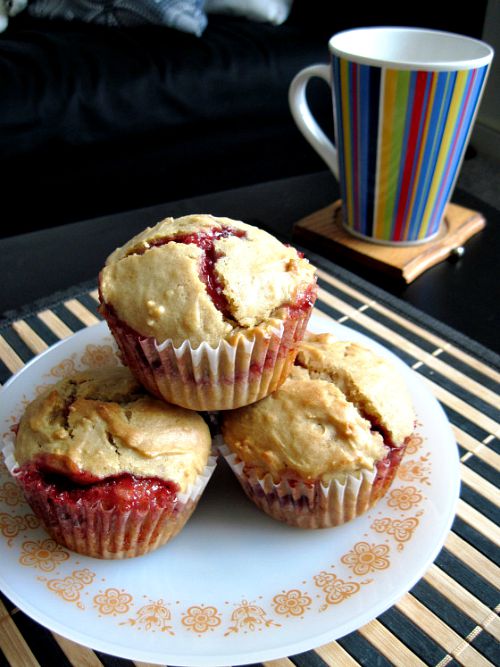 Wouldn't you love to start your day with these muffins for breakfast? O to the No explains how to mix up these wonderful peanut butter and jelly muffins!
3. Peanut Butter and Jelly Cupcakes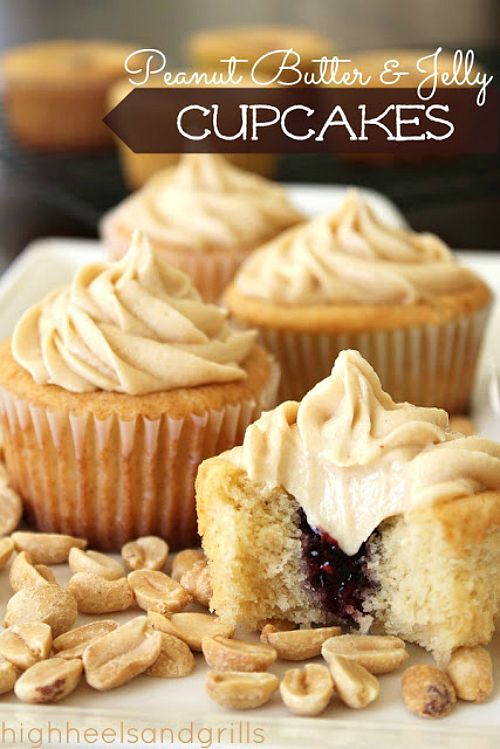 Maybe you like cupcakes more than muffins? Don't worry, there's a PB&J recipe for that, too! High Heels & Grills shows how to make delicious peanut butter and jelly cupcakes!
4. Peanut Butter and Jelly Cake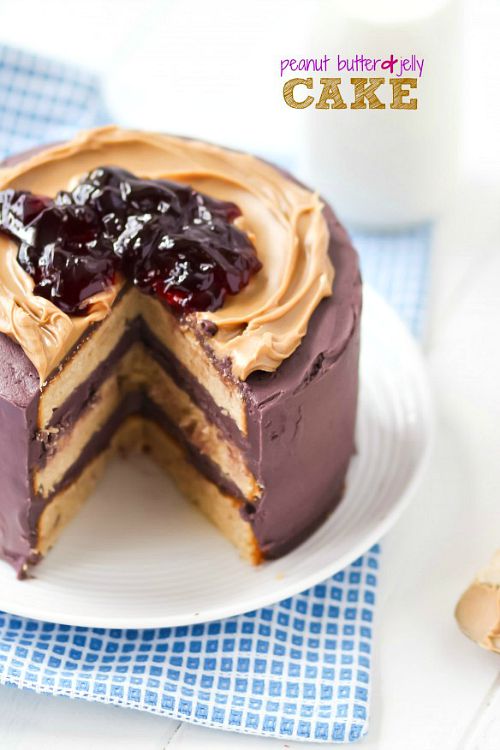 If your family loves peanut butter and jelly, they're sure to love a whole PB&J cake! Doesn't this look absolutely delicious? You can find out how to make it by following Confessions of a Cookbook Queen's PB&J cake recipe!
5. Peanut Butter and Jelly Banana Bread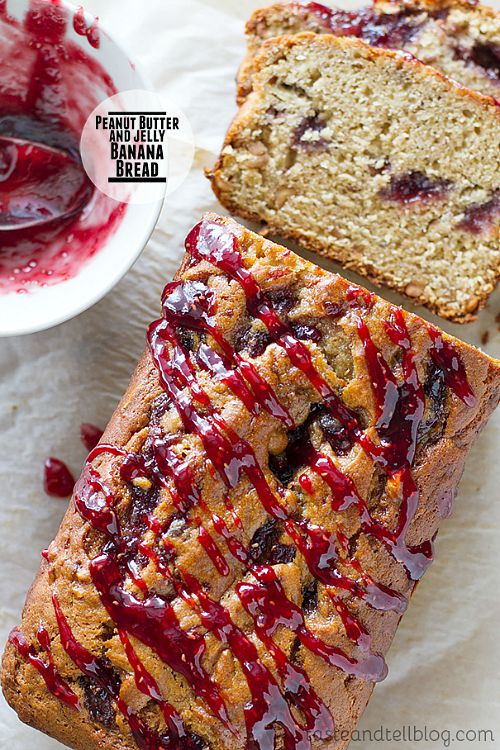 This is so unique! This delicious mix of bananas and PB&J is sure to be eaten up quickly! Make your own by following Taste and Tell's PB&J banana bread recipe!
6. Peanut Butter and Jelly Bars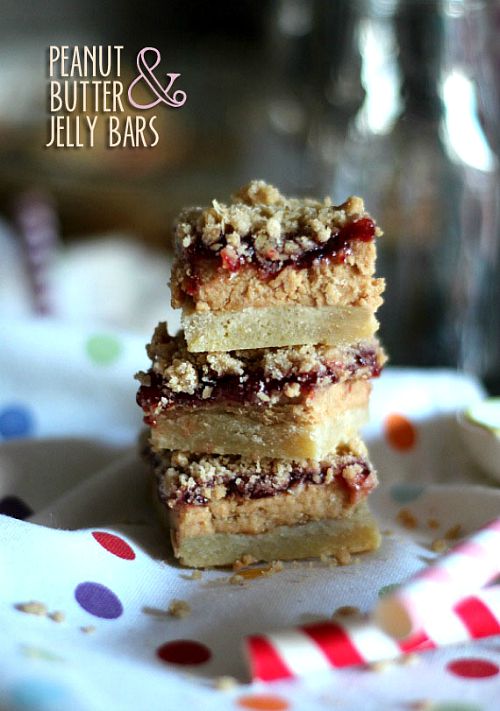 I love bar desserts, and this one looks scrumptious! Cookies and Cups explains how to make these wonderful PB&J bars!
7. Peanut Butter and Jelly Granola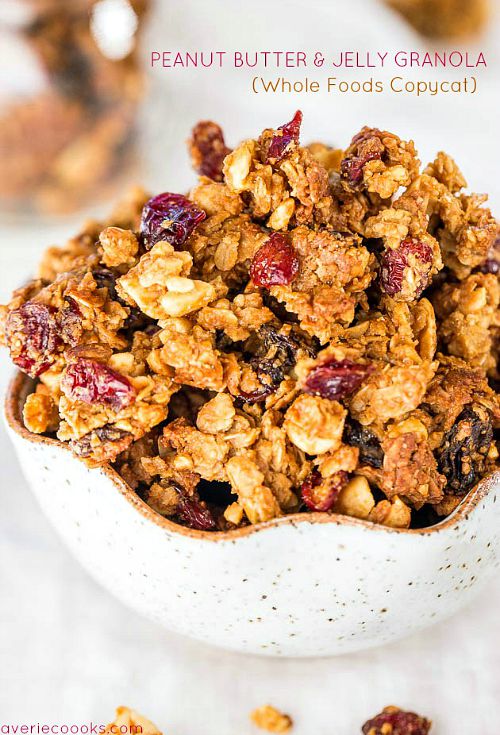 We love granola, so I can't imagine not loving this delicious PB&J twist! Averie Cooks explains how to make this with her PB&J granola Whole Foods copycat recipe!
8. Peanut Butter and Jelly Overnight Oats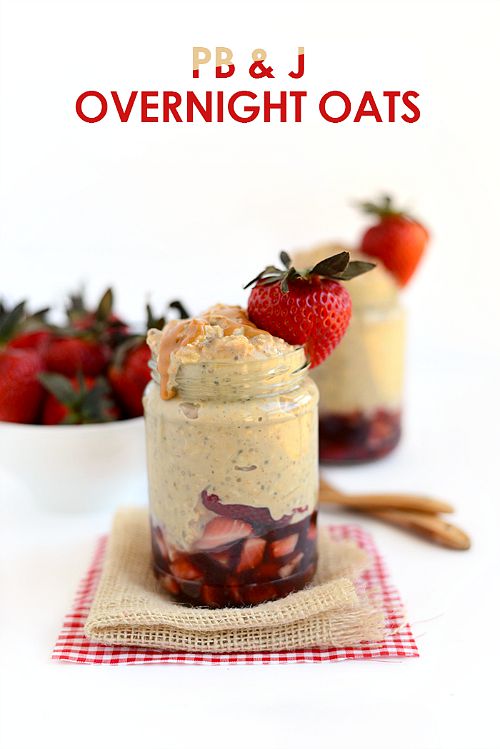 What better way to start your day than with PB&J? You can do just that with these delicious overnight oats! Fit Foodie Finds explains how to put together these easy and delicious peanut butter and jelly overnight oats!
9. Peanut Butter and Jelly Donuts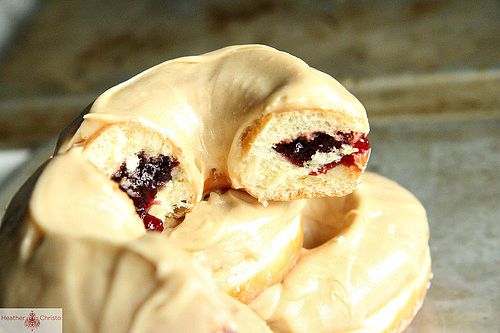 These are some of the most delicious looking donuts I've ever seen! They have peanut butter on the outside, and jelly on the inside. Follow Heather Christo's recipe to make your own yummy PB&J donuts!
 10. Peanut Butter and Jelly Cookies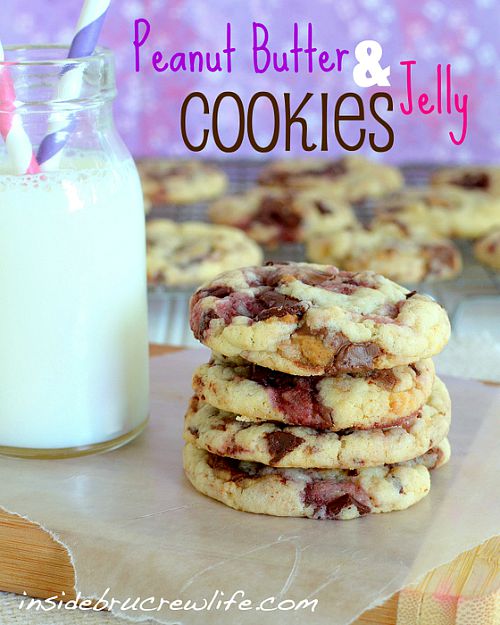 Don't these look wonderful? If you love cookies like I do, then you're sure to love Inside BruCrew Life's PB&J cookie recipe!
Isn't it amazing all the different twists on peanut butter and jelly that are out there? You'll never look at your plain PB&J sandwich the same way again!
What do you like to make with PB&J?
You may also be interested in: