The next time you cut up a lemon, don't be so quick to toss the peel. The truth is, lemon peels have quite a few practical uses making them worth their weight in gold! A part of living frugally is using up what you have.  Take a look below at 10 uses for lemon peels that you can try. You'll never want to toss out a lemon peel ever again!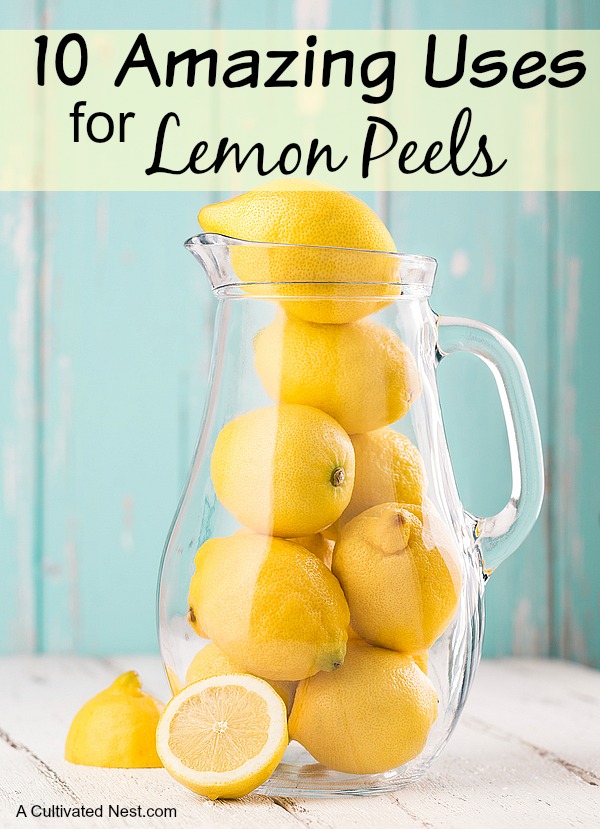 Disclosure: This post may contain affiliate links to Amazon and/or Etsy, which means that I may earn a small commission from some of the links in this post. Please see our Disclosure Page for more information.
I love finding uses for things like peels – waste not want not!
10 Uses For Lemon Peels
1. Cut through the grease.
If you have stubborn grease on plates, pans, or countertops, sprinkle a little salt on the area and then scrub it with a lemon peel. The oils and acids in the peel will cut through the grease while the salt offers abrasion.
2. Make your microwave sparkle.
Is your microwave a grimy mess? Then make it shine with lemon peels. Wipe out the inside of the microwave with the peel to loosen up grit and grime and cut through grease. You can also place a few lemon peels in a bowl and heat them in the microwave for a few minutes. The oils will release and get to work.
3. Make your sink sparkle.
Stainless steel will sparkle when you scrub it with a lemon peel. This also works well on porcelain sinks as well. If you wish, you can soak a few peels in vinegar and then spray the solution on the sink for deep cleaning. Just rinse and wipe clean when done.
4. Polish copper and chrome.
Lemon peels are safe to use on copper and chrome and can be used to bring out the shine. Just dip the peel in salt before you begin. Gently buff then rinse clean.
5. Freshen up the disposal.
Drop a few lemon peels into your garbage disposal to help freshen it up and remove odor. To make the peel work even harder, wet the peel and dip it in baking soda first.
6. Freshen up your cutting boards.
Rub the peels along the grain of the wood cutting board to not only clean it but help disinfect it as well. This method will keep your cutting board looking fresh and new longer!
7. Make your own zest!
Give any recipe a spark of flavor when you make your own lemon zest. Take a zester or grater and rub the peel to produce zest. The lemon zest can be added to desserts, baked goods, salad dressings, or even used for decoration.
8. Make beverage garnish.
Cut the lemon peel into strips and use them in beverages for extra color and flavor. If you wish, you can even freeze the strips until they are needed. You can also use these lemon strips on desserts if you wish for extra color and flare.
9. Aromatherapy
The peels can be used in simmering potpourris. You can check here for recipes  8 Natural Ways To Make Your Home Smell Amazing.
10. Make All-Purpose Lemon Cleaner.
I've been making a citrus cleaner for years. You can find the recipe here. You can make this with lemon peel, orange peels, tangerines any citrus will do.
Did you ever think that lemon peels had so many uses? They truly are a multi-purpose fruit!
You may also be interested in: Amazing Uses for Orange Peels