Are you crazy for candy corn? Check out this amazing collection of recipes that either use candy corn or are inspired by candy corn!
25 Creative Candy Corn Recipes
1. Candy Corn Cookie Bark From Sweet Bella Roos
2. Candy Corn Punch From Simplee Thrifty
3. Homemade Candy Corn Pretzels From Sugar Swings
4. Candy Corn Biscotti from Food Nasty
5. Candy Corn Oreo Bark From Raking In The Savings
6. Candy Corn Popcorn Bars From Wheel N Deal Mama
7. Candy Corn Cheesecake Mousse Recipe From Meet Kristy
8. Candy Corn Crunch From This Mama Loves
9. Halloween Muddy Buddies Mix From Simply Being Mommy
10. Candy Corn Lollipops From Mess For Less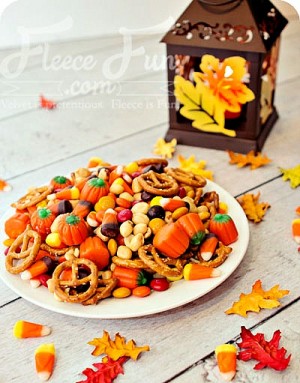 11. Easy Candy Corn Party Mix From Fleece Fun
12. Candy Corn Bark Recipe From Life Is Poppin
13. Candy Corn Cereal Treats From Baked Perfection
14. Candy Corn Peanut Bars From Easybaked
15. Candy Corn Magic Bars From The Domestic Rebel
16. Candy Corn Cookies From LilaLoa
17. Last Minute Candy Corn Cookies From Bake At 350
18. Candy Corn Bundt Cake From A Baker's House
19. White Chocolate Candy Corn Cookie Bars From Love From The Oven
20. Candy Corn Striped Madeleines From Sugar Swings
21. Candy Corn Pop Tarts From Pint Sized Baker
22. Candy Corn Cookies From Baking Beauty
23. Halloween Candy Corn Popcorn From Erica's Sweet Tooth
24. Candy Corn M&M Macadamia Nut Cookies From Something Swanky
25. Candy Corn Halloween Eclair Cake From Sweet Simple Stuff
These are also great for using up any leftover Halloween candy corn that you might have!
You may also like: 12 Creative Candy Corn Inspired Fall Decor Ideas