Would you paint your stairs? Well I painted my foyer steps about 8 years ago and at the time it was a good solution to stairs that weren't in great shape. After we tore off the nasty old carpet we were left with steps that were less than ideal.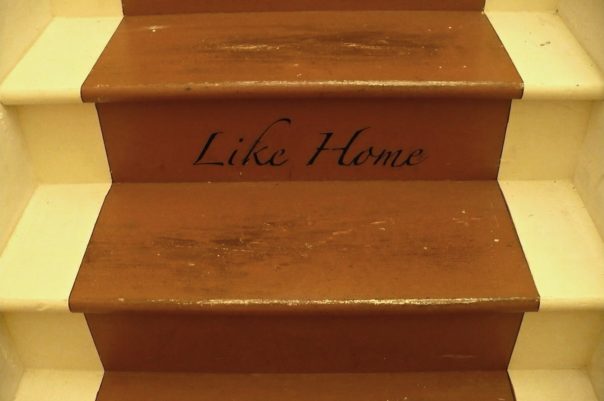 As you can see, they are finally starting to look a wee bit tired and I'm going to re-do them soon.  Like in the next two weeks!  My husband and I have decided on what were going to do and I'll show the inspiration photo for my re-do at the end of the post.
 Here are some painted stair ideas ideas  I considered: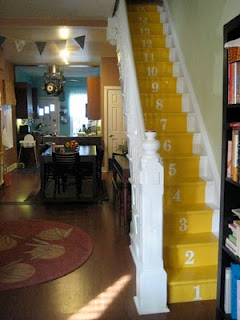 I love these yellow stairs from Lover Mother! Every time I look at that photo I want to change my mind about what we decided to do. I wouldn't do the numbers – just the yellow. I think it would be so fun to open the door and be greeted by cheerful yellow stairs!
I love everything about these stairs. I'm trying to tone down all the color in my house but I just love the use of those three vibrant colors!
How about a bit of a geometric design on the risers. I thought about keeping the treads a neutral color and doing something fun like a stencil or wallpaper on the risers.
These may be decals or stenciled. Either way,  I think they're cool!
This is what we've decided to do.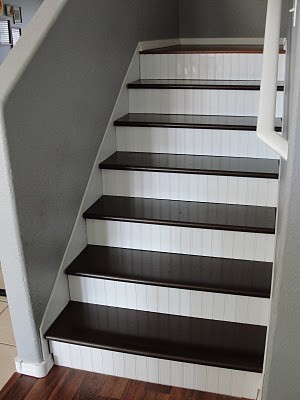 Pretty and very classic cottage looking don't you think? The risers are beadboard.  She rebuilt her stairs which I'm not going to do but I was thinking I could just reface the riser with thin beadboard paneling or I have beadboard wallpaper that I could use. Then I'd paint the treads a black or deep chocolate.
This one is just for fun. Doesn't it make you smile!
I've been very happy with my painted stairs. I think it's a whole lot easier to sweep them than to have to vacuum them!

*please click on the photos to go to their source