Christmas can be detrimental to anyone's budget, but it can be especially harsh to those that have no money saved ahead of time. Christmas is one of those times of the year though where you can make some good money with a side business. Most of the ideas are simple to do and don't require a lot of supplies to get started. If you're looking for ideas, these 6 ways to earn some cash for Christmas is a really great place to get started!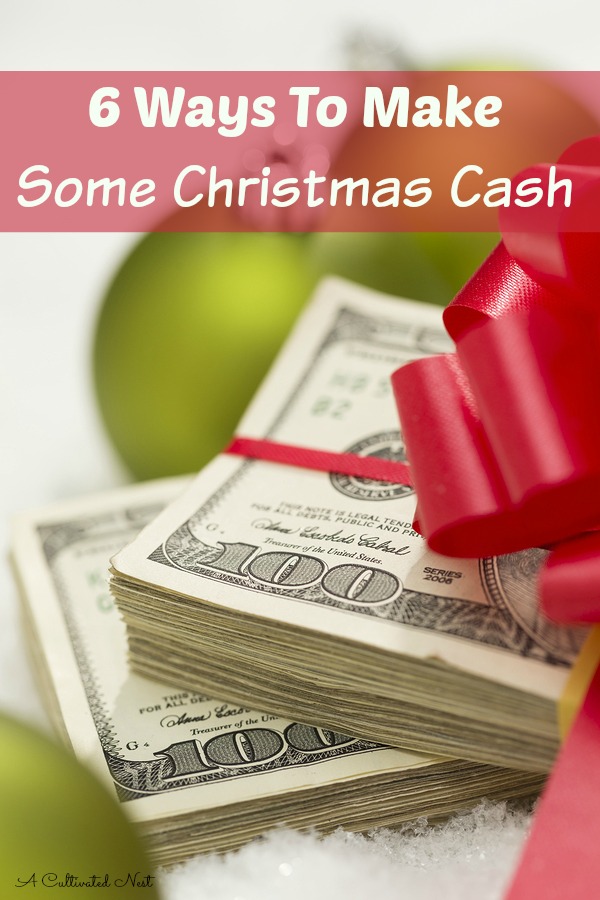 Ways To Earn Cash For Christmas
Disclosure: This post may contain affiliate links to Amazon and/or Etsy, which means that I may earn a small commission from some of the links in this post. Please see our Disclosure Page for more information.
1. Personal Shopper – Are you great at finding deals? If so, put that talent to good use because there is no better time of the year when people want deals than at the Holiday season! Offer your shopping skills on Craigslist, Facebook and other online forums. You could even offer couponing as an additional skill if you're good at it and your clients want to save too! Another awesome way to work as a personal shopper is to sign up for Shop Your Way Rewards. Here you could earn commission for helping people buy online.
2. Sell Some Plasma – Most places will pay you between $25-$50 per "donation" and you can usually go up to 2 times a week. You will have to go through a application process and screening  to see if you are a suitable donor. The collection process takes about 90 minutes and of course they only use sterile supplies. Many places pay by giving you a reloadable debit card. You can check here to find a donation center near you.
3. Become a Master Baker – The holidays are huge for home baked goods, but there are very large portions of the population who simply don't have time to bake or just don't want to. Their loss is your gain! Bake up cookies, breads and candies, package them nicely then sell on your local Facebook groups or Craigslist. You won't get rich, but you may be able to pay for Christmas!
4. Holiday Decorating – If you've got the touch when it comes to hanging holiday décor, you may just be able to make some extra cash! Place ads locally and let people pay you to create stunning holiday displays for their home! Just be sure to keep your prices reasonable. The holidays can already stretch a holiday budget so you don't want to overcharge people.
5. Become a Re-sell Queen (or King) – Have a quality thrift store near you? How about a full garage? There are a ton of different places to resell online to put those quality used items you have up for sale or trade. Sites like Amazon, Best Buy and Target all have trade in programs and the gift cards you earn can be used to help with Christmas.
6. Yard Leaf/Snow Removal – It might seem like a silly idea for someone to earn holiday money by doing lawn care, but once the leaves or snow starts falling? People will need it done. This can be an especially profitable business if you have a truck that you can attach a plow to or a lawn mower that has bag so you can pick up leaves. You never know! It could turn into an actual full time business during the winter for you!
If you're looking to make some extra cash for the holidays, it is important to remember that there are a ton of different ways that you can do it. Keep your eyes peeled for new ways to earn and you're sure to find something that is a perfect fit!
You May Also Be Interested In This Post: