Hi everyone! Judging from the emails and comments, you all want to know where I got the toile candles from. Well I didn't buy them. I made them!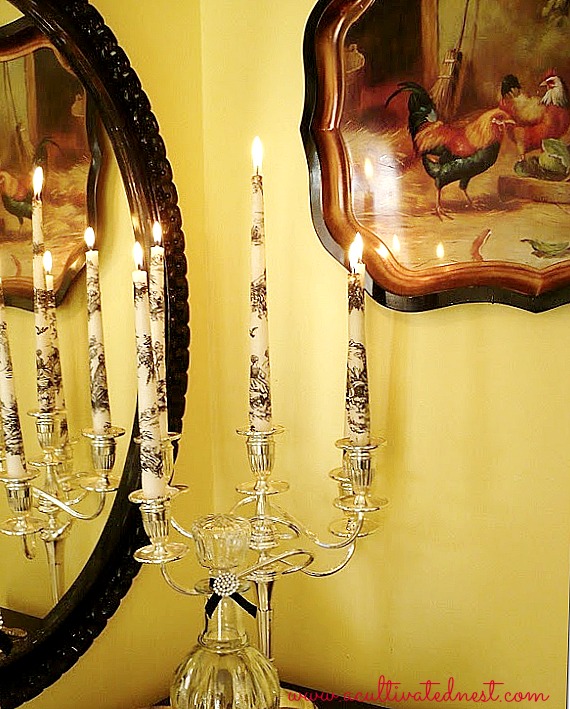 They're really easy to make!
Disclosure: This post may contain affiliate links to Amazon and/or Etsy, which means that I may earn a small commission from some of the links in this post. Please see our Disclosure Page for more information.
I had originally used plain white candles but thought it looked a bit boring. I thought " I wish I had some of those black and white striped candles or better yet, toile candles." I went looking in my paper stash, found some black and white toile tissue paper and made some! I didn't even know you could decoupage candles before trying it. But I guess you can  decoupage just about anything!
How to decoupage candles
You need Mod Podge, decorative tissue paper and a small sponge brush.
Keep in mind that the color of the candle will show through the paper.
Step 1. Wrap your paper around your candle to determine how much you need and cut.
You should now have a piece of paper that will wrap all the way around your candle. I didn't take the paper all the way up to the top because I knew I'd want to light them at least a few times and didn't want the paper to burn.
Step 2. Now apply some Mod Podge to one end of the paper and adhere it to the candle. Then work your paper around to cover the whole candle either with a brush or using your hands. But be gentle, the paper is thin and easily tears.
Step 3. Prop it somewhere so it can dry and that's it
Now, these really should just be for decorative purposes so be careful  if  you light them.

You don't have to use tissue paper. You can also use napkins.

You just have to take the top layer off if you have thick ones.
It's really easy and quick and you can use all sorts of paper. Although I think scrapbook paper might be too thick, but I haven't used it so I don't know for sure.  Give it a try!
This is a great way to customize candles to your decor or season!