I am not one to jump on every DIY beauty product craze that comes along, but sugar and salt scrubs are an important part of my beauty routine. Then when Himalayan salt became all the rage I had to research it and find out what the fuss was about. It has now become one of my favorite bases to use in my scrubs because of its wonderful therapeutic properties for your skin- as an exfoliant and detoxifier! Try it for yourself in this luxurious DIY Jasmine Himalayan Salt Scrub!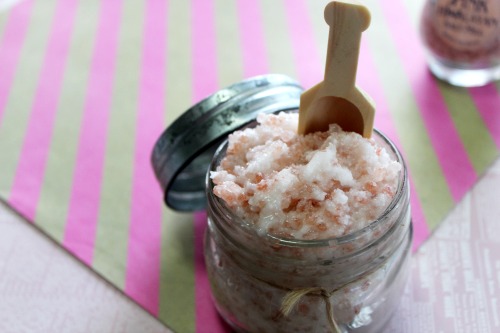 Disclosure: This post may contain affiliate links to Amazon and/or Etsy, which means that I may earn a small commission from some of the links in this post. Please see our Disclosure Page for more information.
Himalayan sea salt is the purest salt and found in ancient sea salt mines loaded with iron, calcium, magnesium, and potassium. Add to that ultra moisturizing coconut oil and deliciously scented jasmine essential oil and you have a wonderful body scrub for spring and summer that will leave your skin soft, dewy, and glowing! It doesn't hurt that this jasmine Himalayan salt scrub is also naturally a beautiful pink color without any added dyes!
Jasmine Himalayan Salt Scrub
Ingredients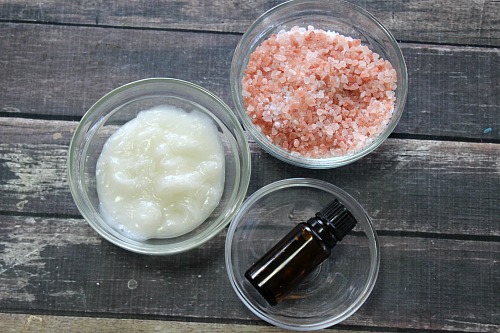 ½ cup pink Himalayan sea salt (I chose coarse salt because the abrasive texture is nice on my feet, but fine ground will also work great if you don't want your scrub to be as abrasive)
¼ cup coconut oil
10 drops jasmine essential oil
Directions
1. If your coconut oil is not naturally softened from the room temperature, microwave it for 5-10 seconds until soft and a little liquidy. Don't worry, nothing bad will happen if you go too far and melt it!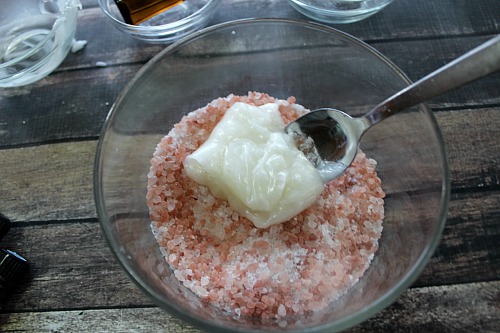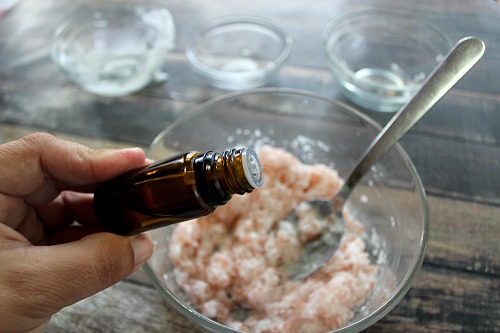 2. Combine sea salt, slightly softened coconut oil, and jasmine essential oil together in a bowl until evenly combined.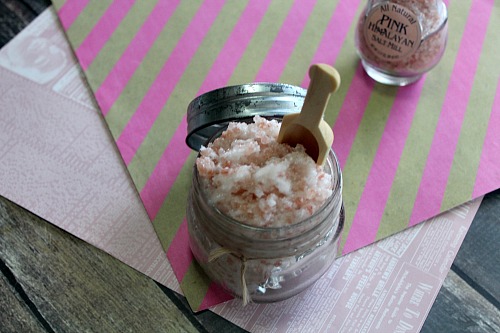 3. Transfer your jasmine Himalayan salt scrub mixture to a glass jar with a lid until ready to use.
To Use
Scoop a generous amount of pink Himalayan sea salt scrub in your hands and scrub vigorously over damp skin to exfoliate. Rinse and pat skin dry. Do not use on your face as it will be too rough for the delicate skin.
Do you use Himalayan salt for cooking or in DIY beauty products?
This post contains affiliate links to Amazon. Please see our Disclosure Page for more information.
  About Jody: I am a Florida girl through and through living the semi-country, small town life.  I am making my way through it with my amazing hubby, 2 beautiful kids, 2 of the best Dachshunds to ever walk the face of the earth, massive amounts of coffee and a whole lot of Jesus. I homeschool, craft, cook, scrapbook, garden, raid the thrift shops, snap 1,000's of photos, and read when I can grab a spare minute (which is rare). You can find me blogging at Simply Southern Sunshine.
If you'd like to try more homemade scrubs, make sure to take a look at my book 18 DIY Sugar Scrubs which has many more DIY beauty product recipes! You can find it on Amazon and it's a great DIY scrub guide!