Did you know that bags of tea can be used for more than just making drinks? You can also use them in you DIY beauty products! Teas contain a lot of beneficial plants, so they make great homemade beauty product additives. I recently made a sugar scrub using tea that leaves my skin feeling and looking refreshed, and I just had to share it with you! Here is how I made this DIY Passion Tea Sugar Scrub!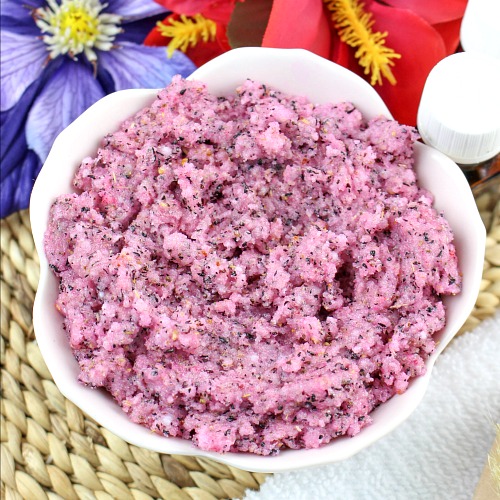 Disclosure: This post may contain affiliate links to Amazon and/or Etsy, which means that I may earn a small commission from some of the links in this post. Please see our Disclosure Page for more information.
I actually like the tea I used as a drink, but I imagine that making DIY sugar scrubs could be a great way to use up teas you don't like!
This sugar scrub gets it's beautiful purple color from the colorant I added. I just added the color to give my homemade sugar scrub more of a fun, summertime feel. But you could leave the colorant out if you wanted, or use a totally different color.
If you wanted to give this DIY passion tea sugar scrub as a gift, put it in a nice jar and consider putting a label on it. A ribbon also wouldn't hurt. Your gift recipient also would probably appreciate a little sugar scrub spoon with their gift, so they can avoid getting excess water in their jar (which reduces how long the scrub stays fresh).
DIY Passion Tea Sugar Scrub
Yields: 1 1/2 cups
Ingredients
1 cup granulated sugar
1/2 cup coconut oil
6-8 drops Vitamin E oil
2 bags passion tea (not to be confused with passion fruit tea- the one I used was a blend of hibiscus flowers, herbs, and other ingredients)
8-10 drops sweet orange essential oil
6-8 drops lemon essential oil
Purple soap colorant or mica powder (if you use mica powder, get cosmetic grade and make sure that no one in the reviews complains about it staining their skin)
Directions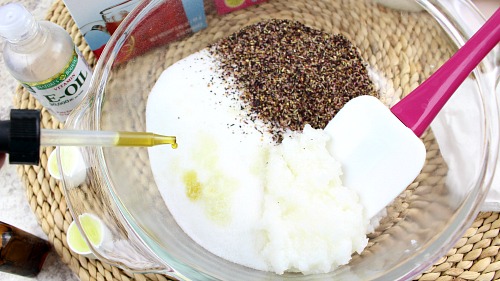 1. Add the sugar, coconut oil, and Vitamin E oil to a large bowl. Cut open the bags of passion tea and pour into the bowl.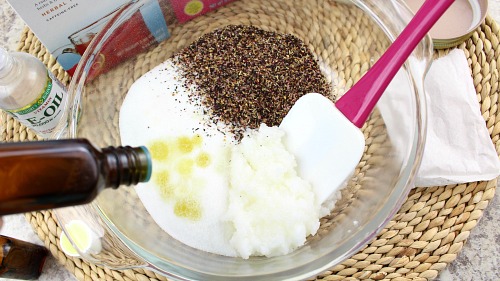 2. Add in both essential oils. Stir to mix well.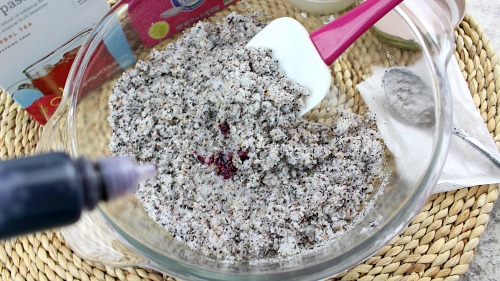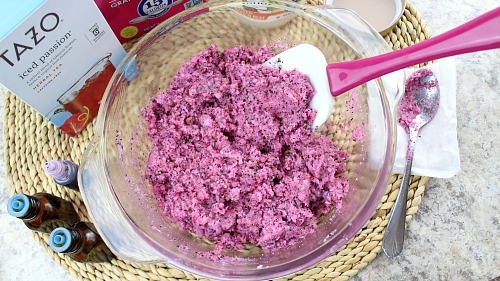 3. Add 1-2 drops of purple soap colorant and stir until your preferred shade of purple is achieved.
4. Transfer to an airtight container and store for up to 6 months.
How to Use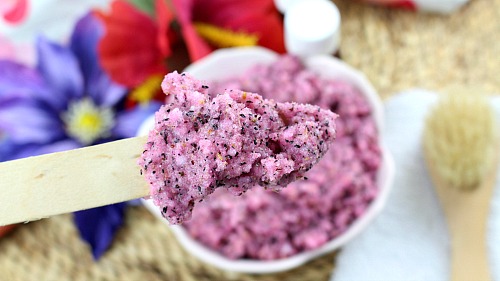 1. In the shower, wet your skin with warm water and apply your DIY passion tea sugar scrub. Try to avoid getting water in the jar, as this can lead to it growing mold and not lasting the full 6 months. You can use a small spoon to keep from putting your wet hands in the mixture.
2. Gently rub your skin in a circular motion. You can use this as a body scrub, hand scrub, and even a face scrub, as long as you're gentle.
3. Rinse with warm water and pat dry with a towel. Use the softest and most absorbent towel you have so that you're really patting dry, not scrubbing dry. This super soft towel on Amazon is supposedly the crème de la crème of absorbent, soft bath towels. It's not an inexpensive towel, but it lasts a long time, and if you really want to care for your skin, it may be worth the investment.
4. Apply your favorite skin moisturizer to seal in the softness. I like to use my DIY vanilla whipped body butter.
Benefits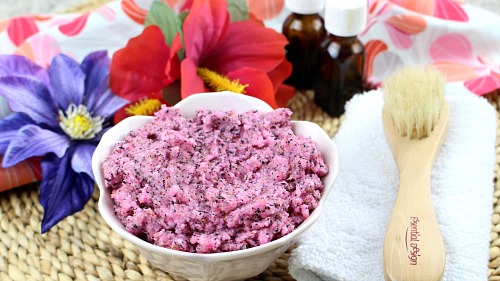 This DIY passion tea sugar scrub is great for your skin! The sugars are wonderful exfoliaters, helping to remove old, dead skin, and the coconut oil is a natural moisturizer. The passion tea is full of ingredients that have anti-inflammatory properties that will help soothe your skin. So once you're done using the scrub, your skin is left smooth and radiant!
Have you ever used tea in a homemade beauty product?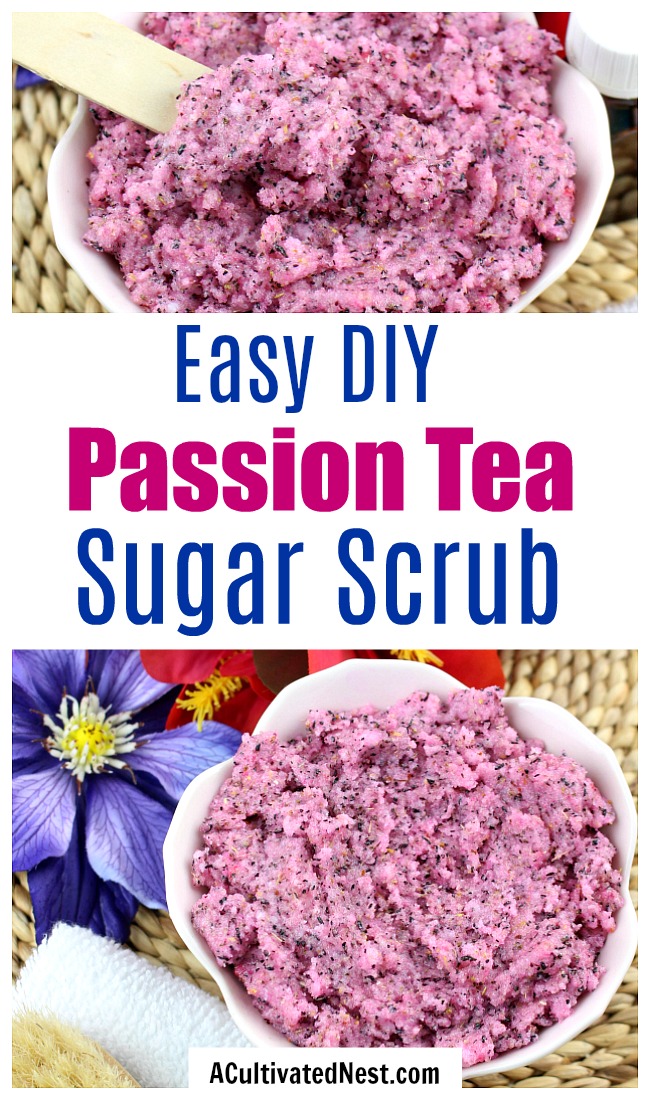 You might also be interested in: Soothing Green Tea and Peppermint DIY Bath Salts