I love relaxing in Epsom salts! They're such a wonderful, natural way to relax your muscles and calm down after a long day. And what needs more relaxing than our feet? It's so nice to place them in a hot soak, especially when you've been on them all day! Make your own homemade, relaxing soak with this DIY Eucalptus Foot Soak tutorial!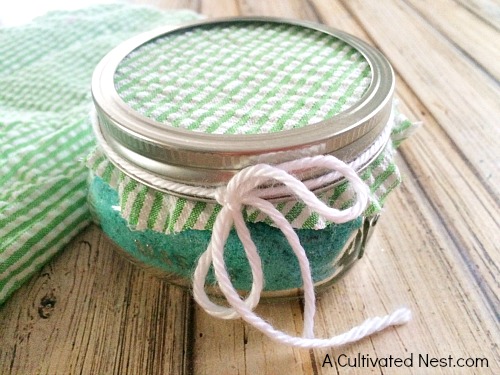 Disclosure: This post may contain affiliate links to Amazon and/or Etsy, which means that I may earn a small commission from some of the links in this post. Please see our Disclosure Page for more information.
Stumped on what to give friends or family for a holiday or birthday gift? Sometimes relaxation is the best present! But a spa gift certificate can be expensive. Instead, how about giving them this natural and relaxing eucalyptus foot soak! This DIY eucalyptus foot soak recipe makes enough for about 2-3 soaks per jar.
DIY Eucalyptus Foot Soak
Ingredients
1 Cup baking soda
1/2 Cup Epsom salts
1/2 Cup sea salt
4 drops therapeutic grade eucalyptus essential oil
Green food coloring (optional)
2 8oz Mason jars
Directions
1. In a mixing bowl, combine your baking soda, Epsom salts, and sea salt, then stir to combine.
2. Add about four drops of your eucalyptus essential oil and mix.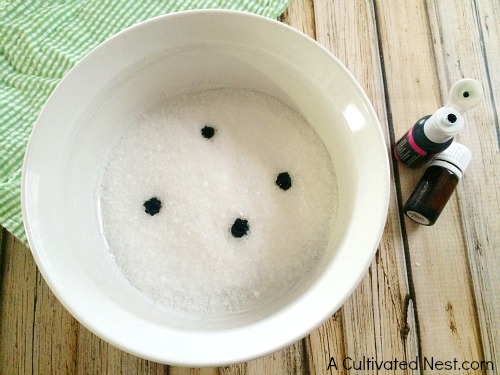 3. If you like, add four drops of green food coloring. The food coloring will just sit on top of your foot soak mix, so you'll have to stir it in to distribute the color.
4. Scoop your foot soak mixture into two 8oz Mason jars.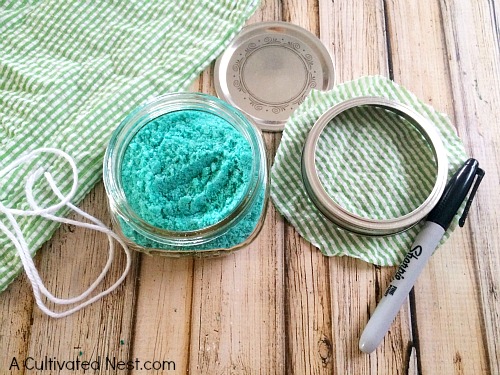 5. Trace your jar lid onto a piece of decorative fabric, then cut out a circle that's about 1.5″ larger than the lid.
6. Place the inner jar lid back on the Mason jar, then the fabric circle, then twist the outer lid ring around the two, holding the fabric in place.
7. Tie a piece of yarn around your lid to finish it off. Then enjoy your relaxing DIY eucalyptus foot soak, or give it away as a thoughtful homemade gift!
To Use
Pour about 1/3 to 1/2 cup of the dry soak into a tub filled with water. The water should be relatively hot, but not uncomfortably so. Soak your feet in the water for 15-20 wonderfully relaxing minutes!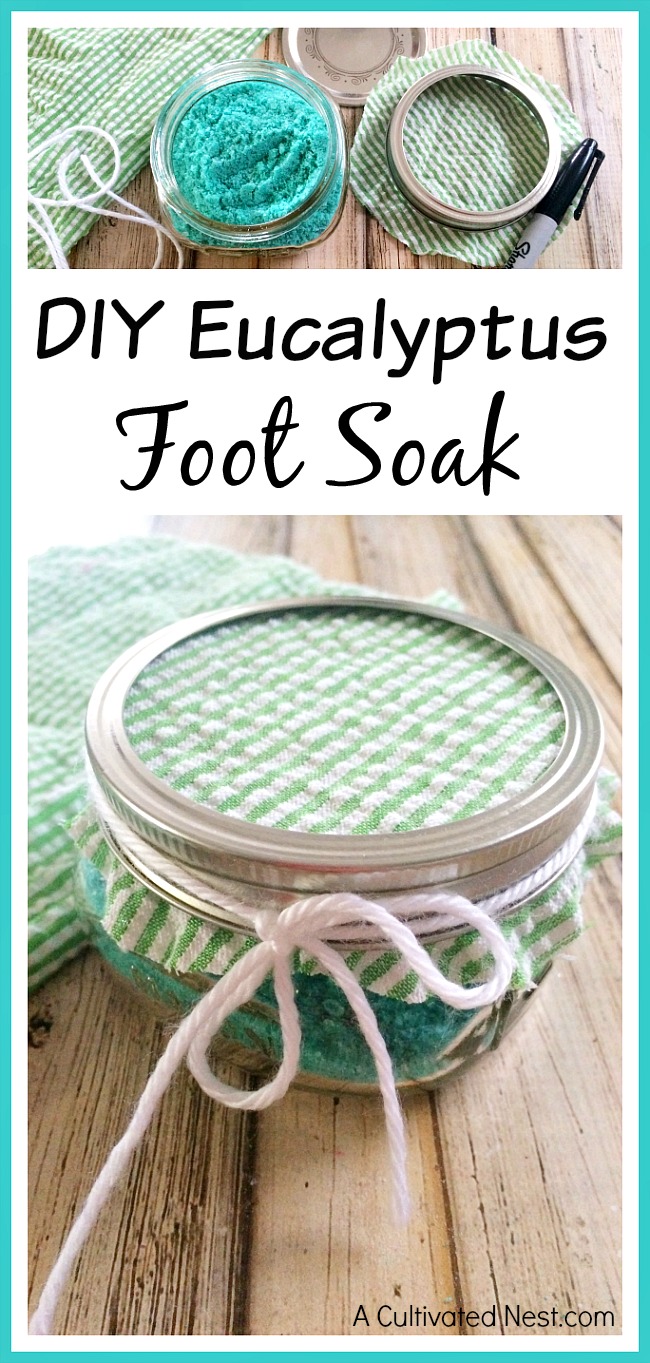 Don't miss a post! Get this blog delivered by email every time I post.  Subscribe via email here
This post contains affiliate links to Amazon. Please see our Disclosure Page for more information.
You may also be interested in: