Tasty Recipes Using Pesto.
Are you searching for something new and flavorful to try for dinner? Whether you are simply in the mood for an interesting new dish, or planning a social get together, some pesto can help you make something delectable that everyone will love! Here are 16 Delicious Ways to Use Pesto in a variety of dishes!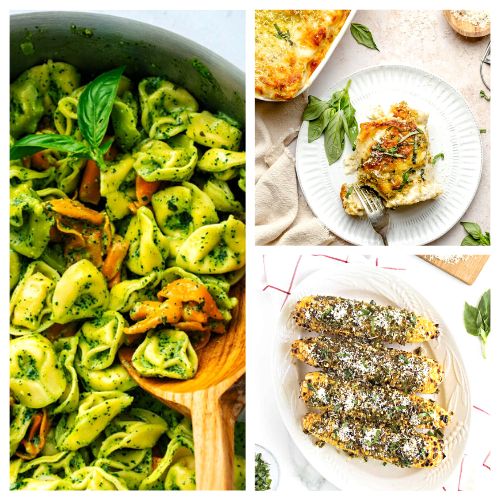 I used to only use pesto when making tortellini. Then I started branching out with it, and realized pesto can be tasty when used on so much more! Who knew it could be used in such a variety of recipes!
16 Delicious Ways to Use Pesto
Here are some tips on delicious ways to use pesto:
Embrace Versatility: Pesto's adaptability makes it perfect for various dishes. Use it not only as a pasta sauce but also as a marinade, a sandwich spread, or a dip for appetizers like bruschetta or crostini.
Balance the Flavors: While traditional basil pesto is delicious, don't be afraid to experiment with different herbs, nuts, or cheeses to balance out the flavors and suit your taste. For example, adding a hint of lemon zest can bring a refreshing citrusy note that complements the richness of the pesto.
Harmonize with Proteins: Pesto pairs wonderfully with a wide range of proteins. It enhances the taste of grilled chicken, salmon, shrimp, or even tofu. Just be mindful of the intensity of the pesto when selecting your protein to ensure a balanced flavor profile.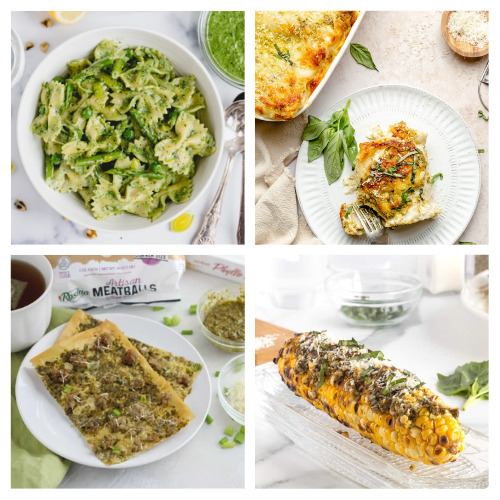 Disclosure: This post may contain affiliate links to Amazon and/or Etsy, which means that I may earn a small commission from some of the links in this post. Please see our Disclosure Page for more information.
1. Pasta with Spring Vegetables from Big Oven
2. Mushroom Chicken Lasagna Roll Ups from Ambitious Kitchen
3. Mediterranean Meatball Flatbread from Living Well Kitchen
4. Pesto Parmesan Grilled Corn from The Baker Mama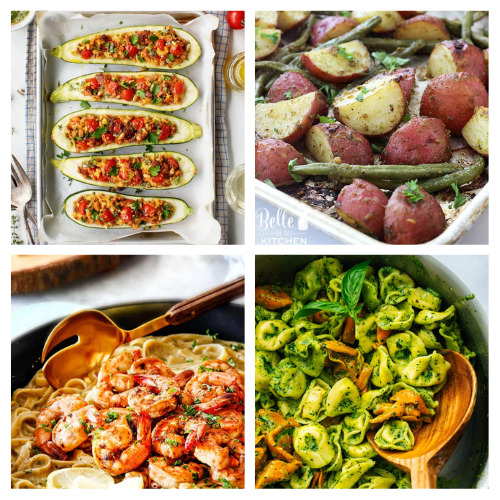 5. Stuffed Zucchini Boats from Love and Lemons
6. Roasted Potatoes and Green Beans from Belle Of The Kitchen
7. Lemon Garlic Shrimp Fettuccine from Carlsbad Cravings
8. Pesto Tortellini from A Couple Cooks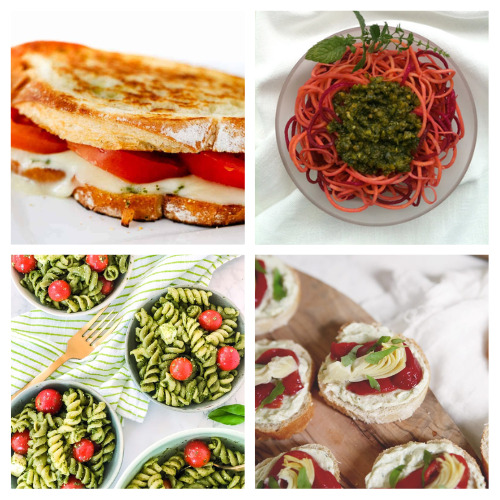 9. Grilled Caprese Sandwich from I Heart Naptime
10. Raw Sweet Potato and Beet Noodles with Mint Pistachio Pesto from Passionately Raw
11. Summer Pasta Salad from A Pretty Life
12. Roasted Red Pepper and Artichoke Crostini from The Merrythought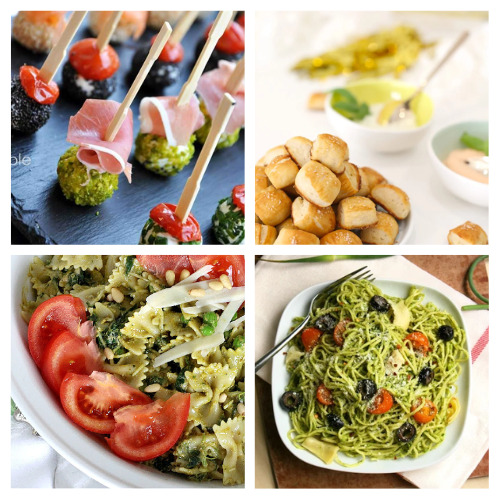 13. Goat Cheese Bites from Steph à Table
14. Homemade Soft Pretzel Bites from Lovely Indeed
15. Pasta Pesto And Peas  from Grateful Prayer Thankful Heart
16. Garlic Scape Pesto from The Life Jolie
Which pesto recipe sounds like it'll soon be a favorite in your household?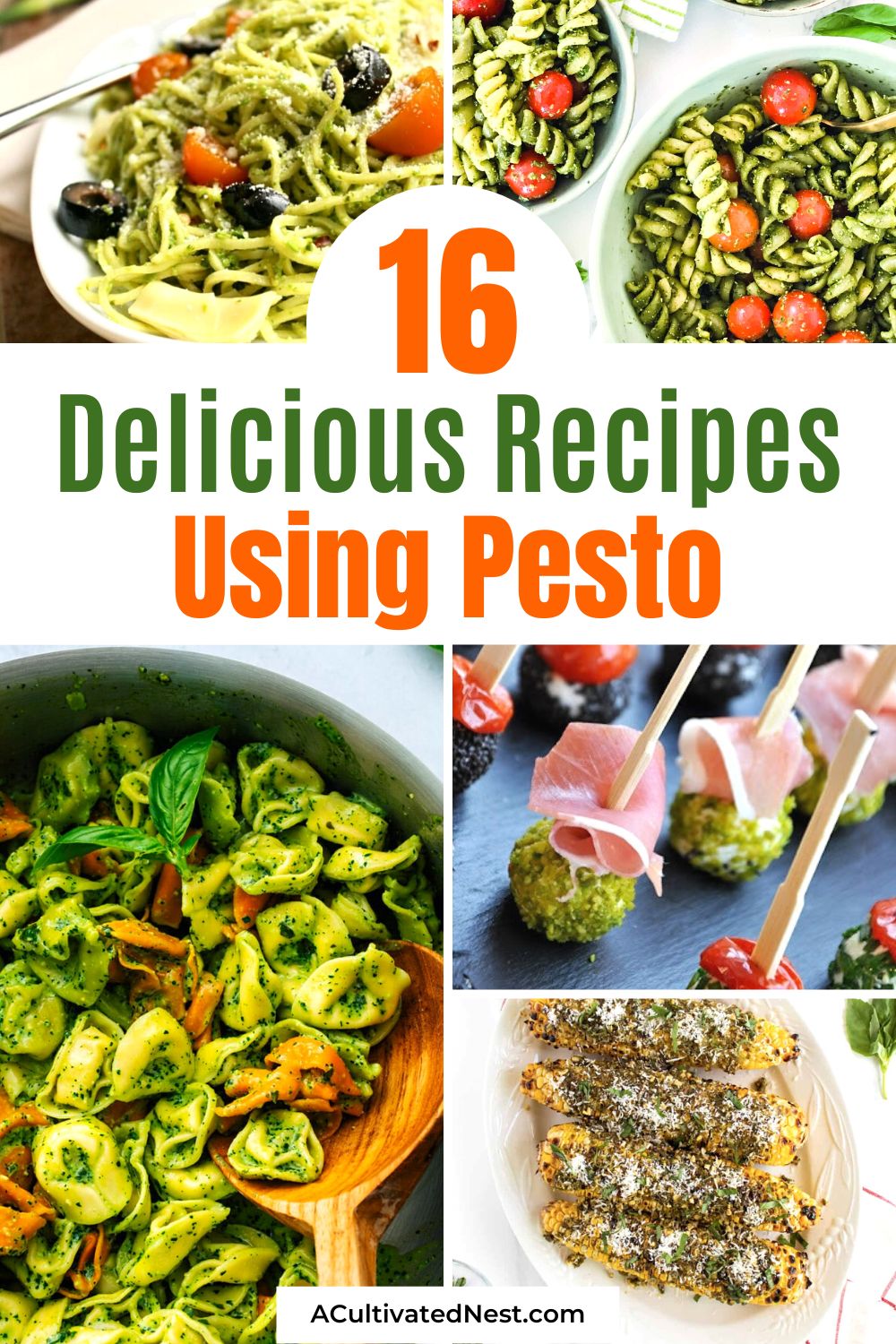 You might also be interested in: 28 Delicious Sheet Pan Dinner Recipes