We have a lot of projects to complete before we put our house on the market this summer! The first really big one we tackled was fixing up our deck. It looked really really REALLY bad. I was supposed to do it last year but hurt my knee (again) and couldn't work on it and then the winter weather made it even worse so we ended up with a deck that looked like….well you'll see.  It was a big job and towards the end we were trying to finish up before the rains hit!  I haven't put anything back on it yet (letting it cure since we did get a few days of rain after it was finished).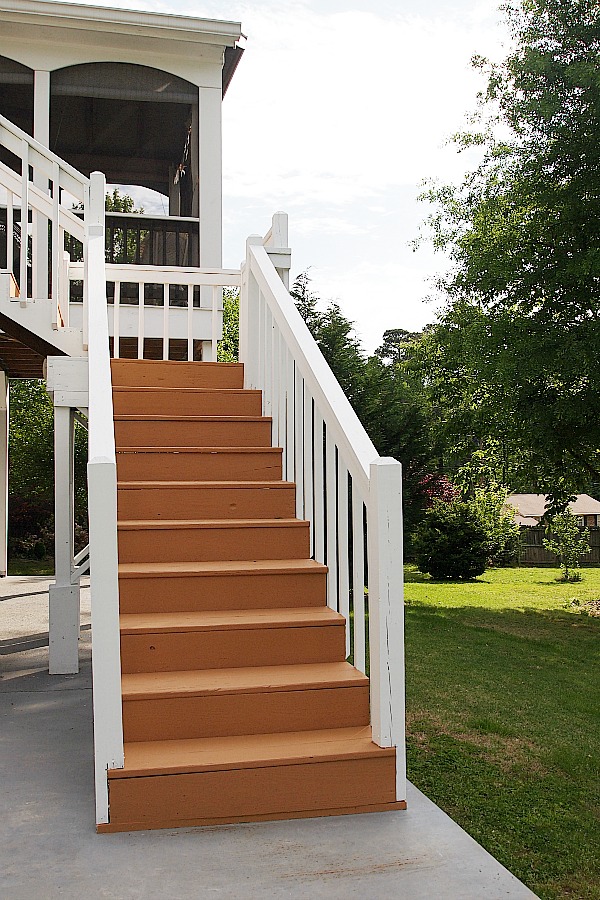 Actually it started to rain a few hours after we put on the last coat of the deck stain. I was so worried! We had finished the hand rails the day before but the decking part only had a few hours to dry.
Disclosure: This post may contain affiliate links to Amazon and/or Etsy, which means that I may earn a small commission from some of the links in this post. Please see our Disclosure Page for more information.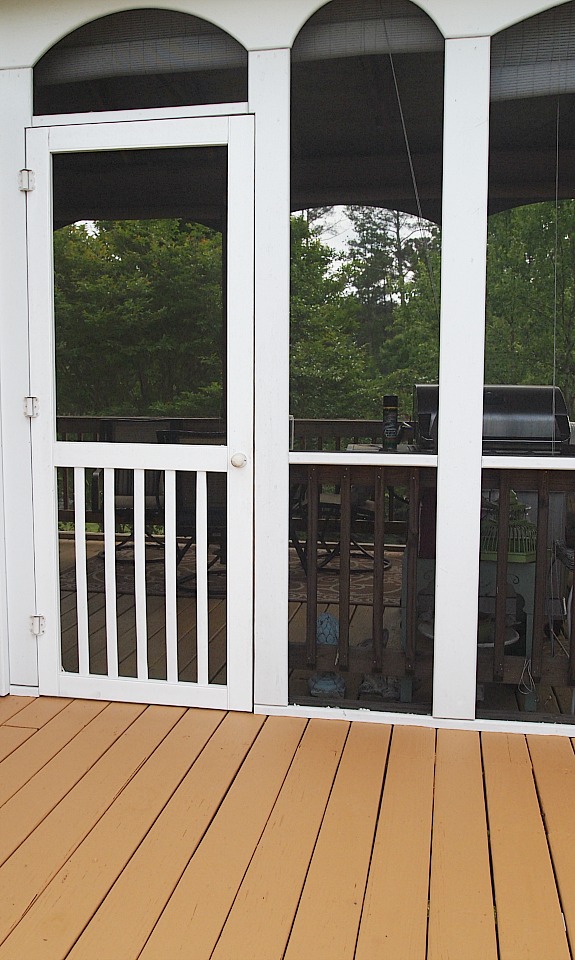 There were some tiny bubbles where the water had puddled. But I went out after it stopped raining and dried off the deck and those bubbles went away after it had a few hours of sun. So far so good – I don't really want to have to do it over!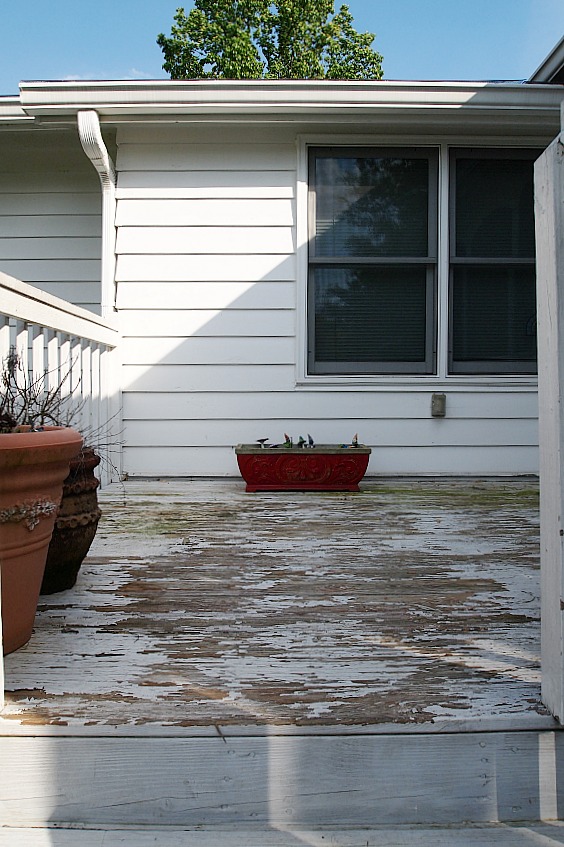 Here's the before so you can really tell how much better the after looks! I told you it was bad!!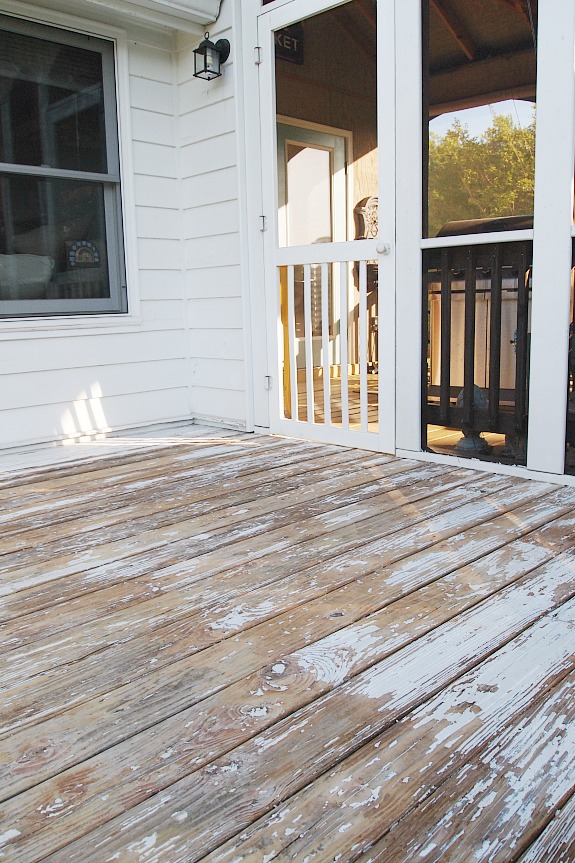 First we pressure washed the deck and the railings. Then we had to hand scrape/sand the decking. Which was exhausting and I never want to have to do that again!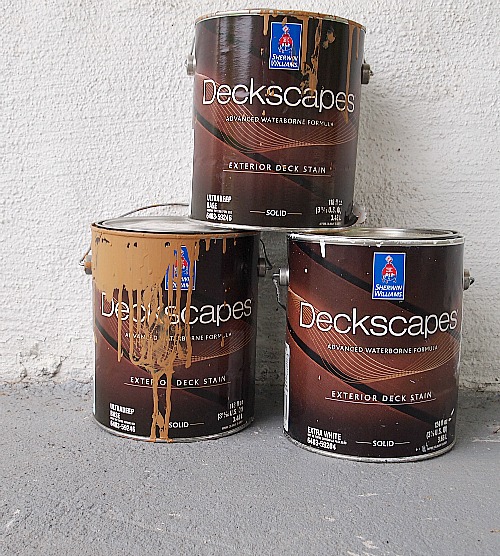 We used Sherwin-Williams Deckscapes and we're quite happy with the results so far. We used a solid stain, white for the hand rails and cedar for the steps and deck. 2 coats covered everything well.
Now I get to do the fun part and dress it up!
Then we have to stain the concrete patio below the screened in porch/deck….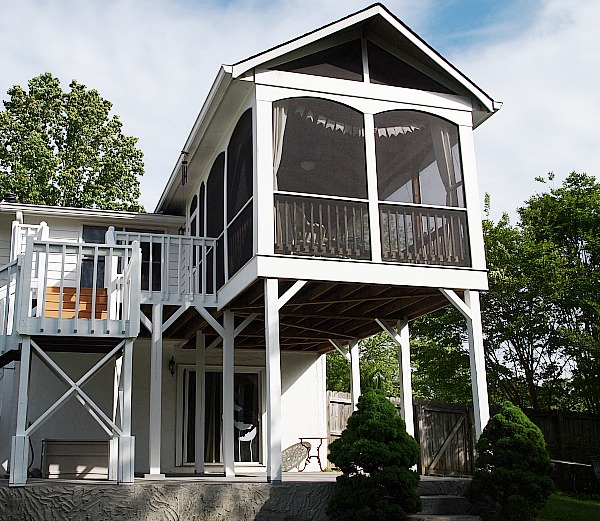 Next week we're having new windows installed in our master bedroom/bath and then I'll be painting those two rooms.
Fun times!