I love going to the Cheesecake Factory! Since its pretty pricey, usually we save trips to it for special occasions, like birthdays or Mother's Day. No matter what day we go, its always really busy, but I can wait through any long line for some of that delicious Cheesecake Factory food! But you actually don't have to wait for that wonderful food, spend a lot, or even leave your home, if you know how to make the dishes yourself! Here are 20 Cheesecake Factory Copycat Recipes!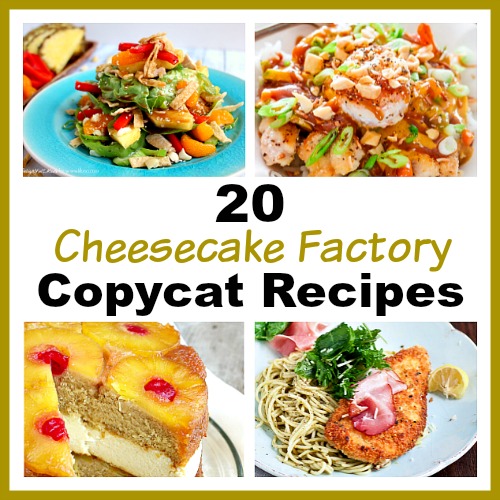 Disclosure: This post may contain affiliate links to Amazon and/or Etsy, which means that I may earn a small commission from some of the links in this post. Please see our Disclosure Page for more information.
As anyone who has been to the Cheesecake Factory knows, they have a lot more than just cheesecake (though the cheesecake is awesome!). So the following list of Cheesecake Factory copycat recipes includes a variety of different dishes you can find there, including main dishes, appetizers, desserts, and of course, cheesecake! These recipes are just as delicious as at the restaurant (if not more so), but cost so much less to make yourself! Save money and enjoy your favorites any time with these Cheesecake Factory copycat recipes!
20 Cheesecake Factory Copycat Recipes
Want more cheesecakes in your life? Then you shouldn't limit yourself to just Cheesecake Factory recipes! Check out these books for more great recipes: The Cheesecake Bible, Junior's Cheesecake Cookbook: 50 To-Die-For Recipes of New York-Style Cheesecake, and Making Artisan Cheesecake: Expert Techniques for Classic and Creative Recipes (includes vegan, gluten-free & nut-free recipes).
What's your favorite Cheesecake Factory dish?
This post contains referral links to Amazon. Please see our Disclosure Page for more information, and thanks for supporting this site!
You might also be interested in: