Beautiful DIY Patriotic Decorations.
Do you love Americana Decor or maybe you need something to spruce up your home for Memorial Day or Independence Day? These inspiring red, white and blue ideas will add a festive touch to your home any time of year. All of these ideas are easy to do and budget friendly! Check out these 20 Creative Patriotic DIY Home Decor Projects!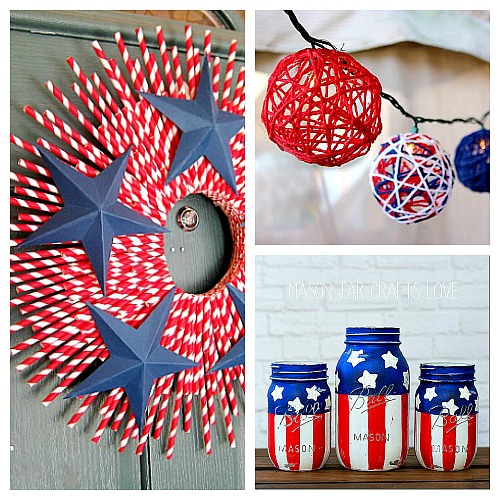 Disclosure: This post may contain affiliate links to Amazon and/or Etsy, which means that I may earn a small commission from some of the links in this post. Please see our Disclosure Page for more information.
There are so many pretty ways you can decorate with red, white, and blue!
20 Patriotic DIY Home Decor Projects
Here are some tips for having the best time making these patriotic DIY home decor projects:
Use materials you have. A lot of these projects use things that you can find around the house! Be creative and see what you have and how to make it patriotic.
Make it easy! Patriotic holidays are some of the easiest to decorate for! All you really need is to combine red, white, and blue colors in a pleasing arrangement.
Try to find other uses for your decor items. If you are only going to use these decor items for the Fourth of July, try to find other times to use them so they are worth it to keep all year.
1. Patriotic Straws and Stars Wreath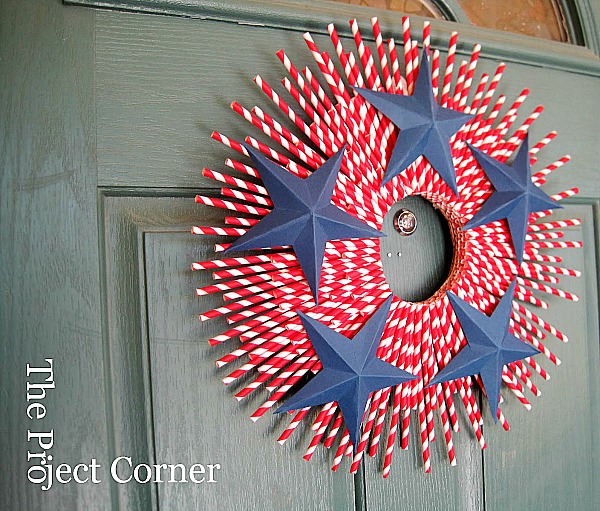 This is a very unique and pretty wreath! The main material is paper straws. The Project Corner explains how to put together your own patriotic straw and stars wreath!
2. Red, White, and Blue Mason Jar Candles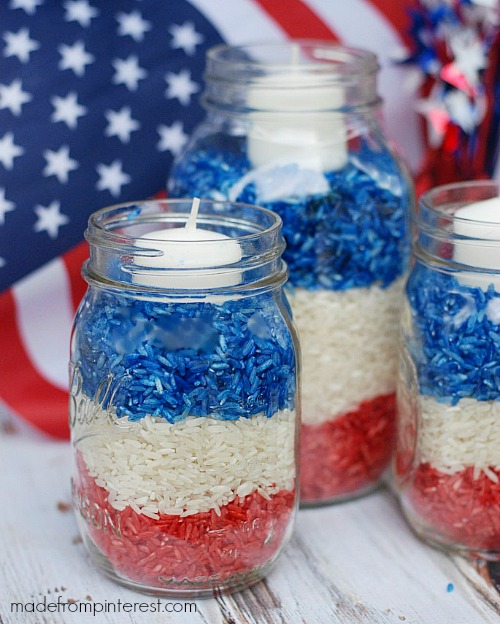 These will look so pretty when lit at night! Made From Pinterest explains how to use rice to make these pretty red, white, and blue candles!
3. Rustic Americana Scrap Fabric Banner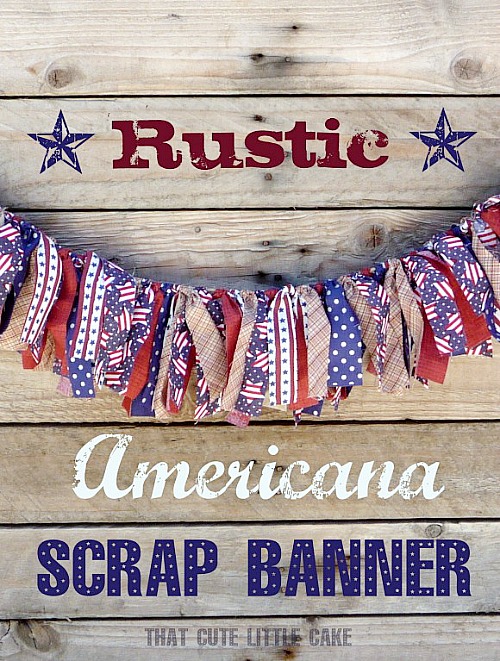 Isn't this a cute banner? All it requires is some red, white, and blue fabric and something to string it on. Catch My Party explains how to easily put together this patriotic fabric banner.
4. Patriotic String Lights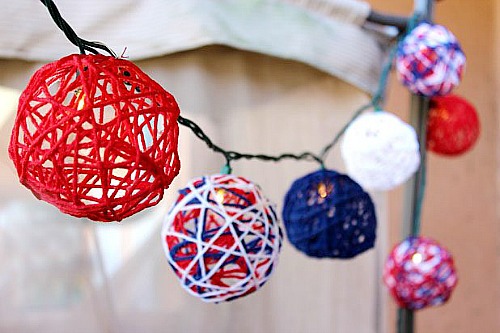 This would be a fun addition to a Fourth of July or Memorial Day party! Check out the tutorial on eHow to find out how to make your own patriotic string lights from scratch!
5. Stars and Stripes Mason Jars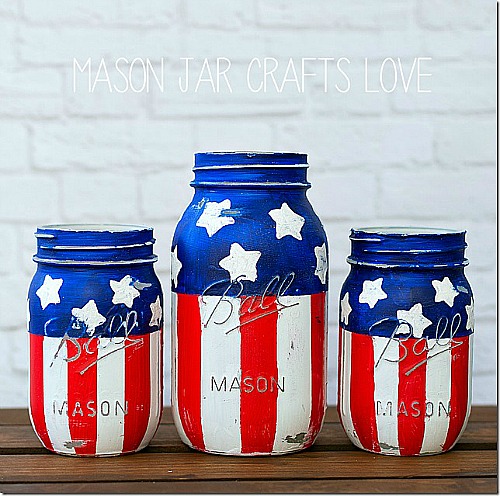 If you have any extra jars (Mason or otherwise), this could be a fun patriotic DIY to do! Mason Jar Crafts Love explains how to paint jars with pretty stars and stripes!
6. No-sew Burlap Flag Pillow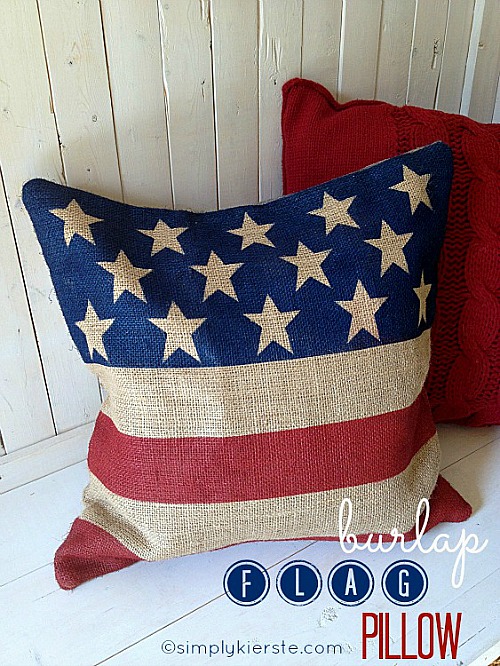 This pillow looks very professional and complex, but it's actually an easy no-sew project! Simply + Kierste explains how to use just a few materials to make your own burlap flag pillow!
7. Mason Jar Flag Floral Centerpiece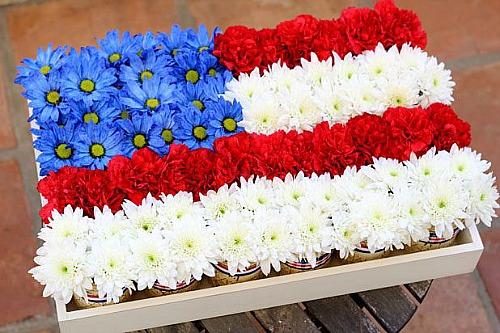 This is one of my favorite patriotic DIY home decor projects because it's so creative! This would make a fun floral centerpiece at your patriotic party! Check out the tutorial on eHow on how to put together your own Mason jar flag centerpiece!
8. Stars and Stripes Bottles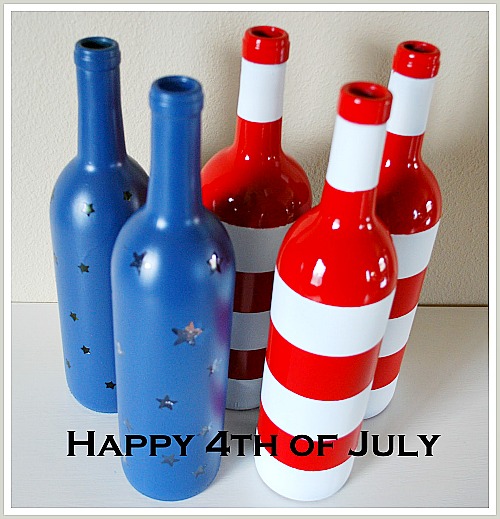 While some of the other projects may be great ways to use up old jars, this project is a great way to use up old wine bottles! Check out the tutorial on Champagne Thursdays to find out how to paint your own patriotic bottles!
9. Patriotic Color Block Pillow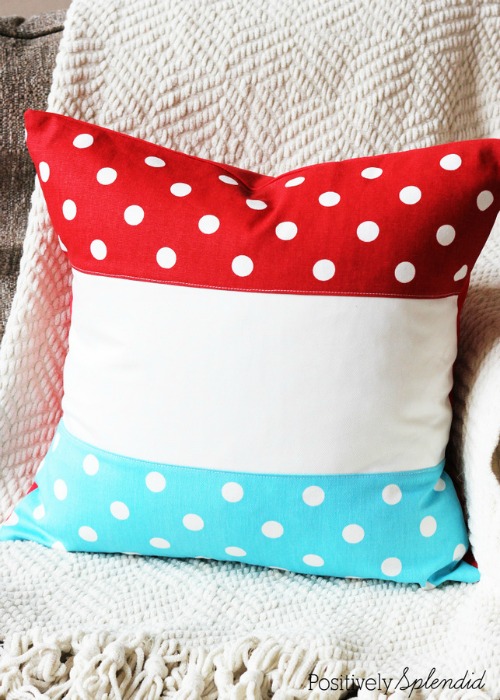 If you like sewing, this is the perfect project! Positively Splendid gives detailed instructions on how to sew this pretty patriotic pillow! I would use this all year round since those are my favorite colors!
10. Red, White, and Blue Burlap Banner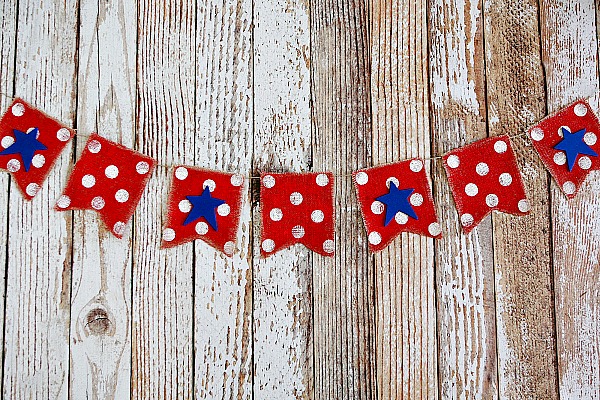 This is a very simple project, but the end result is so pretty! Eighten25 shows how to make your own red, white, and blue banner for your mantel or your party!
11. Patriotic DIY Paper Flowers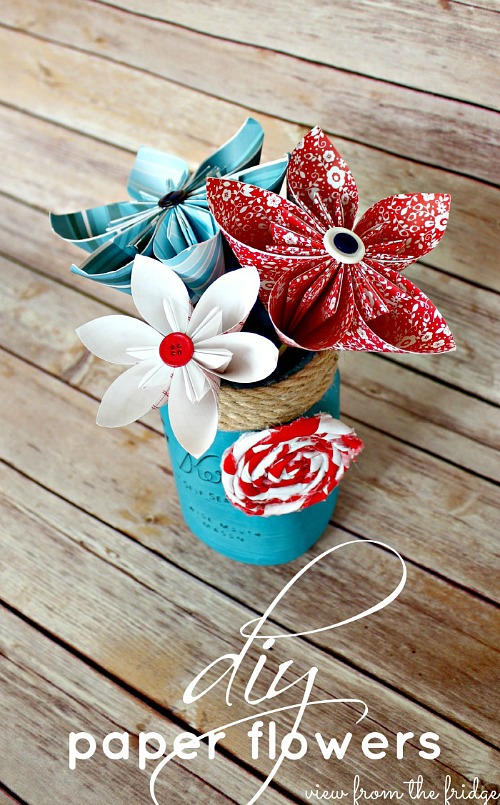 These are such pretty paper flowers! Juggling Act Mama shows how to fold scrapbook paper into a patriotic paper flower arrangement!
12. Red, White, and Blue DIY Dish Towels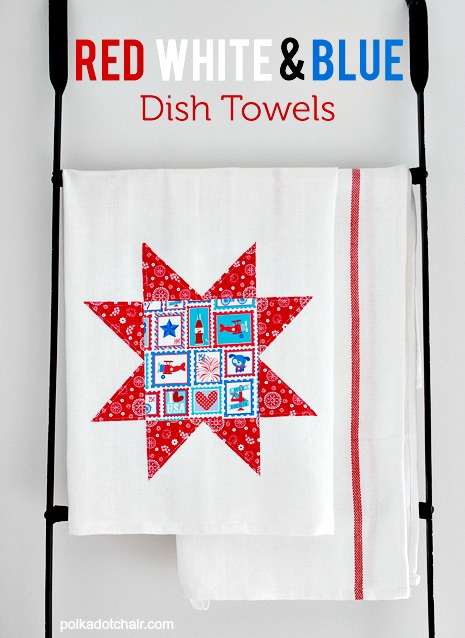 These are very easy to make and only require minimal sewing! Polkadot Chair explains how to put together these pretty patriotic dish towels!
13. Patriotic Doily Banner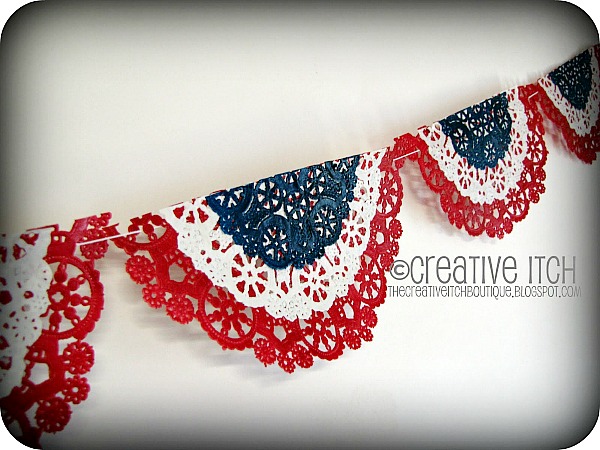 This is a very simple DIY banner, but it looks so pretty! The main materials is doilies. Creative Itch explains how to put everything together to make a pretty red, white, and blue doily banner!
14. Patriotic Bandana Tablecloth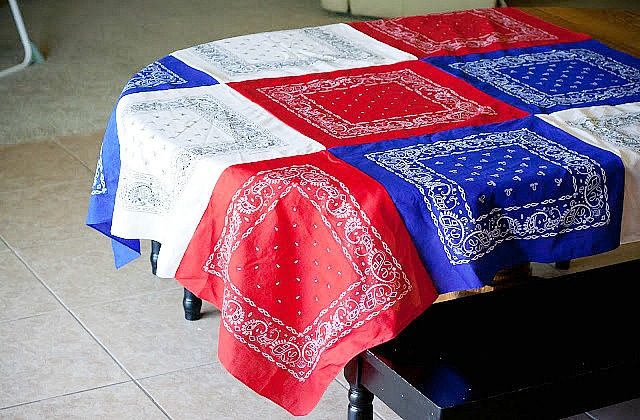 This pretty tablecloth is made using inexpensive red, white, and blue bandanas. Me and My Insanity explains how to sew them together to make the perfect patriotic tablecloth for your patriotic get-together!
15. Patriotic Ribbon Topiary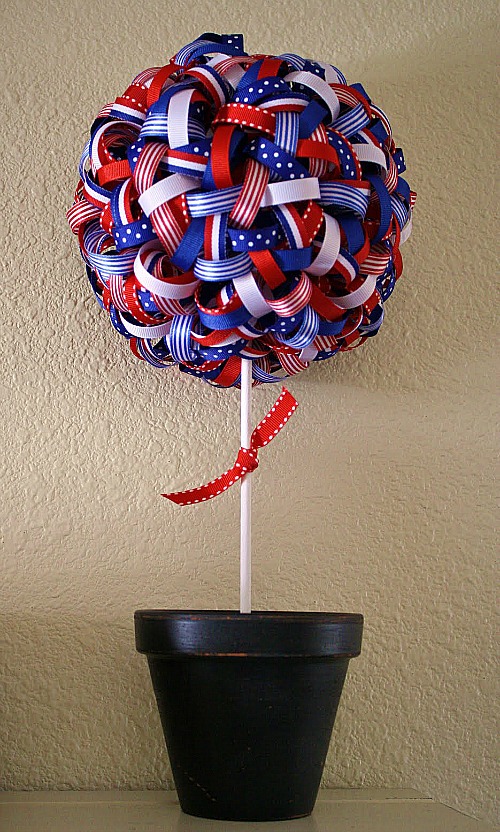 This is such a pretty topiary! This seems like a fun craft, especially if you like working with ribbon! A Diamond in the Stuff shows how to piece ribbons together to make your own pretty patriotic topiary.
16. Patriotic Wreath
Make paper flowers to make this patriotic wreath! The Project Corner has simple directions to make this fun and festive door decor item.
17. Firecracker Rag Wreath
I like this fun rag wreath and I love that it is cheap to make! Create Craft Love shows you all the steps to make this festive wreath!
18. Glitter Candles
A Pumpkin and A Princess has these adorable glitter candles that are patriotic! They seem simple to make and I can't wait to try them.
19. Pringle Can Firecrackers
These are so fun and would make a great kid-friendly craft for the summer. The Resourceful Mama has the original post to make these fourth of July decorations.
20. Fourth of July Serving Tray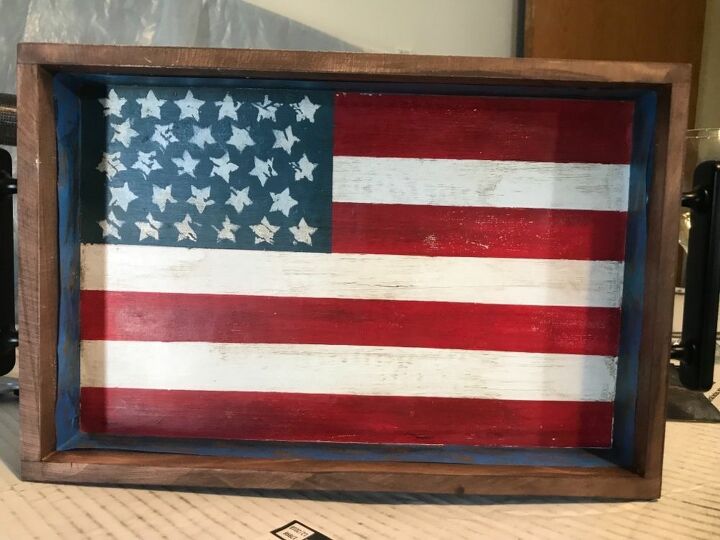 Create a festive fourth of July serving tray to serve drinks or snacks during a fabulous party! Home Talk has all the tips and tricks to make this project.
How do you like to decorate for Memorial Day and the Fourth of July?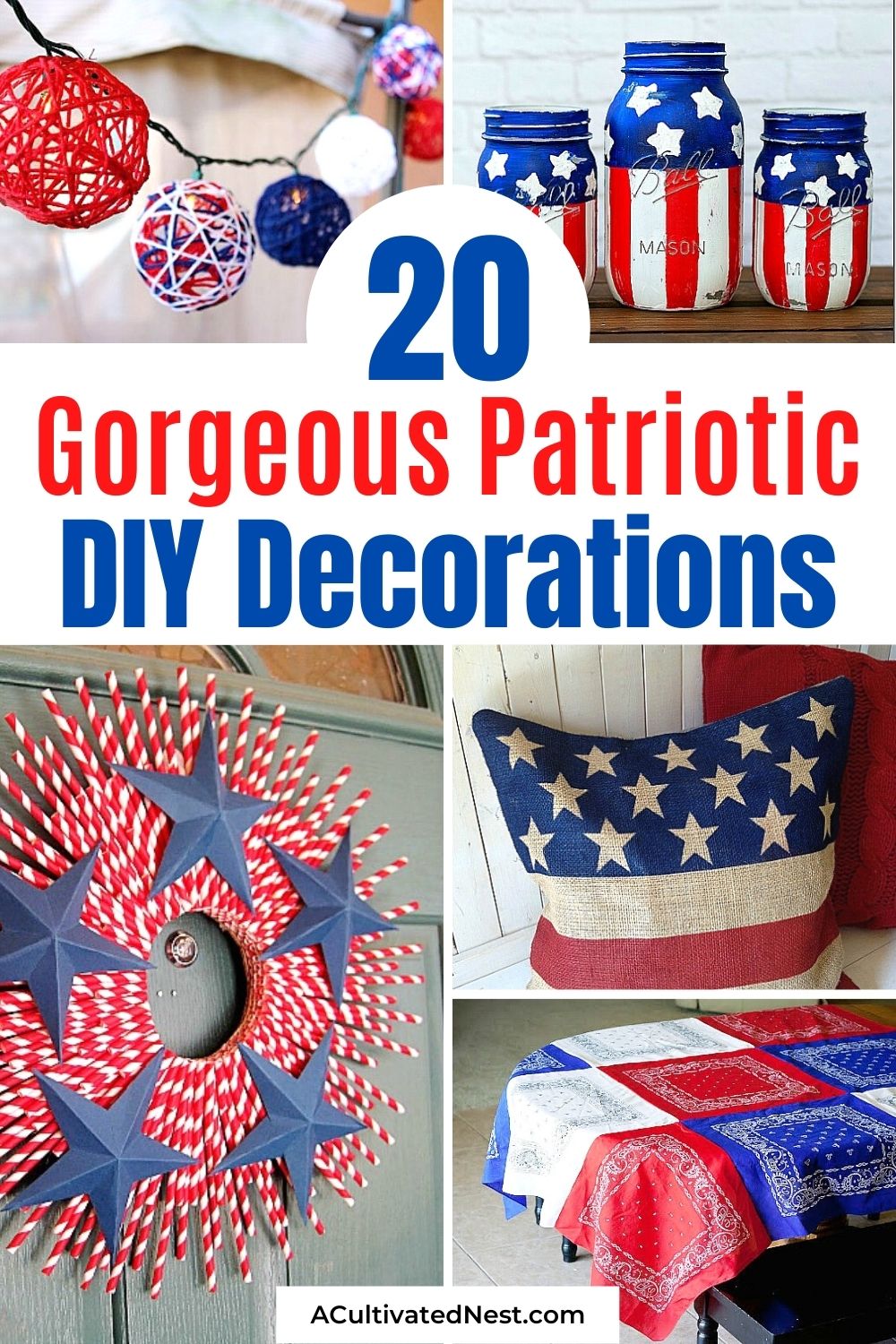 Looking for more DIY patriotic home decor ideas? You may be interested in this post: 11 Cute DIY Patriotic Decorating Ideas