DIY Birdseed Feeders.
Did you know that February is National Bird Feeding Month?  Did you know that bird feeding/watching  is the second most popular hobby behind gardening? And did you know that feeding birds in winter is critical since berries and other natural sources of food are scarce? Whether you knew all of that or not, here are some ideas for 10 Homemade Birdseed Feeders that are probably messy, but fun for the whole family to make!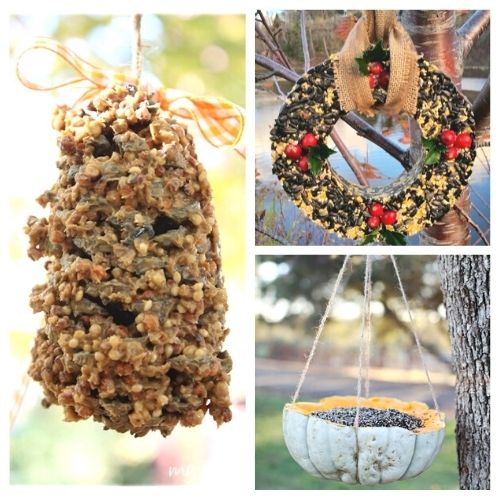 Disclosure: This post may contain affiliate links to Amazon and/or Etsy, which means that I may earn a small commission from some of the links in this post. Please see our Disclosure Page for more information.
It's important to provide birds with food in winter because they burn more calories in winter just to stay warm. Feeding birds now also gives them the extra energy they need to survive this particularly cold winter, to migrate, and set up their spring nests!
10 Homemade Birdseed Feeders
Making a DIY birdseed feeder for birds can be fun and rewarding as you observe all the birds that gather in your yard. Knowing what is safe to feed birds can be a little tricky. Here are some tips to help you get started.
Commercial Birdseed – Commercial seed comes in many different varieties. Mixes are often more expensive and you can easily make your own for less when you buy bulk bags of seed. Most packages will tell you what will be most attractive to the birds you have in your area.
Peanuts and Peanut Butter – Always use unsalted whole peanuts for birds. Unsalted bulk peanut butter is a better choice, but using the same peanut butter you use will not harm the birds if you just provide it as an occasional treat.
Fruit – Birds love chopped apples and pears.
Dried Fruit – Dried raisins and dried cranberries can add interest and color to your seed feeders.
Grains – Cooked (and cooled) pasta, rice, and potatoes can be left out for the birds. But make sure to put them up high and not too close to your house, as these may also attract other critters!
1. Birdseed Wreath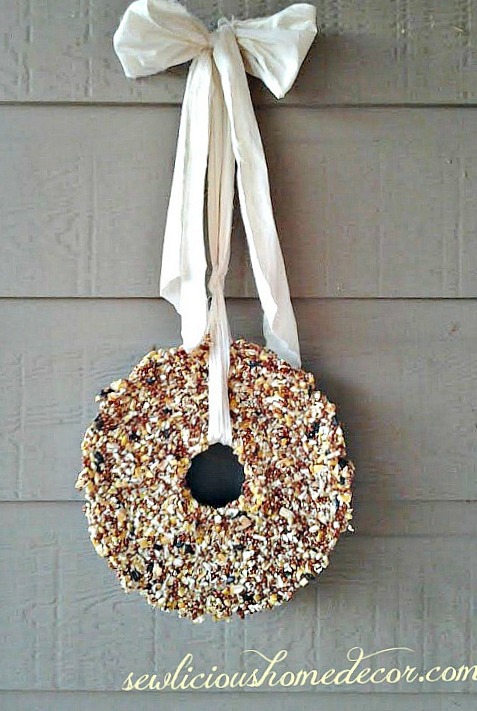 Birdseed Wreath by Sewlicious Home Decor
2. Pinecone Bird Feeder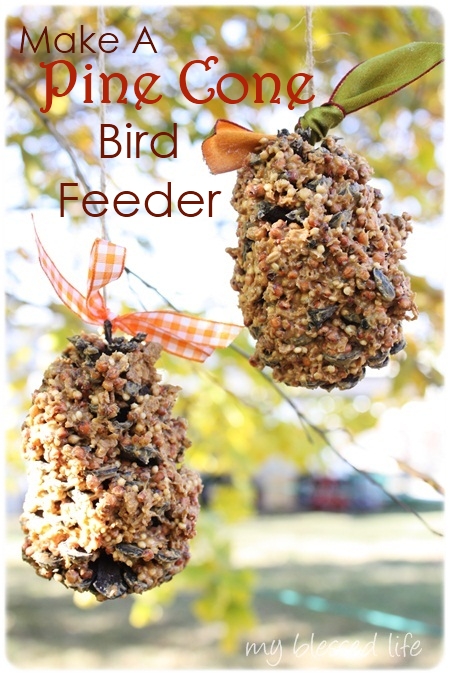 Pinecone bird feeder with Wheat Chex cereal from My Blessed Life
3. Easy Peanut Butter Birdseed Treats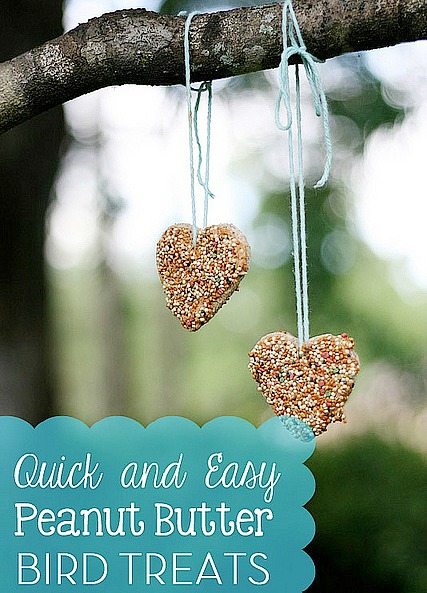 Quick and Easy Peanut Butter Bird Treats at Pint Sized Treasures by Daisy Cottage Designs
4. Coconut Oil Suet Cakes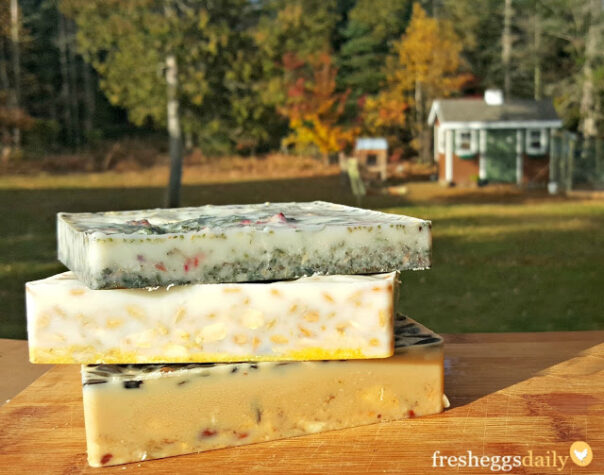 Coconut Oil Suet Cakes from Fresh Eggs Daily
5. Birdseed Filled Pumpkin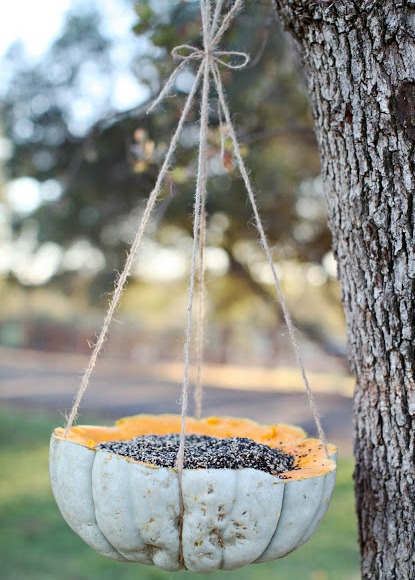 Pumpkin filled with bird seed by Dreamy Whites
6. DIY Bird Seed Feeders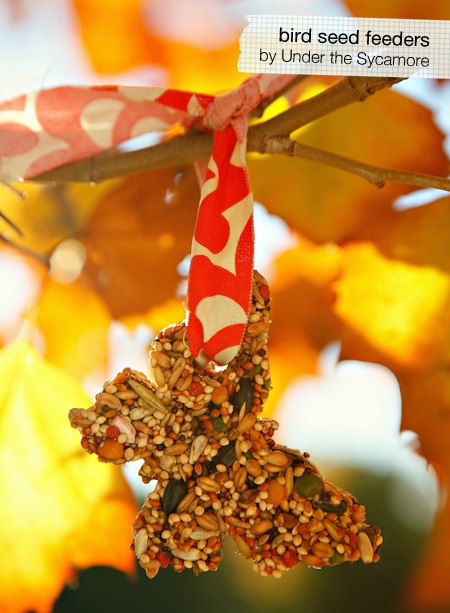 DIY bird seed feeder by Under the Sycamore
7. Homemade Bird Seed Wreath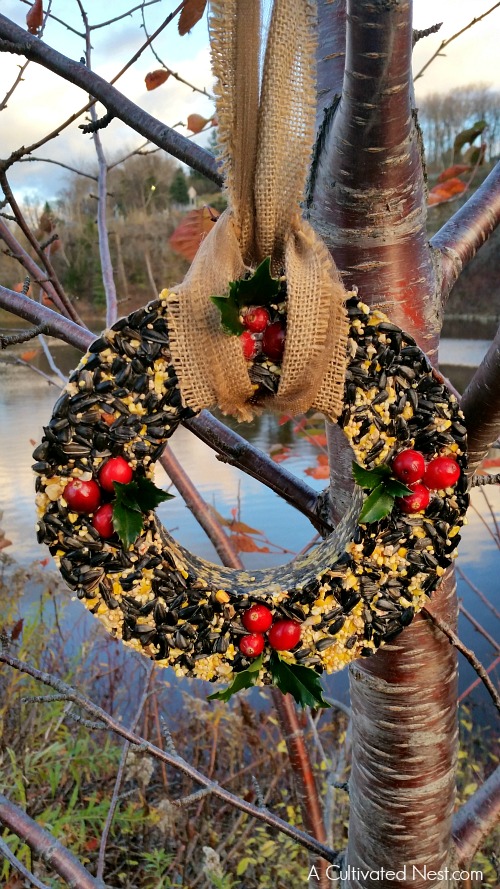 Homemade Birdseed Wreath by A Cultivated Nest
8. Toilet Paper Roll Bird Feeder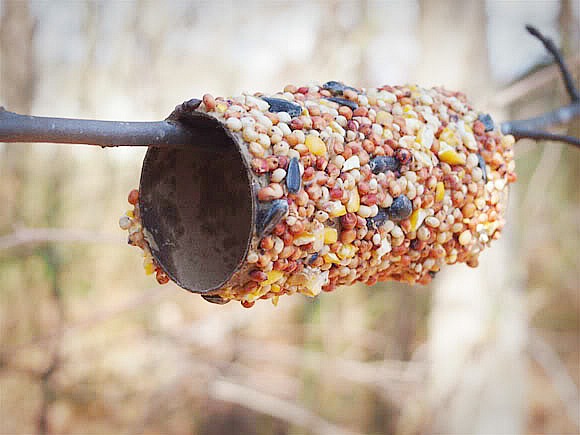 Toilet paper roll bird feeder by Go Grow Go!
9. 3 Ingredient DIY Suet Cakes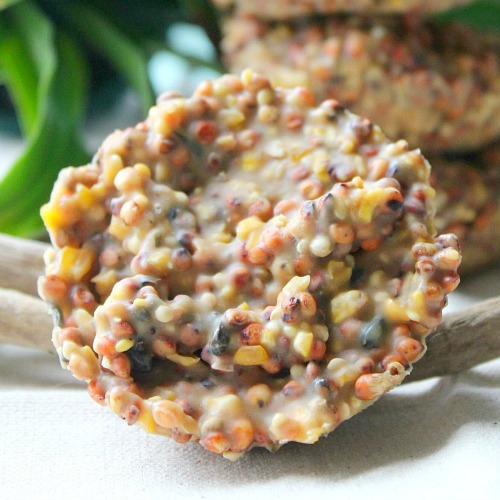 DIY Suet Cakes by A Cultivated Nest
10. Winter Bird Tree
Bird seed tree from Wilder Child. Isn't that pretty! The squirrels in my yard would be all over that!
Be sure to place your homemade birdseed feeders somewhere that provides natural cover where birds can hide if necessary, but doesn't also offer a place for cats or other predators to hide.
Which DIY birdseed feeder do you think you'll try to make?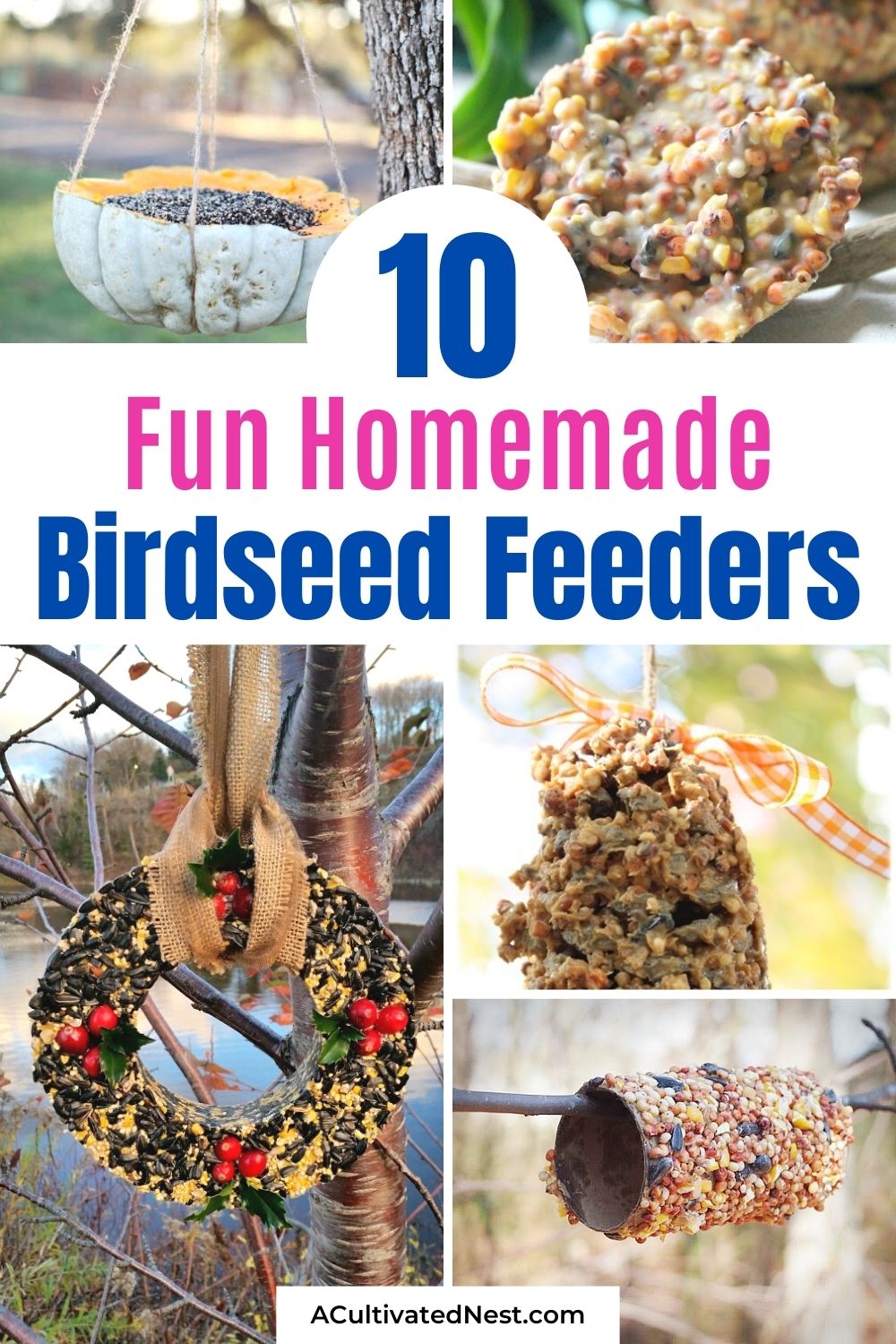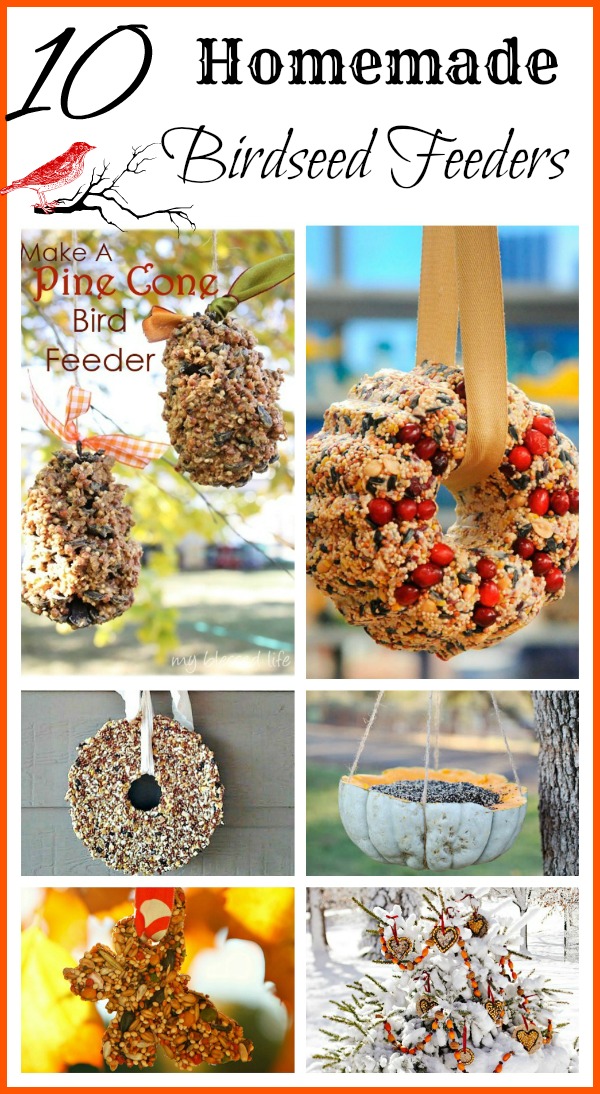 You might also be interested in: 7 Reasons Why Hummingbirds Are Avoiding Your Yard