Are you and your family headed to the beach this summer? Need to save some money? If you want to plan a great family beach vacation and save money while doing it, check out my 11 Ways to Save On Your Family Beach Vacation!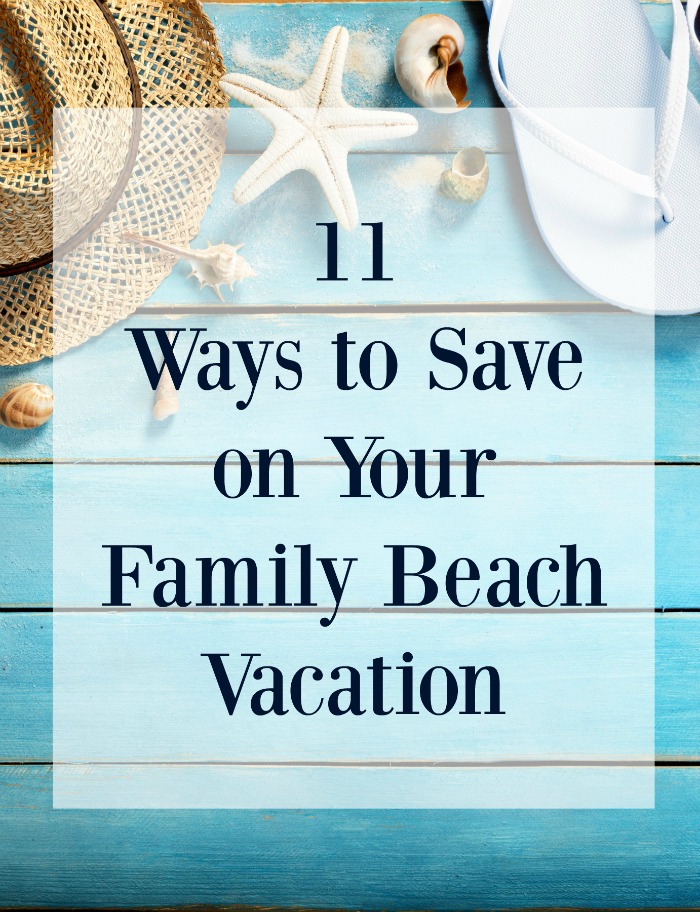 Disclosure: This post may contain affiliate links to Amazon and/or Etsy, which means that I may earn a small commission from some of the links in this post. Please see our Disclosure Page for more information.
I hope these tips help you keep vacation costs down, but fun high!
11 Ways to Save on Your Family Beach Vacation
1. Go in the off season- If you are willing to vacation in the off season when hotels and resorts are trying to draw people in, you can get amuch better rate- even more than 50% off their typical prices! Along with the fact that rates are better, you will also find yourself battling less traffic and miss out on the crowded beaches. Holidays and weekends are the busiest even in the off season.
2. Use coupons- Use coupons for everything from the hotel and car rental to dining out (being on vacation doesn't mean you can't take your coupons with you!). Check online often while you are planning your family vacation and you should be able to find coupons and coupon codes. Check for restaurants in the area you are traveling to and you may be able to find coupons there as well.
3. Bring your own food- Instead of eating out every meal (that can really add up to big bucks) pack snacks, bottled water, sandwich items, etc… Even if your room doesn't have a fridge, you can keep a lot in coolers and just freshen up the ice as needed. Choose just a few special meals to eat out of the room and do the rest of your dining in.
4. Compare- Don't just check out one travel site for car, hotel, and airline rates. Check out all of them- Kayak, Travelocity, the hotel's site- I often call directly to the hotel I am interested in and sometimes get a lower rate than online. Don't be afraid to mention that you found a similar room at Hotel X for this amount and they might price match.
5. Use your discounts- Be sure when booking hotels or scheduling flight that you check on all the discounts available. There are many options available for discounts-AAA, military, AARP, educator discount, etc… If you have it, use it, that's what it's there for!
6. Skip the souvenirs- Instead of spending a big chunk of your vacation budget on shirts emblazoned with the beach's name, giant stuffed dolphins, and bags of seashells, find free ways to memorialize your family vacation. Pictures are a great way to make the memories last- get creative by scratching the date in the sand and taking a family picture around it!
7. Room with friends- Spend a little more on a suite or even an entire house rental and spend less than you would on a single room when you split it with another family. You can enjoy the time together or take off on your own,coming together in the evening. The accommodations at a house rental often include items like pots and pans, silverware, games, and so on.
8. Budget- Set a strict budget ahead of time for souvenirs, hotel fare, dining, snacks, activities, and incidentals. Make sure the whole family understands and is on board before you even leave home. Try your best to stick to the budget so you won't regret it when the vacation's over.
9. Bring beach toys- Don't buy sand buckets, shovels, floaties, or beach games at the beach. Touristy stores near the beach often mark those items up double or more of normal store prices, so it's totally worth picking them up before you leave home and toting them along. You want to keep the kids entertained, but not at 100% markup!
10. Use social sites- Sites like Groupon and Living Social offer deep discounts on hotels, resorts, restaurants, and activities. Keep an eye on them and use it to bring your vacation cost down considerably.
Groupon Beach Getaways
11. Tap into technology- Use apps to help you save money on your beach vacation- you can find apps that will help you keep costs down on food, lodging, gas, and more. Kayak, TripAdvisor, UrbanSpoon, and GasFinder are a few to download and try out before vacation.
Gas Buddy
Kayak.com
TripAdvisor
Zomato.com (formerly UrbanSpoon)
You May Also Be Interested In: 10 Inexpensive Summer Outdoor Activities (To Keep Your Kids Entertained)