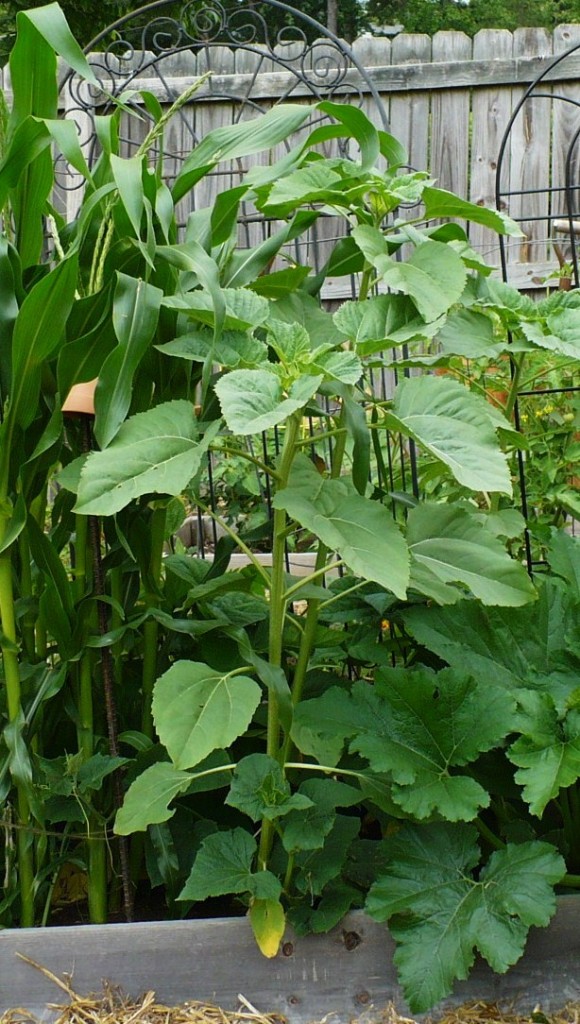 My veggie garden is growing really well so far!
Especially bed #1. I don't know if it's because (1) I started the plants by seed this year instead of buying starts  (didn't want to invest too much money in case we moved and I had to leave them) or (2) if it's because I put them in the ground earlier than usual so they got a good head start or (3) the unseasonably warm weather we've been having or (4) this is the only bed that got homemade compost. Who knows –  maybe all of the above! So far it's looking good and I'm happy about that!
Disclosure: This post may contain affiliate links to Amazon and/or Etsy, which means that I may earn a small commission from some of the links in this post. Please see our Disclosure Page for more information.
Anyway, I thought some of you might be interested in what I have growing. I'm in Georgia Zone 7. This is bed #1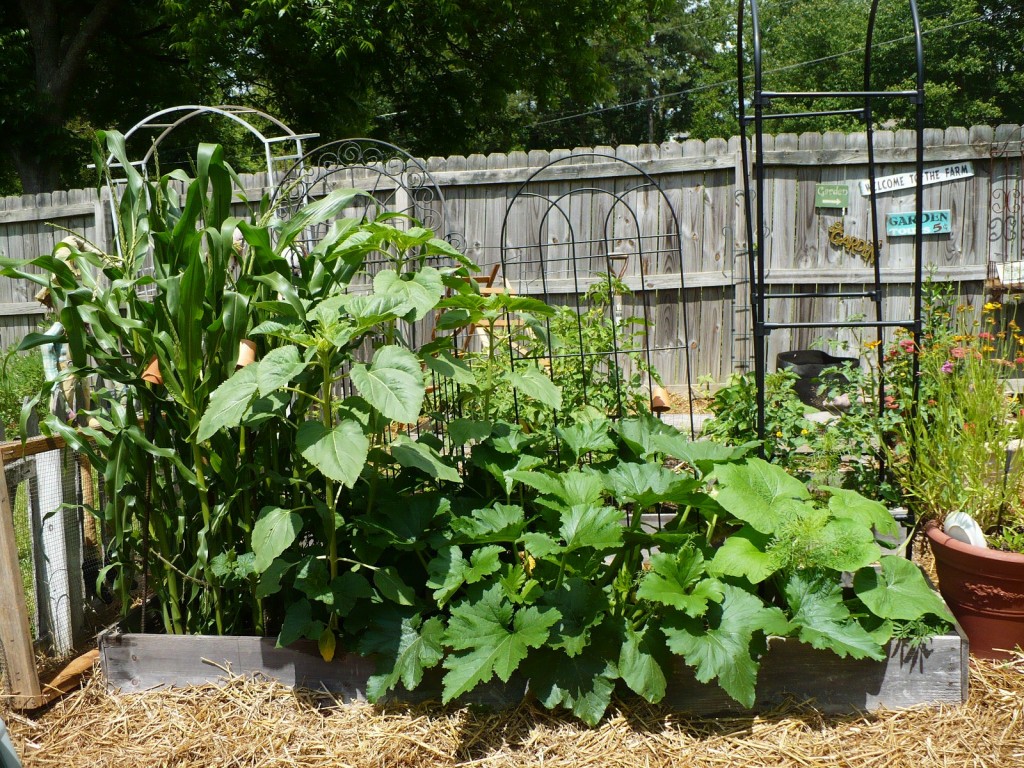 In bed #1 , from left to right, I have sweet corn, sunflowers, cucumbers, beans, zucchini and 1 sugar pie pumpkin (which will grow up the arbor). There are also marigolds in there that I started from seed as well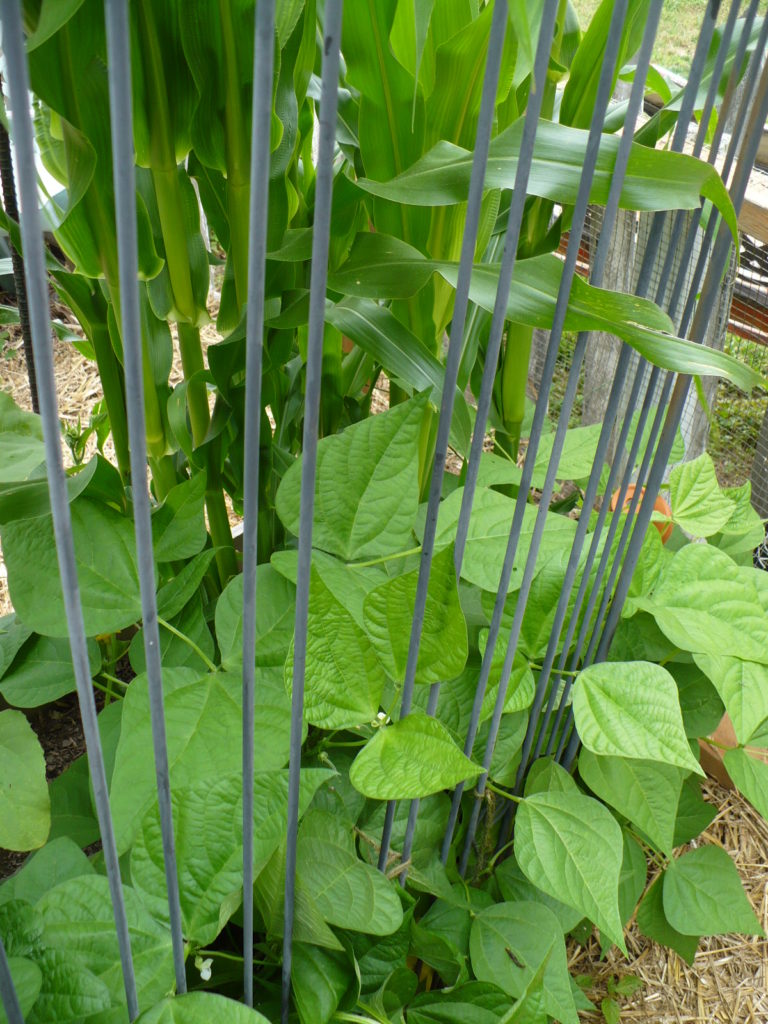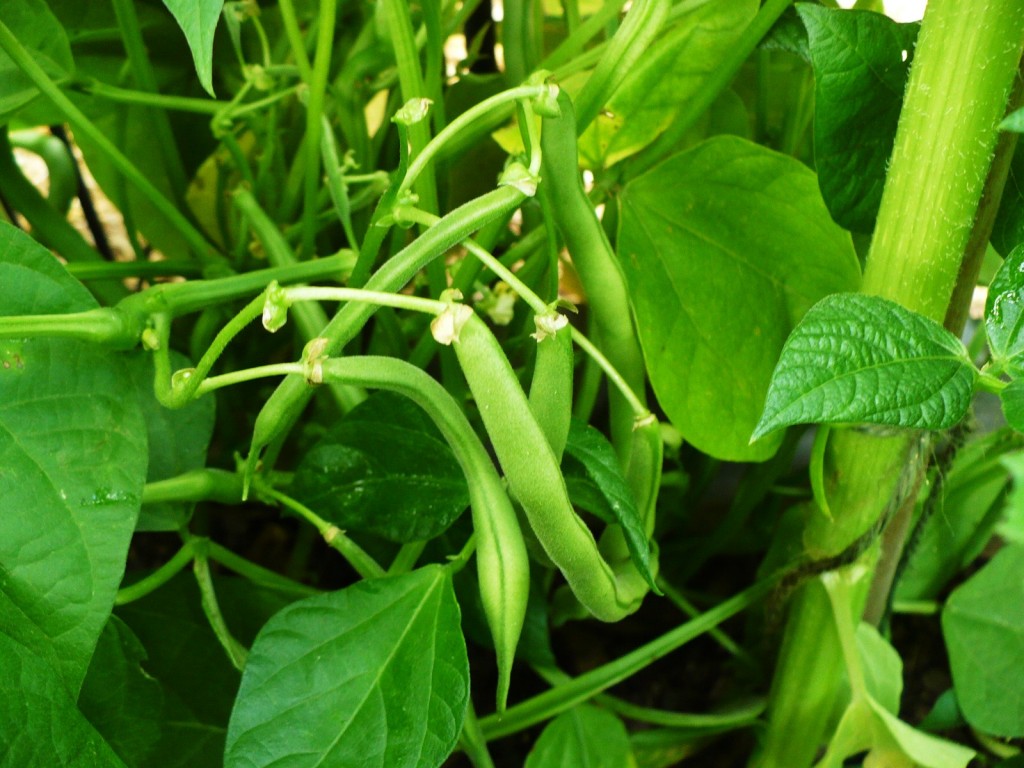 The beans are growing behind the corn and sunflowers and will be picked soon.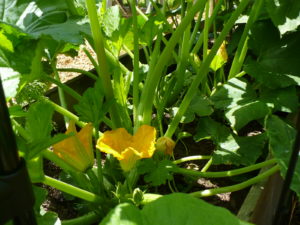 And right now the cucumbers (2 plants) are growing up the sunflowers! I have 4 zucchini plants which some people will probably think is three too many! But I have NEVER….EVER….been able to grow zucchini! Imagine that – people always claim to have too much zucchini.  This is the best they've ever looked! I plan to grow them up the trellises.
Everything in bed #1 was started from seed in my little $30 greenhouse from Big Lots (which I'm still using  for starting flowers and loofahs right now). Also, all the seed came from Dollar Tree (I think they were $.25 a packet or maybe even $.10) except the pumpkin which I saved from those I grew last year. Normally I'm a bit of a hmmm …shall we say "seed snob", and order seed from Seed Savers or Cook's Garden. But like I said, I didn't want to invest too much money in case we moved and had to leave everything. I'm quite pleased with  my dollar store seeds!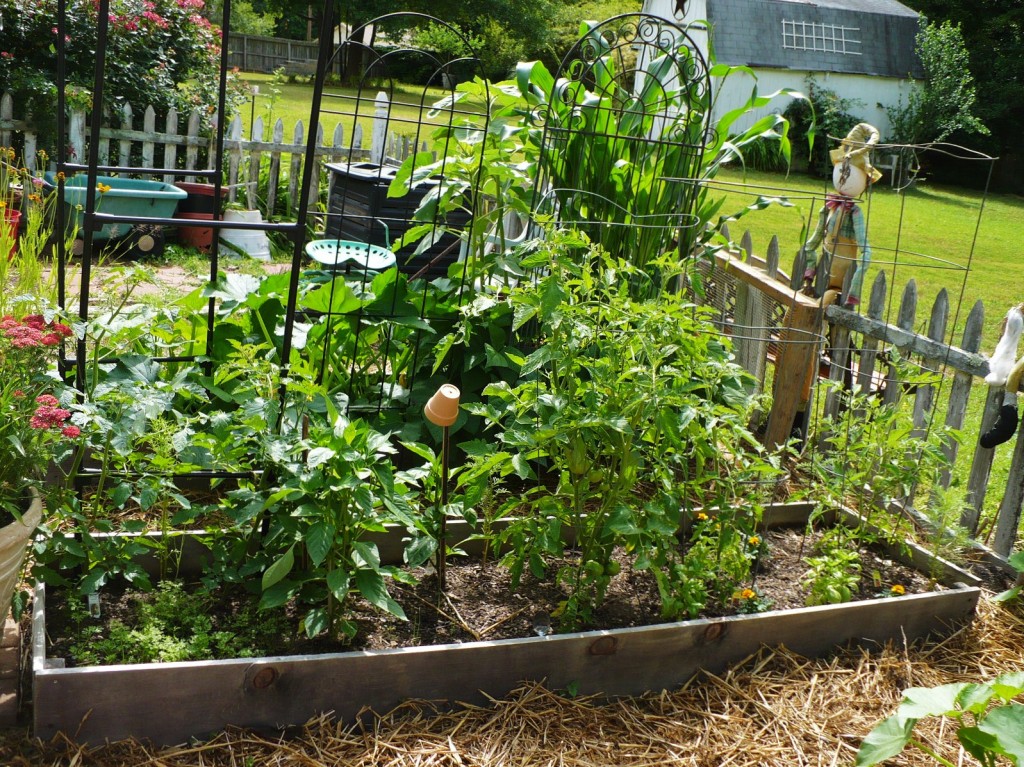 In bed #2 are Sweet 100 tomatoes (which will grow up the arbor), Danvers Half Long carrots, (3)peppers – (2)Red Bell & 1 Fajita Bell, White Lisbon bunching onion, (2)Big Boy tomatoes, 1 Early Girl and basil.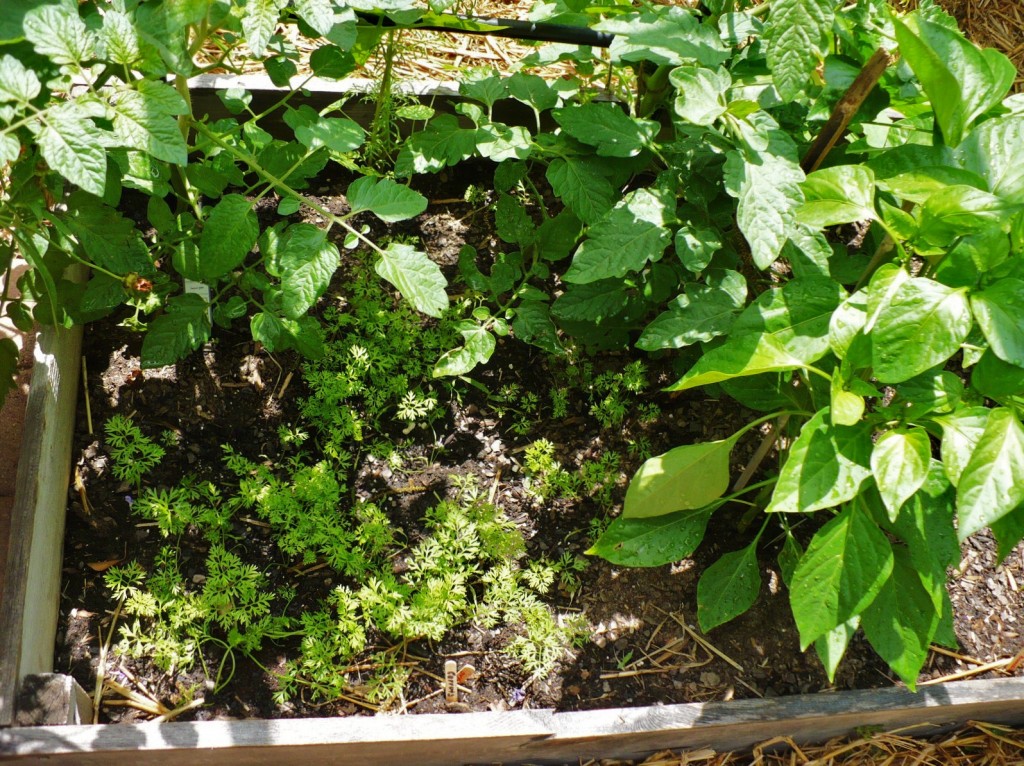 The carrots will need to be thinned (oh it hurts to pull those babies up).
I have tomatoes already! This bed was planted with starts with the exception of the carrots and bunching onions.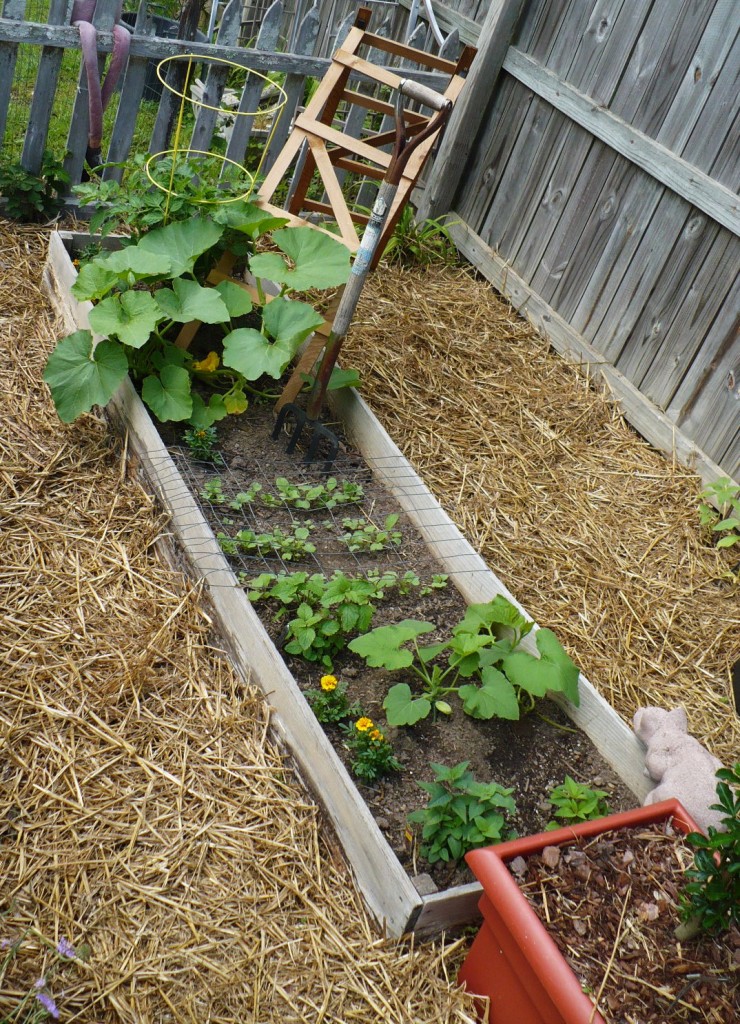 This is bed #3. Which has a Roma tomato, Blue Hubbard squash, a mix of lettuce and radishes and pumpkin. It also has some herbs -Lemon Balm, Bee Balm and Pineapple Sage. I grow most of my herbs for cooking in containers on my deck to make it easier/quicker to harvest.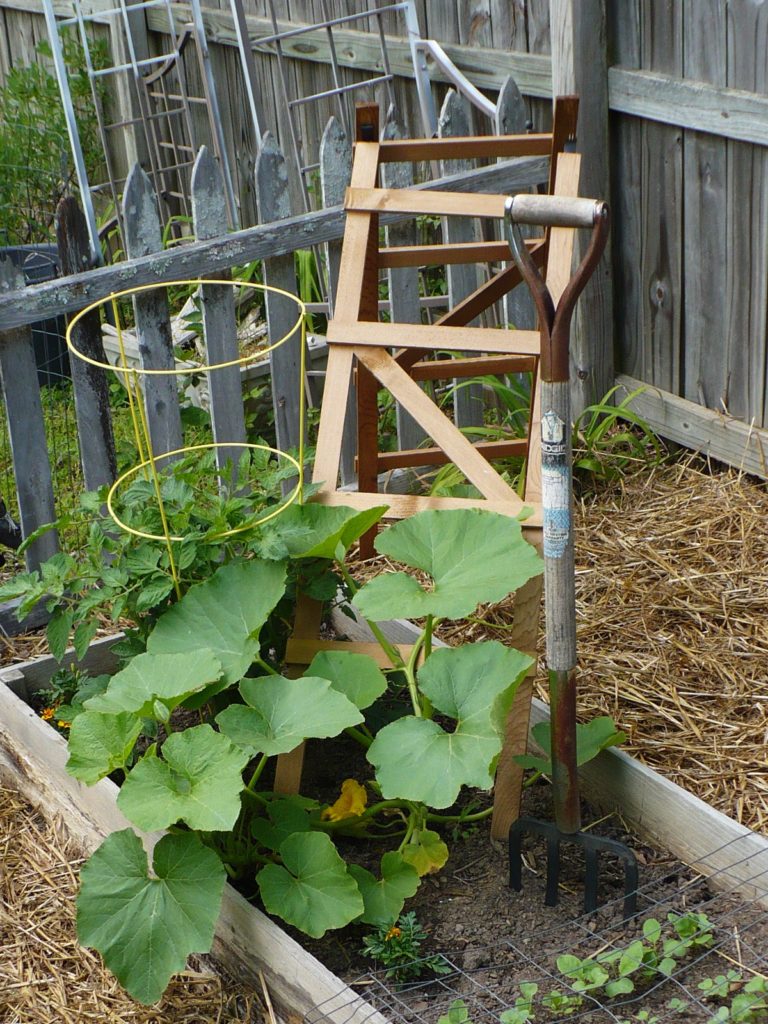 I have potatoes growing in this grow bag. I asked my husband to bring home some organic potatoes for dinner a month ago and all of the ones he bought had tons of sprouts and were all soft and shriveled?!! "Oh, that's why there were only a few left in the bin", he said when I explained why I wasn't going to be cooking with them!!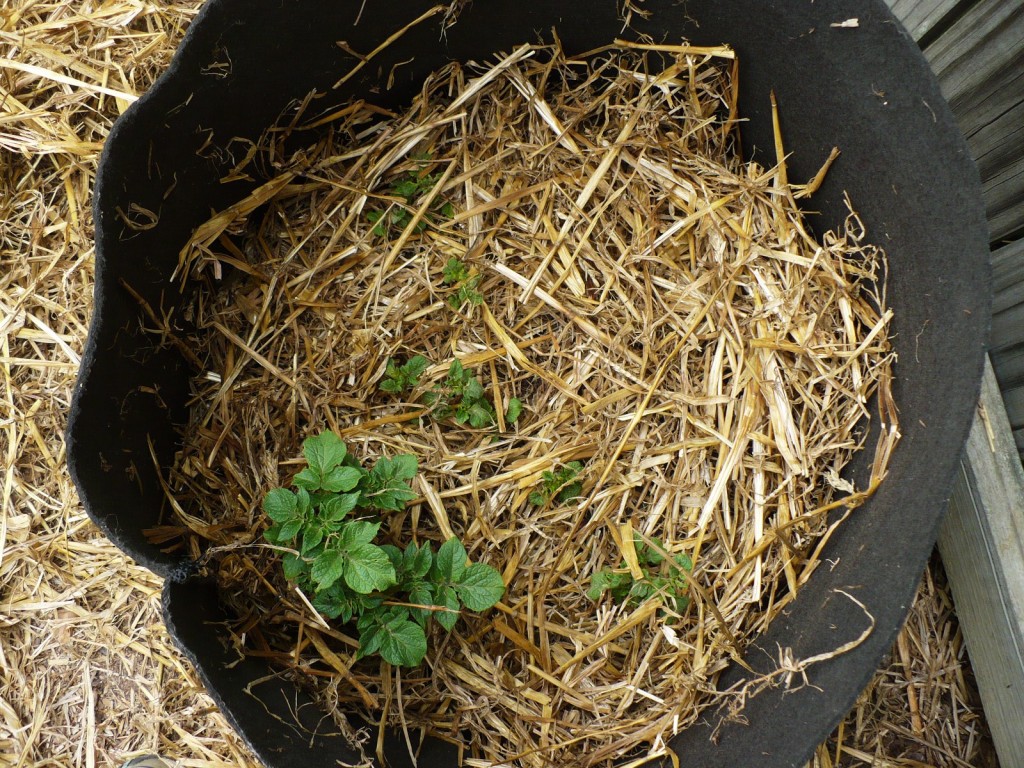 I've always read not to plant potatoes purchased at the grocery store but since these were organic and sprouting, I figured why not? They are growing – now we'll see if I actually get any potatoes this year!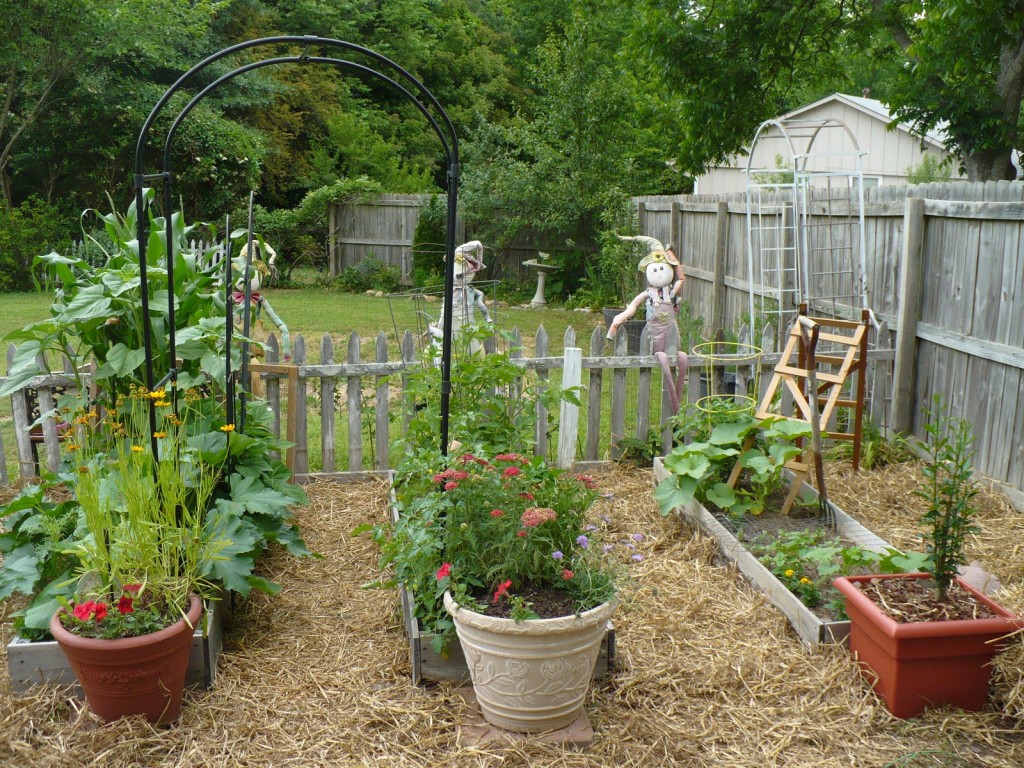 I also have the strawberry bed and a fourth bed  twice the size of these that I moved my raspberries into last fall (fruit trees etc is another post) on the other side of these raised beds. I think I have a lot growing in  these 3 beds! But I also have a lot more that I could do with the space I have.
One of my projects that I'm starting this week is to increase the size of my veggie garden. I'm going to move the back picket fence and get another four or five raised beds in plus some other fun things. I was going to try to get it all ready to plant this season but I think that's too much for one person to do! So I'm going to take my time and  have everything ready for fall planting. Including some cold frames to use this coming winter.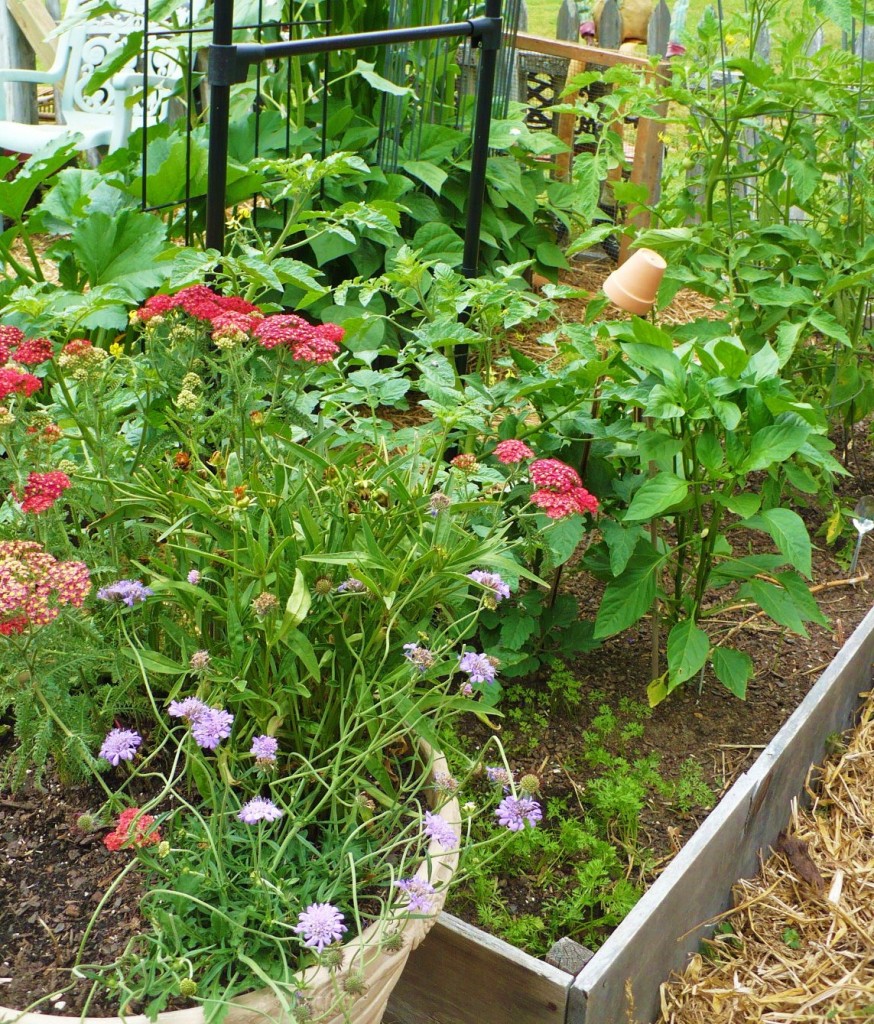 I've always had a backyard vegetable garden as more of a hobby than really trying to grow enough to be a primary source of food for us or even having extra to preserve.  I hope to change that!