What to do with Decluttered Clothes.
When it comes to decluttering, you might find that clothing is the biggest challenge. No matter how much you try to downsize, it might seem as though the clothes continue to multiply. Often times, it is simply not knowing what to do with the clothing you no longer need that prevents people from sorting it. Instead of letting that idea leave you in a rut, consider these 7 Things to Do With Clothing You No Longer Want. These ideas are all viable ways to put that clothing to good use long after you are done with it!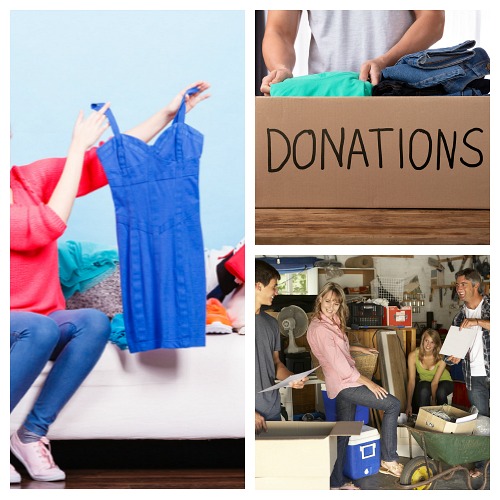 Disclosure: This post may contain affiliate links to Amazon and/or Etsy, which means that I may earn a small commission from some of the links in this post. Please see our Disclosure Page for more information.
Whether you're following the KonMari method or just got inspired after reading our Throw it Out decluttering book, these are 7 great ways to deal with all the clothing you no longer want!
7 Things to Do With Clothing You No Longer Want
1. Consider selling name brand items via Poshmark or ThredUP.
Poshmark and Thredup are online selling communities where you can sell name brand and high end clothing items. Both sites do take a commission, but if you have items that are high end this is a great option. You can typically get more on Poshmark/ThredUP than if you tried to sell the piece online elsewhere.
2. Sell clothing items on Facebook Marketplace.
Children's clothing sells well on Facebook Marketplace, as does women's clothing, especially name brand. Sell your gently used clothing items on the Facebook Marketplace and be sure your settings are set for your zip code, so people in your area can find you and buy.
3. Donate clothing items to your favorite local thrift store.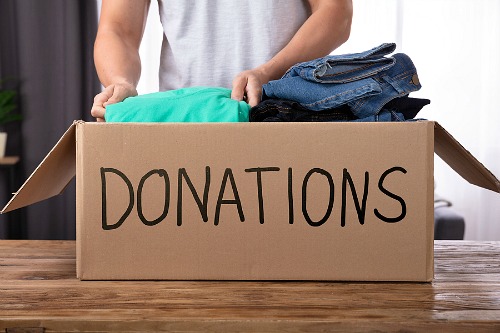 Even if the clothing you no longer want isn't like-new resale quality, it doesn't mean it has no value. Thrift stores are very happy to take clothes that are less than like-new, but still decent quality. And thrift stores make such a huge difference in the communities they serve. They offer jobs and resources to those in need, and your donations help. Donate your gently used clothing items so they can resell the pieces for a profit.
4. See if a local homeless shelter can use the donations.
Homeless shelters always need clothing donations, and that doesn't mean just jeans and sweatshirts. Often times these shelters have clients who are in need of business clothing for interviews. Consider donating your business casual clothing for this reason! They can also use jackets, rain coats, and even pajamas. And don't forget kids clothes!
5. Upcycle the fabric in creative ways.
Do you have a shirt you no longer wear or fit into, but love the pattern? Find creative ways to reuse your clothing fabric. You can always recover a chair with it, make a throw pillow, or even sew it into a small clutch! We've written several posts on how to upcycle jeans, and Pinterest has countless ways to upcycle other fabric pieces.
6. Use it as packing materials.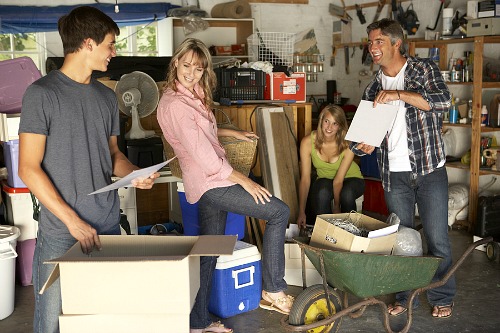 Use old t-shirts you no longer wear or need as packaging material. Use it to wrap fragile dishes and keep your valuables safe. When it gets dirty, you can simply wash it and reuse it again. The soft fabric will keep your breakables safe, and you avoid using disposable paper towels.
7. Turn heavily stained and worn clothing into cleaning rags.
If your clothing simply isn't in good shape for donation or resale, try turning it into reusable cleaning rags. Just cut the clothing into 8 by 8 inch squares and you are ready to go. They will be perfect for dusting, and when you are done you can wash and reuse them! Old t-shirts also make great fabric to use in our DIY all-purpose cleaning wipes!
Are you ready to clear away all of your extra clothing? Sometimes having a goal for what you will do with it all can help. Consider these things to do with clothing you no longer want, and see how these suggestions can help you clear away clothing for good!
What do you do with your decluttered clothes?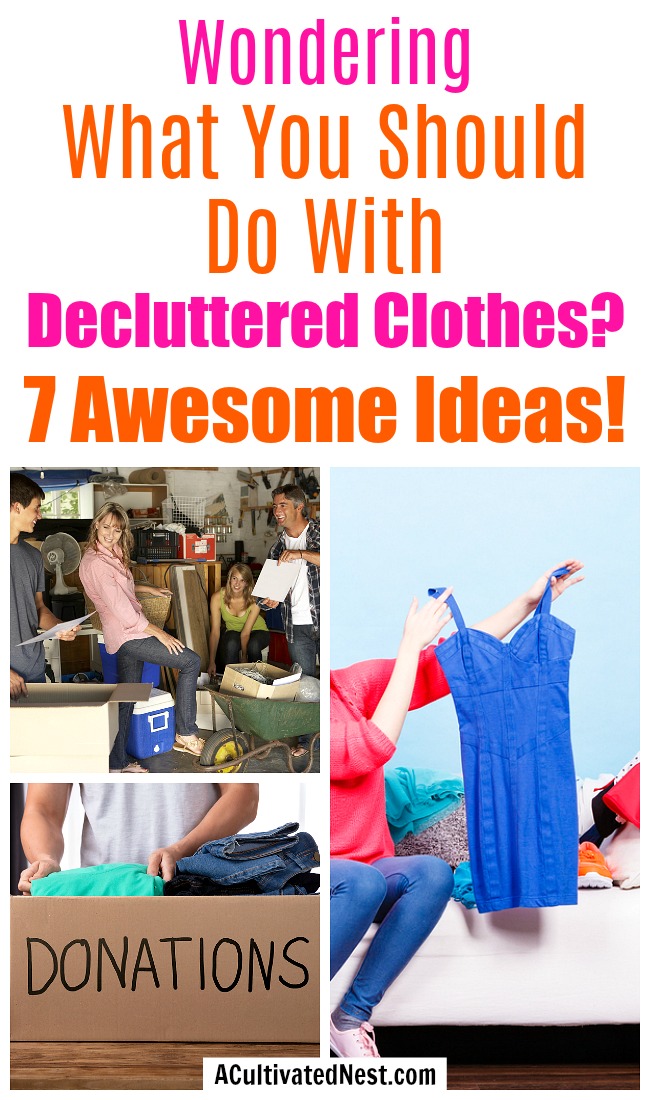 You might also be interested in: Should You Keep, Sell, Donate or Trash Decluttered Items?