Leftover Turkey Recipes.
You're bound to have some extra turkey from your holiday dinner. We always do (sometimes I think the leftovers are better than the actual dinner)! But while leftovers are great, too many leftovers can become a problem. There's only just so many turkey sandwiches a person can eat! If you want some different Ways to Use Leftover Turkey, then you need to check out the delicious recipes below!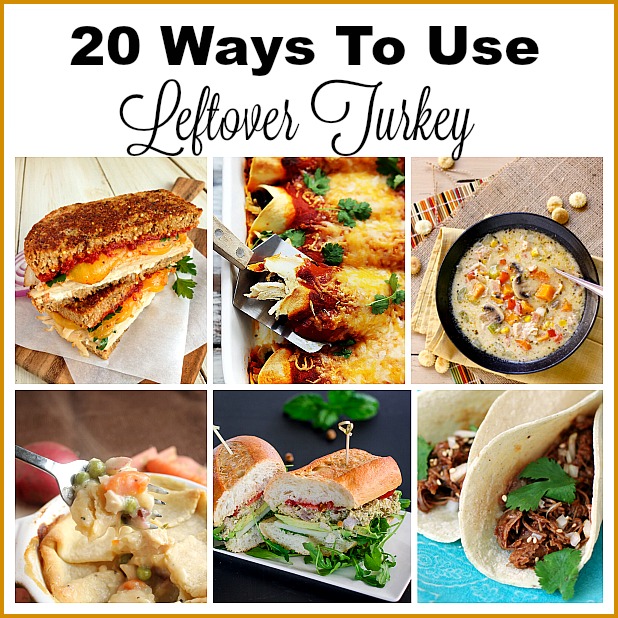 Disclosure: This post may contain affiliate links to Amazon and/or Etsy, which means that I may earn a small commission from some of the links in this post. Please see our Disclosure Page for more information.
Don't let all that good leftover holiday turkey go to waste! There are dozens of great recipes that will help you use it up, without getting bored of eating turkey all the time. You can make sandwiches, soups, tacos, pretty much anything that uses meat could be made with your yummy extra turkey! Here are some delicious ways to use up your leftover turkey!
Of course, you don't have to eat up all your leftover turkey within the week after you made it. There's nothing wrong with freezing the excess. Consider shredding it and freezing it in gallon freezer bags. Or cut slices, cubes, or big pieces off (depending on how much you have left) and freeze that. Then when you actually want turkey again, you'll have some pre-cooked turkey ready to go!
20 Ways To Use Leftover Turkey
There are many tasty ways to use up leftover Thanksgiving turkey or Christmas turkey (or turkey from any meal, really). There are some turkey sandwiches below, but I only included them because they seemed more creative than the typical turkey sandwich and could be a fun flavor change-up. There also are a lot of recipes below that typically are made with chicken or ground beef, but instead are made with turkey and sound delicious. So for some tasty inspiration, check out all these ways to use up extra cooked turkey!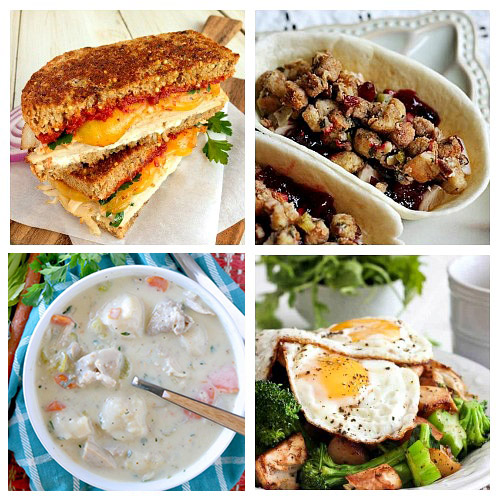 1. A Farm Girl's Dabbles – Herby Turkey Grilled Cheese Sandwich With Sun-Dried Tomato Spread
2. Amanda's Cookin' – Turkey, Cranberry & Stuffing Pocket
3. The Anthony Kitchen – Turkey and Dumplings
4. The Healthy Foodie – Turkey, Apple Breakfast Hash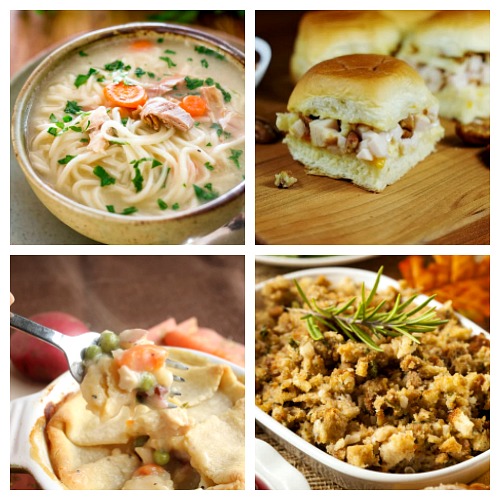 5. Jo Cooks – Leftover Turkey Noodle Soup
6. The Kitchen is My Playground – Turkey & Apricot Sliders
7. Life as a Strawberry – Turkey Pot Pies
8. Living on a Dime – Turkey Mushroom Casserole Recipe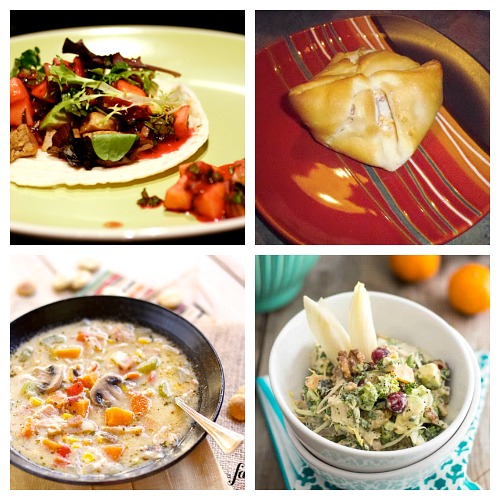 9. Love and Olive Oil – Leftover Turkey Tacos with Cranberry Salsa
10. Melissa's Cuisine – Turkey Crescent Squares
11. A Farm Girl's Dabbles – Smoked Turkey Chowder with Mushrooms and Sweet Potatoes
12. The Healthy Foodie – Leftover Turkey Salad with Creamy Orange Poppy Dressing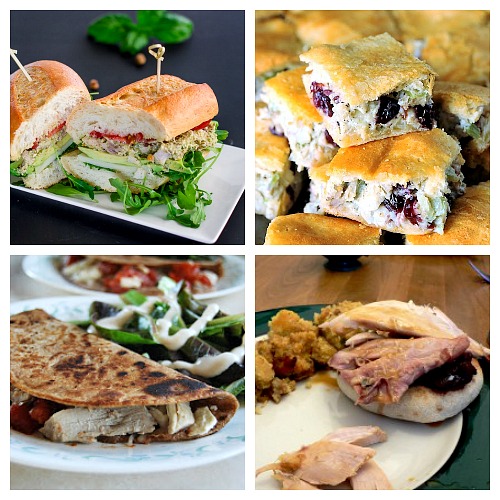 13. Jo Cooks – Leftover Turkey with Pistachio Pesto and Arugula Sandwich
14. The Kitchen is My Playground – Turkey Crescent Bites
15. Little House Living – Turkey and Feta Quesadillas
16. Living on a Dime – Hot or Saucy Turkey Sandwiches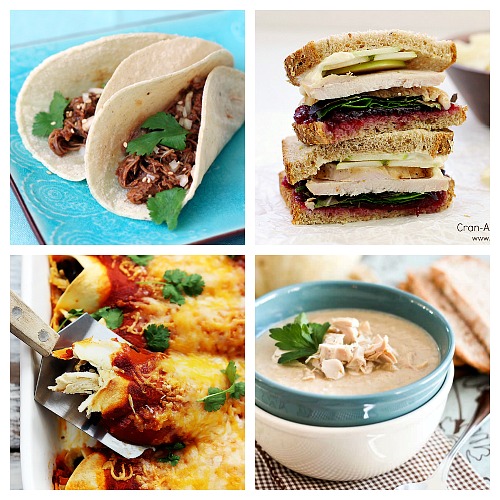 17. Love and Olive Oil – Beer-Braised Turkey Tacos
18. Love Bakes Good Cakes – Cran-Apple Turkey Sandwich
19. Creme de la Crumb – Turkey Enchilladas
20. The Healthy Foodie – Healthy and Comforting Cream of Turkey Soup
Aren't these some delicious sounding leftover turkey recipes? Now the week after a turkey holiday won't have to be full of turkey sandwiches!
Of course, if you'd rather not have so much leftover turkey to start with, next year consider buying a smaller turkey, or turkey parts. We switched to turkey parts (legs and wings) a few years ago, and it was great! We still have leftovers, but they're just of the parts that my family prefers, and they're a manageable amount. But for some people, the best part of a turkey holiday is the leftovers. So in that case, keep cooking up a big bird and enjoy all the fun turkey recipes above!
Do you usually have a lot of leftover turkey? What do you make with it?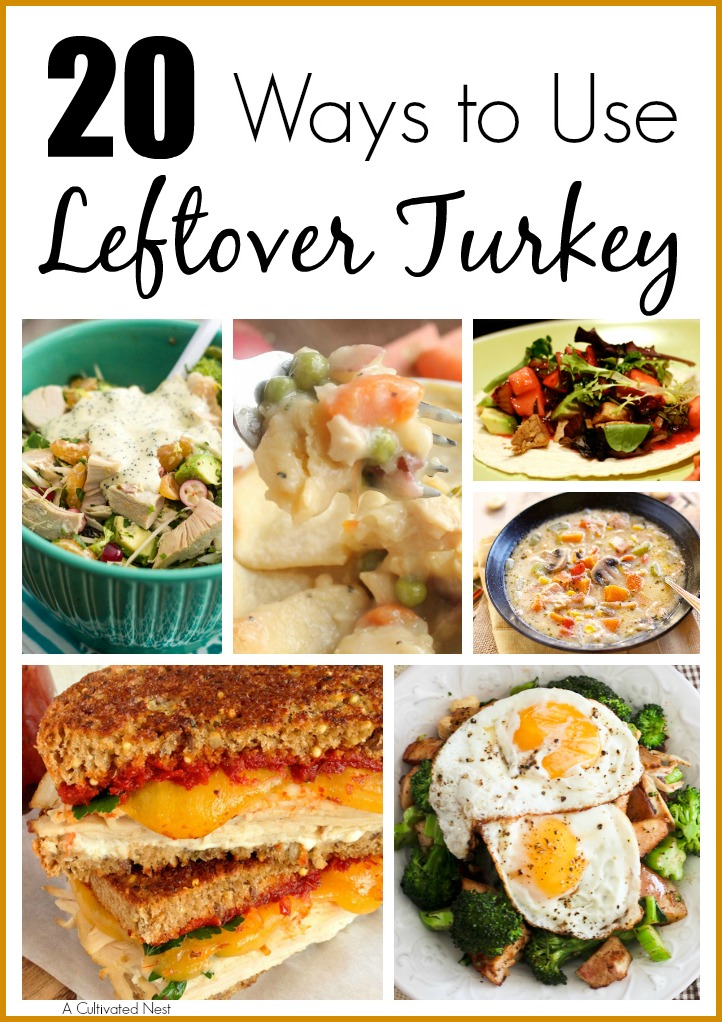 You might also be interested in: Free Thanksgiving Printables