Have you cut your food bill as much as you can but still need to find a way to cut further? I thought I'd start sharing some make your own mix recipes which are pantry staples.  They are easy to make and budget friendly! The great thing about making your own is that not only will it save you money at the grocery store, but you can customize them to your families diet restrictions and tastes. So if you need to keep things low salt you can control that or maybe you avoid MSG or gluten.  If you make your own you know exactly what's in it. It'll help you save money plus it's healthier!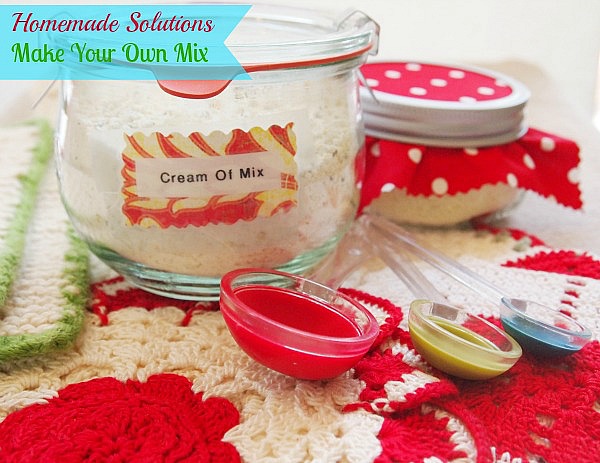 I would suggest starting with one or two things. I know it can be very tempting to think "I'm going to make everything from scratch". You will burn out and wind up making nothing from scratch! My goal has always been to try one or two new things a month. We started by making our own bread, then we went on to tortillas, chicken broth, coffee creamer, pretzels etc.
Make Your Own Mix Recipes
Disclosure: This post may contain affiliate links to Amazon and/or Etsy, which means that I may earn a small commission from some of the links in this post. Please see our Disclosure Page for more information.
The first make your own mix recipe is a dry cream of soup mix. I think I use a cream of mushroom or cream of chicken soup at least once a week and they're expensive unless you stock up when they're on sale.  Plus even the low sodium version still has lots of sodium and fat in it (not to mention the BPA in the can). So they don't exactly fall into the "good for you" food category 🙂
Dry Cream of Soup Mix
2 cups instant powdered milk
3/4 cups of cornstarch
2 tblsp. minced dried onions
1 tsp. dried crushed basil
1 tsp. dried crushed thyme
1/2 tsp pepper
Mix all the ingredients together and  store in an air tight contaner.
To Use:
-For the equivalent of 1 can of cream of… soup, mix 2/3 cup of mix and 1 cup of chicken broth in a small saucepan, whisk until smooth, bring to a boil  and cook until thickened. Or make it in your microwave.
– You can mix with veggie broth, beef broth, or plain water as well. Make your own chicken broth to avoid MSG
-For cream of mushroom or celery you can add chopped mushrooms or celery while you are thickening the soup or saute them before adding the soup mix.
If organic  is important to you use organic cornstarch and organic whole powdered milk and make your own chicken broth. If you're dairy free you could try making it with powdered rice or soy milk.
The second make your own mix recipe is another one that people frequently use – Onion soup mix packets.  I use these at least once or twice a week.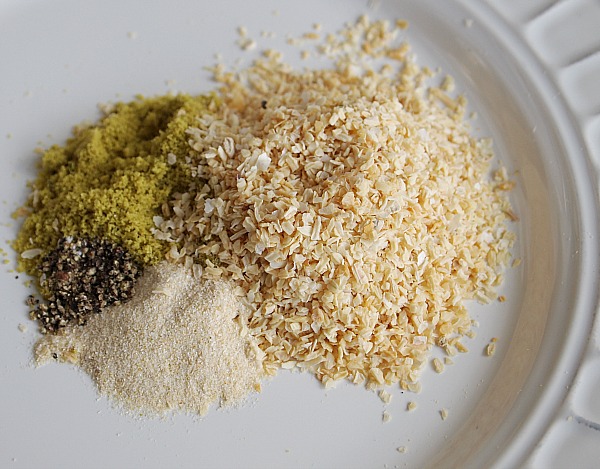 Dry Onion Soup Mix
4 tsp. beef bouillon granules
8 tsp. dried minced onion
1 tsp onion powder
1/4 tsp. pepper
This makes one packet of onion soup mix. Mix all ingredients together and store in a snack size storage baggie or make individual foil packets.
I just started making these two mixes so I didn't make a lot to begin with in case I didn't like them.  But so far I can't tell the difference between them and store bought. So far so good!
I think when you're trying to make any kind of lifestyle changes, doing it bit by bit will give you a greater chance at succeeding. Ideally I'd like to get rid of all processed food in my pantry but I know I need to do it a little at a time!
I'll be sharing more Homemade Solutions as I try them!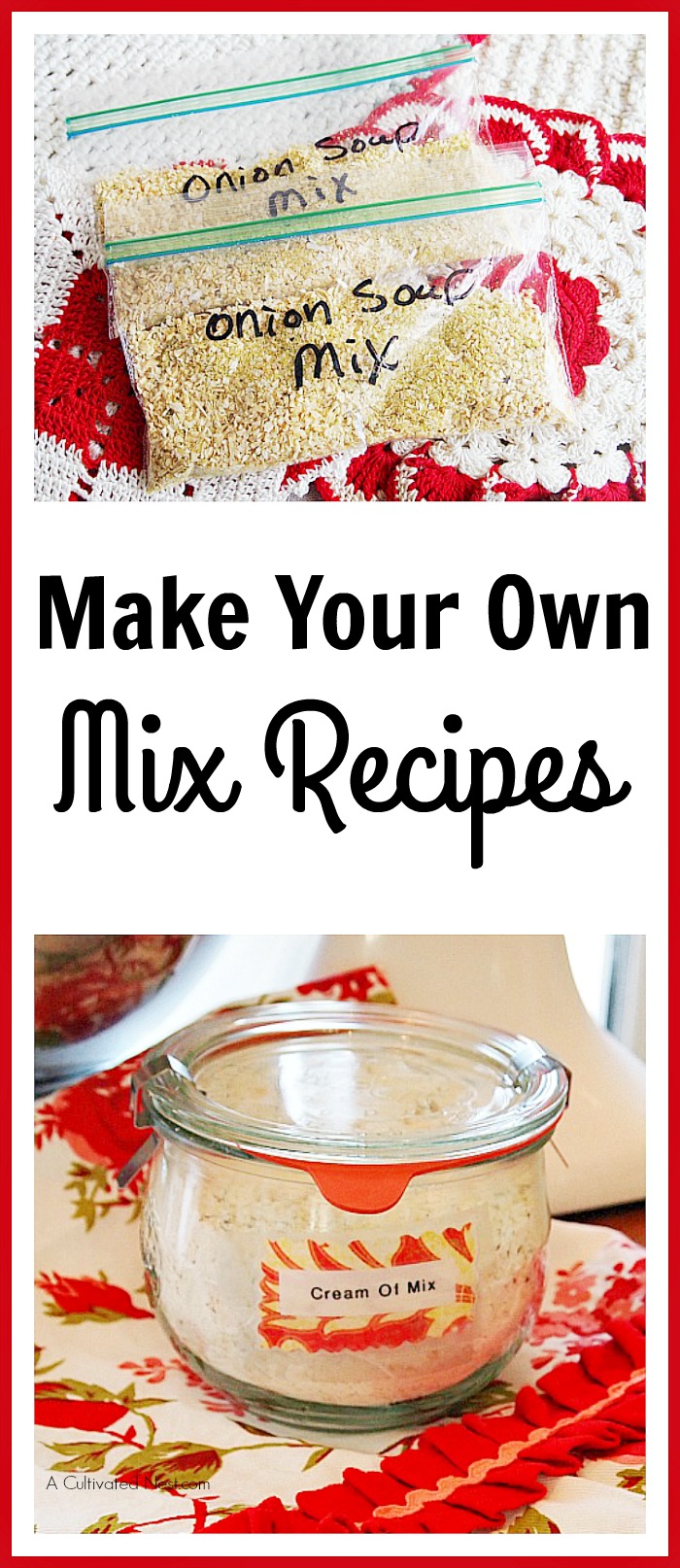 You may also like to check out the other posts in this series: Nesting Skills