Clever DIY Toy Organizing Solutions
Toys, toys, toys! They tend to be everywhere you look if you have kids, grand-kids, or run a daycare. It's kids' nature to play with all sorts of toys, and sometimes they don't always put them away. But once you get all the toys organized and set a system in place, it's going to be a lot easier to get the kids on board with keeping things neat and tidy. These 10 Creative DIY Toy Storage Ideas are precisely what you and your kids need!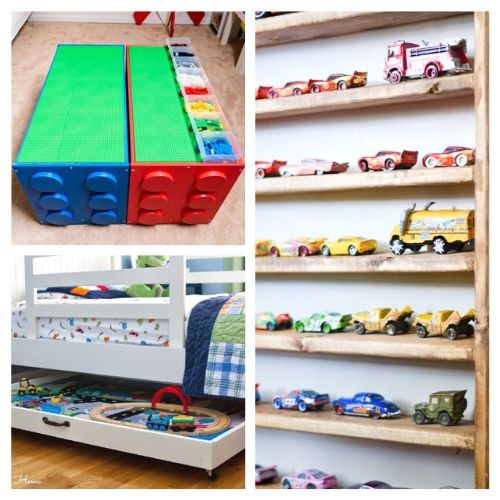 Disclosure: This post may contain affiliate links to Amazon and/or Etsy, which means that I may earn a small commission from some of the links in this post. Please see our Disclosure Page for more information.
Storing toys doesn't have to cost an arm and a leg. You can easily use a few hacks, hit up your local dollar store, or use your skills to craft items to help get everything in order. Most DIY toy storage solutions take minimal effort on your part. You just need to decide what type of solution will work for you. Once you get it all figured out and it's clicking for the kids too, you will be so happy with the results. Take a look at these easy DIY toy storage ideas to get started!
10 Creative DIY Toy Storage Ideas
1. DIY Toy Storage Ottoman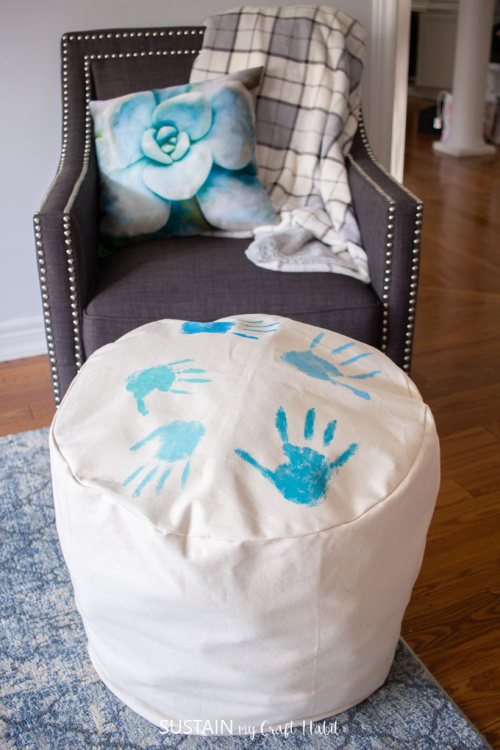 Sustain My Craft Habit made this ingenious toy storage ottoman. It's easy to make and the perfect solution for hard to organize toys. Use it for blankets, stuffed animals, pillows, and anything else you want out of sight.
2. Car Tire Shelving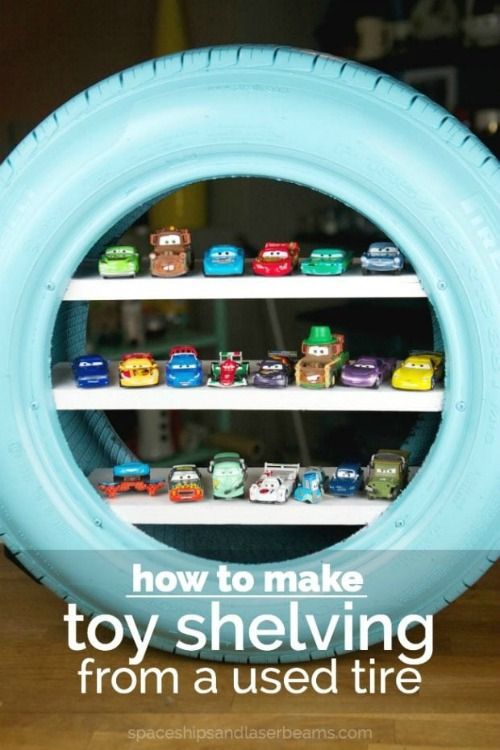 This is a unique DIY toy storage solution! Spaceships and Laser Beams created the perfect storage for small toys by upcycling a car tire!
3. IKEA Lego Table Hack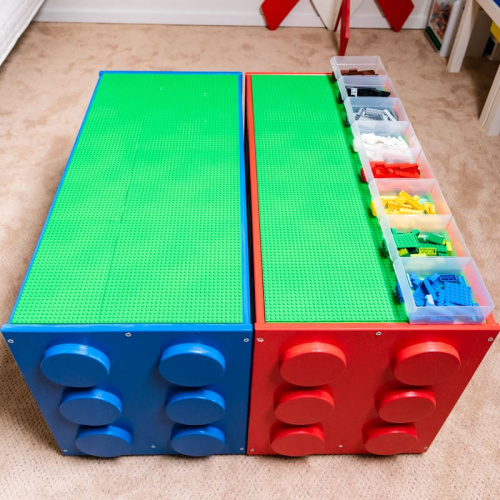 Legos can take over your life when you have kids! The Handyman's Daughter came up with the perfect solution for Legos! This IKEA hack is easy to make, and the kids will love it.
4. Wooden Crate Toybox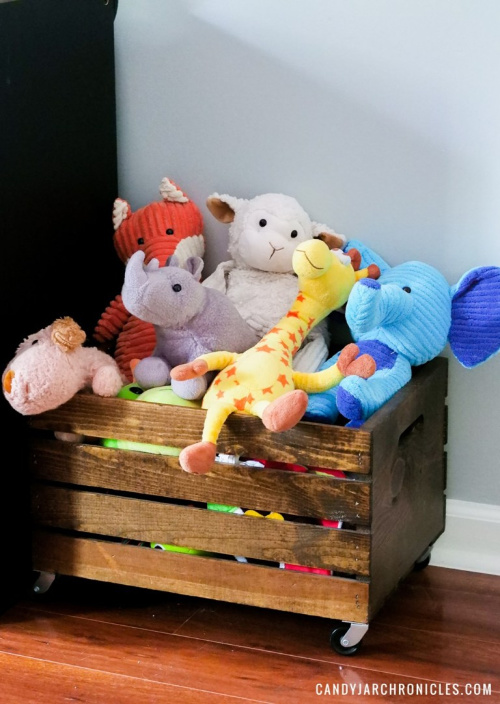 Candy Jar Chronicles got creative and made this easy toy storage crate. It has wheels so it's easy to move and it looks gorgeous!
5. DIY Hot Wheels Storage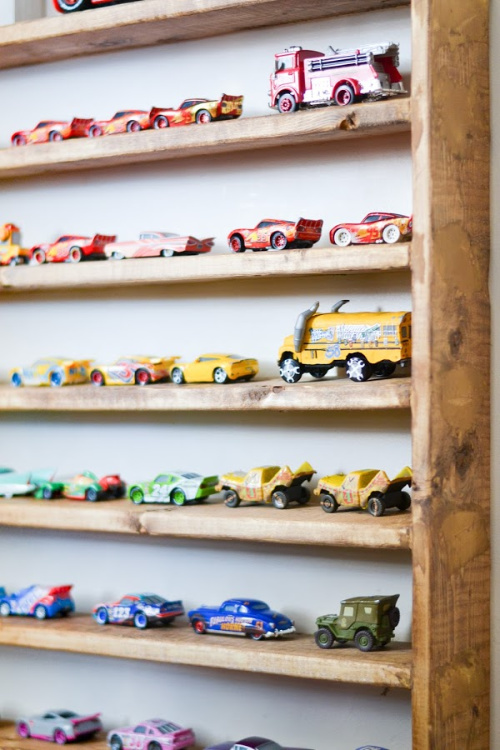 If you have a lot of toy cars to get organized, this Hot Wheels display shelf is perfect for you. See Lindsay made this genius shelving solution in no time!
6. Train Table Storage Idea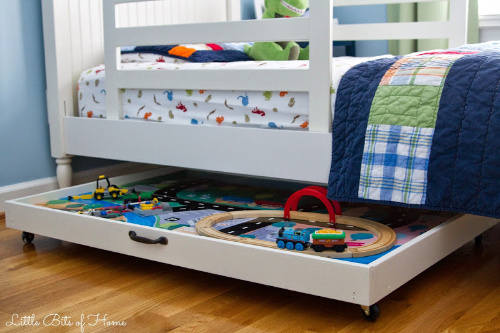 Train tables can take up a lot of space, but kids love them. Samantha at Little Bits Of Home came up with the idea to put the train table on wheels and put it under the bed. Now the kids can play, and it's out of the way.
7. Stuffed Animal Zoo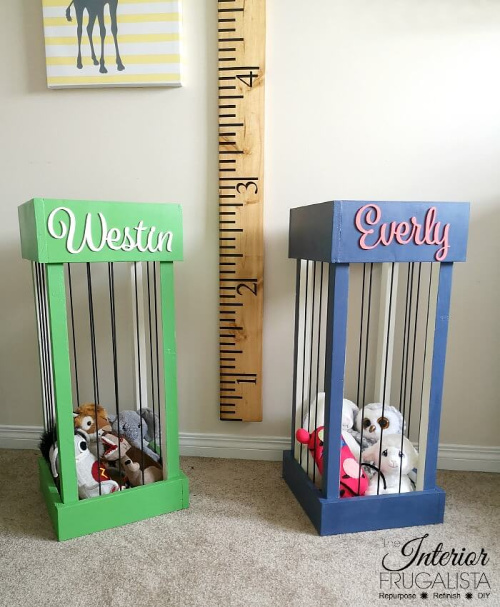 Stuffed animals don't have to take over your home. Make these adorable stuffed animal zoos like Interior Frugalista did! They're easy to make, and your kiddos will go wild for them.
8. Treasure Chest Toy Box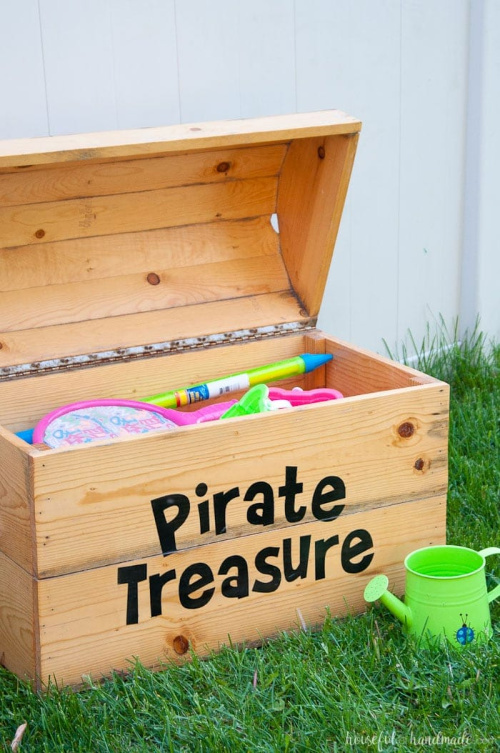 Your kids will feel pretty special and excited when they have their very own pirate treasure toy box. They will be more than happy to fill it up! Houseful of Handmade blew this idea out of the park!
9. Metal Can Toy Storage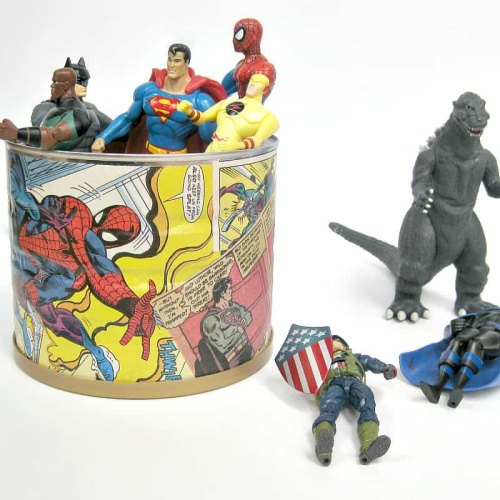 Susan at Organized 31 used an old tin can and turned it into an excellent toy storage container for her kids. This brilliant idea looks great and was easy to make too.
10. DIY Toy Storage Bag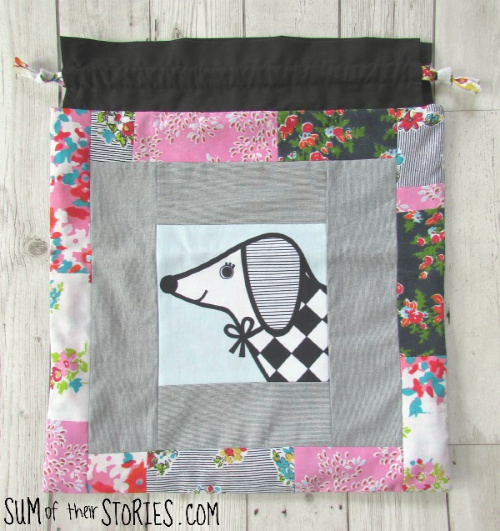 This drawstring toy storage bag is adorable! Sum of Their Stories shows you exactly what you need to make one with easy to follow steps. Carry blocks, dolls, or anything else in these cute bags.
Which of these DIY toy storage ideas do you think would help you the most?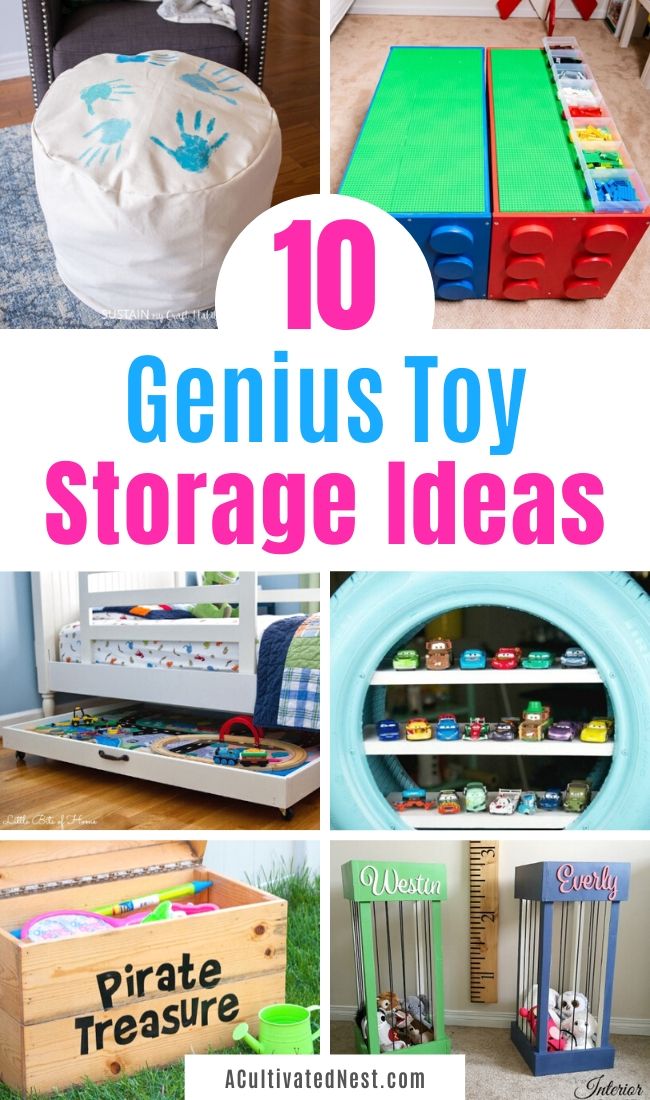 You might also be interested in: 8 Clever Car Organization Ideas