I've been working on decorating my mantel in the living room and thought I'd share what it looked like last year in case you need some easy Christmas decorating ideas. I always try to use what I already have first and then fill in with new decor if I need any.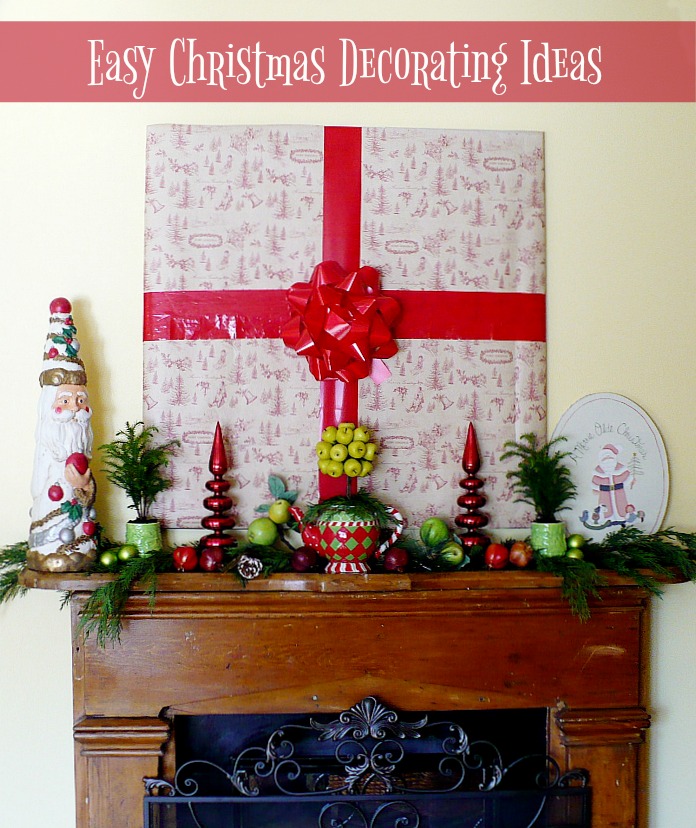 Disclosure: This post may contain affiliate links to Amazon and/or Etsy, which means that I may earn a small commission from some of the links in this post. Please see our Disclosure Page for more information.
Most of the time I don't really need much since I like to shop for Christmas during the after Christmas Sales!
Easy Christmas Decorating Ideas

This is just a colorful teapot that I used to hold one of my apple topiaries. I have a bit of a winter fruit & santa theme going on 🙂
My very favorite thing that I did last year was to wrap a painting I had hanging over the fireplace to look like a present! This is such an easy idea! You can do this with any size painting/print that you have. All you do is literally wrap it like a present and then when Christmas is over you just remove it. No damage no fuss and if you do a large painting it makes quite a statement! You can use Christmas wrap from the dollar store and it would just cost you hardly anything to do this DIY!

I took one of those Styrofoam cones (they have them for $1 at Dollar Tree) and wrapped a strand of beaded garland around it hot gluing as I went. So easy and inexpensive and this beaded garland comes in so many colors. I may try that again with some silver garland

This cone tree is just vintage buttons glued onto a Styrofoam cone. Another super easy Christmas DIY! I've seen cones everywhere this year. Lots seem to have paper on them. So maybe using scrapbook paper on them would be fun this year.

Boy this poor bird has been painted sooo many times! She's sitting on nest made from a napkin ring I think.

A silver tray with some broken mercury glass ornaments, vintage brooches, sparkly garland, shiny odds and ends.

Sparkly napkin rings in a bowl – gotta find those for this year!
The next few pics are how I decorated my kitchen for Christmas last year – I'm not doing anything in the kitchen this year.
I'll end with a photo of some white and green fresh flowers surrounded by white and lime green Christmas balls in my living room.
Hope you got some ideas for some simple and inexpensive ways to decorating for Christmas!