Have you ever wanted to use some pretty fabric you found, but decided against it because you either can't sew or didn't want to sew? That's not a problem with no-sew projects! Instead of using the traditional needle and thread, you can use hot glue, staples, Mod Podge, and several other products/techniques! Check out these 10 no sew home decor projects and make something pretty!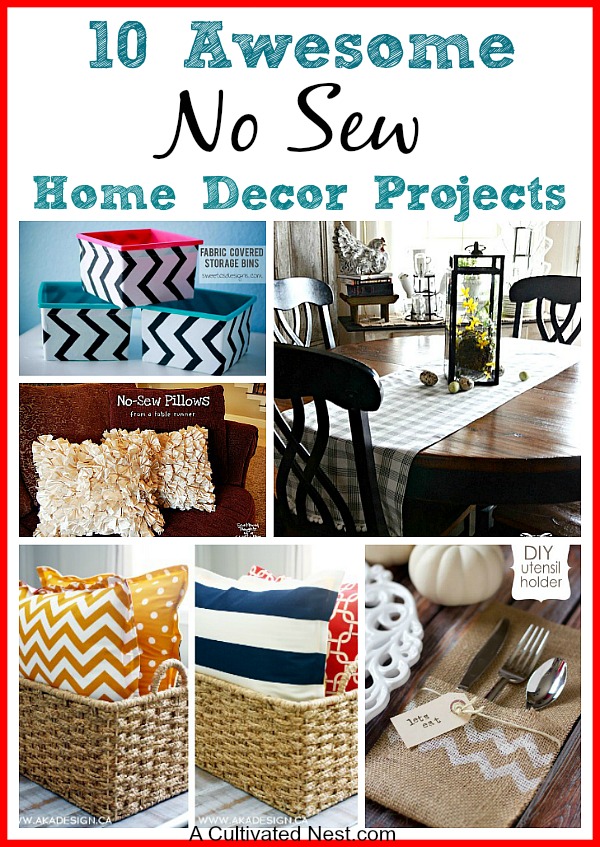 Disclosure: This post may contain affiliate links to Amazon and/or Etsy, which means that I may earn a small commission from some of the links in this post. Please see our Disclosure Page for more information.
I confess,  straight line sewing isn't hard and there are lots of things you can make if you can sew a straight line.  But I often don't want to mess with setting up my machine (because invariably, I never have the right color thread in the bobbin)! Isn't it great that we have the option of using all those fabulous fabrics out there to make something one of kind for our homes…with NO SEWING!
10 No Sew Home Decor Projects
1.  No Sew Table Runner With Pom Poms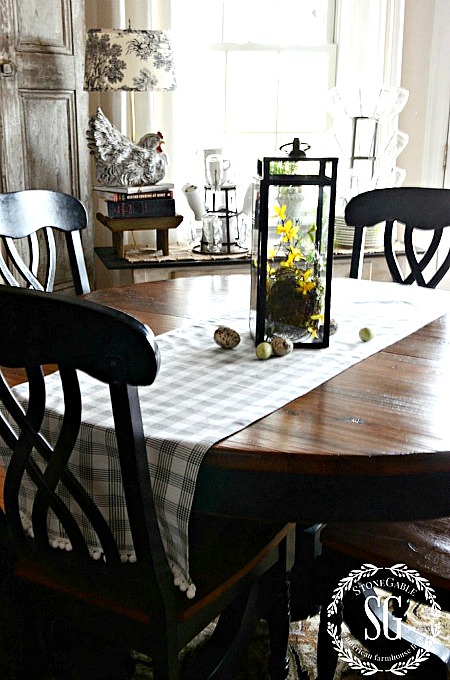 Everything is cuter with pom poms! You can easily make a new table runner without sewing a thing! StoneGable explains how to make a pretty no-sew table runner using fusible bonding web and fabric glue. This project was part of her No-Sew Showcase so be sure to visit her and see some of the other projects!
2. No Sew Floor Pillows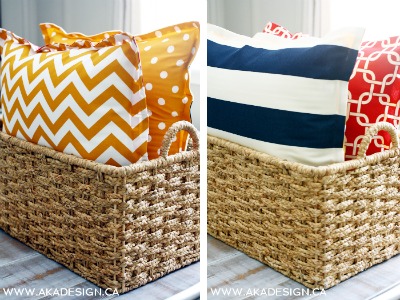 Aren't these floor pillows pretty? And you don't need to know how to sew to make them! Instead, Aka Design shows you how to make these no-sew floor pillows using hem fuse tape!
3. Ruffle Pillows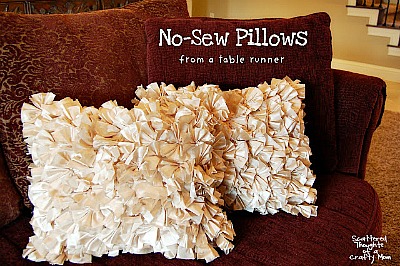 It's hard to believe that these ruffle pillows started out just as a single table runner! Scattered Thoughts of a Crafty Mom shows you how to make these pillows using hot glue!
4. Burlap Utensil Holder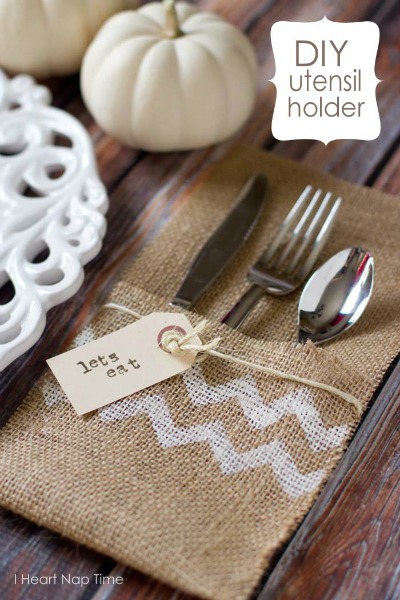 This is a simple, but very pretty, DIY! The main materials are burlap and hot glue. I Heart Naptime shows you how to put the utensil holder together.
5. DIY Dog Bed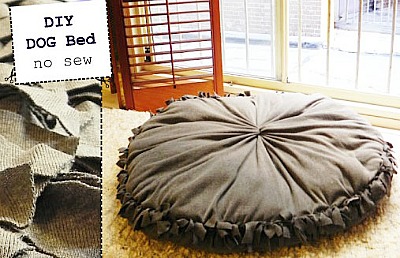 Imagine being able to coordinate your puppy's bed to your decor! This is a fun no-sew DIY for your furry friend! Instead of sewing, you tie the fringe fabric together.  Check out the tutorial on Luigi and Me to find out how to make this cute no-sew dog bed!
6. Drop cloth Window Panels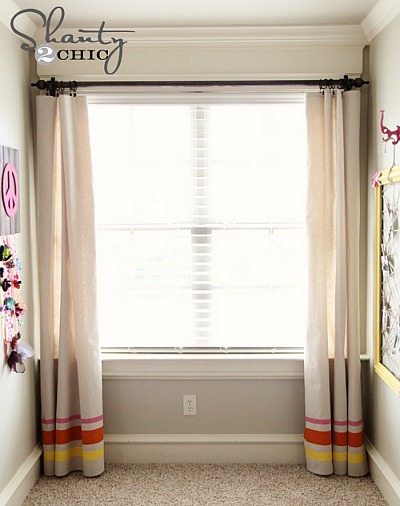 This pretty no-sew DIY is inexpensive and easy! Instead of sewing, you just use a hot glue gun. Shanty 2 Chic explains how to put the curtains together.
7. DIY Fabric Bins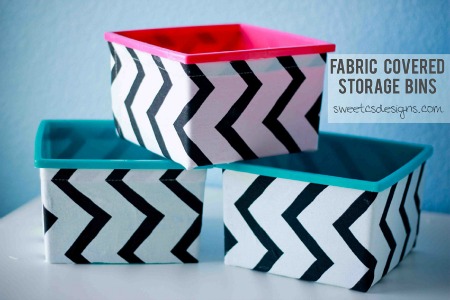 Turn plain organizing bins into something pretty by using your favorite fabric! Sweet C's Designs shows how to use fabric Mod Podge to make plastic bins pretty!
8. No Sew Office Chair Makeover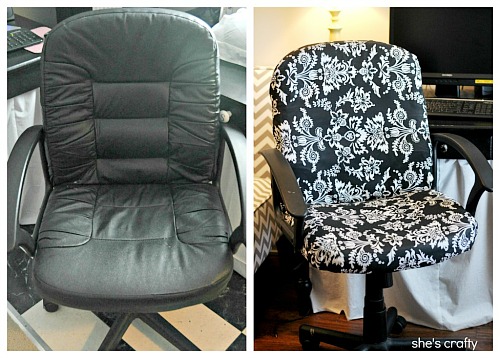 Love this one! You're not just limited to small things when it comes to no-sew projects! She's Crafty explains how to recover an office chair using staples!
9. Shag Rug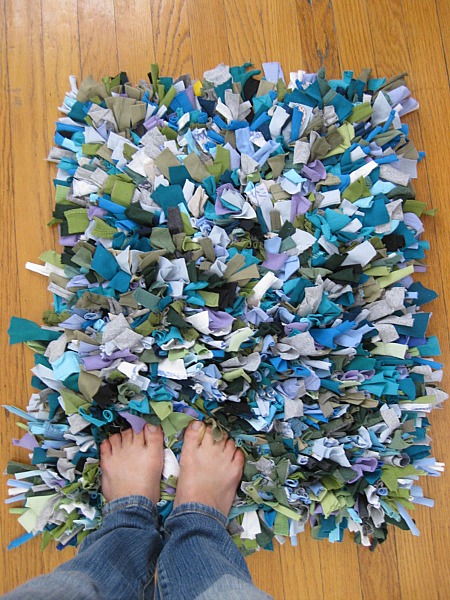 Not only is this project no-sew, but it also is a great way to recycle old T-shirts. Molly Kay Stoltz explains how to thread t-shirt scraps together to make a pretty no-sew shag rug!
10. Upholstered Box Spring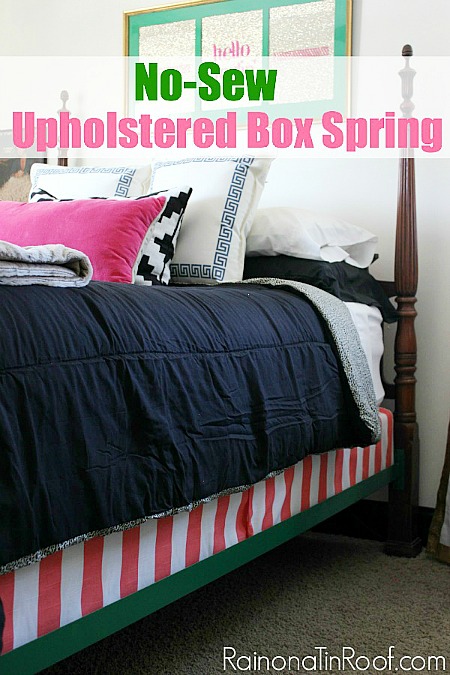 This is a pretty alternative to a bed skirt! And instead of sewing, Rain on a Tin Roof shows how to make this no-sew cover using a staple gun and hot glue!
I hope you're inspired to go out and buy some gorgeous fabric to make something beautiful for your home!
This post contains affiliate links to Amazon, which means that I may earn a small commission from some of the links in this post. Please see our Disclosure Page for more information.
You May Also Be Interested In: