Great Ideas For Upcycling Those Old Jeans is one of my most popular posts so I thought I'd see if i could find some other ideas for repurposing old jeans.  I tried to find ideas that go beyond the normal making a bag or skirt out of them. So if you have some old jeans, don't throw them out!  I've collected some of the best creative ways to repurpose old jeans.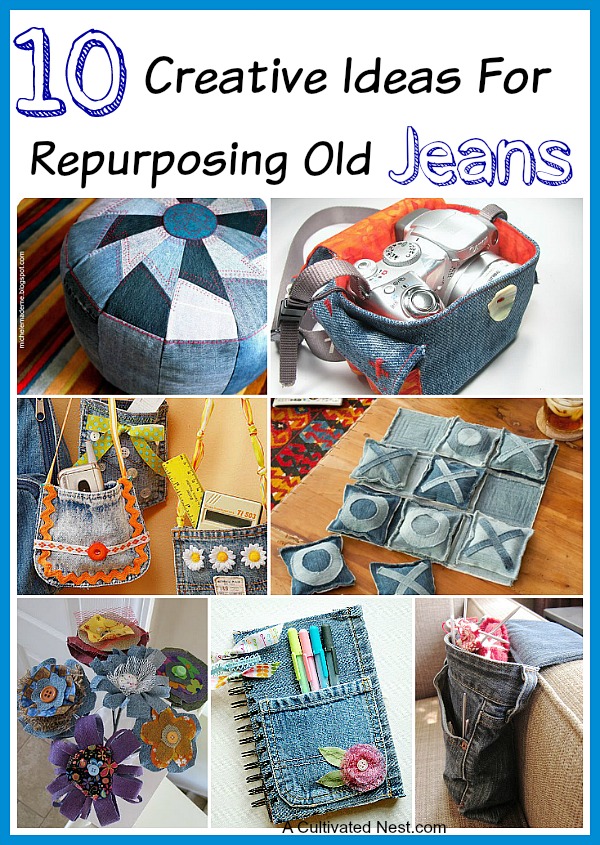 15 More Ways to Re-Purpose Old Jeans
Thrift Shop! If you don't have a ton of old jeans in your closet or maybe you want to make a lot of these projects, check your local thrift shops or secondhand stores to find jeans for cheap. You don't need them to be pretty or even in your size so you can grab several pairs and get crafting!
Save the legs. Some of these projects only use the pockets but be sure to save the legs for other ideas you may have down the road.
Want a large project? Denim quilts are so warm and thick! If you really want to make a large project and have a lot of denim; try to make a denim quilt. It can be a basic 9-patch design and with all the colors of the jeans; they turn out gorgeous!
1. Denim Covered Journal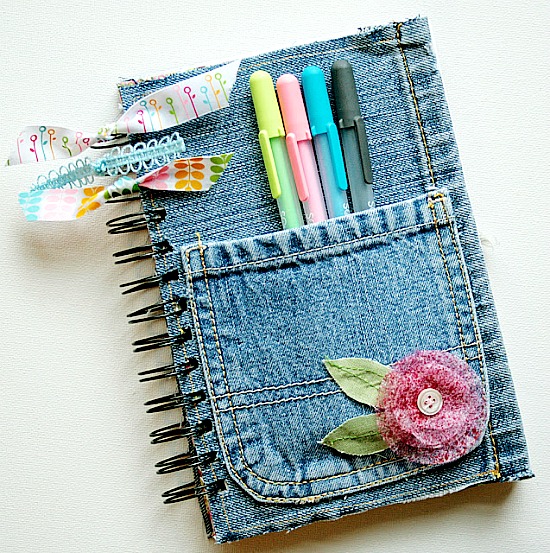 Disclosure: This post may contain affiliate links to Amazon and/or Etsy, which means that I may earn a small commission from some of the links in this post. Please see our Disclosure Page for more information.
This is so pretty!  I'm sure most teenagers would love this. Make a pretty denim covered journal from Life Made Creations.
2. Camera Bag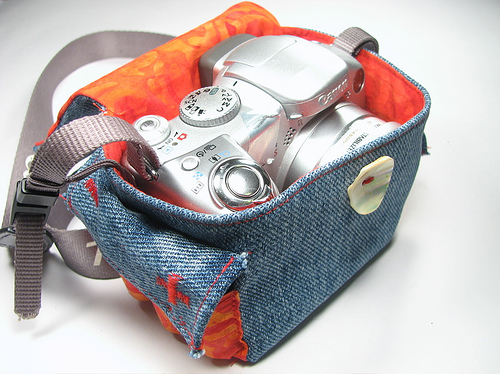 I imagine that a camera bag made from denim would be nice and sturdy! Make a camera bag from Evil Mad Scientist
3. Slippers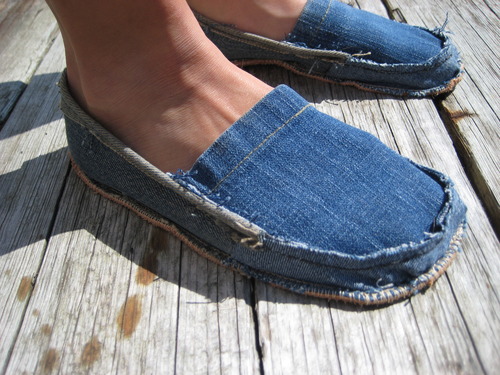 How about making some slippers! Make your own foot wear from DoNight
4. Denim Pouf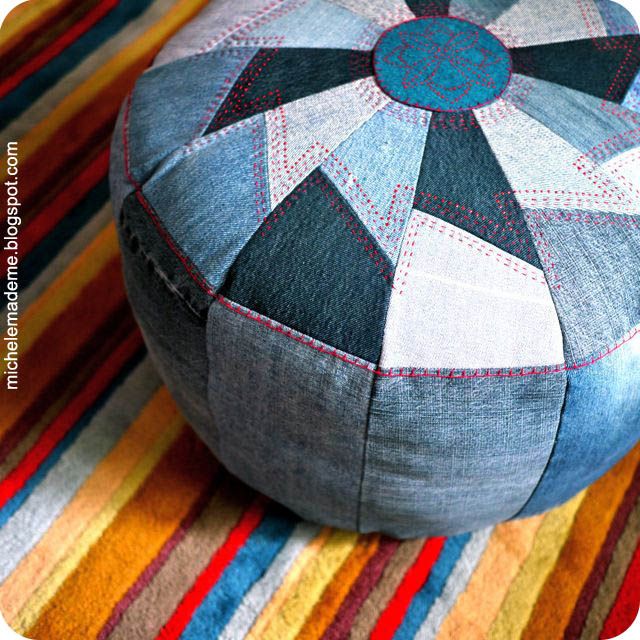 If you're looking for a more challenging project, try this denim pouf from Michelle Made Me. She has a great tutorial.
5. Bouquet of Flowers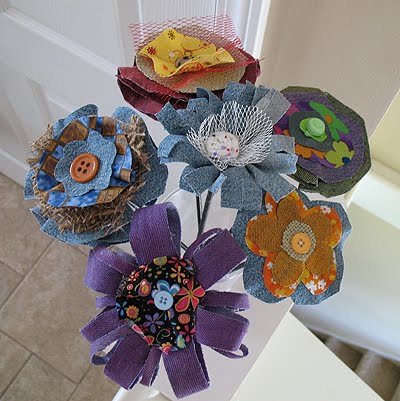 Make a bouquet of pretty fabric flowers with your old jeans – tutorial at  Crafts By Amanda
6. Tech Caddy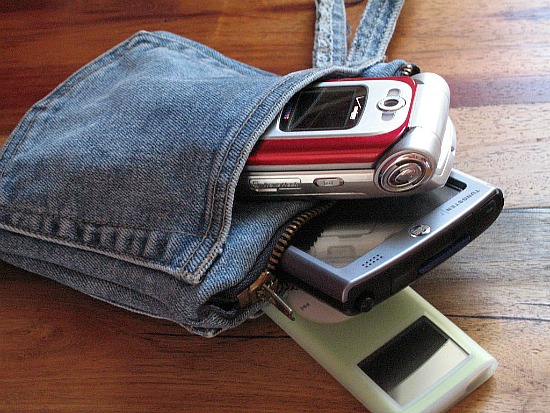 This tech caddy is from a tutorial at Instructables. How handy would this be when you are out and about!?
7. Armrest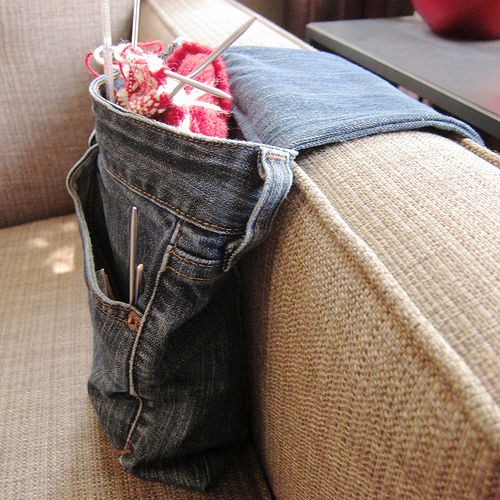 What a great idea! A denim armrest from Just Crafty Enough
8. Christmas Ornament
Create a cute Christmas ornament from Sew Can She and spread the joy to all your family and friends.
9. Cafe Apron
A Spoonful of Sugar has the cutest cafe apron design! It would be perfect for a gift for someone special or yourself.
10. Wine Tote
Need a bag to carry your wine bottles in when you are heading to an event? Make this wine tote from A Spoonful of Sugar and you will be all set.
11. Patriotic Placemat
I just love this patriotic placemat from A Spoonful of Sugar for picnics and gatherings all summer long! The denim silverware holder is genius too!
12. Dog Toy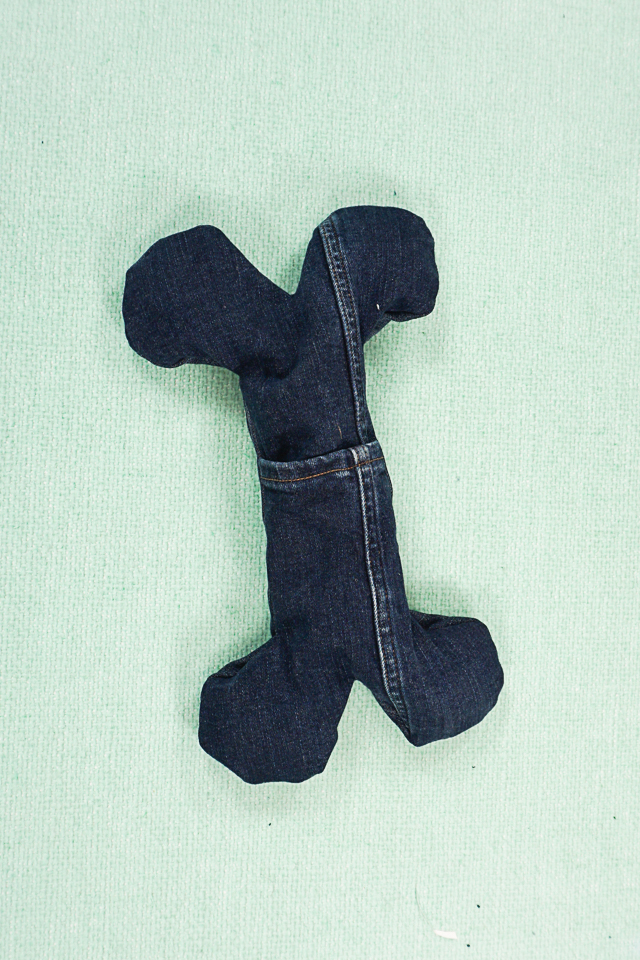 Do your dogs love the sound of crinkly water bottle? Mine too! So I found this water bottle dog toy made from old jeans! Grab the pattern from Heather Handmade.
13. Jean Basket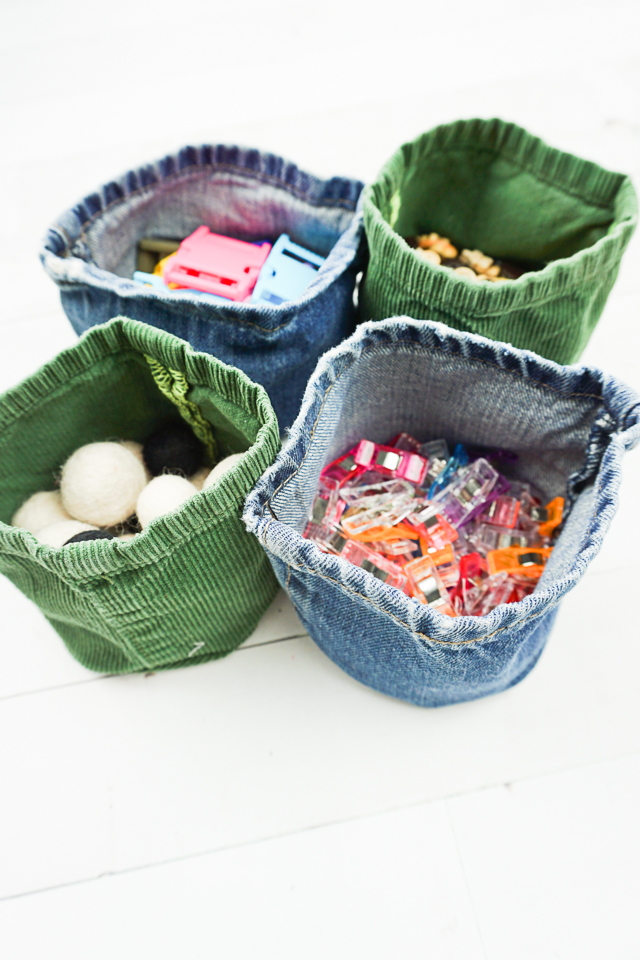 These jean baskets from Heather Handmade would be handy to have around your house. I'm thinking in my craft room, but they would be great for small toys, in the pantry and kitchen, or in the bathroom.
14. Bike Bag
I know some children that are just going to love these bike bags from Heather Handmade. They can carry all their treasures that they find on their bike rides.
15. Potholder
These distressed potholders are super cute and something that will be useful in your home. Check out the tutorial from Seam Whisperer.
Hope you've found some inspiring ideas for repurposing those old jeans!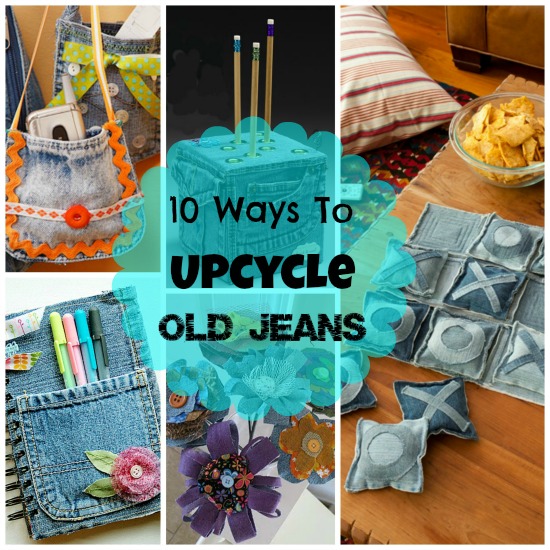 Check out my Upcycle Board on Pinterest for more ideas!