When you take a little time to organize each and every day, you will eventually have an organized home. Check out the following 10 household organizational tips that will help you clean, organize, and get your home in tip top shape. My only advice would be to take a break in between each tip, so you don't wear yourself completely out!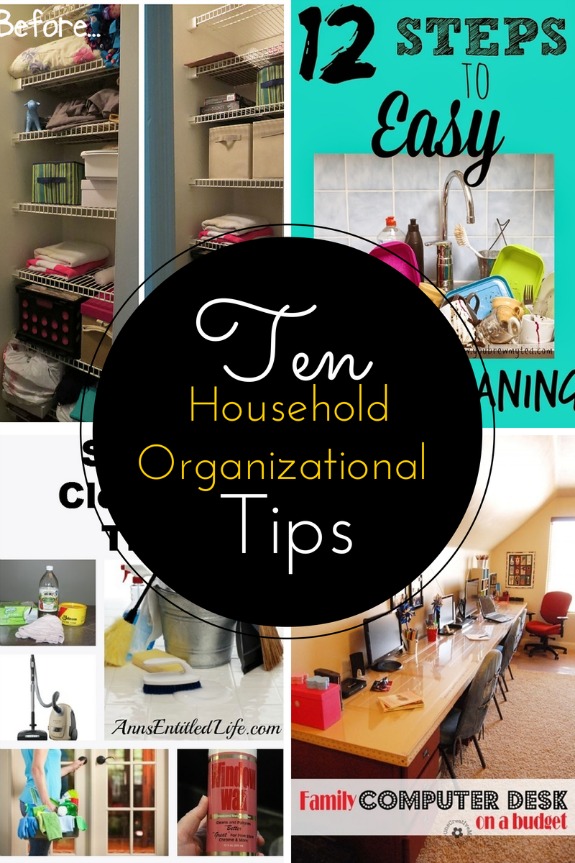 #1. Household Chore List—Isn't it time everyone helps pitch in around the house? Check out this household chore list.
#2. 12 Steps to Deep Cleaning—Don't wait for spring to get your household clutter, cleaning, and organization under control.
#3. Organize Those Scarves—Since scarves are in style, you may need these tips to help you organize them.
#4. Organize the Linen Closet—6 easy steps to organizing your linen closet.
#5. Organize Your Kitchen Pantry – Don't have a huge pantry? See how to organize a small pantry closet.
#6. Organized Computer Desk Station—The kids need a little help organizing too! Check out how you can make your kids a DIY computer desk station and organize it too.
#7. Closet Shelf Organization—Now is the time to get your closet shelf a little more organized!
#8. DIY Jewelry Organizer— Don't let your jewelry just around in your bedroom. This DIY jewelry organizer is perfect for organizing your jewelry.
#9. Make a Family Command Center—Have one place for schedules, notes, school papers, bills, etc.
#10. DIY Refrigerator Mats –  Make your own refrigerator mats and spend less time on cleaning the fridge shelves.
Disclosure: This post may contain affiliate links to Amazon and/or Etsy, which means that I may earn a small commission from some of the links in this post. Please see our Disclosure Page for more information.
There you have it! Ten tips that will help you organize different parts of your home.
What part of your home do you feel you need help in organizing?