Decorating With Succulents.
One of the fun things about succulents is that they look terrific in all kinds of containers and they are easy to grow (even for those with "black thumbs"). There are so many different shapes, sizes and colors of succulents that it's easy to make a beautiful and unique succulent garden! These 11 Beautiful Ways to Decorate With Succulents are some pretty indoor succulent container ideas for your home that are sure to inspire you!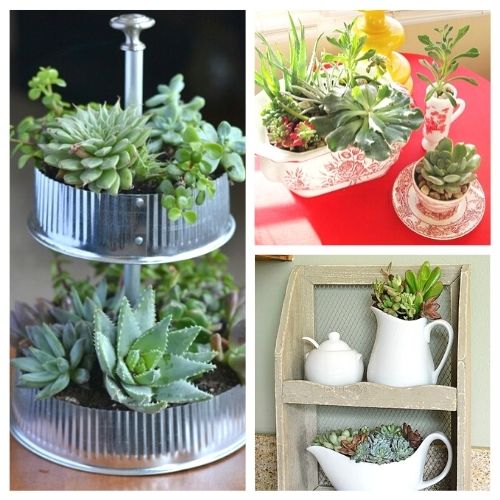 Disclosure: This post may contain affiliate links to Amazon and/or Etsy, which means that I may earn a small commission from some of the links in this post. Please see our Disclosure Page for more information.
Another good thing about succulents is that they are fairly low maintenance, and easy to propagate!
11 Beautiful Ways to Decorate With Succulents
Now that you are pumped for decorating with succulents, I wanted to share a few tips to help you care for them. They really don't take a ton of effort, but there are some things you should know.
They need sunlight to survive. Succulents only need around 6 hours of sunlight, but it's important to make sure they get enough. You'll need to rotate them often so they don't get too much sun in one spot.
Water them the right way. During the warmer months, they'll need a lot more water than in the cooler temperatures. So be sure to give them enough during the heat and cut back during the cold.
Drainage is important. The containers you use need to have drainage so the succulents' roots don't rot and the soil doesn't become waterlogged. Using a succulent potting mix can help.
Now you are ready to start decorating with these succulent container ideas!
1. Indoor Succulent Dish Garden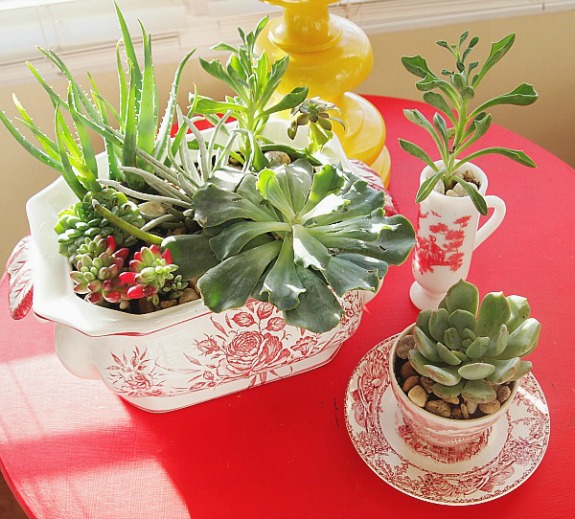 You can use all kinds of containers for your succulents that coordinate with your décor. I made this succulent garden in some red and white transferware because I decorate with red and white (and transferware). I used an old soup tureen from the thrift store as the main planter.  The steps for making this succulent garden are here.
2. Gravy Boat Planter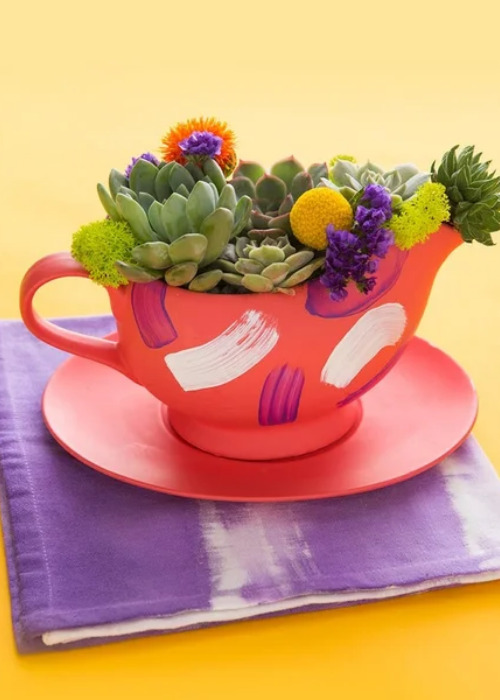 Don't these succulents, planted in a beautiful gravy boat, look classy and beautiful! Head on over to Brit + Co for more details!
3. Classy Planter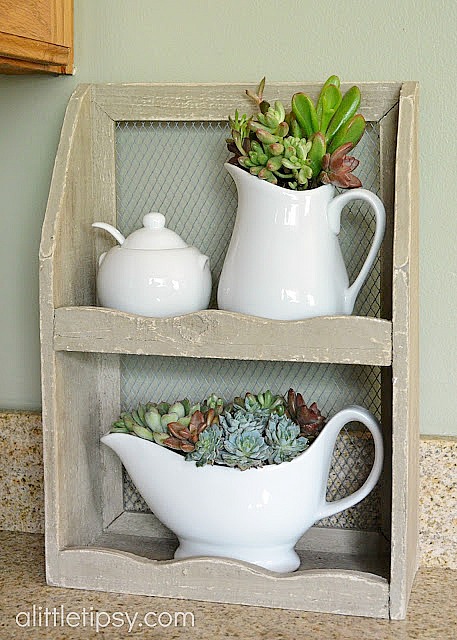 Here are some pretty succulents in a white ceramic pitcher and gravy boat by A Little Tipsy. You can use all types of vessels for your succulents!
4. Seashell Succulent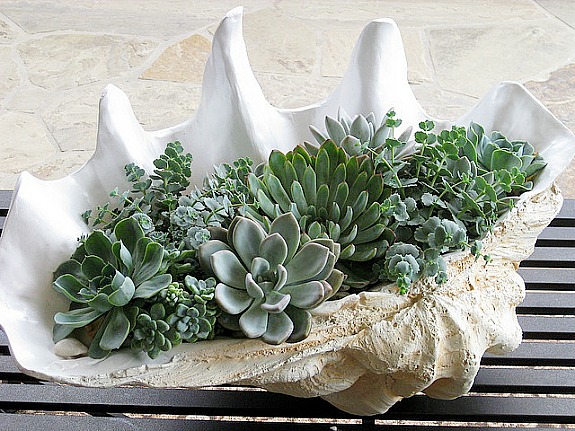 I love these succulents planted in a shell via David Pedersen Landscape Architecture & Design on Flickr. I may replant the ones I have into a shell for the summer.
5. Simple Footed Bowl Planter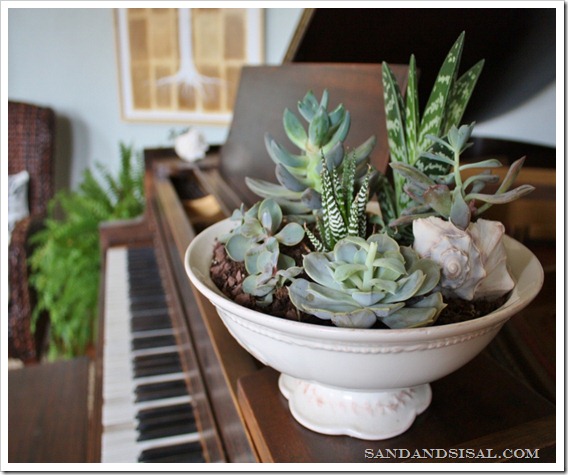 Isn't this simple footed bowl by Sand & Sisal a marvelous planter for succulents?
6. Industrial Style Planter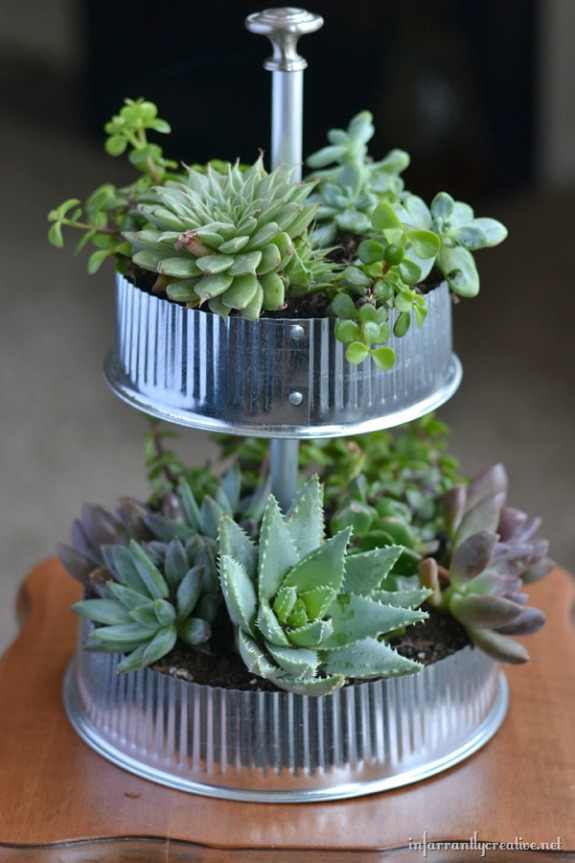 You can learn how to make this cool industrial tiered succulent centerpiece at Infarrantly Creative (she shows you how to make the tiered piece).
7. Eggshell Planter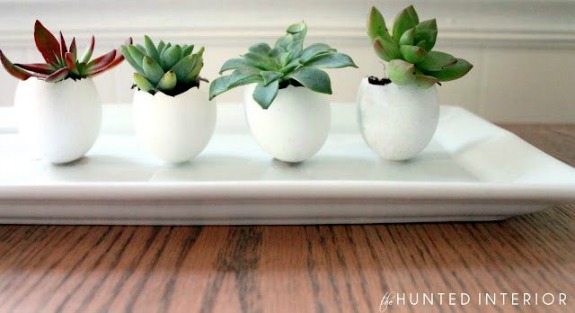 These pretty succulents planted in eggshells would be perfect for an Easter tablescape. Head on over to The Hunted Interior for more details.
8. DIY Succulent Shells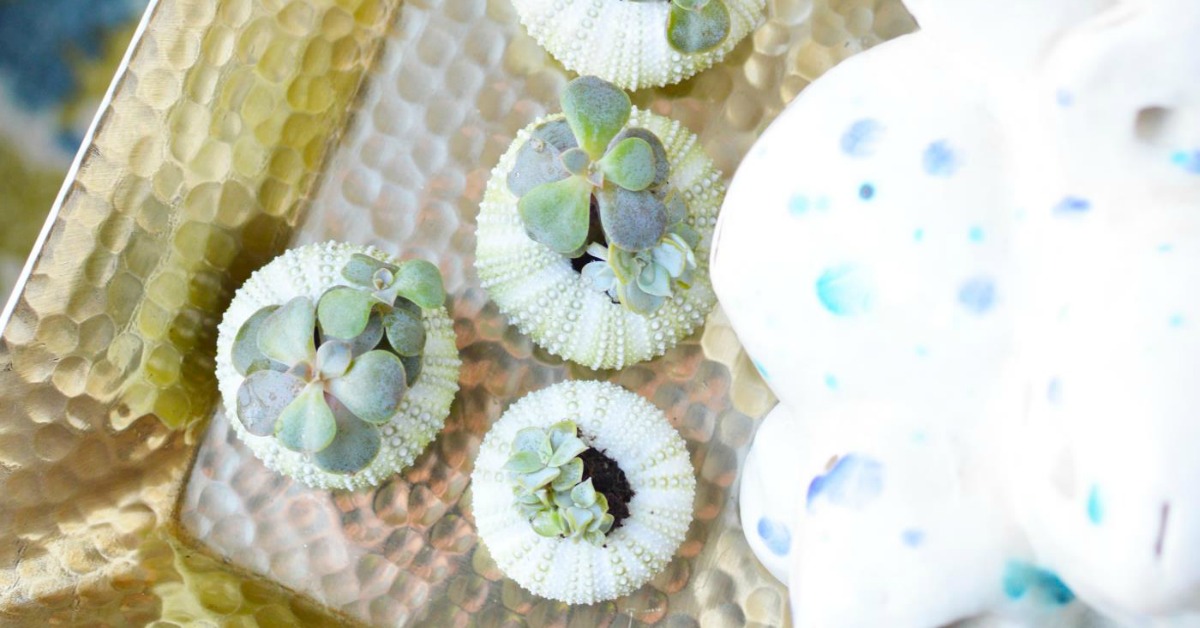 For a different way to display your succulents, check out my DIY succulents planters made with sea urchin shells!
9. Succulent Plant Frame
This inexpensive succulent plant frame from Youngs Garden Shop is utterly genius!
10. Birdcage Succulent Idea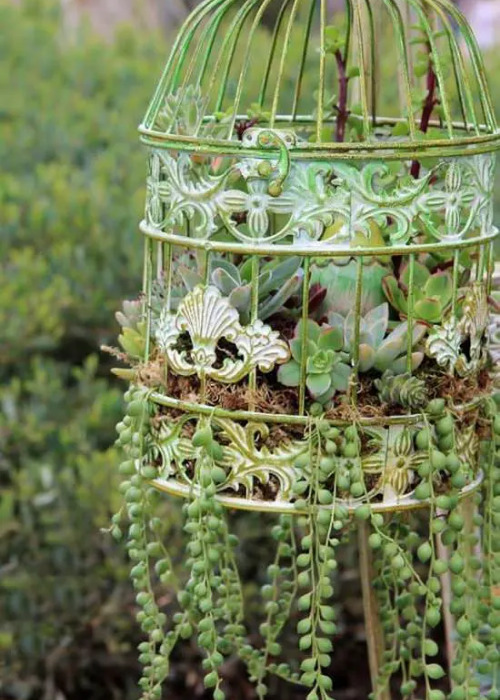 Balcony Garden Web shows you how to create a stunning birdcage succulent planter. This could be great for indoor or outdoor decorating!
11. Birdhouse Decoration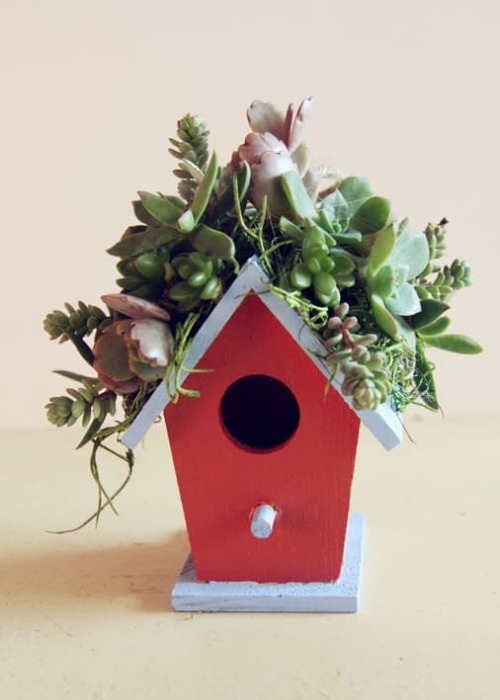 Why not include something fun and unique like this birdhouse succulent decoration idea from Joy Us Garden!
Have you tried decorating with succulents yet?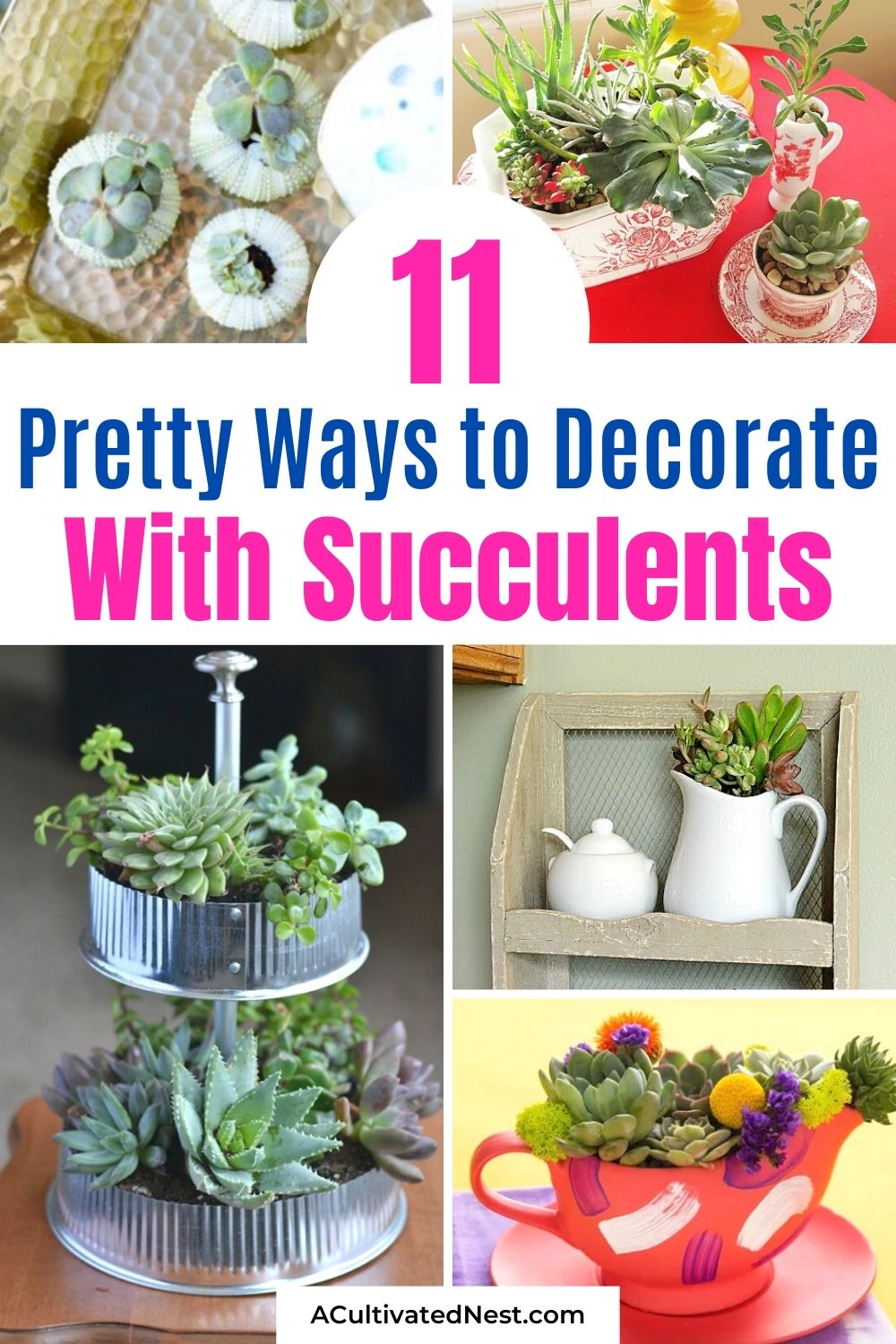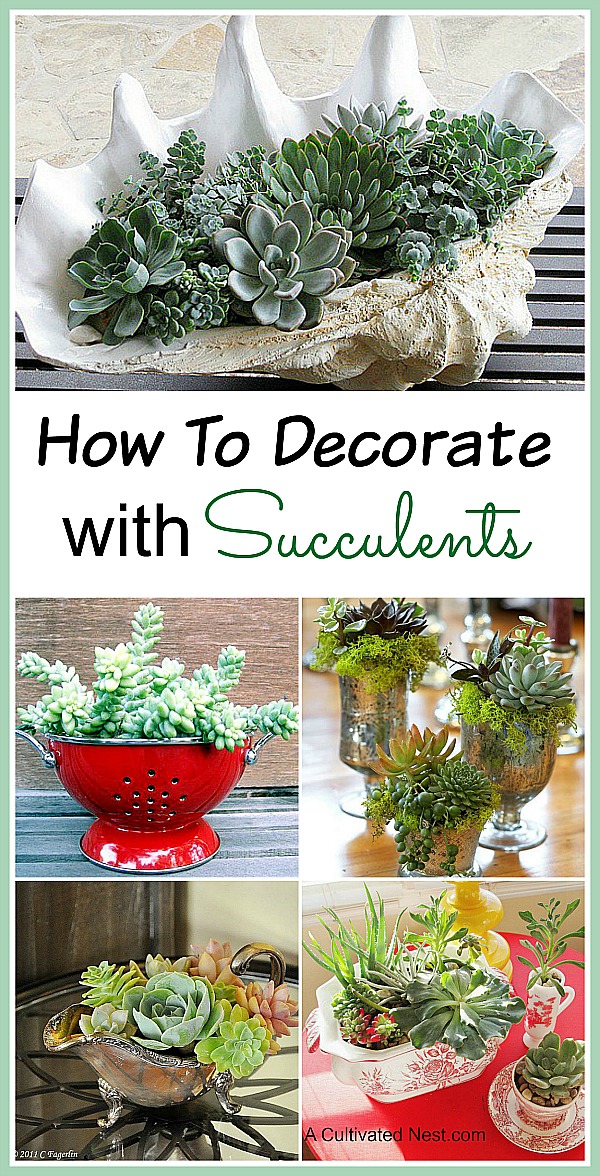 You might also be interested in: Easy DIY Succulent Bird Bath Garden