We love hot oatmeal for breakfast but it doesn't really appeal to us in the summer. With our days being super busy getting our house ready to put on the market…well most days we hit the floor running! Here's a healthy grab and go breakfast that's perfect for busy summer mornings.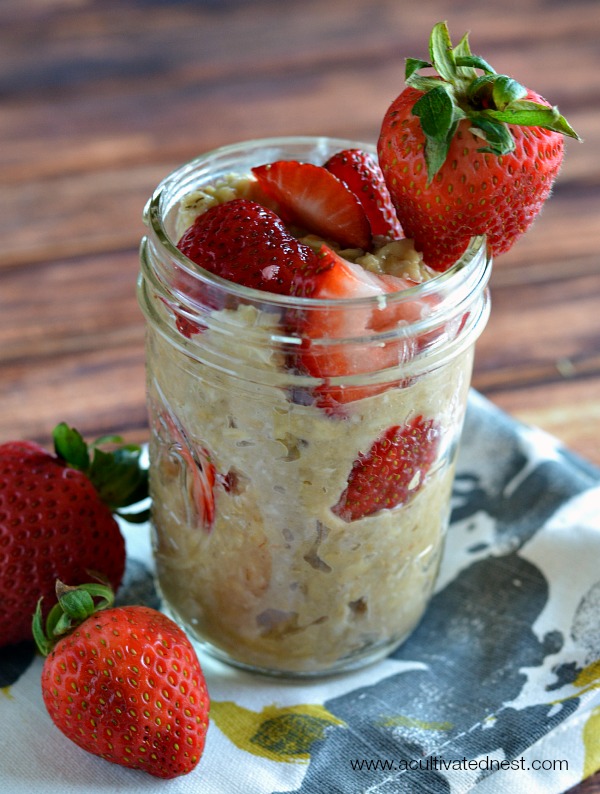 This is a yummy cold "porridge" and you can change the fruit out to whatever you have on hand.
Make ahead strawberry and nut oatmeal.
You Need
1/2 cup of Old Fashioned Rolled Oats
3/4 cup of milk (we use almond milk)
1/2 cup of fresh cut strawberries (you could of course use any fruit that you like instead of strawberries)
1 oz of your favorite nuts or seeds (optional)
2 tablespoons of sugar (optional)- Can substitute with honey, agave, maple syrup, jam etc.
sprinkle of cinnamon
Put your rolled oats and milk into a microwave safe bowl. Stir and heat for about 30 seconds in the microwave.  Don't worry if it seems runny. The oats will absorb the milk overnight.  Add  some sweetener of your choice and taste test to see if you want to add more. Add nuts/seeds (like chia, sunflower, hemp) and sliced strawberries and stir gently.  Sprinkle with some cinnamon. Cover your bowl and refrigerate overnight and eat chilled. If you like,  you can transfer to a mason jar and then sprinkle cinnamon on top and refrigerate.  *I've kept them in the fridge for 1-2 days and they were fine (depends on the fruit you use). makes 1 serving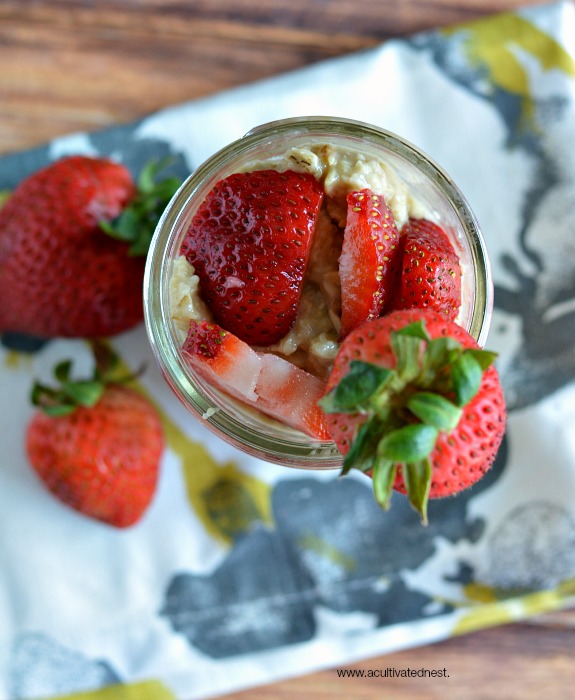 It's so convenient to just be able to wake up and grab a healthy breakfast! Mason jars are so easy to take to work with you and they make it easy for overnight guests or kids to get they're own breakfast!